Google and Its Smart Software: Stupid?
I received an email from the owner of a Web site focused on providing consumers with automobile information. The individual shared with me an email sent to his company by the Google smart entity "publisher-policy-noreply.com".
The letter was an AdSense Publisher Policy Violation Report. In short, Google's smart software spotted an offensive article. The Google document said:
New violations were detected. As a result, ad serving has been restricted or disabled on pages where these violations of the AdSense Program Policies were found. To resolve the issues, you can either remove the violating content and request a review, or remove the ad code from the violating pages.
Translating the Google speak: "You are showing ads on a page which contains pornography, contraband, hate speech, etc. Make this right, or no AdSense money for you."
Okay, I was intrigued. How can information about cars be about porn, contraband, hate speech, etc.
The offensive item, my colleagues and I determined, was a review of a 2004 Saab 9-3 Arc Convertible, published about 14 years ago. The offense was that the review contained words of a sexual nature.
Does this vehicle and the height of its truck or boot offend you? If it does, you are not Googley.
I read the review and noted that the author of the review does indeed focus on an automobile. The problem is that the review is a long tail news story. That means that old content rarely gets clicks. So what's Google doing? Processing historical data in order to locate porn, contraband, and hate speech? Must be. This suggests that the company is playing catch up. I thought Google was on top of offensive content and had been for more than a decade. Google forbidden word lists have been kicking around for years.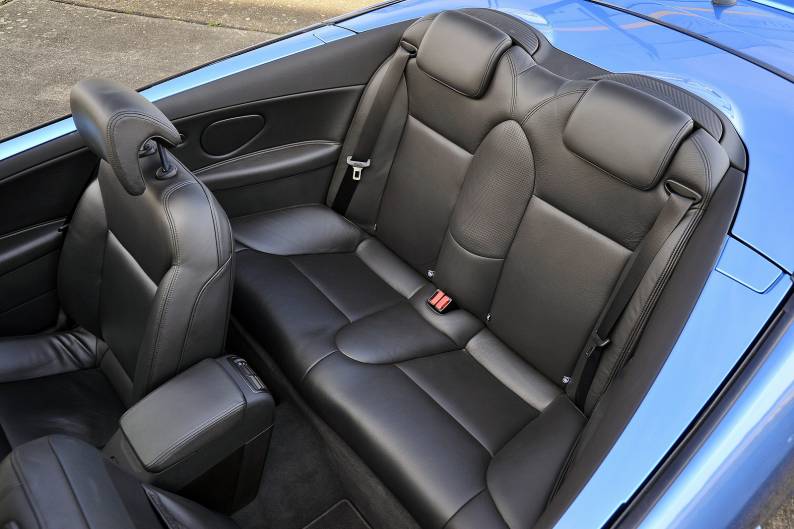 I find this extremely suggestive? Perhaps that is why the reviewer described the tiny rear seating area as needful of a way to "ease rear seat access." I am not sure my French bulldog would fit in the back seat of this Saab nor could he engage in hanky panky.
I noted that the Saab convertible has a "high rear." Looking at the picture, it looks as if the mechanical engineers did increase the height of the trunk or boot in order to accommodate the folding hard top for this model Saab. I am not sure if I would have thought the phrase "high rear" was sexual because I was reading about how the solid convertible top had been accommodated by the engineering team. Who reads about trunk lids or boots as a sexual reference.
But wait. There's more lingo about the car described about 14 years ago. Check out this passage:
While the convertible's interior is similar to the sedan's, with a semi-wraparound cockpit- style instrument panel, it has unique and very comfortable front seats, with the shoulder straps anchored to the seat frame to ease rear-seat access.
Can you spot offensive language. Well, there's the cockpit, which I assume could be interpreted in a way different from where the driver sits to drive the vehicle. Then there is "rear seat access." My goodness. That is offensive. Imagine buying a convertible in which a person could sit in the back seat. Obviously "rear seat" is a trigger phrase. When combined with "cockpit," the Google smart software becomes. What is the word. Oh, right. Stupid.
Let's step back. Some observations:
Google positions itself as having a whiz bang system for preventing offensive  content from reaching its "customers." I must say that the system seems to be doing a less than brilliant job. (See. I did not use the word stupid again.) In my DarkCyber video news program for October 23, 2018, I point out that YouTube offers videos which explain to teens how to buy drugs on the Dark Web. The smart filters, I assume, think these vids are A Okay.
At the same time Google's smart software is deciding that car reviews are filthy and offensive, the company is telling elected officials it does not know what it will do about its possible China search system. But today I noted "Sundar Pichai Spoke about Google's China Plans for the First Time and It Doesn't Look Like He's Backing Down." So Google is thinking more about assisting a government with its censorship effort when it cannot figure out that a car review is not pornographic? Stupid is not the word. Maybe mendacious?
The company seems to be expending resources to reprocess content which it had already identified, copied, parsed, and indexed. This Saab story was indexed and available 14 years ago. I wonder if Google realized that its index and Web archives are digital time bombs. Could the content become evidence in the event Google was subjected to a thorough investigation by European or US regulators? House cleaning before visitors arrive? Interesting because the smart software may be tweaked to be overzealous, not stupid at all.
Our view from Harrod's Creek is simple. We think Google is a smart company. These minor, trivial, inconsequential filter failures are anomalies. In fact, the offensive auto reviews must go. What else must go? Another interesting question.
Google is great. Very intelligent.
I suppose one could pop the boot in the high rear and go for some rear seat access. I think there is a vernacular bound phrase for this sentiment.
Stephen E Arnold, October 16, 2018
Comments