China: Making Technology into a Friend Magnet in Africa
I don't know much about Africa. I remember studying about Belgium's wonderful and humane approach, but China has found technology more agreeable than Léopold II's tactics. "Chinese Tech, Ignored by the West, Is Taking over Africa's Cyberspace" reports:
While China's telecom giant Huawei has come under increasing attack in the US and the European Union, it is thriving in Africa…
The drive to lure people comes as Huawei faces mounting attacks from the West. But in Africa, the company has a solid base. Currently, Huawei is active in most African countries. According to an Atlantic Council study – "The Digital Infrastructure Imperative in African Markets," – around 50 percent of Africa's 3G networks and 70 percent of its 4G networks are built by Huawei.
What's Huawei's secret sauce? The article quotes an expert who asserts:
"Huawei has a big competitive advantage because it's got access to state capital," says Eric Olander, managing editor of The China Africa Project, a portal that monitors Chinese business ventures across the continent.
What's that "state capital" enable? Check out this map. The white line is cable which surrounds the African continent. Sixteen major nodes are planned. The 5G system will connect hundreds of millions of people.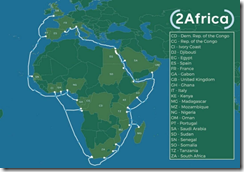 Maybe the Google Loon balloons will be given another shot at the Internet connectivity the online ad company deployed in Puerto Rico. Facebook had model airplane-type devices. And Elon Musk has nifty satellite things. But for now, Huawei is having its way with 5G, the Internet connectivity, and capturing a growing market for devices and services.
Stephen E Arnold, July 27, 2021
Comments