Has Google Search Lost Interest in South Africa?
I read "Google.co.za Is Down and the Domain Is Pending Deletion." The write up states:
The website address google.co.za, which many South Africans use to access the Google search engine, was unavailable on Friday – apparently because the company failed to renew the domain. Popular subdomains, including news.google.co.za and maps.google.co.za were also unavailable.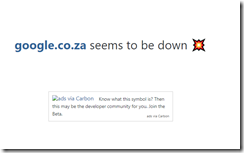 And so are the ads! That's serious, gentle reader.
Like WebAccelerator and Orkut, the Google can lose interest in a project. Remember when Google was going to solve death. I also liked the quaint idea of relevant search which is morphing into a jazzed up way to catch up with Amazon ecommerce search.
The article points out:
The google.co.za domain was registered by MarkMonitor on Google's behalf. According to WikiPedia, MarkMonitor is a US software company that protects corporate brands from Internet counterfeiting, fraud, piracy and cybersquatting.
Has MarkMonitor some of the characteristics of the recruiting and contractor savvy firm responsible for placing alleged cult members in one Google unit.
My thought is that if the country of South Africa has been deemed surplus, the reason may be that someone had a bad safari experience or because … Google.
Stephen E Arnold, July 1, 2022
Comments