Featured
LexisNexis: Riding the Patent Pony
Need patent information? Lots of folks believed that making sense of the public documents available from the USPTO were the road to riches. Before I kicked back to enjoy the sylvan life in rural Kentucky, I did some work on Fancy Dan patent systems. There was a brush with the IBM Intelligent Patent Miner system. For those who do not recall their search history, you can find a chunk of information in "Information Mining with the IBM Intelligent Miner Family." Keep in mind that the write up is about 20 years old. (Please, notice that the LexisNexis system discussed below uses many of the same, time worn techniques.)
Patented dog coat.
Then there was the Manning & Napier "smart" patent analysis system with analyses' output displayed in three-D visualizations. I bumped into Derwent (now Intellectual Property & Science) and other Thomson Corp. solutions as well. And, of course, there was may work for an unnamed, mostly clueless multi billion dollar outfit related to Google's patent documents. I summarized the results of this analysis in my Google Version 2.0 monograph, portions of which were published by BearStearns before it met its thrilling end seven years ago. (Was my boss the fellow carrying a box out of the Midtown BearStearns' building?)
Why the history?
Well, patents are expensive to litigate. For some companies, intellectual property is a revenue stream.
There is a knot in the headphone cable. Law firms are not the go go business they were 15 or 20 years ago. Law school grads are running gyms; some are Uber drivers. Like many modern post Reagan businesses, concentration is the name of the game. For the big firms with the big buck clients, money is no object.
The problem in the legal information business is that smaller shops, including the one and two person outfits operating in Dixie Highway type of real estate do not want to pay for the $200 and up per search commercial online services charge. Even when I was working for some high rollers, the notion of a five or six figure online charge elicited what I would diplomatically describe as gentle push back.
I read "LexisNexis TotalPatent Keeps Patent Research out of the Black Box with Improved Version of Semantic Search." For those out of touch with online history, I worked for a company in the 1980s which provided commercial databases to LexisNexis. I knew one of the founders (Don Wilson). I even had reasonably functional working relationships with Dan Prickett and people named "Jim" and "Sharon." In one bizarre incident, a big wheel from LexisNexis wanted to meet with me in the Cherry Hill Mall's parking lot across from the old Bell Labs' facility where I was a consultant at the time. Err, no thanks. I was okay with the wonky environs of Bell Labs. I was not okay with the lash up of a Dutch and British company.
Snippet of code from a Ramanathan Guha invention. Guha used to be at IBM Almaden and he is a bright fellow. See US7593939 B2.
What does LexisNexis TotalPatent deliver for a fee? According to the write up:
TotalPatent, a web-based patent research, retrieval and analysis solution powered by the world's biggest assortment of searchable full-text and bibliographic patent authorities, allows researchers to enter as much as 32,000 characters (comparable to more than 10 pages of text)—much over along a whole patent abstract—into its search industry. The newly enhanced semantic brains, pioneered by LexisNexis during 2009 and continually improved upon utilizing contextual information supplied by the useful patent data offered to the machine, current results in the form of a user-adjustable term cloud, where the weighting and positioning of terms may be managed for lots more precise results. And countless full-text patent documents, TotalPatent in addition utilizes systematic, technical also non-patent literature to go back the deepest, most comprehensive serp's.
Interviews
Recorded Future: The Threat Detection Leader
The Exclusive Interview with Jason Hines, Global Vice President at Recorded Future
In my analyses of Google technology, despite the search giant's significant technical achievements, Google has a weakness. That "issue" is the company's comparatively weak time capabilities. Identifying the specific time at which an event took place or is taking place is a very difficult computing problem. Time is essential to understanding the context of an event.
This point becomes clear in the answers to my questions in the Xenky Cyber Wizards Speak interview, conducted on April 25, 2015, with Jason Hines, one of the leaders in Recorded Future's threat detection efforts. You can read the full interview with Hines on the Xenky.com Cyber Wizards Speak site at the Recorded Future Threat Intelligence Blog.
Recorded Future is a rapidly growing, highly influential start up spawned by a team of computer scientists responsible for the Spotfire content analytics system. The team set out in 2010 to use time as one of the lynch pins in a predictive analytics service. The idea was simple: Identify the time of actions, apply numerical analyses to events related by semantics or entities, and flag important developments likely to result from signals in the content stream. The idea was to use time as the foundation of a next generation analysis system, complete with visual representations of otherwise unfathomable data from the Web, including forums, content hosting sites like Pastebin, social media, and so on.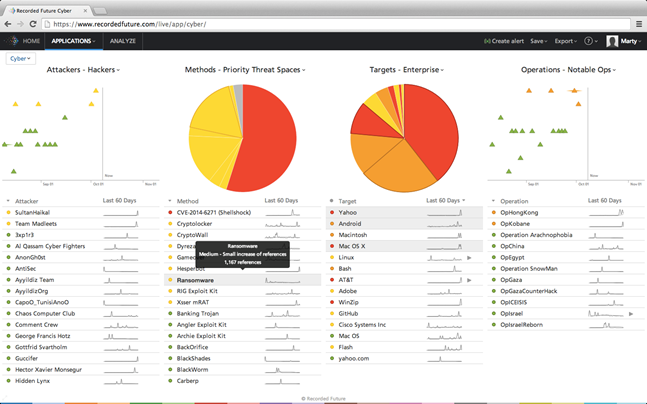 A Recorded Future data dashboard it easy for a law enforcement or intelligence professionals to identify important events and, with a mouse click, zoom to the specific data of importance to an investigation. (Used with the permission of Recorded Future, 2015.)
Five years ago, the tools for threat detection did not exist. Components like distributed content acquisition and visualization provided significant benefits to enterprise and consumer applications. Google, for example, built a multi-billion business using distributed processes for Web searching. Salesforce.com integrated visualization into its cloud services to allow its customers to "get insight faster."
According to Jason Hines, one of the founders of Recorded Future and a former Google engineer, "When our team set out about five years ago, we took on the big challenge of indexing the Web in real time for analysis, and in doing so developed unique technology that allows users to unlock new analytic value from the Web."
Recorded Future attracted attention almost immediately. In what was an industry first, Google and In-Q-Tel (the investment arm of the US government) invested in the Boston-based company. Threat intelligence is a field defined by Recorded Future. The ability to process massive real time content flows and then identify hot spots and items of interest to a matter allows an authorized user to identify threats and take appropriate action quickly. Fueled by commercial events like the security breach at Sony and cyber attacks on the White House, threat detection is now a core business concern.
The impact of Recorded Future's innovations on threat detection was immediate. Traditional methods relied on human analysts. These methods worked but were and are slow and expensive. The use of Google-scale content processing combined with "smart mathematics" opened the door to a radically new approach to threat detection. Security, law enforcement, and intelligence professionals understood that sophisticated mathematical procedures combined with a real-time content processing capability would deliver a new and sophisticated approach to reducing risk, which is the central focus of threat detection.
In the exclusive interview with Xenky.com, the law enforcement and intelligence information service, Hines told me:
Recorded Future provides information security analysts with real-time threat intelligence to proactively defend their organization from cyber attacks. Our patented Web Intelligence Engine indexes and analyzes the open and Deep Web to provide you actionable insights and real-time alerts into emerging and direct threats. Four of the top five companies in the world rely on Recorded Future.
Despite the blue ribbon technology and support of organizations widely recognized as the most sophisticated in the technology sector, Recorded Future's technology is a response to customer needs in the financial, defense, and security sectors. Hines said:
When it comes to security professionals we really enable them to become more proactive and intelligence-driven, improve threat response effectiveness, and help them inform the leadership and board on the organization's threat environment. Recorded Future has beautiful interactive visualizations, and it's something that we hear security administrators love to put in front of top management.
As the first mover in the threat intelligence sector, Recorded Future makes it possible for an authorized user to identify high risk situations. The company's ability to help forecast and spotlight threats likely to signal a potential problem has obvious benefits. For security applications, Recorded Future identifies threats and provides data which allow adaptive perimeter systems like intelligent firewalls to proactively respond to threats from hackers and cyber criminals. For law enforcement, Recorded Future can flag trends so that investigators can better allocate their resources when dealing with a specific surveillance task.
Hines told me that financial and other consumer centric firms can tap Recorded Future's threat intelligence solutions. He said:
We are increasingly looking outside our enterprise and attempt to better anticipate emerging threats. With tools like Recorded Future we can assess huge swaths of behavior at a high level across the network and surface things that are very pertinent to your interests or business activities across the globe. Cyber security is about proactively knowing potential threats, and much of that is previewed on IRC channels, social media postings, and so on.
In my new monograph CyberOSINT: Next Generation Information Access, Recorded Future emerged as the leader in threat intelligence among the 22 companies offering NGIA services. To learn more about Recorded Future, navigate to the firm's Web site at www.recordedfuture.com.
Stephen E Arnold, April 29, 2015
Latest News
Google Cloud Bigtable: The Real Hadoop de Doop?
Navigate to "Announcing Google Cloud Bigtable: The same database that powers Google Search, Gmail and Analytics is now available on Google Cloud Platform." I... Read more »
The Desktop Search Model: Doomed?
Nah, doom is too strong a word. Desktop search will become a niche service. The future is mobile. Who wants to "work" from an old fashioned office? The switched... Read more »
Watson Becomes a Guide for Cancer Therapies
I read "IBM's Watson to Guide Cancer Therapies at 14 Centers." My immediate reaction? Baloney. I am no doc but I recall an experience with docs, hospitals,... Read more »
Annual Ranking of Legal Sector Puts Omnivere at the Top
The article titled Omnivere Voted Best National End-To-End Ediscovery, Managed Ediscovery & Litigation Support, and Data & Technology Provider in 2015 Best... Read more »
Cerebrant Discovery Platform from Content Analyst
A new content analysis platform boasts the ability to find "non-obvious" relationships within unstructured data, we learn from a write-up hosted at PRWeb, "Content... Read more »
Microsoft Nudges English to Ideographs
Short honk: In my college days, I studied with a fellow who was the world's expert in the morpheme burger. You are familiar with hamburger. Lev Soudek (I believe... Read more »
CyberOSINT Study Findings Video Available
The third video summarizing Stephen E Arnold's "CyberOSINT: Next Generation Information Access" is available. Grab your popcorn. The video is at this link. Kenny... Read more »
IBM and SAP: More Power Delivered for Big Data
I read "IBM Creates Power Systems Servers for Big Data Crunching in SAP HANA." The story line is easy to grasp: Struggling IBM has purpose built fast servers... Read more »
Survival of SharePoint and the Big Bang Theory
The ebb and flow of SharePoint expansion and contraction can be described as a "big bang theory" of sorts. This cyclical pattern can be seen in many businesses,... Read more »
Continued Growth and Success at Syl Semantics
The article on Yahoo New Zealand titled Syl Semantics Raises New Capital and Appoints New Directors begins by naming the two freshly-minted non-executive directors,... Read more »