Featured
New Enterprise Search Market Study
Don Quixote and Solving Death: No Problem, Amigo
I read "Global Enterprise Search Market 2017-2022." I was surprised that a consulting firms would invest time and energy in writing about a market sector which has not been thriving. Now don't start sending me email about my lack of cheerfulness about enterprise search. The sector is thriving, but it is doing so with approaches that are disguised as applications which deliver something other than inflated expectations, business closures, and lawsuits.
I will slay the beast that is enterprise search. "Hold still, you knave!"
First, let's look at what the report covers, then I will tackle some of the issues about which I think as the author of the Enterprise Search Report and a number of search-related articles and analyses. (The articles are available from the estimable Information Today Web site, and the free analyses may be located at www.xenky.com/vendor-profiles.
The write up told me that enterprise search boils down to these companies:
Coveo Corp
Dassault Systemes
IBM Corp
Microsoft
Oracle
SAP AG
Coveo is a fork of Copernic. Yep, it's a proprietary system which originally was focused on providing search for Microsoft. Now the company has spread its wings to include a raft of functions which range from the cloud to customer support / help desk services.
Dassault Systèmes is the owner of Exalead. Since the acquisition, Exalead as a brand has faded. The desktop search system was killed, and its proprietary technology lives on mostly as a replacement for Dassault's internal search system which was based on Autonomy. Most of the search wizards have left, but the Exalead technology was good before Dassault learned that selling search was indeed a challenge.
IBM offers a number of products which include open source Lucene, acquired technology like Vivisimo's clustering engine, and home brew code from its IBM wizards. (Did you  know that the precursor of PageRank was an IBM "invention"?) The key is that IBM uses search to sell services which have a higher margins than providing a free version of brute force information access.
Interviews
Bitext: Exclusive Interview with Antonio Valderrabanos
On a recent trip to Madrid, Spain, I was able to arrange an interview with Dr. Antonio Valderrabanos, the founder and CEO of Bitext. The company has its primary research and development group in Las Rosas, the high-technology complex a short distance from central Madrid. The company has an office in San Francisco and a number of computational linguists and computer scientists in other locations. Dr. Valderrabanos worked at IBM in an adjacent field before moving to Novell and then making the jump to his own start up. The hard work required to invent a fundamentally new way to make sense of human utterance is now beginning to pay off.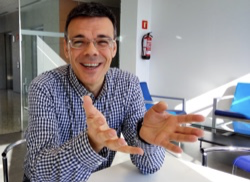 Dr. Antonio Valderrabanos, founder and CEO of Bitext. Bitext's business is growing rapidly. The company's breakthroughs in deep linguistic analysis solves many difficult problems in text analysis.
Founded in 2008, the firm specializes in deep linguistic analysis. The systems and methods invented and refined by Bitext improve the accuracy of a wide range of content processing and text analytics systems. What's remarkable about the Bitext breakthroughs is that the company support more than 40 different languages, and its platform can support additional languages with sharp reductions in the time, cost, and effort required by old-school systems. With the proliferation of intelligent software, Bitext, in my opinion, puts the digital brains in overdrive. Bitext's platform improves the accuracy of many smart software applications, ranging from customer support to business intelligence.
In our wide ranging discussion, Dr. Valderrabanos made a number of insightful comments. Let me highlight three and urge you to read the full text of the interview at this link. (Note: this interview is part of the Search Wizards Speak series.)
Linguistics as an Operating System
One of Dr. Valderrabanos' most startling observations addresses the future of operating systems for increasingly intelligence software and applications. He said:
Linguistic applications will form a new type of operating system. If we are correct in our thought that language understanding creates a new type of platform, it follows that innovators will build more new things on this foundation. That means that there is no endpoint, just more opportunities to realize new products and services.
Better Understanding Has Arrived
Some of the smart software I have tested is unable to understand what seems to be very basic instructions. The problem, in my opinion, is context. Most smart software struggles to figure out the knowledge cloud which embraces certain data. Dr. Valderrabanos observed:
Search is one thing. Understanding what human utterances mean is another. Bitext's proprietary technology delivers understanding. Bitext has created an easy to scale and multilingual Deep Linguistic Analysis or DLA platform. Our technology reduces costs and increases user satisfaction in voice applications or customer service applications. I see it as a major breakthrough in the state of the art.
If he is right, the Bitext DLA platform may be one of the next big things in technology. The reason? As smart software becomes more widely adopted, the need to make sense of data and text in different languages becomes increasingly important. Bitext may be the digital differential that makes the smart applications run the way users expect them to.
Snap In Bitext DLA
Advanced technology like Bitext's often comes with a hidden cost. The advanced system works well in a demonstration or a controlled environment. When that system has to be integrated into "as is" systems from other vendors or from a custom development project, difficulties can pile up. Dr. Valderrabanos asserted:
Bitext DLA provides parsing data for text enrichment for a wide range of languages, for informal and formal text and for different verticals to improve the accuracy of deep learning engines and reduce training times and data needs. Bitext works in this way with many other organizations' systems.
When I asked him about integration, he said:
No problems. We snap in.
I am interested in Bitext's technical methods. In the last year, he has signed deals with companies like Audi, Renault, a large mobile handset manufacturer, and an online information retrieval company.
When I thanked him for his time, he was quite polite. But he did say, "I have to get back to my desk. We have received several requests for proposals."
Las Rosas looked quite a bit like Silicon Valley when I left the Bitext headquarters. Despite the thousands of miles separating Madrid from the US, interest in Bitext's deep linguistic analysis is surging. Silicon Valley has its charms, and now it has a Bitext US office for what may be the fastest growing computational linguistics and text analysis system in the world. Worth watching this company I think.
For more about Bitext, navigate to the firm's Web site at www.bitext.com.
Stephen E Arnold, April 11, 2017
Latest News
Google and Walmart: More Than a Super Saver Special?
I read "Walmart and Google Partner on Voice-Based Shopping." The main point of the write up is that talking to a device is the way people will buy nylon shirts,... Read more »
Russia Argues with Encrypted Telegram
One reason that the Dark Web flourishes are that if offers people an anonymous, encrypted way to communicate.  Governments dislike encrypted services, especially... Read more »
Time to Ditch PowerPoint?
For decades, Microsoft PowerPoint has been used for making presentations. That is all set to change as a recent study indicates that PowerPoint presentations are... Read more »
HonkinNews for 22 August 2017 Now Available
HonkinNews is going to take a different trajectory. Watch for details in the August 29, 2017, program. This week's program contains "real" news; specifically,... Read more »
Take a Hint Amazon, Bing Is Not That Great
It recently hit the new stands that Google Home was six times more likely than Amazon Alexa to answer questions.  The Inquirer shares more about this development... Read more »
Fake News Is Here to Stay
Morphed pictures and videos were the realms of experts. New tools, however, are making it easier for people with average computer skills to create hyper-realistic... Read more »
Math Professor Alleges Google Has Disappeared His Equations
I read "One Statistics Professor Was Just Banned By Google: Here Is His Story." The Beyond Search goose is baffled. We learned that Salil Mehta's email and... Read more »
Google Home Still Knows More
Amazon has infiltrated our lives as our main shopping destination.  Amazon is also trying to become our best friend, information source, and digital assistant via... Read more »
Where Your Names Intersect
Google Maps might be the top navigational app in the world, but some apps like Crossing.us can help its users find intersections across the US with a choice of their... Read more »
Analytics for the Non-Tech Savvy
I regularly encounter people who say they are too dumb to understand technology. When people tell themselves this, they are hindering their learning ability and... Read more »