Featured
Enterprise Search: Will Synthetic Hormones Produce a Revenue Winner?
One of my colleagues provided me with a copy of the 24 page report with the hefty title:
In Search for Insight 2017. Enterprise Search and Findability Survey. Insights from 2012-2017
I stumbled on the phrase "In Search for Insight 2017."
The report combines survey data with observations about what's going to make enterprise search great again. I use the word "again" because:
The buy up and sell out craziness which culminated with Microsoft's buying Fast Search & Transfer in 2008 and Hewlett Packard's purchase of Autonomy in 2011 marked the end of the old-school enterprise search vendors. As you may recall, Fast Search was the subject of a criminal investigation and the HP Autonomy deal continues to make its way through the legal system. You may perceive these two deals as barn burners. I see them as capstones for the era during which search was marketed as the solution to information problems in organizations.
The word "search" has become confusing and devalued. For most people, "search" means the Danny Sullivan search engine optimization systems and methods. For those with some experience in information science, "search" means locating relevant information. SEO erodes relevance; the less popular connotation of the word suggests answering a user's question. Not surprisingly, jargon has been used for many years in an effort to explain that "enterprise search" is infused with taxonomies, ontologies, semantic technologies, clustering, discovery, natural language processing, and other verbal chrome trim to make search into a Next Big Thing again. From my point of view, search is a utility and a code word for spoofing Google so that an irrelevant page appears instead of the answer the user seeks.
The enterprise search landscape (the title of one of my monographs) has been bulldozed and reworked. The money in the old school precision and recall type of search comes from consulting. Search Technologies was acquired by Accenture to add services revenue to the management consulting firm's repertoire of MBA fixes. What is left are companies offering "solutions" which require substantial engineering, consulting, and training services. The "engine", in many cases, are open source systems which one can download without burdensome license fees. From my point of view, search boils down to picking an open source solution. If those don't work, one can license a proprietary system wrapped around open source. If one wants a proprietary system, there are some available, but these are not likely to reach the lofty heights of the Fast Search or Autonomy IDOL systems in the salad days of enterprise search and its promises of a universal search system. The universal search outfit Google pulled out of enterprise search for a reason.
I want to highlight five of the points in the 24 page write up. Please, register to get your own copy of this document.
Here are my five highlights. My comments are in italics after each quote from the document:
Interviews
Bitext: Exclusive Interview with Antonio Valderrabanos
On a recent trip to Madrid, Spain, I was able to arrange an interview with Dr. Antonio Valderrabanos, the founder and CEO of Bitext. The company has its primary research and development group in Las Rosas, the high-technology complex a short distance from central Madrid. The company has an office in San Francisco and a number of computational linguists and computer scientists in other locations. Dr. Valderrabanos worked at IBM in an adjacent field before moving to Novell and then making the jump to his own start up. The hard work required to invent a fundamentally new way to make sense of human utterance is now beginning to pay off.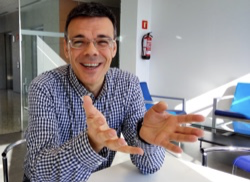 Dr. Antonio Valderrabanos, founder and CEO of Bitext. Bitext's business is growing rapidly. The company's breakthroughs in deep linguistic analysis solves many difficult problems in text analysis.
Founded in 2008, the firm specializes in deep linguistic analysis. The systems and methods invented and refined by Bitext improve the accuracy of a wide range of content processing and text analytics systems. What's remarkable about the Bitext breakthroughs is that the company support more than 40 different languages, and its platform can support additional languages with sharp reductions in the time, cost, and effort required by old-school systems. With the proliferation of intelligent software, Bitext, in my opinion, puts the digital brains in overdrive. Bitext's platform improves the accuracy of many smart software applications, ranging from customer support to business intelligence.
In our wide ranging discussion, Dr. Valderrabanos made a number of insightful comments. Let me highlight three and urge you to read the full text of the interview at this link. (Note: this interview is part of the Search Wizards Speak series.)
Linguistics as an Operating System
One of Dr. Valderrabanos' most startling observations addresses the future of operating systems for increasingly intelligence software and applications. He said:
Linguistic applications will form a new type of operating system. If we are correct in our thought that language understanding creates a new type of platform, it follows that innovators will build more new things on this foundation. That means that there is no endpoint, just more opportunities to realize new products and services.
Better Understanding Has Arrived
Some of the smart software I have tested is unable to understand what seems to be very basic instructions. The problem, in my opinion, is context. Most smart software struggles to figure out the knowledge cloud which embraces certain data. Dr. Valderrabanos observed:
Search is one thing. Understanding what human utterances mean is another. Bitext's proprietary technology delivers understanding. Bitext has created an easy to scale and multilingual Deep Linguistic Analysis or DLA platform. Our technology reduces costs and increases user satisfaction in voice applications or customer service applications. I see it as a major breakthrough in the state of the art.
If he is right, the Bitext DLA platform may be one of the next big things in technology. The reason? As smart software becomes more widely adopted, the need to make sense of data and text in different languages becomes increasingly important. Bitext may be the digital differential that makes the smart applications run the way users expect them to.
Snap In Bitext DLA
Advanced technology like Bitext's often comes with a hidden cost. The advanced system works well in a demonstration or a controlled environment. When that system has to be integrated into "as is" systems from other vendors or from a custom development project, difficulties can pile up. Dr. Valderrabanos asserted:
Bitext DLA provides parsing data for text enrichment for a wide range of languages, for informal and formal text and for different verticals to improve the accuracy of deep learning engines and reduce training times and data needs. Bitext works in this way with many other organizations' systems.
When I asked him about integration, he said:
No problems. We snap in.
I am interested in Bitext's technical methods. In the last year, he has signed deals with companies like Audi, Renault, a large mobile handset manufacturer, and an online information retrieval company.
When I thanked him for his time, he was quite polite. But he did say, "I have to get back to my desk. We have received several requests for proposals."
Las Rosas looked quite a bit like Silicon Valley when I left the Bitext headquarters. Despite the thousands of miles separating Madrid from the US, interest in Bitext's deep linguistic analysis is surging. Silicon Valley has its charms, and now it has a Bitext US office for what may be the fastest growing computational linguistics and text analysis system in the world. Worth watching this company I think.
For more about Bitext, navigate to the firm's Web site at www.bitext.com.
Stephen E Arnold, April 11, 2017
Latest News
HonkinNews Returns as Dark Cyber
On November 21, 2017, HonkinNews returns. The new look and approach focuses on the less visible products and services associated with the Internet. The new series... Read more »
Google and Its Plague of Evil Unicorns
Real journalists are Google's picadors. I read "Inside Google's Struggle to Filter Lies from Breaking New." I almost feel the bull's pain. "Who are... Read more »
Ichan Makes It Easier to Access the Dark Web
A new search engine for the Dark Web may make that shady side of the Internet accessible to more people. A piece at DarkWebNews introduces us to "Ichidan: A New... Read more »
Toronto Is the City of the Future
Canada is regarded as a calm, nice country that enjoys hockey and maple syrup.  It is not seen as a technology bastion, but Google's Larry Page decided to make... Read more »
Palantir and Google: Surprising Allegation from St Louis
I read "Thiel Gave Money to Missouri Attorney General Going after Google." The article reports: Peter Thiel, the venture capitalist who backed Donald Trump's... Read more »
Fake Hitman Dark Web Site Rakes in the Bitcoin
No one can accuse these scammers of not going all in. Motherboard reports, "This Fake Hitman Site Is the Most Elaborate, Twisted Dark Web Scam Yet." Reporter... Read more »
Proprietary Software Cheats Users
Cory Doctorow is an outspoken defender of net neutrality, technology education, and user rights.  He has written and spoken about these subjects and shares his... Read more »
Google Tries to Explain How to Make Another Google
Here's the headline which snagged my attention: "How to Build the Next Google, According to a Google Executive." In my three monographs about Google, I learned... Read more »
Dark Web Predator Awaits Sentencing
Here we have one of the darker corners of the Dark Web. A brief but disturbing article at the UK's Birmingham Mail reports, "Birmingham University Academic Dr... Read more »
Microsoft Does Not Make Renault Go Vroom Vroom
In the formula one racing world, Renault was performing poorly.  Then Google stepped in, poured its artificial intelligence technology into Renault's gas tanks,... Read more »