Featured
Taking Time for Search Vendor Limerance
Life is a bit hectic. The Beyond Search and the DarkCyber teams are working on the US government hidden Web presentation scheduled this week. We also have final research underway for the two Telestrategies ISS CyberOSINT lectures. The first is a review of the DarkCyber approach to deanonymizing Surface Web and hidden Web chat. The second focuses on deanonymizing digital currency transactions. Both sessions provide attendees with best practices, commercial solutions, open source tools, and the standard checklists which are a feature of  my LE and intel lectures.
However, one of my associates asked me if I knew what the word "limerance" meant. This individual is reasonably intelligent, but the bar for brains is pretty low here in rural Kentucky. I told the person, "I think it is psychobabble, but I am not sure."
The fix was a quick Bing.com search. The wonky relevance of the Google was the reason for the shift to the once indomitable Microsoft.
Limerance, according to Bing's summary of Wikipedia means "a state of mind which results from a romantic attraction to another person typically including compulsive thoughts and fantasies and a desire to form or maintain a relationship and have one's feelings reciprocated."
Upon reflection, I decided that limerance can be liberated from the woozy world of psychologists, shrinks, and wielders of water witches.
Consider this usage in the marginalized world of enterprise search:
Limerance: The state of mind which causes a vendor of key word search to embrace any application or use case which can be stretched to trigger a license to the vendor's "finding" system.
Interviews
Bitext: Exclusive Interview with Antonio Valderrabanos
On a recent trip to Madrid, Spain, I was able to arrange an interview with Dr. Antonio Valderrabanos, the founder and CEO of Bitext. The company has its primary research and development group in Las Rosas, the high-technology complex a short distance from central Madrid. The company has an office in San Francisco and a number of computational linguists and computer scientists in other locations. Dr. Valderrabanos worked at IBM in an adjacent field before moving to Novell and then making the jump to his own start up. The hard work required to invent a fundamentally new way to make sense of human utterance is now beginning to pay off.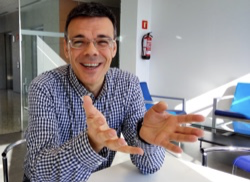 Dr. Antonio Valderrabanos, founder and CEO of Bitext. Bitext's business is growing rapidly. The company's breakthroughs in deep linguistic analysis solves many difficult problems in text analysis.
Founded in 2008, the firm specializes in deep linguistic analysis. The systems and methods invented and refined by Bitext improve the accuracy of a wide range of content processing and text analytics systems. What's remarkable about the Bitext breakthroughs is that the company support more than 40 different languages, and its platform can support additional languages with sharp reductions in the time, cost, and effort required by old-school systems. With the proliferation of intelligent software, Bitext, in my opinion, puts the digital brains in overdrive. Bitext's platform improves the accuracy of many smart software applications, ranging from customer support to business intelligence.
In our wide ranging discussion, Dr. Valderrabanos made a number of insightful comments. Let me highlight three and urge you to read the full text of the interview at this link. (Note: this interview is part of the Search Wizards Speak series.)
Linguistics as an Operating System
One of Dr. Valderrabanos' most startling observations addresses the future of operating systems for increasingly intelligence software and applications. He said:
Linguistic applications will form a new type of operating system. If we are correct in our thought that language understanding creates a new type of platform, it follows that innovators will build more new things on this foundation. That means that there is no endpoint, just more opportunities to realize new products and services.
Better Understanding Has Arrived
Some of the smart software I have tested is unable to understand what seems to be very basic instructions. The problem, in my opinion, is context. Most smart software struggles to figure out the knowledge cloud which embraces certain data. Dr. Valderrabanos observed:
Search is one thing. Understanding what human utterances mean is another. Bitext's proprietary technology delivers understanding. Bitext has created an easy to scale and multilingual Deep Linguistic Analysis or DLA platform. Our technology reduces costs and increases user satisfaction in voice applications or customer service applications. I see it as a major breakthrough in the state of the art.
If he is right, the Bitext DLA platform may be one of the next big things in technology. The reason? As smart software becomes more widely adopted, the need to make sense of data and text in different languages becomes increasingly important. Bitext may be the digital differential that makes the smart applications run the way users expect them to.
Snap In Bitext DLA
Advanced technology like Bitext's often comes with a hidden cost. The advanced system works well in a demonstration or a controlled environment. When that system has to be integrated into "as is" systems from other vendors or from a custom development project, difficulties can pile up. Dr. Valderrabanos asserted:
Bitext DLA provides parsing data for text enrichment for a wide range of languages, for informal and formal text and for different verticals to improve the accuracy of deep learning engines and reduce training times and data needs. Bitext works in this way with many other organizations' systems.
When I asked him about integration, he said:
No problems. We snap in.
I am interested in Bitext's technical methods. In the last year, he has signed deals with companies like Audi, Renault, a large mobile handset manufacturer, and an online information retrieval company.
When I thanked him for his time, he was quite polite. But he did say, "I have to get back to my desk. We have received several requests for proposals."
Las Rosas looked quite a bit like Silicon Valley when I left the Bitext headquarters. Despite the thousands of miles separating Madrid from the US, interest in Bitext's deep linguistic analysis is surging. Silicon Valley has its charms, and now it has a Bitext US office for what may be the fastest growing computational linguistics and text analysis system in the world. Worth watching this company I think.
For more about Bitext, navigate to the firm's Web site at www.bitext.com.
Stephen E Arnold, April 11, 2017
Latest News
An Interesting Use of Instagram
There is an opioid dealer nearby. In fact, this drug kingpin is not standing on the corner or lurking on college campuses, this supplier is right at your fingertips.... Read more »
Terror Database Enriched with Social Media Pix
A question is surging through the tech and espionage communities after a recent article that makes some big implications in both worlds. That's because a company... Read more »
DarkCyber for April 24, 2018, Now Available
DarkCyber for April 124, 2018, is now available at www.arnoldit.com/wordpress and on Vimeo at https://vimeo.com/266003727 . Stephen E Arnold's DarkCyber is a weekly... Read more »
LinkedIn Identifies Worker Weakness
I read "LinkedIn CEO Jeff Weiner Just Revealed Employees Lack This 1 Surprising Job Skill More Than Any Other." I found the write up amazing. The table below... Read more »
Regulating Facebook and Unexpected Consequences
After Mark Zuckerberg's mostly frothy and somewhat entertaining testimonies for Congress and the Senate, what are we left with? Some tea leaves are saying that... Read more »
Digital Currency Has a Wide Reach
Beyond Search was under the impression that financing for certain types of activities related to anti-establishment activities has been handled informally. For example,... Read more »
Facebook Finds an Angle
I read "Americans Want Tougher Rules for Big Tech Amid Privacy Scandals, Poll Finds." Polls are easy to shape. I did note one comment about this insight into... Read more »
An Interesting Use of Instagram
There is an opioid dealer nearby. In fact, this drug kingpin is not standing on the corner or lurking on college campuses, this supplier is right at your fingertips.... Read more »
Online Shopping: Held Back by HTML and Google. Hmmm.
e-Commerce has certainly marginalized some traditional retail stores. But, Main Street still exists and so do the some shops. What works in Silicon Valley, does... Read more »
French Report: Demographics of Bad Actors
If this report is to be believed, a demographic segment may come under increased scrutiny, online and offline. The Local lays out the results of a recent study from... Read more »