Featured
The Future of Enterprise and Web Search: Worrying about a Very Frail Goose
For a moment, I thought search was undergoing a renascence. But I was wrong. I noted a chart which purports to illustrate that the future is not keyword search. You can find the illustration (for now) at this Twitter location. The idea is that keyword search is less and less effective as the volume of data goes up. I don't want to be a spoil sport, but for certain queries key words and good old Boolean may be the only way to retrieve certain types of information. Don't believe me. Log on to your organization's network or to Google. Now look for the telephone number of a specific person whose name you know or a tire company located in a specific city with a specific name which you know. Would you prefer to browse a directory, a word cloud, a list of suggestions? I want to zing directly to the specific fact. Yep, key word search. The old reliable.
But the chart points out that the future is composed of three "webs": The Social Web, the Semantic Web, and the Intelligent Web. The dates for the Intelligent Web appears to be 2018 (the diagram at which I am looking is fuzzy). We are now perched half way through 2015. In 30 months, the Intelligent Web will arrive with these characteristics: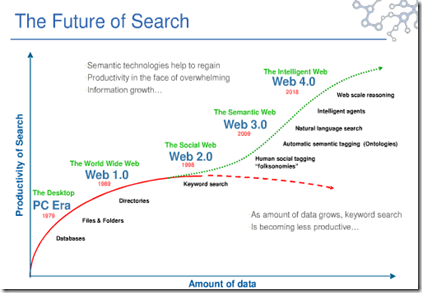 Web scale reasoning (Don't we have Watson? Oh, right. I forgot.)
Intelligent agents (Why not tap Connotate? Agents ready to roll.)
Natural language search (Yep, talk to your phone How is that working out on a noisy subway train?)
Semantics. (Embrace the OWL. Now.)
Now these benchmarks will arrive in the next 30 months, which implies a gradual emergence of Web 4.0.
The hitch in the git along, like most futuristic predictions about information access, is that reality behaves in some unpredictable ways. The assumption behind this graph is "Semantic technology help to regain productivity in the face of overwhelming information growth."
Interviews
Recorded Future: The Threat Detection Leader
The Exclusive Interview with Jason Hines, Global Vice President at Recorded Future
In my analyses of Google technology, despite the search giant's significant technical achievements, Google has a weakness. That "issue" is the company's comparatively weak time capabilities. Identifying the specific time at which an event took place or is taking place is a very difficult computing problem. Time is essential to understanding the context of an event.
This point becomes clear in the answers to my questions in the Xenky Cyber Wizards Speak interview, conducted on April 25, 2015, with Jason Hines, one of the leaders in Recorded Future's threat detection efforts. You can read the full interview with Hines on the Xenky.com Cyber Wizards Speak site at the Recorded Future Threat Intelligence Blog.
Recorded Future is a rapidly growing, highly influential start up spawned by a team of computer scientists responsible for the Spotfire content analytics system. The team set out in 2010 to use time as one of the lynch pins in a predictive analytics service. The idea was simple: Identify the time of actions, apply numerical analyses to events related by semantics or entities, and flag important developments likely to result from signals in the content stream. The idea was to use time as the foundation of a next generation analysis system, complete with visual representations of otherwise unfathomable data from the Web, including forums, content hosting sites like Pastebin, social media, and so on.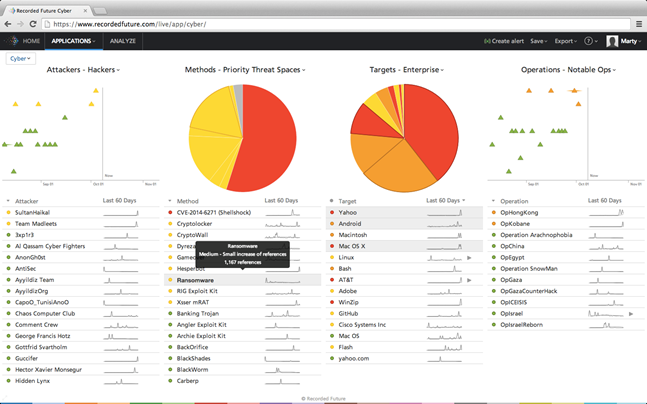 A Recorded Future data dashboard it easy for a law enforcement or intelligence professionals to identify important events and, with a mouse click, zoom to the specific data of importance to an investigation. (Used with the permission of Recorded Future, 2015.)
Five years ago, the tools for threat detection did not exist. Components like distributed content acquisition and visualization provided significant benefits to enterprise and consumer applications. Google, for example, built a multi-billion business using distributed processes for Web searching. Salesforce.com integrated visualization into its cloud services to allow its customers to "get insight faster."
According to Jason Hines, one of the founders of Recorded Future and a former Google engineer, "When our team set out about five years ago, we took on the big challenge of indexing the Web in real time for analysis, and in doing so developed unique technology that allows users to unlock new analytic value from the Web."
Recorded Future attracted attention almost immediately. In what was an industry first, Google and In-Q-Tel (the investment arm of the US government) invested in the Boston-based company. Threat intelligence is a field defined by Recorded Future. The ability to process massive real time content flows and then identify hot spots and items of interest to a matter allows an authorized user to identify threats and take appropriate action quickly. Fueled by commercial events like the security breach at Sony and cyber attacks on the White House, threat detection is now a core business concern.
The impact of Recorded Future's innovations on threat detection was immediate. Traditional methods relied on human analysts. These methods worked but were and are slow and expensive. The use of Google-scale content processing combined with "smart mathematics" opened the door to a radically new approach to threat detection. Security, law enforcement, and intelligence professionals understood that sophisticated mathematical procedures combined with a real-time content processing capability would deliver a new and sophisticated approach to reducing risk, which is the central focus of threat detection.
In the exclusive interview with Xenky.com, the law enforcement and intelligence information service, Hines told me:
Recorded Future provides information security analysts with real-time threat intelligence to proactively defend their organization from cyber attacks. Our patented Web Intelligence Engine indexes and analyzes the open and Deep Web to provide you actionable insights and real-time alerts into emerging and direct threats. Four of the top five companies in the world rely on Recorded Future.
Despite the blue ribbon technology and support of organizations widely recognized as the most sophisticated in the technology sector, Recorded Future's technology is a response to customer needs in the financial, defense, and security sectors. Hines said:
When it comes to security professionals we really enable them to become more proactive and intelligence-driven, improve threat response effectiveness, and help them inform the leadership and board on the organization's threat environment. Recorded Future has beautiful interactive visualizations, and it's something that we hear security administrators love to put in front of top management.
As the first mover in the threat intelligence sector, Recorded Future makes it possible for an authorized user to identify high risk situations. The company's ability to help forecast and spotlight threats likely to signal a potential problem has obvious benefits. For security applications, Recorded Future identifies threats and provides data which allow adaptive perimeter systems like intelligent firewalls to proactively respond to threats from hackers and cyber criminals. For law enforcement, Recorded Future can flag trends so that investigators can better allocate their resources when dealing with a specific surveillance task.
Hines told me that financial and other consumer centric firms can tap Recorded Future's threat intelligence solutions. He said:
We are increasingly looking outside our enterprise and attempt to better anticipate emerging threats. With tools like Recorded Future we can assess huge swaths of behavior at a high level across the network and surface things that are very pertinent to your interests or business activities across the globe. Cyber security is about proactively knowing potential threats, and much of that is previewed on IRC channels, social media postings, and so on.
In my new monograph CyberOSINT: Next Generation Information Access, Recorded Future emerged as the leader in threat intelligence among the 22 companies offering NGIA services. To learn more about Recorded Future, navigate to the firm's Web site at www.recordedfuture.com.
Stephen E Arnold, April 29, 2015