Technology from Harrod's Creek
Stephen E. Arnold
March 4, 2003
Revised, March 12, 2003
Who Can You Trust?
Google, Yahoo! or Overture
Consolidation among public Internet search engines continues. In about a fortnight, Google acquired Pyra Labs, one of the driving forces in Web logs or blogs. Google now has another large content domain to complement its directory, newsgroup, and news services.
Yahoo! cemented a deal to acquire the search business of Inktomi, one of the grand old aunts of the Intenet indexing game. Inktomi provides search results to other services whose clients have included Microsoft Network and America Online.
Overture, one of the companies taking a lead in the pay—for-hits business, acquired two Internet search services: Alta Vista and the AllTheWeb service from FAST Search & Retrieval.
Overture
What is interesting about these acqusitions is that each signals a shift in each companies' business strategy in 2002. A year ago, Overture was content to generate $600 million in revenues from its pay-for-traffic business. For those not familiar with this concept, Overture auctions words in an eBay type of environment. Anyone wanting to "buy" the word travel pays money. Sites that use "hits" from Overture get a percentage of the fee the advertiser pays. Usually the pay-for-traffic hits, which look like a typical Web site listing, appear with a label or some graphic indication that the listings at the top of the searcher's hit list are advertisements. Because most searchers-except the trained professionals, of course-look at the first page of hits and usually click on the hit that looks most appropriate to the query, the advertiser gets traffic. Like spam, this type of traffic works and certainly helps Web masters show that a particular site generates traffic and the possiblity of sales, visibility, or whatever the Web master has on offer. With these two acquistions for what is slightly less than $250 million, Overture is in the Web indexing business. It certainly seems as if Overture wants to compete with Google. Overture has filed suit against Google for infringing on Overture's pay-for-placement patent. In 2003, Overture is able to compete in Internet indexing, although no public annoucements have been made.
Yahoo!
Yahoo! in 2002 was trying to generate money. Under new management, the company has achieved more revenue and reported to shareholders that the money tree is bearing cash fruit. Yahoo! dropped Inktomi as a provider of Internet hits which appeared at the bottom of the results page when users wanted listings from outside the Yahoo! directory.
Yahoo! reached a deal with Google to provide these results. In fact, the announcement that Inktomi "lost" the Yahoo! contract has been identified as one of the straws that broke Inktomi's financial back, forcing the sale of its corporate search business to Verity and finally leading-quite conveniently- to Yahoo!'s purchase of Inktomi's search technology at a reduced price.
Yahoo! is almost a revisionist's approach to America Online. Control of Web search is now strategic at Yahoo! To underscore the importance of pay-for-traffic at Yahoo!, the company hired Overture's vice president of search Tim Cadogan to become its own vice president of search. It is hard to get precise figures for how much Yahoo! pays Overture for traffic, but the figure has been estimated by one consultant to Overture who requested anonymity as "about $200 million per year."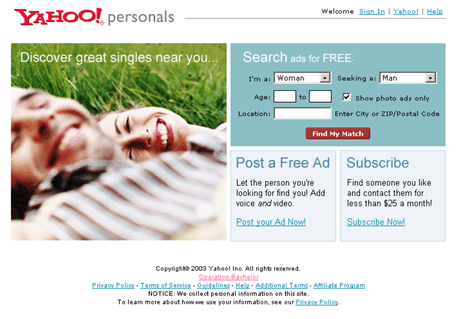 [Caption: Yahoo! is now monietizing its popular "dating" service by offering a subscription-based upgrade to the love-hungry or lonely Internet user.]
Yahoo! sells advertisements, subscriptions, and appears to jockeying for position in pay-for-traffic services. In 2003, Yahoo! has its subscription services, user-generated content in its groups and matchmaking fora, its directory, and now a Web indexing utility.
Google
Google in 2002 showed that it was making a solid commitment to generating revenue from advertising. The company expanded its advertising programs and began to offer its licensees the Google technology with tools to influence which hits appeared on a page. One can see this technology in action by navigating to the BBC.co.uk page and entering the term "travel" on various pages in the site. Different hits appear at different locations. In 2003, Google is adding to its content arsenal with the acquistion of blogs. Many blogs are rich in links. The more links a site has, the higher the "value" of the site in the Google algorithmic universe.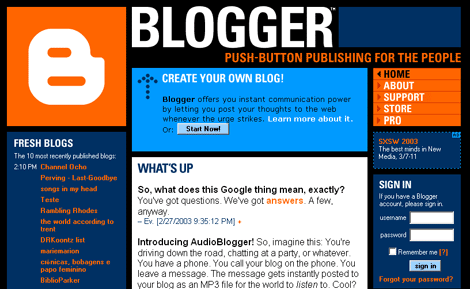 [Caption: Pyra's Blogger stresses push-button publishing for anyone with an Internet connection and a desire to produce digital information.]
The actual number of blogs is difficult to pin down. One thing is certain, however: there are a large number of them with estimates ranging from 100,000 to more than one million. Blogs are grassroots Internet publishing in its purest form. Pyra produces tools to allow anyone to create easily their own blogs. The blog information is not easily searched, although structured blogs are becoming more common.
Equally obvious is the revenue potential of selling advertisements on blog search result pages. One industry observer said, "Blogs have brains. The frequency of links in blog content is an example of content Darwinism. The most important links on a particular topic are the ones that get the most mentions in the blogs."
Combining link-rich content with its advertising technology, google can move more aggressively into the same markets served by Overture and Yahoo! Google seems to recognizing that it needs content like the Open Directory, news, and blogs to make Google more than clever technology and a fast spider.
The Differences among These Companies
As these services seems to become more and more alike, the question becomes, "Whom can searchers trust?"
It will be interesting to watch how these three services-Google, Overture, and Yahoo!-implement their services. With the economy in a downturn, one can expect some contention for available advertising pounds, dollars, and euros. Traffic translates to clicks. Clicks must be monetized. Successful monetization is one step on the path to market dominance.
The companies are different at this time. Overture is anchored in advertising, and it has fewer ties to the "Internet search" culture. Its acquisition of Alta Vista and AllTheWeb.com give the company search technology and a high-traffic site. The ethos of the traditional objective search may be delivered with a somewhat different spin from Overture's executive bowlers. Overture is like an American encountering cricket for the first time. The professional search community stands ready to claim that Overture is a chucker when it comes to presenting the results of a Web search. Overture has been looked upon with gentle toleration by many search experts. Indeed, one search expert working at a major consulting firm in the United States said, "Directories have always had paid listings. Overture is a directory. Everyone understands this and takes it into consideration when reviewing results."
Yahoo! is becoming more and more like an updated version of America Online. With advertising and for-fee upgrades available for electronic mail and video content, Yahoo! may emerge as the major challenger to Microsoft's MSN online service. Yahoo!'s empahsis on content has shifted from the costly human-edited directory listings to a leaner, more automated directory with a pay-for-placement twist. The revamped management at Yahoo! wants control over Web search for its portal play and seems interested in selling advertising linked to search results. Whether the Overture's fees were $2 or $200 million, Yahoo! wants to keep that money in its pockets and then stuff its customers' money in its pockets too. Fortune Magazine headlined its 2002 story about Terry Semel, the former Warner Bros. kingpin hired to be the Yahoo! mogul, with the slug, "Yahoo Should Grow Up Already." With Yahoo!'s December 2002 revenue hitting $285.8 million with a total unaudited net income of $46.2 million, Yahoo! is maturing precisely along the path identified by Mr. Semel.
Google is a technology and content company that sells advertising. Google has an excellent reputation due largely to the way in which its relevance algorithm produces on-point hits consistently. Regardless of topic, Google delivers relevant hits. Google has solid traffic and a way to monetize clicks. Google, unlike Overture and Yahoo!, has to integrate successfully its unbiased approach to Web indexing with the pay-for-placement model. Hiring executives who know how to monetize is not difficult. Google may find that it must take decisions that generate revenue at the expense of the objectivity that has become part of its brand identify. The need to capture blue-chip advertising revenue may be stressful for the Google culture, within the company and among its usership. Google provides its index of Web sites, the newsgroup content from the former Déja News, the agent-built digital newspaper and the Froogal price comparison and product finder service, and the new blog content. google has a clearer vision of its content competence, and that is a distinguishing feature for the company.
Who will be the marketplace winner? There may be one winner in terms of defining a next-generation model for subscription-based services. Yahoo! seems to be the front runner in that market.
Who will be the marketplace winner in blending advertising with Web search? Overture appears to be the team with the most wins. Moving forward, Overture is likely to build on its $600 million revenue base and continue to deliver traffic to advertisers who are hooked on its bidding system.
Who will be the winner in indexing Web-centric content? Google looks as if it will continue to maintain its position as the "best Web index" for the forseeable future. If Google makes a misstep, it is likely that Overture and Yahoo! will both strike fast, hard, and often to push Google from its top spot.
For the average searcher, it will be a "battle of the brands." The pay-for-placement services are likely to deliver equally good results for the person looking for a travel bargain.
Advertisers, not searchers, will decided the outcome of this battle. Over time, these three Web giants will drift into the comfortable oligopoly structure that characterizes scitentific, technical, and medical information and professional information for solicitors and accountants.
The outlook then is that these three search engine portal content advertising agency conglomerates are going to bang into one another. These companies are big by some yardsticks. When elephants fight, the grass gets trampled. The question becomes, "Who will be the grass underfoot as Yahoo!, google, and Overture content for clicks and advertisers' money. Almost everyone using online will be Yahooed, Googled, or Overtured in the coming months.
Arnold Information Technology

Postal Box 320
Harrod's Creek, Kentucky 40027
Voice: 502 228 1966

Electronic mail: sa@arnoldit.com
Web site: www.arnoldit.com
---
[ Top ] [ AIT Home ] [ Beargrass ] [ Site Map ]