Exalead
An Interview with Laurent Couillard
| | |
| --- | --- |
| | Exalead caught my attention many years ago. I showed up at Exalead's office in Paris, near Église de la Madeleine six, maybe seven years ago. I had learned about Exalead's "exascale" technology as Google was generating buzz as an innovator in search technology focused on advertising. Exalead's co-founder François Bourdoncle had some experience in information retrieval, a stellar academic background, and involvement with the Digital Equipment AltaVista.com search system. |
As I pointed out in my first Google study, The Google Legacy, the AltaVista.com project spawned a number of ideas, learnings, and approaches. Some of these influenced Google and others seem to have provided some broad guidelines for Exalead. However, AltaVista.com imploded.
Google pursued scale and ads to sell quilts and hand lotion. Exalead focused on scale, semantics, modular components, and technology to make organizations more efficient. Exalead remains a leader in delivering enterprise solutions that make a user able to get needed business information without having to guess key words in a search box or learn a idiosyncratic series of commands. The difference between Google and Exalead was striking by 2007. Today, Exalead thrives in the enterprise, and Google is once again reinventing its misfiring App Engine.
Exalead's Cloudview approach allowed licensees to tap into Exalead's traditional Web and enterprise functions via on premises installations, a cloud implementation, or a hybrid approach. Today, a number of companies are working to offer these options. Exalead's approach is stable and provides a licensee with platform flexibility as well as mobile search, mash ups, and inclusion of Exalead technology into existing enterprise applications. For organizations fed up with seven figure licensing fees for content processing systems that "never seem to arrive", Exalead has provided a fresh approach.
In 2010, Exalead's market success triggered action on the part of one of the world's leading engineering firms, Dassault Systèmes. Instead of licensing Exalead's technology, the firm acquired Exalead and aggressively expanded the firm's research, development, and marketing activities. Exalead's approach enables more than 300 organizations to break the chains of the "key word search box" and has provided Dassault with a competitive advantage in next-generation information processing. In addition to mobile and rich media processing, Exalead is working to present integrated displays of real time information that add value to a wide range of business functions. These include traditional engineering to finding a restaurant on an iPhone.
With the purchase of Exalead, Dassault appointed Laurent Couillard as Exalead's chief executive officer. Mr. Couillard joined Dassault Systèmes as an application engineer in 1996, most recently serving as Vice-President Sales and Distribution for Europe, the Middle East and Africa. In that post, he played a central role in the sales transformation of 3DS, establishing a powerful reseller channel for all PLM brands and contracting with more than 140 companies. As CEO of EXALEAD, his mission is to accelerate the market penetration of applications based on search technologies. Mr. Couillard holds an M.S. from Institut Supérieur de l'Aéronautique et de l'Espace, a preeminent institution in Toulouse, France.
I was able to speak with Mr. Couillard in early June 2011. The full text of the interview appears below.
What is your background?
I came to Exalead from Dassault Systèmes, where I began my career as an applications engineer. My first mission there was to develop software to help our customers better design, build and test manufactured products. While this foundation in technology and innovation makes me feel at home here at Exalead, I think in particular coming at our business from the user side of the software equation is a plus.
Beginning with the company's founders, Exalead has gathered some of the world's best talent in server-side software development, grid computing, and natural language processing. It's what's enabled us to produce the industry's top search-based application platform.
Now, we'll be devoting more energy to developing packaged business applications or SBAs built on this foundation. That's a mission right up my alley. And I intend to apply all my experience in sales and partner network development to this mission as well. That's my charge from Dassault: To use my dual technology/sales background to develop Exalead and to penetrate new markets with SBAs, while preserving all the qualities that make Exalead so unique in this market. I'm fortunate to be in a position to leverage the full knowledge, resources, geographical coverage and expertise of the Dassault group to make this happen.
What is a search-based application?
Any enterprise application that uses search technologies to help uses find, analyze, and make use of digital information. There are many forms today: text, audio, video, database, proprietary files, etc. An Exalead SBA allows an organization to build a modern system in which a user can run a query or take advantage of Exalead's ability to predict and suggest information in the context of a business process. Our approach makes information an enabler, not a road block.
How do you see search enabled applications fitting into today's business environment for your clients?
The situation is clear to many organizations. Data volumes are skyrocketing. Information systems complexity is inescapable. Silos continue to confound all integration efforts. And user expectations have been irrevocably reshaped by the Internet and mobile technologies. The information services landscape is in fact evolving so rapidly and extensively that trying to get by with legacy tools today is like trying to dig your way through the Sahara with a plastic shovel. The costs of solving today's data problems are skyrocketing. Exalead's approach addresses these problems today and gives the licensee a solution to handle tomorrow's data challenges. Most enterprise systems are solving today's problems old ways. That's not sustainable in our opinion.
Our customers need strong, truly innovative tools to make sense of information in this new landscape. Search technologies represent one of the most agile and powerful approaches to winning the information game. And unlike some emerging technologies, Exalead's solutions are mature and easy to deploy and use.
Is this what led Dassault Systèmes to enter the search arena?
Absolutely.
Dassault saw first-hand how search-based applications based on Exalead's systems and methods solved some of its clients' long-standing, mission-critical business challenges quickly, painlessly and inexpensively.
Dassault's management understood--based on technical, financial, and performance facts—that Exalead's search-based applications were a prime reason why search was, and is forecast to remain, an exceptional performer in the information technology software market.
Because Dassault was seeking to diversify its content processing offerings, search in general and search based applications technology in particular were obviously an appealing choice. Dassault is, therefore, developing SBAs as one of its three core activities.
What are these activities?
Ah, Dassault is focusing on three dimensional engineering tools and collaboration tools, product life cycle management for aerospace and other fields, and search-based applications. In a parallel effort, Dassault's engineers are the CloudView framework in the company's existing products as well.
What led Dassault Systèmes to choose Exalead over other search vendors?
Exalead clearly had the search-based application vision and experience the others lacked, but Dassault nonetheless wanted to evaluate a number of enterprise vendors on the strength of their foundational technology.
So, Dassault performed exhaustive platform benchmarking, and this data, together with intelligence gained through the course of client deployments.
Isn't this a hallmark of Dassault's approach to engineering?
Yes, and that in-depth analysis made it crystal clear to us that Exalead's technology represented a disruption within the enterprise market. Frankly, in light of Dassault Systèmes' experience with other platforms, the benchmark results were surprising
Can you share a couple of observations from this investigation?
Yes. For example, we verified that the other high profile enterprise search systems required 10 to 50 times the resources to even approach CloudView's performance. And CloudView was much easier to deploy and manage with functionality that equaled or exceeded the others.
With these facts, for Dassault it was a no-brainer to acquire Exalead. I think you reached similar conclusions in your studies of search as well.
I did. Some of my findings have appeared in my monographs about enterprise search and content processing since 2003. Let me ask you, without divulging your firm's methods or clients, what is a typical use case for a search-based application project?
Yes, this is one of my favorite topics. First, our SBAs deployments now outpace our classic enterprise and Web site search deployments three-to-one, and it's important to realize search-based applications technologies are remarkably versatile. Asking "what's a typical SBA use case" is a little like asking "What's a typical database use case?"
So where do I start?
Our clients are using search-based applications to address all kinds of information aggregation, access, discovery and analysis needs. One client is using an SBA to produce a 360 degree client view from two dozen applications to support sales and service. So some other examples:
One is using an search based application to manage spare parts inventories.
Another uses Exalead technology to enable real-time analysis of wind power production.
Another to achieve global spend analysis across 20-plus enterprise resource planning installations.
Another for e-reputation monitoring; and for a social media-inspired collaboration platform, as is the case with Dassault Systemès' collaborative SwYm platform and several other Dassault components.
I can say, though, that while our customers are using search-based applications for very different ends, most share a common root. The customers often begin with our clients hitting a wall with their existing systems.
Is there a specific client's implementation you can characterize?
Okay, are you familiar with the logistics provider GEFCO.
I am; GEFCO is a global outfit with many offices and hundreds of thousands of items moving worldwide at any point in time.
Good. You know the scale of the problem and the havoc old information creates.
So GEFCO's professionals had been working with traditional technology to wring better performance out of their database-centered vehicle track and trace system for two years, but to no effect. GEFCO was having to take extreme measures to keep the whole system from grinding to a halt, which is an all-to-frequent problem with most current enterprise systems.
GEFCO switched to a CloudView search-based application, and the company told us that our system immediately slashed data latency and query processing time and radically improved availability. At the same time, the search-based system was so much easier to use they were able to increase the user base 10-fold with no training. This further reduced costs compared to the firm's older system. And, GEFCO was able to offer its users do-it-yourself operational reporting on every data attribute maintained in source systems. No intermediaries were required to build data cubes, code reports, or configure complex procedures. ROI soared.
More important, though, the users loved the search-based application, and the GEFCO information technology professionals appreciated not only the better performance, but the agile development as well.
We learned that the Exalead initial application was prototyped in 10 days, with the first full production release in just a few weeks.
GEFCO Management was pleased with the fact that the application dropped per-user costs 50 percent. The success of this project has sparked several other initiatives, both mobile and PC-based. This cascade effect is common to most of our deployments. Search-based applications open up a whole new world. By toppling usability and performance barriers, Dassault Exalead can deliver, expose, and reveal information intelligence everywhere.
How in your experience does the Exalead technology get around some of the well known hurdles that some other vendors force licensees to navigate; for example, Microsoft Fast Search and scaling, Autonomy and configuring, Endeca and optimizing?
That too is a frequent question. The answer is simple. Of the four, only Exalead CloudView was born and bred on the Web. Our Internet and enterprise product are one and the same.
Exalead's founders set out to prove it was possible to apply sophisticated semantic processing to Web-scale volumes of data (16 billion docs and counting), and they were right.
The Web continues to be the crucible in which CloudView is developed and tested. CloudView is therefore unique in bringing Web scalability, usability and agility into the enterprise.
So do you think Exalead's Web roots can help a company deal with the challenges of 'Big Data,' with trying to squeeze useful elements from very large volumes of content against a backdrop of a high rate of change in existing content objects?
Without a doubt. Exalead CloudView is actually part of a unique hub of technologies that were specifically forged to deal with Big Data challenges on the Internet, and which are now making their way into the enterprise.
As with CloudView, all are "cloud" solutions employing flexible data models and massively parallel processing (MPP) architectures to break through data capture, processing, storage and access challenges, and all blur the line between information retrieval and database technologies.
You're familiar with these: Google's MapReduce and BigTable, Yahoo's Hadoop, Amazon's Dynamo and SimpleDB, Apache's Cassandra which Facebook uses, and LinkedIn's Voldemort, right?
To some degree.
What CloudView offers over the many 'NoSQL'-type solutions this Web club has spawned is maturity and usability. You don't have to hire a Ph.D. statistician who can write MapReduce functions in Erlang to make sense of your Big Data. With CloudView, a shipping clerk who can use a Web search engine will do. 
Some of the Big Data projects in progress with our clients now include exploratory analytics, real-time operational reporting and analytics, sentiment analysis, archiving applications and predictive analytics. These collections include both unstructured content and 'raw' structured data, mainly relatively small packet data like smart meter feeds, data that is not being stored or used now because it is simply too voluminous.
There has been a surge in interest in giving employees a way to "see" the information needed to address a business issue without having to change systems, run a query, and then open and close documents looking for an answer. Does Exalead deliver this kind of capability?
Yes, and in spades. You have to remember Exalead's always understood search is sometimes something you do, and other times something you consume. In other words, sometimes it's a search text box, and sometimes it's the silent enabler beneath a business application, or even an entire information ecosystem.
Does Exalead support mobile access?
Yes, again. The mobile revolution is a huge driver of this kind of information access. With a large, high-resolution monitor, you may be able to deal with silos by keeping a dozen applications open.
But in the mobile world, screen size, bandwidth, and 'live' contextual usage change the game. Everything has to be pulled together and synthesized in advance, and the user has to be able to move through manageable chunks of data using physical or visual tools like rockers, touch screens, voice commands, trackballs, and motion detectors.
Can you give me an example?
Sure. Take for example our Urbanizer iPhone app.
Urbanizer is a mood-based local restaurant guide that combines database restaurant listings, UGC content, Web data, sentiment analysis and social networking to help consumers find the perfect spot for dinner.
The app uses sentiment analysis and dynamic categorization and clustering to distill mountains of data into simple mood sliders, category wheels, and mood and location maps. It's a visual, at-a-glance synthesis that aids decision-making, and it's powered by search operating in stealth mode.
That's an example of visualization based on invisible search. But even when conventional, text-box search plays an explicit role in a search based application, it's usually just a launching pad.
You enter a query in a search text box and get your results back. From there, you can analyze, navigate and explore to your heart's content without ever touching the search box again, thanks to faceted navigation and 2D and 3D visualization and navigational tools like heat maps, scatter plots, charts, and bullet graphs, among other methods.
So while 'search' as a deliberate user action plays a pivotal role in many search based applications, it's almost (or entirely) invisible in others, yet always just as pivotal.
I get the value of visualization in general, but I am on the fence about emerging, game-type interfaces where content of multiple types of information are overlaid in a visual display of a real-world environment. Is this augmented reality a viable approach?
I understand your ambivalence about augmented reality: information overload's already a pandemic problem. Do we really need to dope our existing clutter with a dose of 3D reality? No – and yes. No, we do not need more information "noise," but yes, we do need augmented reality, that is, if it is done right.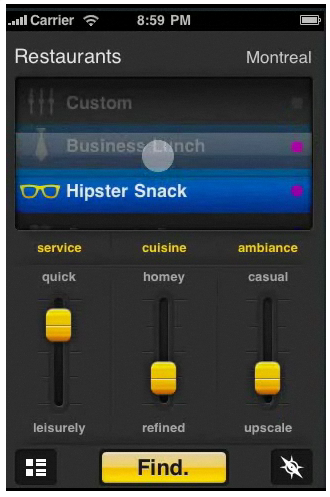 You can see the clues to doing it right in the Urbanizer example. Visualization is an invaluable tool for reducing complexity and making even Big Data meaningful and easily digestible for us human beings, and augmented reality is really just a kind of visualization tool, one that delivers information contextualized by location, and often delivered in real-time as a user moves through that location. That makes it a technology that puts us on hot on the trail of one of information access's holiest grails: pertinence.
What are the benefits?
This unparalleled pertinence means augmented reality will likely find its way into the standard IS toolbox. Mobile operators and their tourism and retailing clients have already been quick to realize the benefits of delivering real-time, localized data to users, and now "mainstream" business users in sectors like healthcare, medicine, life sciences, manufacturing and logistics are starting to benefit from augmented reality applications as well.
Given Dassault Systèmes' background in real and virtual environment simulation and Exalead's expertise in minimizing information complexity and noise, I personally wouldn't be surprised to see some pragmatic, high-value AR apps coming out of our labs, let's say 3D contextual search.
Where does a reader get more information about Exalead?
There are two places. First, we encourage people to visit the Exalead Web site at www.exalead.com. We also post frequently on our blog at http://blog.exalead.com/.
ArnoldIT Comment
Exalead provides high-performance search and semantic processing to organizations worldwide. Exalead specializes in taking a company's data "from virtually any source, in any format" and transforming it into a search-enabled application. The firm's technology, Exalead CloudView, represents the implementation of next-generation computing technology available for on-premises installation and from hosted or cloud services. Petascale content volume and mobile support are two CloudView capabilities. Exalead's architecture makes integration and customization almost friction-free. The reason for the firm's surge in the last two years has been its push into the enterprise with its search-based applications.
The idea of an enterprise application built upon a framework that can seamlessly integrate structured and unstructured data is one of the most important innovations in enterprise search. Only Google, Microsoft, and Exalead can boast commercial books about their search and content processing technology.
The acquisition of Exalead by Dassault is a good news, bad news situation. On one hand, Dassault has the resources and the market clout to push Exalead even further ahead of other search and content processing vendors. With the fast uptake of CloudView, Exalead will undergo continued rapid growth, vying with Autonomy for the role as the world's leading enterprise information and content processing vendor, and finding itself competing against firms with roots in business intelligence, traditional data management, and other enterprise software niches once isolated from a search-based approach. I give Exalead a solid, positive recommendation.
Stephen E. Arnold, June 28, 2011