Social Media and News Diversity
Remember the filter bubble phrase. The idea is that in an online world one can stumble into, be forced into, or be seduced into an info flow which reinforces what one believes to be accurate. The impetus for filter bubbling is assumed to be social media. Not so fast, pilgrim.
"Study: Social Media Contributes to a More Diverse News Diet — Wait, What?!" provides rock solid, dead on proof that social media is not the bad actor here. I must admit that the assertion is one I do not hear too often. I noted this passage:
The study found that people who use search engines, social media, and aggregators to access news can actually have more diverse information diets.
The study is "More Diverse, More Politically Varied: How Social Media, Search Engines and Aggregators Shape News Repertoires in the United Kingdom." With a word like "repertoire" in the title, one can almost leap at the assumption that the work was from Britain's most objectively wonderful institutions of higher learning. None of that Cambridge Analytica fluff. These are Oxfordians and Liverpudlians. Liverpool is a hot bed of "repertoire" I have heard. You can download the document at this url from Sage, a fine professional publisher, at https://journals.sagepub.com/doi/pdf/10.1177/14614448211027393.
The original study states:
There is still much to learn about how the rise of new, 'distributed', forms of news access through search engines, social media and aggregators are shaping people's news use.
That lines up with my understanding of what is known about the upsides and downsides of social media technology, content, its use, and its creators. There's a handy list of tracked articles read: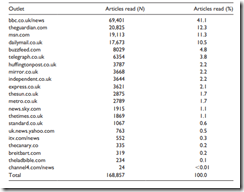 The Canary.co is interesting because it runs headlines which are probably intuitively logical in Oxford and Liverpool pubs. Here's a headline from July 11, 2021:
Boris Johnson Toys with Herd Immunity Despite Evidence Linking Long Covid to Brain Damage.
I am not sure about Mr. Johnson's toying, herd immunity, and brain damage. But I live in rural Kentucky, not Oxford or Liverpool.
The Sage write up includes obligatory math; for example: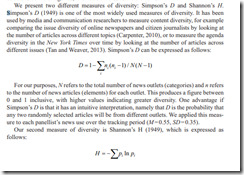 And then charge forward into the discussion of this breakthrough research.
Social media exposes their users to more diverse opinions. I will pass that along to the folks who hang out in the tavern in Harrod's Creek. Some of those individuals get their info from quite interesting groups on Telegram. SocialClu, anyone? Brain damage? TikTok?
Stephen E Arnold, July 16, 2021
Comments