Counter Intuitive or Unaware of Costco?
I try to sidestep arguments with academics cranking out silly or addled reports that are supposed to be impactful. I read "Shopping Trolleys Save Shoppers Money As Pushing Reduces Spending, Finds New Study." This research gem asserts:
Psychology research has proven that triceps activation is associated with rejecting things we don't like – for example when we push or hold something away from us – while biceps activation is associated with things we do like – for example when we pull or hold something close to our body. When testing the newly designed trolley on consumers at a supermarket, report authors Professor Zachary Estes and Mathias Streicher found that those who used shopping trolleys with parallel handles bought more products and spent 25 per cent more money than those using the standard trolley.
A couple of thoughts:
A shopping cart or trolley with square wheels would do the trick too, right?
A shopping cart weighing more than 50 kilos would do the trick, particularly in small shops near retirement facilities?
An ALDI style approach, just with a cart use fee of $100 might inhibit shopping?
But the real proof is a visit to Costco. Here's a snap of what I see when my wife and I visit out local big box store in rural Kentucky: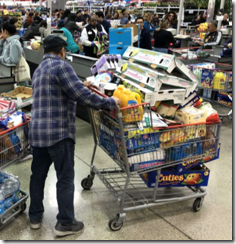 If the person can't push it, there are motor driven carts.
Stephen E Arnold, November 30, 2021
Comments