Intel Horse Feathers: The Graphics Edition
Intel, famous for its remarkable quantum facilitator chip, is back in the horse feathers' news. I read the allegedly spot on "Intel Won't Be Troubling Nvidia This Year, Because the Arc A780 GPU Never Existed." I don't get to excited about graphics cards. The ones we use are stable and good enough (that's the benchmark for excellence these days). The write up is more interested in this branch of video razzle dazzle, however. I noted this statement in the cited article about a wonder product from the Intel Inside folks:
Ryan Shrout, who handles Intel's graphics marketing, has confirmed via Twitter that there isn't an incoming A780 card – and not only that, but he also claims that Intel never even had plans to make one.
The former podcaster apparently knows when horse featherism must be addressed. How? Via Twitter!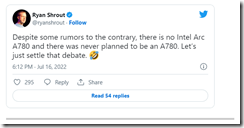 What I find interesting is that assertions abound. Many of these sell products, licenses, and services which are marketing centric. My perception is that a desire to capture mind share takes precedence over reality.
I think part of the problem is sparked by insecurity or belief that publicity can make up for delivering something that solves a problem. Intel is going to build or was thinking about building big semiconductor fabs in a state which faces some water challenges. Next up was a build out in Ohio, just not too close to the big river. Plus we have the horse thing.
As TSMC and others move forward with 3 nm chips, Intel relies on a former podcaster and a tweet to make clear. Yeah, no A780. Credibility? Absolutely.
But a tweet? Very 2022.
Stephen E Arnold, July 26, 2022
Comments