AI Legislation: Can the US Regulate What It Does Understand Like a Dull Normal Student?
I read an essay by publishing and technology luminary Tim O'Reilly. If you don't know the individual, you may recognize the distinctive art used on many of his books. Here's what I call the parrot book's cover: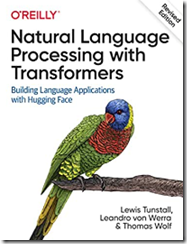 You can get a copy at this link.
The essay to which I referred in the first sentence of this post is "You Can't Regulate What You Don't Understand." The subtitle of the write up is "Or, Why AI Regulations Should Begin with Mandated Disclosures." The idea is an interesting one.
Here's a passage I found worth circling:
But if we are to create GAAP for AI, there is a lesson to be learned from the evolution of GAAP itself. The systems of accounting that we take for granted today and use to hold companies accountable were originally developed by medieval merchants for their own use. They were not imposed from without, but were adopted because they allowed merchants to track and manage their own trading ventures. They are universally used by businesses today for the same reason.
The idea is that those without first hand knowledge of something cannot make effective regulations.
The essay makes it clear that government regulators may be better off:
formalizing and requiring detailed disclosure about the measurement and control methods already used by those developing and operating advanced AI systems. [Emphasis in the original.]
The essay states:
Companies creating advanced AI should work together to formulate a comprehensive set of operating metrics that can be reported regularly and consistently to regulators and the public, as well as a process for updating those metrics as new best practices emerge.
The conclusion is warranted by the arguments offered in the essay:
We shouldn't wait to regulate these systems until they have run amok. But nor should regulators overreact to AI alarmism in the press. Regulations should first focus on disclosure of current monitoring and best practices. In that way, companies, regulators, and guardians of the public interest can learn together how these systems work, how best they can be managed, and what the systemic risks really might be.
My thought is that it may be useful to look at what generalities and self-regulation deliver in real life. As examples, I would point out:
The report "Independent Oversight of the Auditing Professionals: Lessons from US History." To keep it short and sweet: Self regulation has failed. I will leave you to work through the somewhat academic argument. I have burrowed through the document and largely agree with the conclusion.
The US Securities & Exchange Commission's decision to accept $1.1 billion in penalties as a result of 16 Wall Street firms' failure to comply with record keeping requirements.
The hollowness of the points set forth in "The Role of Self-Regulation in the Cryptocurrency Industry: Where Do We Go from Here?" in the wake of the Sam Bankman Fried FTX problem.
The MBA-infused "ethical compass" of outfits operating with a McKinsey-type of pivot point?
My view is that the potential payoff from pushing forward with smart software is sufficient incentive to create a Wild West, anything-goes environment. Those companies with the most to gain and the resources to win at any cost can overwhelm US government professionals with flights of legal eagles.
With innovations in smart software arriving quickly, possibly as quickly as new Web pages in the early days of the Internet, firms that don't move quickly, act expediently, and push toward autonomous artificial intelligence will be unable to catch up with firms who move with alacrity.
Net net: No regulation, imposed or self-generated, will alter the rocket launch of news services. The US economy is not set up to encourage snail-speed innovation. The objective is met by generating money. Money, not guard rails, common sense, or actions which harm a company's self interest, makes the system work… for some. Losers are the exhaust from an economic machine. One doesn't drive a Model T Ford. Today those who can drive a Tesla Plaid or McLaren. The "pet" is a French bulldog, not a parrot.
Stephen E Arnold, April 20, 2023
Comments