I read a 4,300 word post called "Nextdoor Is Quietly Replacing the Small-Town Paper" about an online social network aimed at "neighbors." Yep, just like the one in which Mr. Rogers lived in for 31 years.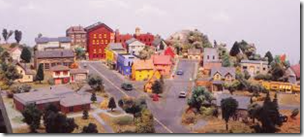 A world that only exists in upscale communities, populated by down home folks with money, and alarm systems.
The write up explains:
Nextdoor is an evolution of the neighborhood listserv forthe social media age, a place to trade composting tips, offerbabysitting services, or complain about the guy down the street whodoesn't clean up his dog's poop. Like many neighborhood listservs,it also has increasingly well-documented issues with racial profiling, stereotyping of the homeless, and political ranting of variousstripes, including QAnon. But Nextdoor has gradually evolved into something bigger and more consequential than just a digital bulletin board: In many communities,the platform has begun to step into roles once filled by America'slocal newspapers.
As I read this, I recalled that Google wants to set up its own news operation in Australia, but the GOOG is signing deals with independent publishers, maybe the mom-and-pop online advertising company should target Nextdoor. Imagine the Google Local ads which could be hosed into this service. Plus, Nextdoor already disappears certain posts and features one of the wonkiest interfaces for displaying comments and locating items offered for free or for sale. Google-ize it?
The article gathers some examples of how the at homers use Nextdoor to communicate. Information, disinformation, and misinformation complement quasi-controversial discussions. But if one gets too frisky, then the "seed" post is deleted from public view.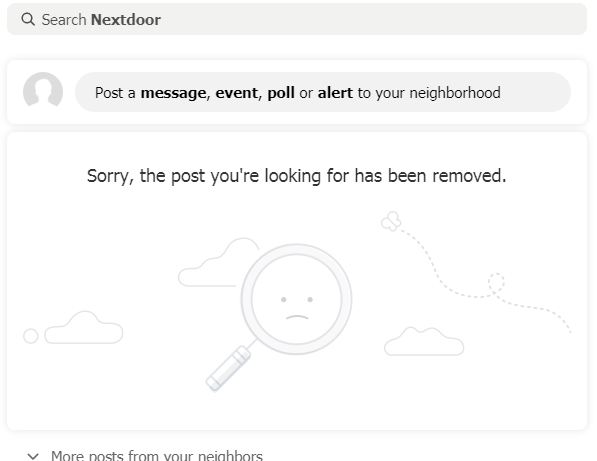 I have pointed out in my lectures (when I was doing them until the Covid thing) that the local and personal information is a goldmine of information useful to a number of commercial and government entities.
If you know zero about Nextdoor, check out the long, long article hiding happily behind a "register to read" paywall. On the other hand, sign up and check out the service.
Google, if you were a good neighbor, you would be looking at taking Nextdoor to Australia to complement the new play of "Google as a news publisher." A "real" news outfit. Maybe shaped information is an online "law" describing what's built in to interactions which are not intermediated?
Stephen E Arnold, January 28, 2021
I spotted the jargon now used by Palantir for its Titan platform. No, the jargon is not platform. Here's what the policeware powerhouse states at the Titan Web page:
Titan's platform upgrade makes Gotham more performant, open, and proactive, so that the world's institutions can continue turning data into intelligence.
I once heard a Fast Search & Transfer whiz kid use the word "performant." In 2006, I asked, "What does performant mean?" The answer was, "It means fast." I asked, "Like the name of your company or fast as in speed?" The reply, "Fast." That's the type of answer that may have contributed to some of Fast Search's challenges.
I also like the Palantirish word "proactive," which seems forward leaning.
The search and business intelligence vendors have been using the phrase "turning data into intelligence" for years.
To sum up, Palantir is becoming performant in marketing its platform which converts all sorts of information into "intelligence." Now what is "intelligence"? Answer fast or performantly, please.
Stephen E Arnold, January 7, 2021
The DarkCyber video news program for December 15, 2020, is now available at this link. This week's program includes:
Fact or fiction: Work around iCloud security for an iPad
Germany opens backdoor to one encrypted email system
The Dark Web and Covid is a thing
Smart weapons and surgical strikes: The future of war
NSO Group in the spotlight again
Current information about beam weapons.
You may also view the program via the embedded player on the Beyond Search Web site at this link. Plus, no begging for dollars and no advertising.
Kenny Toth, December 15, 2020
"AWS Announces Panorama, a Device That Adds Machine Learning Technology to Any Camera" caught my attention. (Now don't think I ignored Amazon's work monitoring system called Monitron, a wonderful name, very Robo Cop like. I have not.) I noted the word "all" in the title. Very wide in scope. Appropriate in an era of data harvesting. Also, I quite liked the "appliance" moniker. What could me more appropriate for a company with more than one million employees, oodles of government contracts with assorted nation states, and customers hungry to know as much as possible about humanoids and other entities of interest? A toaster, a data Hoover, a device to exploit the info-pressure differential between those with the gizmo and those monitored by the gizmo.
The write up states:
…enterprises continue to clamor for new machine learning-enabled video recognition technologies for security, safety and quality control. Indeed, as the COVID-19 pandemic drags on, new protocols around building use and occupancy are being adopted to not only adapt to the current epidemic, but plan ahead for spaces and protocols that can help mitigate the severity of the next one.
And law enforcement and intelligence applications? Whoops. Not included in the write up nor in the AWS blog post. Amazon is not in the policeware and intelware business. At least, that's what I have been told.
Stephen E Arnold, December 2, 2020
Here's an interesting quote (if it is indeed accurate):
SFM [a George Soros financial structure] made this investment [in Palantir Technologies] at a time when the negative social consequences of big data were less understood," the firm said in a statement Tuesday. SFM would not make an investment in Palantir today.
The investment concerns Palantir Technologies. George Soros, who is 90 years young, according to "Soros Regrets Early Investment in Peter Thiel's Palantir," includes this statement:
Soros has sold all the shares it's permitted to sell at this time and will keep selling, according to the statement. "SFM does not approve of Palantir's business practices," the firm said.
Hindsight is 20-20. Or is it?
Hindsight bias can cause memory distortion. Because the event happened like you thought it would, you go back and revise your memory of what you were thinking right before the event. You re-write history, so to speak, and revise the probability in hindsight. Going forward, you use that new, higher probability to make future decisions. When in fact, the probabilities haven't changed at all. That leads to poor judgment.—"Innovators: Beware the Hindsight Bias"
Stephen E Arnold, November 18, 2020
I enjoy once-secretive companies explaining what they are not. A good example of this type of re-formation is "Palantir Is Not a Data Company (Palantir Explained, #1)." The headline makes it clear to me that there will be additional "we are not" essays coming down the intelware pike. The first installment of what a stealth company communicated incorrectly it seems is:
Palantir is not a data company and not a data aggregator.
The write up wants to differentiate from a company like Datminr or Oracle BlueKai and similar firms. These outfits suck up information and then sell access to those data.
Palantir Technologies is not in that "data" business. The company processes the data its clients have, license, or to which the clients link in an appropriate manner.
The essay makes clear that Palantir is a "software company." That's true. Much of the software is open source or crafted to perform specific functions which customers pay Palantir to effectuate. (There are partners and integrators who perform other work for Palantir licensees. Most of these companies keep a low profile and do not advertise their Palantir goodness.
Several observations:
Palantir is a hybrid outfit; that is, it combines open source software, custom code, and consulting to generate revenue
Partners and integrators contribute expertise and software shims to allow a licensee obtain a desire output from the Palantir system
Much of Palantir "runs" on cloud services; for example, Amazon Web Services.
Now that Palantir is a publicly traded company, the once stealthy firm which operated as a start up for more than a decade has to demonstrate that it is avoiding some of the public relations pitfalls for intelware and policeware vendors in the public eye.
How difficult is this task? Quite challenging in my opinion.
I am looking forward to the second installment of explaining Palantir.
Stephen E Arnold, November 17, 2020
Amazon has made public its Glue service. The idea is that messy data can be cleaned up or normalized without writing code. The service is part of the Amazon "no code" or "low code" approach. According to "Announcing AWS Glue DataBrew – A Visual Data Preparation Tool That Helps You Clean and Normalize Data Faster":
AWS Glue DataBrew is available, a visual data preparation tool that helps you clean and normalize data up to 80% faster so you can focus more on the business value you can get. DataBrew provides a visual interface that quickly connects to your data stored in Amazon Simple Storage Service (S3), Amazon Redshift, Amazon Relational Database Service (RDS), any JDBC accessible data store, or data indexed by the AWS Glue Data Catalog. You can then explore the data, look for patterns, and apply transformations. For example, you can apply joins and pivots, merge different data sets, or use functions to manipulate data.
How useful will the service be to companies deploying intelware on the AWS platform? Very useful. GeoSpark Analytics-type firms have been using AWS for their advanced content systems.
The good news is that the service is more widely available.
Stephen E Arnold, November 13, 2020
Authorities in Germany have acted on suspicions that spyware firm FinFisher, based in Munich, illegally sold its software to the Turkish government. It is believed that regime used the tools to spy on anti-government protesters in 2017. The independent Turkish news site Ahval summarizes the raid and the accusations in, "Spyware Company that Allegedly Sold Spyware to Turkey Raided by German Police." We're told:
"Germany's Customs Investigation Bureau (ZKA) searched 15 properties last week, both in Germany and other countries. Public prosecutors told German media that directors and employees of FinFisher and other companies were being investigated. The investigation follows complaints filed by NGOs Reporters Without Borders, Netzpolitik.org, the Society for Civil Rights (Gesellschafft für Freiheitsrechte, GFF) and the European Center for Constitutional and Human Rights. The NGOs believe that a spyware product used in 2017 to target anti-government protesters in Turkey was FinFisher's FinSpy. Germany's Economy Ministry has issued no new permits for spyware since 2015, while the software in question was written in 2016, meaning that if it was used, it must have been exported in violation of government license restrictions."
Activist group CitizenLab asserts the Turkish government spread the spyware to protesters through Twitter accounts. These accounts, we're told, masqueraded as sources of information about upcoming protests. As far back as 2011, FinFisher was suspected of supplying regimes in the Middle East with spyware to track Arab Spring protestors. The software has since been found in use by several authoritarian governments, including Bahrain, Ethiopia, and he UAE. Just this September, Amnesty International reported FinFisher's spyware was being used by Egypt. For its part, of course, the company denies making any sales to countries not approved by German law. We shall see what the investigation turns up.
Cynthia Murrell, November 3, 2020
DarkCyber noted "A French Alternative to Palantir Would Take Two Years to Make, Thales CEO Says." The Reuters news story contains information which allegedly originated with Patrice Caine, the CEO of Thales, a rough equivalent to a large US defense contractor like Raytheon or the British outfit BAE Systems.
Factoids which appear in the write up:
DGSI, the French equivalent of a mash up of the FBI and NSA, said there was no comparable product available from a French company
France wants to achieve digital sovereignty in the intelware and policeware markets; that is, use French products
The time required to clone Gotham is 24 months; however, the assistance of the French government would be needed.
DarkCyber observations:
First, the perception that no French company can deliver this type of system may come as a surprise to some French companies. Firms like Sinequa have marketed intelligence capabilities for many years. Some policeware and intelware is just enterprise search gussied up with a stage costume and some eye liner. Plus, there are other companies as well who might interpret the "no comparable product" comment as an affront; for example, hot ticket Datanami or the quite functional Amesys Eagle and Shadow technology.
Second, the desire to use French products is important. However, the French government has not moved with sufficient purpose to cultivate the type of innovation in intelware evident in the UK, for example. The UK is a policeware and intelware hot spot; for instance, the Gamma Group among others. The deanonymization of digital currencies revolution has been chugging along for a number of years because one university moved forward.
Third, the idea that two years are needed before France has a system comparable to Palantir Gotham is either wildly optimistic or an understatement about the time required. Fast ramping is possible with a French nucleus, supplemented with strategic acquisitions. For example, tap Dassault Exalead, provide funding, and recommend that innovative companies be identified and moved lock, stock, and barrel to Montpellier or Toulouse.
DarkCyber's team can identify what to buy and what to do to assemble a French solution to the need for a Palantir-type system. It is important to remember that Palantir Gotham is "old" in Internet years. There are innovators and talent to create what France wants more in step with the modern era, not the emulation of a i2 Ltd's late 1990's thinking.
And where did the phrase "red tape" originate? Yep, France.
Stephen E Arnold, October 29, 2020
I received a request for the links to my Palantir Technologies coverage. Here's a hot linked list to the 17 essays, news items, and analyses which appeared in Beyond Search / Dark Cyber from March to October 2020. Stories prior to this year's may be located using the search function on the Beyond Search / Dark Cyber blog.
There are other, earlier stories. These provide a snapshot of the Beyond Search and Dark Cyber coverage of the company. Remember. Each of these articles is anchored to an open source news story.
Stephen E Arnold, October 27, 2020