Search Engine Optimization: A Black Art?
Getting a Higher Google Ranking
The goal of every Web master is to get a site on the first page of Google or Yahoo search results. Speakers at SEO (search engine optimization conferences) uniformly suggest that their firms have the magic key to a high ranking. Some go so far as promising to make a site number one on Google, MSN, or Yahoo.
The pressure on those involved with Web sites grows with each passing month. The reason is that the cost of maintaining a Web site continues to rise. One Federal Web site cost less than $250,000 to operate in its first full year of operation. This year, the site will cost more than $20 million dollars. This may be an extreme example of Web site cost inflation, but it is an actual situation.
Making a site number one on Google involves far more than submitting a site to "more than 1,000 Web indexes" or "finding the right keywords for metatags." These quotes come from marketing collateral from software vendors promising a high ranking with little effort.
The reality of getting a high Web site ranking is depicted in the graphic below.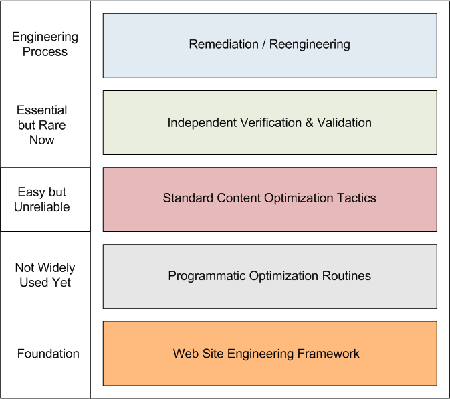 Let's look at each of these layers, in what Arnold IT calls the SEO engineering process. The order of these functions is from the task of fixing a broken Web site down to the technology foundation on which the Web site rests.
Jump to:
Contact Mr. Arnold at:
Postal Box 320
Harrod's Creek, Kentucky 40027, USA
Voice: (502) 228-1966
Facsimile: (502) 228-0548
Electronic mail: sa@arnoldit.com