Featured
Business Intelligence: What Is Hot? What Is Not?
I read "Where Business Intelligence is Delivering Value in 2018." The write up summarizes principal findings from a study conducted by Dresner Advisory Services, an outfit with which I am not familiar. I suggest you scan the summary in Cloud Tweaks and then, if you find the data interesting, chase after the Dresner outfit. My hunch is that the sales professionals will respond to your query.
Several items warranted my uncapping my trusty pink marker and circling an item of information.
First, I noticed a chart called Technologies and Initiatives Strategic to Business Intelligence. The chart presents data about 36 "technologies." I noticed that "enterprise search" did not make the list. I did note that cognitive business intelligence, artificial intelligence, t4ext analytics, and natural language analytics did. If I were generous to a fault, I would say, "These Dresner analysts are covering enterprise search, just taking the Tinker Toy approach by naming areas of technologies." However, I am not feeling generous, and I find it difficult to believe that Dresner or any other knowledge worker can do "work" without being able to find a file, data, look up a factoid, or perform even the most rudimentary type of research without using search. The omission of this category is foundational, and I am not sure I have much confidence in the other data arrayed in the report.
Second, I don't know what "data storytelling" is. I suppose (and I am making a wild and crazy guess here) that a person who has some understanding of the source data, the algorithmic methods used to produce output, and the time to think about the likely accuracy of the output creates a narrative. For example, I have been in a recent meeting with the president of a high technology company who said, "We have talked to our customers, and we know we have to create our own system." Obviously the fellow knows his customers, essentially government agencies. The customers (apparently most of them) want an alternative, and realizes change is necessary. The actual story based on my knowledge of the company, the product and service he delivers, and the government agencies' budget constraints. The "real story" boils down to: "Deliver a cheaper product or you will lose the contract." Stories, like those from teenagers who lose their homework, often do not reflect reality. What's astounding is that data story telling is number eight on the hit parade of initiatives strategic to business intelligence. I was indeed surprised. But governance made the list as did governance. What the heck is governance?
Interviews
Bitext: Exclusive Interview with Antonio Valderrabanos
On a recent trip to Madrid, Spain, I was able to arrange an interview with Dr. Antonio Valderrabanos, the founder and CEO of Bitext. The company has its primary research and development group in Las Rosas, the high-technology complex a short distance from central Madrid. The company has an office in San Francisco and a number of computational linguists and computer scientists in other locations. Dr. Valderrabanos worked at IBM in an adjacent field before moving to Novell and then making the jump to his own start up. The hard work required to invent a fundamentally new way to make sense of human utterance is now beginning to pay off.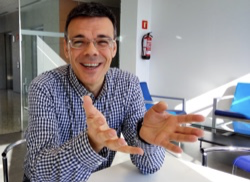 Dr. Antonio Valderrabanos, founder and CEO of Bitext. Bitext's business is growing rapidly. The company's breakthroughs in deep linguistic analysis solves many difficult problems in text analysis.
Founded in 2008, the firm specializes in deep linguistic analysis. The systems and methods invented and refined by Bitext improve the accuracy of a wide range of content processing and text analytics systems. What's remarkable about the Bitext breakthroughs is that the company support more than 40 different languages, and its platform can support additional languages with sharp reductions in the time, cost, and effort required by old-school systems. With the proliferation of intelligent software, Bitext, in my opinion, puts the digital brains in overdrive. Bitext's platform improves the accuracy of many smart software applications, ranging from customer support to business intelligence.
In our wide ranging discussion, Dr. Valderrabanos made a number of insightful comments. Let me highlight three and urge you to read the full text of the interview at this link. (Note: this interview is part of the Search Wizards Speak series.)
Linguistics as an Operating System
One of Dr. Valderrabanos' most startling observations addresses the future of operating systems for increasingly intelligence software and applications. He said:
Linguistic applications will form a new type of operating system. If we are correct in our thought that language understanding creates a new type of platform, it follows that innovators will build more new things on this foundation. That means that there is no endpoint, just more opportunities to realize new products and services.
Better Understanding Has Arrived
Some of the smart software I have tested is unable to understand what seems to be very basic instructions. The problem, in my opinion, is context. Most smart software struggles to figure out the knowledge cloud which embraces certain data. Dr. Valderrabanos observed:
Search is one thing. Understanding what human utterances mean is another. Bitext's proprietary technology delivers understanding. Bitext has created an easy to scale and multilingual Deep Linguistic Analysis or DLA platform. Our technology reduces costs and increases user satisfaction in voice applications or customer service applications. I see it as a major breakthrough in the state of the art.
If he is right, the Bitext DLA platform may be one of the next big things in technology. The reason? As smart software becomes more widely adopted, the need to make sense of data and text in different languages becomes increasingly important. Bitext may be the digital differential that makes the smart applications run the way users expect them to.
Snap In Bitext DLA
Advanced technology like Bitext's often comes with a hidden cost. The advanced system works well in a demonstration or a controlled environment. When that system has to be integrated into "as is" systems from other vendors or from a custom development project, difficulties can pile up. Dr. Valderrabanos asserted:
Bitext DLA provides parsing data for text enrichment for a wide range of languages, for informal and formal text and for different verticals to improve the accuracy of deep learning engines and reduce training times and data needs. Bitext works in this way with many other organizations' systems.
When I asked him about integration, he said:
No problems. We snap in.
I am interested in Bitext's technical methods. In the last year, he has signed deals with companies like Audi, Renault, a large mobile handset manufacturer, and an online information retrieval company.
When I thanked him for his time, he was quite polite. But he did say, "I have to get back to my desk. We have received several requests for proposals."
Las Rosas looked quite a bit like Silicon Valley when I left the Bitext headquarters. Despite the thousands of miles separating Madrid from the US, interest in Bitext's deep linguistic analysis is surging. Silicon Valley has its charms, and now it has a Bitext US office for what may be the fastest growing computational linguistics and text analysis system in the world. Worth watching this company I think.
For more about Bitext, navigate to the firm's Web site at www.bitext.com.
Stephen E Arnold, April 11, 2017
Latest News
Speed Shifting Cultural Gears
Social scientists have often speculated what percentage of a population must object to a behavior before that behavior is seen as abnormal (sexual harassment in... Read more »
Changing How Electronics Are Done
I read "DARPA Plans a Major Remake of US Electronics." The write up reports that the US government's Defense Advanced Research Projects Agency is funding activities... Read more »
Oracle: A Leader in a Blockchain Service Which Is Fast, Efficient, and Cost Effective
Neither Amazon's nor Oracle's blockchain capabilities have captured the imagination of die hard Facebookers or Tweet drones. I read "Global Businesses Turn... Read more »
Elsevier: An Open Source Flag Carrier?
According to this article at the Guardian, the European Union is to be applauded for its goal of open access to all scientific publications by 2020. However, writer... Read more »
Cambridge Analytica: A Few More Alleged Factoids
It is 2018 and the 2016 US presidential election remain news. Nature wrote an interesting article that digs into the data used to target Facebook users: "The Scant... Read more »
DarkCyber for July 17, 2018, Now Available
DarkCyber for July 17, 2018, is now available. You may view the nine minute news program about the Dark Web and lesser known Internet services at www.arnoldit.com/wordpress... Read more »
An Algorithm for Fairness and Bias Checking
I like the idea of a meta algorithm. This particular meta algorithm is described in "New Algorithm Limits Bias in Machine Learning." The write up explains what... Read more »
Enterprise Search: Long Documents Work, Short Documents, Not So Much
Enterprise Search goals are notoriously wordy and complex. Is this just a symptom of a complicated system that cannot be explained any other way? Probably not, and... Read more »
Social Media: Mass Behavior Modification and Revenue
File this one under "Things That Are Not Big Shock," but experts have recently been taking a closer look at the trends in social media that tend to ruin this... Read more »
Journalists: Smart Software Is Learning How to Be a Real Journalist
I read "Why Bots Taking Over (Some) Journalism Could Be a Good Thing." I love optimists who lack a good understanding of how numerical recipes work. The notion... Read more »