Featured
The Next Stage in Information Warfare: Quantum Weaponization
We have been tracking the emergence of peer to peer technologies. Innovators have been working to deal with the emergence of next generation mainframe computing architectures like those available from Amazon, Facebook, and Google. The idea is that these new mainframes have popped up a level and are using software to integrate individual computing devices into larger constructs which are command and control systems.
Examples of the innovations can be found in the digital currency sector with the emergence of IOTA like systems. There are other innovation nodes as well; for example, discussed in online publications like Medium, technical fora, and implemented by outfits like Anonymous Portugal.
One of the popular methods used by my former colleagues at Halliburton Nuclear Utility Services was to look at a particular problem. The nuclear engineers would then try to fit the problem into a meta-schema. The idea was that a particular problem in some nuclear applications could not be tackled directly. A nuclear engineer tried to find ways to address the problem without poking the specific issue because once probed, the problem morphed. Hence, the meta-method was more useful.
Here's a diagram which I think shows one facet of the approach:
The idea is to come at a problem in different way. Edward de Bono called it "lateral thinking." For me, the idea is to pop outside a problem, not in two dimensions, but three or four if time plays a part. Maybe "meta-thining" or "meta-analysis"?
What's ahead for "the Internet" is what I conceptualize as urban warfare in the online world.
Non-traditional approaches to security, messaging, and data routing will combine to create a computing environment that's different. Smart software will allow nodes or devices to make local decisions, and then that same smart software will use random message pathways to accomplish a task like routing. The difference between today's concentrated Internet will be similar to Caesar's Third Legion engaging in urban warfare. Caesar's troops have swords; the urban fighters have modern weapons. Not even mighty Caesar can deal with the mismatch in technology.
Several observations:
More robust encryption methods will make timely sense making of intercepted data very, very difficult
Smart software will create polymorphic solutions to what are today difficult problems
The diffusion of intelligent computing devices (including light bulbs) generate data volumes which will be difficult to process for meaningful signals by components not embedded in the polymorphic fabric. (Yes, this means law enforcement and intelligence entities).
The era of the "old" Internet is ending, but the shift is underway. The movement is from a pointed stick to a cellular structure filled with adaptable proteins. The granularity and the "intelligence" of the tiny bits will be fascinating to observe.
In one sense, the uncertainty inherent in many phenomena will migrate into online.
The shift is not inherently "bad." New opportunities will arise. The shift will have significant impacts, however. Just as the constructs of the industrial age have been reshaped by the "old" Internet, the new polymorphic, quantum-ized Internet will usher in some interesting changes.
Is digital Ebola replicating now, gentle reader?
Stephen E Arnold, February 20, 2018
Interviews
Bitext: Exclusive Interview with Antonio Valderrabanos
On a recent trip to Madrid, Spain, I was able to arrange an interview with Dr. Antonio Valderrabanos, the founder and CEO of Bitext. The company has its primary research and development group in Las Rosas, the high-technology complex a short distance from central Madrid. The company has an office in San Francisco and a number of computational linguists and computer scientists in other locations. Dr. Valderrabanos worked at IBM in an adjacent field before moving to Novell and then making the jump to his own start up. The hard work required to invent a fundamentally new way to make sense of human utterance is now beginning to pay off.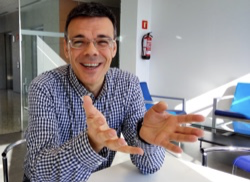 Dr. Antonio Valderrabanos, founder and CEO of Bitext. Bitext's business is growing rapidly. The company's breakthroughs in deep linguistic analysis solves many difficult problems in text analysis.
Founded in 2008, the firm specializes in deep linguistic analysis. The systems and methods invented and refined by Bitext improve the accuracy of a wide range of content processing and text analytics systems. What's remarkable about the Bitext breakthroughs is that the company support more than 40 different languages, and its platform can support additional languages with sharp reductions in the time, cost, and effort required by old-school systems. With the proliferation of intelligent software, Bitext, in my opinion, puts the digital brains in overdrive. Bitext's platform improves the accuracy of many smart software applications, ranging from customer support to business intelligence.
In our wide ranging discussion, Dr. Valderrabanos made a number of insightful comments. Let me highlight three and urge you to read the full text of the interview at this link. (Note: this interview is part of the Search Wizards Speak series.)
Linguistics as an Operating System
One of Dr. Valderrabanos' most startling observations addresses the future of operating systems for increasingly intelligence software and applications. He said:
Linguistic applications will form a new type of operating system. If we are correct in our thought that language understanding creates a new type of platform, it follows that innovators will build more new things on this foundation. That means that there is no endpoint, just more opportunities to realize new products and services.
Better Understanding Has Arrived
Some of the smart software I have tested is unable to understand what seems to be very basic instructions. The problem, in my opinion, is context. Most smart software struggles to figure out the knowledge cloud which embraces certain data. Dr. Valderrabanos observed:
Search is one thing. Understanding what human utterances mean is another. Bitext's proprietary technology delivers understanding. Bitext has created an easy to scale and multilingual Deep Linguistic Analysis or DLA platform. Our technology reduces costs and increases user satisfaction in voice applications or customer service applications. I see it as a major breakthrough in the state of the art.
If he is right, the Bitext DLA platform may be one of the next big things in technology. The reason? As smart software becomes more widely adopted, the need to make sense of data and text in different languages becomes increasingly important. Bitext may be the digital differential that makes the smart applications run the way users expect them to.
Snap In Bitext DLA
Advanced technology like Bitext's often comes with a hidden cost. The advanced system works well in a demonstration or a controlled environment. When that system has to be integrated into "as is" systems from other vendors or from a custom development project, difficulties can pile up. Dr. Valderrabanos asserted:
Bitext DLA provides parsing data for text enrichment for a wide range of languages, for informal and formal text and for different verticals to improve the accuracy of deep learning engines and reduce training times and data needs. Bitext works in this way with many other organizations' systems.
When I asked him about integration, he said:
No problems. We snap in.
I am interested in Bitext's technical methods. In the last year, he has signed deals with companies like Audi, Renault, a large mobile handset manufacturer, and an online information retrieval company.
When I thanked him for his time, he was quite polite. But he did say, "I have to get back to my desk. We have received several requests for proposals."
Las Rosas looked quite a bit like Silicon Valley when I left the Bitext headquarters. Despite the thousands of miles separating Madrid from the US, interest in Bitext's deep linguistic analysis is surging. Silicon Valley has its charms, and now it has a Bitext US office for what may be the fastest growing computational linguistics and text analysis system in the world. Worth watching this company I think.
For more about Bitext, navigate to the firm's Web site at www.bitext.com.
Stephen E Arnold, April 11, 2017
Latest News
De-Archiving: Where Is the Money to Deliver Digital Beef?
I read "De-Archiving: What Is It and Who's Doing It?" I don't want to dig into the logical weeds of the essay. Let's look at one passage I highlighted. As... Read more »
Quote to Note: Facebook and Open Source As a Wooden Club
I read "Serverless & GraphQL." Here's the passage which caught my attention because I did not know about this use of open source as a wooden club: And... Read more »
Froogle, Froogle, Can You Come Back?
When you are shopping for a new product, the first place you usually visit is Google. Google usually lists the top results for products and brands, but it takes... Read more »
Google: What We Have Here Is a Failure to Innovate
Google is one of the top technology companies in the world and their services are employed on nearly every computer, phone, and tablet. Google is at the most innovative... Read more »
Pundit Unlikes Facebook
I think the author of "The #1 Reason Facebook Won't Ever Change" has adopted a somewhat negative view of Facebook. A Greek philosopher whom one of my slightly... Read more »
Can Presscoin Keep News from Going Fake
Fake news is a topic that has everyone on all sides of the aisle concerned. However, One innovative idea merging fake news and big data might have solved the problem.... Read more »
Webflow: Another Search Option
Search is one of the basic tools people use to utilize the Internet. It is as necessary as a keyboard, reading skills, and a decent WiFi signal. Search can be personalized... Read more »
With Relevance Trashed, Is It Gray Unitards for Online Users?
People judge the size of Internet based on their limited experiences as well as reports search engines generate, such as Google and Yahoo. Search engines compete... Read more »
Big Tech Giants Not Bulletproof
It's safe to say that the honeymoon is over for the big tech companies that use big data to the extreme. The likes of Facebook, Apple, Google, and Amazon had a... Read more »
AI: A Yardstick of Sorts
There has not been a standard to measure artificial intelligence's progress in the technology field. AI has progressed so rapidly over the past two decades that... Read more »