Featured
A Reasonable Assertion: Google Is Dying
Nope, this is not the view in Harrod's Creek. The idea that "Google Is Dying" comes from a write up in Vortex by Lauren, whom I assume is a real, living entity and not an avatar, construct, or VR thing.
You can find the analysis at this link.
I am not going to push back against the entity Lauren's ideas.
I want to point out that:
Companies, like real living humans, have a lifespan. It does not matter that some Googlers are awaiting the opportunity to merge with a machine, save their brain (assuming that intelligence is indeed  the sole province of thought), and live a long time. Ideally? Forever. The death of Google, therefore, is hard wired, and, if I may offer a controversial idea, has already taken place. Today we are dealing with the progeny of Google.
The missteps which have captured some Google embracers' attention is the outright failure of Google's ability to create a secure environment for management and for users of the descendent of Orkut. The lapses are not an indication that Google is dying. The examples are logical manifestations of the consequences of inbreeding. Imagine West Virginia's isolated communities connected via a mobile system. That does not change the inbreeding for some individuals. If you are not up on inbreeding, here's a handy reference. The key point is cognitive deterioration. Stated more clearly, stupid decision making, impaired analytic skills, etc.
Google's lab rat approach to innovation has not, so far, been able to disprove Steve Ballmer's brilliant observation: "One trick pony." But what few analysts care to remember is that the "one trick pony" was online advertising derived from the GoTo.com/Overture.com/Yahoo.com idea. My recollection is that prior to the Google IPO, a legal settlement was reached with Yahoo. This billion dollar deal kept good old Yahoo afloat for several years. Thus, Google's big idea was a bit of a "me too." One might argue that the failure to find a way to generate an equivalent amount of revenue is not surprising. Even the Android ecosystem is like a sucker fish on a shark. The symbiosis between online advertising, data harvesting, and revenue is difficult to disentangle. The key point: The big idea was GoTo.com, implemented in a Googley way.
After writing three monographs about the Google and adding comments to my research about the company, I could write more.
Read the alleged humanoid's "real news" essay. Make your own decision.
I am not pushing back. I am just disappointed that 20 years after the Backrub folks morphed into Google, analyses continue to look at here-and-now events, not the broader trends the company manifests.
Maybe Generation Z will step forward and fill the void?
Stephen E Arnold, October 11, 2018
Interviews
Bitext: Exclusive Interview with Antonio Valderrabanos
On a recent trip to Madrid, Spain, I was able to arrange an interview with Dr. Antonio Valderrabanos, the founder and CEO of Bitext. The company has its primary research and development group in Las Rosas, the high-technology complex a short distance from central Madrid. The company has an office in San Francisco and a number of computational linguists and computer scientists in other locations. Dr. Valderrabanos worked at IBM in an adjacent field before moving to Novell and then making the jump to his own start up. The hard work required to invent a fundamentally new way to make sense of human utterance is now beginning to pay off.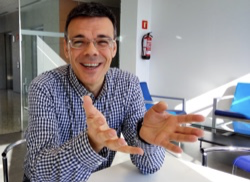 Dr. Antonio Valderrabanos, founder and CEO of Bitext. Bitext's business is growing rapidly. The company's breakthroughs in deep linguistic analysis solves many difficult problems in text analysis.
Founded in 2008, the firm specializes in deep linguistic analysis. The systems and methods invented and refined by Bitext improve the accuracy of a wide range of content processing and text analytics systems. What's remarkable about the Bitext breakthroughs is that the company support more than 40 different languages, and its platform can support additional languages with sharp reductions in the time, cost, and effort required by old-school systems. With the proliferation of intelligent software, Bitext, in my opinion, puts the digital brains in overdrive. Bitext's platform improves the accuracy of many smart software applications, ranging from customer support to business intelligence.
In our wide ranging discussion, Dr. Valderrabanos made a number of insightful comments. Let me highlight three and urge you to read the full text of the interview at this link. (Note: this interview is part of the Search Wizards Speak series.)
Linguistics as an Operating System
One of Dr. Valderrabanos' most startling observations addresses the future of operating systems for increasingly intelligence software and applications. He said:
Linguistic applications will form a new type of operating system. If we are correct in our thought that language understanding creates a new type of platform, it follows that innovators will build more new things on this foundation. That means that there is no endpoint, just more opportunities to realize new products and services.
Better Understanding Has Arrived
Some of the smart software I have tested is unable to understand what seems to be very basic instructions. The problem, in my opinion, is context. Most smart software struggles to figure out the knowledge cloud which embraces certain data. Dr. Valderrabanos observed:
Search is one thing. Understanding what human utterances mean is another. Bitext's proprietary technology delivers understanding. Bitext has created an easy to scale and multilingual Deep Linguistic Analysis or DLA platform. Our technology reduces costs and increases user satisfaction in voice applications or customer service applications. I see it as a major breakthrough in the state of the art.
If he is right, the Bitext DLA platform may be one of the next big things in technology. The reason? As smart software becomes more widely adopted, the need to make sense of data and text in different languages becomes increasingly important. Bitext may be the digital differential that makes the smart applications run the way users expect them to.
Snap In Bitext DLA
Advanced technology like Bitext's often comes with a hidden cost. The advanced system works well in a demonstration or a controlled environment. When that system has to be integrated into "as is" systems from other vendors or from a custom development project, difficulties can pile up. Dr. Valderrabanos asserted:
Bitext DLA provides parsing data for text enrichment for a wide range of languages, for informal and formal text and for different verticals to improve the accuracy of deep learning engines and reduce training times and data needs. Bitext works in this way with many other organizations' systems.
When I asked him about integration, he said:
No problems. We snap in.
I am interested in Bitext's technical methods. In the last year, he has signed deals with companies like Audi, Renault, a large mobile handset manufacturer, and an online information retrieval company.
When I thanked him for his time, he was quite polite. But he did say, "I have to get back to my desk. We have received several requests for proposals."
Las Rosas looked quite a bit like Silicon Valley when I left the Bitext headquarters. Despite the thousands of miles separating Madrid from the US, interest in Bitext's deep linguistic analysis is surging. Silicon Valley has its charms, and now it has a Bitext US office for what may be the fastest growing computational linguistics and text analysis system in the world. Worth watching this company I think.
For more about Bitext, navigate to the firm's Web site at www.bitext.com.
Stephen E Arnold, April 11, 2017
Latest News
Google Exits Robots or Replicants
Remember Google's Boston Dynamics unit. That was the outfit with the robot reindeer. Perfect for pre school parties. I learned today that the ever frisky Andy... Read more »
Wal-Mart: Responding to the Bezos Brigade
It's retail conflict. Wal-Mart likes to be on top. Wal-Mart's sales, however, have fallen due to Amazon and other online retailers, but they will not go... Read more »
Oracle Takes One on Nose
I read "Oracle Loses Protest of Pentagon Cloud Bid Seen Favoring Amazon." Oracle, like IBM, wanted a big, hefty chunk of the JEDI contract. Who wouldn't? According... Read more »
Google Struggles with Indexing?
You probably know that Google traffic was routed to China. The culprit was something obvious. In this case, Nigeria. Yep, Nigeria. You can read about the mistake... Read more »
Oracle: Grousing about Amazon and Wrestling with Revenue Alligators
One of my erstwhile fans sent me a link to a video allegedly revealing Larry Ellison's deep disappointment with Amazon. Yep, Amazon, an online store with a bundle... Read more »
Factualities for November 14, 2018
Believe 'em or not. I am not the least suspicious of round numbers. 50 percent. Percent of WhatsApp users who do not know that Facebook owns the messaging application.... Read more »
IBM Watson: Now Tackling Travel Costs
Machine learning and artificial intelligence is really making a dent on corporate waste. Those interested in the bottom line are sitting up and taking notice. We... Read more »
Quantum Computing for Your Office?
I read "Inside IBM's Zurich Lab, Where Scientists are Banking on Being the First to Crack the Quantum Code." The write up is okay as descriptions of the... Read more »
DarkCyber for November 13, 2018, Now Available: Amazon Part Three, Simplifying Intelligence Analysis
DarkCyber for November 13, 2018, is now available at www.arnoldit.com/wordpress and on Vimeo at https://vimeo.com/300178710. Amazon Policeware, Part 3. DarkCyber... Read more »
Digital Reasoning: From Intelligence Centric Text Retrieval to Wealth Management
Vendors of text processing systems have had to find new ways to generate revenue. The early days of entity extraction and social graphs provided customers from the... Read more »