Talk about disinformation. Alphabet Google finds itself in the spotlight for normal consulting service purchases. How many of those nifty Harvard Business Review articles, essays in Strategy & Business (the money loser published by the former Booz, Allen & Hamilton), or white papers generated by experts like me are labors of thought leader love.
Why not ask a person like me, an individual who has written a white paper for an interesting company in Spain? You won't. Well, let me interview myself:
Question: Why did you write the white paper about multi-language text analysis?

Answer: I did a consulting job and was asked to provide a report about the who, what, why, etc. of the company's technology.

Question: Is the white paper objective and factual?

Answer: Yes, I used information from my book research, a piece of published material from the "old" Autonomy Software, and the information gathered at the company's headquarters in Madrid by one of my colleagues from the engineers. I had a couple of other researchers chase down information about the company, its products, customers, and founder. I then worked through the information about text analysis in my archive. I think I did a good job of presenting the technology and why it is important.

Question: Were you paid?

Answer: Yes, I retired in 2013, and I don't write for third parties unless those third parties pony up cash.

Question: Do you flatter the company or distort the company's technology, its applications, or its benefits?

Answer: I try to work through the explanation in order to inform. I offer my opinion at the end of the write up. In this particular case, the technology is pretty good. I state that.

Question: Would another expert agree with you?

Answer: Some would and some would not. When figuring out with a complex multi-lingual platform when processing text in 50 languages, there is room for differences of opinion with regard to such factors as [a] text through put on a particular application, [b] corpus collection and preparation, [c] system tuning for a particular application such as a chatbot, and other factors.

Question: Have you written similar papers for money over the years?

Answer: Yes, I started doing this type of writing in 1972 when I left the PhD program at the University of Illinois to join Halliburton Nuclear in Washington, DC.

Question: Do people know you write white papers or thought leader articles for money?

Answer: Anyone who knows me is aware of my policy of charging money for knowledge work. I worked at Booz, Allen & Hamilton and a number of other equally prestigious firms. To my knowledge, I have never been confused with Mother Teresa.
| | |
| --- | --- |
| Mother Theresa | A Person Who Works for Money |
| | |
I offer this information as my reaction to the Wall Street Journal's write up "Google Pays Scholars to Influence Policy." You will have to pay to read the original article because Mr. Murdoch is not into free information.The original appeared in my dead tree edition of the WSJ on July 12, 2017 on the first page with a jump to a beefy travelogue of Google's pay-for-praise and pay-for-influence activities. A correction to the original story appears on Fox News. Gasp. Find that item here.
Google, it seems, is now finding itself in the spotlight for search results, presenting products to consumers, and its public relations/lobbying activities.
My view is that Google does not deserve this type of criticism. I would prefer that real journalists tackle such subjects as [a] the Loon balloon patent issue, [2] Google's somewhat desperate attempts to discover the next inspiration like Yahoo's online advertising approach, and [3] solving death's progress.
Getting excited about white papers which have limited impact probably makes a real journalist experience a thrill. For me, the article triggers a "What's new?"
But I am not Mother Teresa, who would have written for Google for nothing. Nah, not a chance.
Stephen E Arnold, July 14, 2017
I read "There's a Fight Brewing between the NYPD and Silicon Valley's Palantir." Two points about this story. Palantir Technologies, a vendor profiled in my CyberOSINT and Dark Web Notebook reports is probably going to keep its eye on the real journalistic outfit Buzzfeed. I don't know much about "real" journalism, but my hunch is that if Palantir's stakeholders find the Buzzfeed write up coverage interesting, some of those folks might spill their Philz coffee.
The other point is that the New York Police Department may find questions about its contractual dealings a bit of distraction from the quotidian tasks the force faces each day. I would not characterize "real" journalists asking questions "annoying," but I would hazard the phrase "time consuming" or the word "distracting."
"You want me to believe that?" asks Max, a skeptical show dog who knows that some owners will do anything to win.
The point of the "Fight Brewing" write up strikes me as a story designed to suggest that Palantir Technologies may be showing some signs of stress. When I read the story, I thought of the news which swirled around some of the defunct enterprise search companies when one of their client engagements went south. Vendors hit with these situations can do little but ride out the storm.
Hey, enterprise search was routinely oversold. When a system was up and running, the results were usually similar to the results generated by the previous "solution to all your information problems." The search engineers who coded the systems knew that overpromising and under delivering were highly probable once the on switch was flipped. But the sales professional were going to say what was necessary to close the deal. In fact, most of the fancy promises about an enterprise search system set the company up for failure.
Is that what's going on in the NYPD-Palantir "showdown"? To wit:
Palantir explained the system's functions and outputs. The NYPD signed on. Then when the system was installed, additional work was needed to make the Palantir system meet the expectations set by the Palantir sales engineers.
The "Fight Brewing" story says:
The NYPD quietly began work last summer on its replacement data system, and in February it announced internally that it would cancel its Palantir contract and switch to the new system by the beginning of July, according to three people familiar with the matter. The new system, named Cobalt, is a group of IBM products tied together with NYPD-created software. The police department believes Cobalt is cheaper and more intuitive than Palantir, and prizes the greater degree of control it has over this system.
Keep in mind that I, before I retired in 2013, had been an adviser to the original i2 Group Ltd., the company which created in my opinion the analytic and visualization method which defines modern cyber eDiscovery in the 1990s.
The notion that IBM, which now owns i2's Analyst's Notebook, is working hard to close deals in key Palantir accounts from what I have heard in the general store in Harrod's Creek.
I don't have to go much farther than my own experience to get a sense that the "fight" may be a manifestation of how the world works when it comes to making sales for systems like Palantir's Gotham or IBM's i2. In my work career I have seen some interesting jabs and punches thrown to close a deal.
The NYPD, like any organization, wants systems which work and represent good value. Incumbent vendors have to find a way to retain a customer. Competitors have to find a way to get a licensee of one product to switch to a different product.
I noted this statement in the "Fight Brewing" story:
Palantir has struggled to expand its work with the police force, the emails show. As of March and April 2015, Palantir had had "little exposure to the top brass," and although it wanted to add more business, "the door there clearly still remains closed given the larger political environment," staffers wrote in emails. A staffer at one point invoked a phrase popularized by Thiel, author of Zero to One: Notes on Startups, or How to Build the Future, saying that Palantir still needed to get "from 0->1 at NYPD."
Now how many police forces in the US can afford a comprehensive cyber eDiscovery system like Palantir Gotham or IBM Analyst's Notebook? This is an important point because the number of potential customers is quite small. For example, after NY, LA, Chicago, Miami, and maybe three or four other cities, the sales professional runs out of viable prospects. How many counties can foot the bill for the software, the consultants, and the people required to tag and analyze the data? The number is modest. How many US states can afford the investment in high end cyber eDiscovery software? Again, the number is small, and you can count out Illinois because getting bills paid is an interesting challenge. The same market size problem exists for US government entities.
Just when I thought information access had slumped quietly through another week, I read in the capitalist tool which you know as Forbes, the content marketing machine, this article:
This AI Search Engine Delivers Tailored Data to Companies in Real Time.
This write up struck me as more interesting than the most recent IBM Watson prime time commercial about smart software for zealous professional basketball fans or Lucidworks' (really?) acquisition of the interface builder Twigkit. Forbes Magazine's write up did not point out that the company seems to be channeling Palantir Technologies; for example, Jeff Curie, the president, refers to employees at Bitvorians. Take that, you Hobbits and Palanterians.
A Bitvore 3D data structure.
The AI, real time, custom report search engine is called Bitvore. Here in Harrod's Creek, we recognized the combination of the computer term "bit" with a syllable from one of our favorite morphemes "vore" as in carnivore or omnivore or the vegan-sensitive herbivore.
Author's Note:
Tax season is over. I am now releasing a write up I did in the high pressure run up to tax filing day, April 18, 2017, to publish this blog post. I want to comment on one marketing play IBM used in 2016 and 2017 to make Watson its Amazon Echo or its Google Pixel. IBM has been working overtime to come up with clever, innovative, effective ways to sell Watson, a search-and-retrieval system spiced with home brew code, algorithms which make the system "smart," acquired technology from outfits like Vivisimo, and some free and open source search software.
IBM Watson is being sold to Wall Street and stakeholders as IBM's next, really big thing. With years of declining revenue under its belt, the marketing of Watson as "cognitive software" is different from the marketing of most other companies pitching artificial intelligence.
One unintended consequence of IBM's saturation advertising of its Watson system is making the word "cognitive" shorthand for software magic. The primary beneficiaries of IBM's relentless use of the word "cognitive" has been to help its competitors. IBM's fuzziness and lack of concrete products has allowed companies with modest marketing budgets to pick up the IBM jargon and apply it to their products. Examples include the reworked Polyspot (now doing business as CustomerMatrix) and dozens of enterprise search vendors; for example, LucidWorks (Really?), Attivio, Microsoft, Sinequa, and Squirro (yep, Squirro). IBM makes it possible for competitors to slap the word cognitive on their products and compete against IBM's Watson. I am tempted to describe IBM Watson as a "straw man," but it is a collection of components, not a product.
Big outfits like Amazon have taken a short cut to the money machine. The Echo and Dot sell millions of units and drive sales of Amazon's music and hard goods sales. IBM bets on a future hint of payoff; for example, Watson may deliver a "maximum refund" for an H&R Block customer. That sounds pretty enticing. My accountant, beady eyed devil if there ever were one, never talks about refunds. He sticks to questions about where I got my money and what I did with it. If anything, he is a cloud of darkness, preferring to follow the IRS rules and avoid any suggestion of my getting a deal, a refund, or a free ride.
Below is the story I wrote a month ago shortly after I spent 45 minutes chatting with three folks who worked at the H&R Block office near my home in rural Kentucky. Have fun reading.
Stephen E Arnold, April 18, 2017
IBM Watson is one of Big Blue's strategic imperatives. I have enjoyed writing about Watson, mixing up my posts with the phrase "Watson weakly" instead of "Watson weekly." Strategic imperatives are supposed to generate new revenue to replace the loss of old revenues. The problem IBM has to figure out how to solve is pace. Will IBM Watson and other strategic imperatives generate sustainable, substantial revenue quickly enough to keep the  company's revenue healthy.
The answer seems to be, "Maybe, but not very quickly." According to IBM's most recent quarterly report, Big Blue has now reported declining revenues for 20 consecutive quarters. Yep, that's five years. Some stakeholders are patient, but IBM's competitors are thrilled with IBM's stratgegic imperatives. For the details of the most recent IBM financials, navigate to "IBM Sticks to Its Forecast Despite Underwhlming Results." Kicking the can down the road is fun for a short time.
The revenue problem is masked by promises about the future. Watson, the smart software, is supposed to be a billion dollar baby who will end up with a $10 billion dollar revenue stream any day now. But IBM's stock buybacks and massive PR campaigns have helped the company sell its vision of a bright new Big Blue. But selling software and consulting is different from selling hardware. In today's markets, services and consulting are tough businesses. Examples of companies strugglling to gain traction against outfits like Gerson Lehrman, unemployed senior executives hungry for work, and new graduates will to do MBA chores for a pittance compete with outfits like Elastic, a search vendor which sells add ons to open source software and consulting for those who need it. IBM is trying almost everything. Still those declining revenues tell a somewhat dismal tale.
I assume you have watched the Super Bowl ads if not the game. I just watched the ads. I was surprised to see a one minute, very expensive, and somewhat ill conceived commercial for IBM Watson and H&R Block, the walk in store front tax preparer.
The Watson-Block Super Bowl ad featured this interesting image: A sled going downhill. Was this a Freudian slip about declining revenues?
Does it look to you that the sled is speeding downhill. Is this a metaphor for IBM Watson's prospects in the tax advisory business?
One of IBM's most visible promotions of its company-saving, revenue-gushing dreams is IBM Watson. You may have seen the Super Bowl ad about Watson providing H&R Block with a sure-fire way to kill off pesky competitors. How has that worked out for H&R Block?
I have stated in the past that mid tier consulting firms—that is, outfits without the intellectual horsepower of a McKinsey, Bain, or BCG—generate work that is often amusing, sometimes silly, and once in a while just stupid. I noted an error which is certainly embarrassing to someone, maybe even a top notch expert at mid tier Forrester. The idea for a consulting firm is to be "right" and to keep the customer (in this case Hyland) happy. Also, it is generally good to deliver on what one promises. You know, the old under promise, over deliver method.
How about being wrong, failing, and not delivering at all? Read on about Forrester and content management.
Context
I noted the flurry of news announcements about Forrester, a bigly azure-chip consulting firm. A representative example of these marketing news things is "Microsoft, OpenText, IBM Lead Forrester's ECM Wave in Evolving Market." The write up explains that the wizards at Forrester have figured out the winners and losers in enterprise content management. As it turns out, the experts at Forrester do a much better job of explaining their "perception" of content management that implementing content management.
How can this be? Paid experts who cannot implement content management for reports about content management? Some less generous people might find this a minor glitch. I think that consultants are pretty good at cooking up reports and selling them. I am not too confident that mid tier consulting firms and even outfits like Booz, Allen has dotted their "i's" and crossed their "t's."
Let me walk you through this apparent failure of Forrester to make their reports available to a person interested in a report. This example concerns a Forrester reviewed company called Hyland and its OnBase enterprise content management system.
The deal is that Hyland allows a prospect to download a copy of the Forrester report in exchange for providing contact information. Once the contact information is accepted, the potential buyer of OnBase is supposed to be able to download a copy of the Forrester report. This is trivial stuff, and we are able to implement the function when I sell my studies. Believe me. If we can allow registered people to download a PDF, so can you.
The Failure
I wanted a copy of "The Forrester Wave: ECM Business Content Services." May I illustrate how Forrester's enterprise content management system fails its paying customers and those who register to download these high value, completely wonderful documents.
Step 1: Navigate to this link for OnBase by Hyland, one of the vendors profiled in the allegedly accurate, totally object Forrester report
Step 2: Fill out the form so Hyland's sales professionals can contact you in hopes of selling you the product which Forrester finds exceptional
Note the big orange "Download Now" button. I like the "now" part because it means that with one click I get the high-value, super accurate report.
Step 3: Click on one of these two big green boxes:
I tested both, and both return the same high value, super accurate, technically wonderful reports—sort of.
I have fond memories of my high school's science club. My hunch is that some Google-type companies do too.
I look back and remember the days of Donald Jackson, who with his brother Bernard, published an article in a peer reviewed astronomy journal. Those guys were fixated on the moon. Go figure.
There was a canny lad named Phil Herbst, who shifted to fuzzy science with his interest in anthropology. Misguided. Anthropology. Who cares about that?
There was Steve Connett, who was into electrical engineering and the goodies which that required his parents to provide.
And the others?Males. Every one of them.
I don't recall any females in the science club. Super smart Hope Davis, one of the females in my advanced physics class, had perfect pitch, a knack for mathematics, and a well founded disdain for the males in the science club.
My experience with her as a lab partner is that she was smarter than most of the fellows who gathered a couple of times a month to discuss explosives, corrosive chemical compounds, circuits which could terminate certain creatures with a zap, and the other nifty things the dozen or so regulars found fascinating.
Why was science club in the rust belt in 1958 a no go zone for really smart people like Hope Davis?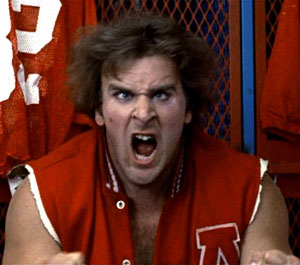 My favorite line from the motion picture "Revenge of the Nerds" is, "Nerds." Poetic.
My answer is that the males in my science club were not exactly hot social items. Although I was the dumbest person in the club, I shared three qualities with the real brainiacs in the group:
Zero awareness of females and their abilities. I was an only child, had zero exposure to females outside of class, and lived within my own weird little world of books and model airplanes
My notion of conversation was my ability to repeat almost anything I read verbatim. (Alas, as I age, that wonderful automatic function does not work as well as it did. But when it was in high gear, absolutely no female in any of my classes wanted to speak with me. Who wanted a fat, nearsighted meatware audio book for a friend?)
I was deeply uncomfortable around anyone not in the odd ball special classes my high school offered for students who seemed to get A grades and did not participate in [a] sports, [b] school governance, [c] social activities like parties and dances, and [d] activities understood by the high school administrators.
I thought of my high school science club when I read "Google Accused of 'Extreme' Gender Pay Discrimination by US Labor Department." I quite like the word "extreme." Quite charged and suggestive. I learned:
Google has discriminated against its female employees, according to the US Department of Labor (DoL), which said it had evidence of "systemic compensation disparities".
Making a leap from the particular allegation against Google to a fuzzy swath of California, the real journalists who are struggling with their own demons, states:
The explosive allegation against one of the largest and most powerful companies in Silicon Valley comes at a time when the male-dominated tech industry is facing increased scrutiny over gender discrimination, pay disparities and sexual harassment.
Does the word "extreme" up the ante?
Here in Harrod's Creek, advertising is mostly hand painted signs nailed to telephone poles in front of trailer parks.
Real Advertising in Big Cities Does This
In the LED illuminated big cities, people advertise by:
Cooking up some keywords that are used to locate products and services like mesothelioma or cheap tickets
Paying money to the "do no evil" outfit Alphabet Google to put those ads in front of people who are searching (sometimes cluelessly) for a topic related to lung disease or flying to the land of milk and honey for a couple of hundred bucks
Alphabet Google putting the ads in front of humans (or software robots as the case may be) who will click on the displayed message, banner, or video snippet
The GOOG collects the money
The advertiser gets leads
Repeat the process.
The notion, like digital currencies, is based on trust. Advertisers trust or "believe" that the GOOG's smart software will recognize a search for Madrid will require an airplane ticket and maybe a hotel. The GOOG's smart software consults the ads germane to travel and displays a relevant ad in front of the human (or software robot as the case may be).
What happens when the GOOG's smart software does everything except the relevance part?
The reaction in the non Sillycon Valley business world is easy to spot; for example, here are some examples of the consequences of the reality of what the GOOG does versus what advertisers and other true believers in the gospel of Google collides with faith, trust, and hope:
I could list more stories about this sudden discovery that matching ads to queries is not exactly what some people have believed.
I read "An Interview with Semantic Search and SEO Expert David Amerland." Darned fascinating. I enjoyed the content marketing aspect of the write up. I also found the explanation of semantic search intriguing as well.
This is the famed author. Note the biceps and the wrist gizmos.
The background of the "famed author" is, according to the write up:
David Amerland, a chemical engineer turned semantic search and SEO expert, is a famed author, speaker and business journalist. He has been instrumental in helping startups as well as multinational brands like Microsoft, Johnson & Johnson, BOSCH, etc. create their SMM and SEO strategies. Davis writes for high-profile magazines and media organizations such as Forbes, Social Media Today, Imassera and journalism.co.uk. He is also part of the faculty in Rutgers University, and is a strategic advisor for Darebee.com.
Darebee.com is a workout site. Since I don't workout, I was unaware of the site. You can explore it at Darebee.com. I think the name means that a person can "dare to be muscular" or "date to be physically imposing." I ran a query for Darebee.com on Giburu, Mojeek, and Unbubble. I learned that the name "Darebee" does come up in the index. However, the pointers in Unbubble are interesting because the links identify other sites which are using the "darebee" string to get traffic. Here's the Unbubble results screen for my query "darebee."
What I found interesting is the system administrator for Darebee.com is none other than David Amerland, whose email is listed in the Whois record as david@amerland.co.uk. Darebee is apparently a part of Amerland Enterprises Ltd. in Hertfordshire, UK. The traffic graph for Darebee.com is listed by Alexa. It shows about 26,000 "visitors" per month which is at variance with the monthly traffic data of 3.2 million on W3Snoop.com.
When I see this type of search result, I wonder if the sites have been working overtime to spoof the relevance components of Web search and retrieval systems.
I noted these points in the interview which appeared in the prestigious site Kamkash.com.
On relevance: Data makes zero sense if you can't find what you want very quickly and then understand what you are looking for.

On semantic search's definition: Semantic search essentially is trying to understand at a very nuanced level, and then it is trying to give us the best possible answer to our query at that nuanced level of our demands or our intent.

On Boolean search: Boolean search essentially looks at something probabilistically.

On Google's RankBrain: [Google RankBrain] has nothing to do with ranking.

On participating in Google Plus: Google+ actually allows you to be pervasively enough very real in a very digital environment where we are synchronously connected with lot of people from all over the world and yet the connection feels very…very real in terms of that.
I find these statements interesting.
I read "How Autonomy Fooled Hewlett-Packard." The article was written by Jack T. Cielsielski, who is president of R.G. Associates, Inc. in Baltimore, Maryland. Mr. Ciesielski's company publishes "The Analyst's Accounting Observer, which is described as "a research service for institutional investors." The company offers this example return on a $1 million investment:
The caption for the chart is "All performance data is net of advisory fees.  3, 5, 10 year returns are annualized total returns.  Inception is the annualized total return since 12/31/1992.  S&P 500 Total Return sourced from www.standardandpoors.com.  Past performance is not indicative of future results."
I am not sure if the write up is a Fortune-edited article, a Fortune-commissioned article, or an inclusion in Fortune which an entity purchased. For the purposes of Beyond Search, I will assume that the article is an example of "real" reporting and spot on in its objectivity and accuracy. I recognize that depending on where one sits and the tools and information available will affect what one perceives. This is the viewshed problem, which is illustrated below. Each color shows what the respective observer "sees."
I was interested in the write up because the legal dispute between the "old" Hewlett Packard and executives of Autonomy is on going. Obviously neither Mr. Ciesielski  Fortune does not want to find itself in the legal crossfire. My assumption is, therefore, that Fortune's "real" journalists have figured out some of the nuances of the HP-Autonomy matter. I would point out that these nuances were overlooked or misinterpreted by HP's executives, Board members, advisers, lawyers, and accountants. Too bad neither HP nor Autonomy had Fortune-caliber experts assisting when the $11 billion deal was conceived, executed, understood, and prosecuted. Some outfits have smarter, more thorough investigators, researchers, and analysts.
The write up points out that the former top dog of Autonomy USA (Christopher Egan) had to pay $800,000 in November 2016 he garnered from the HP buy out. The prime mover in this check writing was the US Securities & Exchange Commission. The Fortune article states:
HP relied on figures he had helped inflate. The facts of the case are now public.
Here's the method used by Autonomy as reported by Fortune:
Autonomy's UK-based senior managers directed a program swelling revenues by almost $200 million. Autonomy sold its software through "value-added" resellers, legitimate businesses providing additional services and support to product end users while also selling Autonomy's software. Just five resellers, in 30 transactions, provided services to Autonomy that couldn't be called legitimate.
I have a Yahoot (sorry, I meant Yahoo) email account. I have refused to change the password in order to see what nefarious behaviors manifest themselves. So far, the only bad guys in the picture are Yahoot's merrie band of wizards, lead by the Purple Privacy Eater, Marissa Mayer. Ms. Mayer was a Xoogler. Now I am able to paint a mental picture about why she left Googzilla for the outfit Terry Semel tried to convert to a media company. Prescient guy. Get out of online. Do sitcoms.
I read "Verizon Demands a Better Deal After Yahoo's Latest Historic Hack." The main idea of that write up is that the former Baby Bell wants to do the Trump thing: A better deal. That seems reasonable. Yahoo managed to fumble the security ball, delivering an alleged one billion customers' details to alleged bad actors. There are even "real" journalists who allege that the Yahooligans' secrets are for sale on the Dark Web.
And what personal data slipped through the former Googler's fingers? The write up knows and, therefore, reported:
Yahoo said late on Wednesday [December 14, 2016] that it had uncovered a 2013 cyber attack that compromised data of more than 1 billion user accounts, the largest known breach on record. It said the data stolen may have included names, email addresses, telephone numbers, dates of birth, hashed passwords and, in some cases, encrypted or unencrypted security questions and answers.
Fortune, whose journalists do not surf the Dark Web like the clever folks at the New York Times, used "real" journalistic methods and revealed:
Verizon is said to have threatened to go to court to get out of the deal if it is not repriced.
There you go. Verizon may be rethinking its clever move to buy the Purple Haze machine for about $5 billion. Knock the price down, and maybe the Baby Bell will [a] ante up some cash, [b]  replace the Xoogler with a person who can keep Yahoot from becoming more of a master of disaster than it is, and [c] blend the wizardry of AOL with the Yahooligans' approach to technology. In my 73 years, I have not previously witnessed the rubble-ization of a publicly traded Sillycon Valley company in quite this way. Business school case study? For sure.
The real news outfit's write up adds:
The U.S. No. 1 wireless carrier still expects to go through with the deal, but is looking for "major concessions" in light of the most recent breach, according to another person familiar with the situation.
Will Yahoo enter the online security business? The company now has mind share. Governance? Exemplary management team? Technical chops? That's a $5 billion dollar question from a company that spurned Microsoft's even more robust offer. Right, the same outfit which fumbled the pay to play for traffic business. Right now Terry Semel looks like a managerial paragon.
Yahoooot!
Stephen E Arnold, December 16, 2016