IA Scholar: A Reminder That Existing Online Resources Are Not Comprehensive
We spotted this announcement from the Internet Archive in "Search Scholarly Materials Preserved in the Internet Archive."
IA Scholar is a simple, access-oriented interface to content identified across several Internet Archive collections, including web archives, archive.org files, and digitized print materials. The full text of articles is searchable for users that are hunting for particular phrases or keywords. This complements our existing full-text search index of millions of digitized books and other documents on archive.org. The service builds on Fatcat, an open catalog we have developed to identify at-risk and web-published open scholarly outputs that can benefit from long-term preservation, additional metadata, and perpetual access. Fatcat includes resources that may be useful to librarians and archivists, such as bulk metadata dumps, a read/write API, command-line tool, and file-level archival metadata. If you are interested in collaborating with us, or are a researcher interested in text analysis applications, we have a public chat channel or can be contacted by email at info@archive.org.
I ran several queries. The system is set up to respond to a conference name, but free text entries worked find; for example, NLP. Here are the results: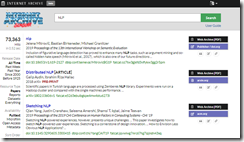 Worth checking out. In my experience people who are "experts" in online often forget that no online service is up to date, comprehensive, and set up to deliver full text. One other point: Corrections to online content are rarely, if ever made. Business Dateline, produced by the Courier Journal and Louisville Times in the early 1980s was one of the first commercial databases to include corrections. Thumbtypers may not care, but that's the zippy modern world.
Stephen E Arnold, March 10, 2021
Comments