Are 15 Square Feet Enough? A Question for the Google
I flipped through the dead tree edition of the outstanding sun-like Wall Street Journal this morning (June 15, 2021). And what did I find inside the edition which sometimes makes its way to Harrod's Creek, Kentucky? The answer was a four page ad in the Murdoch infused Wall Street Journal. Each page is about 23 inches by 24 inches. That works out to 552 square inches (give or take a few due to variances in trim sizes) per page. With four pages, the total is more than 2,208 square inches of dead tree space or larger than the vinyl floor protector under my discount store office chair and that of one of my assistant's floor protectors. Which is better vinyl floor protectors or dead tree paper? I am on the fence.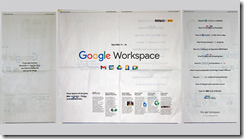 Above is a thumbnail of the four page Google ad in the June 15, 2021, Wall Street Journal.
What's the message in the ad? At first glance, the ad is pitching a free Google service. Some people perceive Google free services as having a modest cost. Here in Harrod's Creek, we love the freebies from the Google. In this particular case, Google is pitching this message:
If you want to show the world how it's done, you have to change the way you do things.
Change is hard, and it depends on whether the change is motivated internally like the good old but out of fashion notion of self improvement, gumption, and Go West, young man! Or whether the change is imposed on one; for example, Rupert Murdoch had constraints on unauthorized telephone tapping imposed on his otherwise outstanding organization. There is also an Orwellian type change which can be more difficult for those lacking critical thinking skills to identify. A good example of this is assertions made under oath in the US Congress that certain high technology companies will do better. The companies then keep on keepin' on as some in Harrod's Creek say.
The interior two pages convey this message:
Say hello to Google Workspace.
The text explains that Google Workspace is pretty much like Salesforce Slack, Microsoft Teams, and the ever wonderful and avant garde Cisco Webex service, the somewhat popular Zoom, among others. The most interesting passage in the advertisement is the explanation of "how we do it here too":
All 100K+ Google employees – from engineering, to marketing, to the PhDs in the quantum lab—relay on Google Workspace every day. Our scientists leave comments in research doss, and the security team keeps our inboxes clear of spam and viruses. Google's entire business is riding on it, just like yours. Because no matter the task at hand, when your customers are depending on your. Google Workspace is how it's done.
What came to mind was "how it's done" in staff management. Dare I mention Dr. Timnit Gebru? No, I don't dare. What about the subtle management vibes at DeepMind. Nope, I know zero about that too. What about … Nope, no more of this management thinking. Life's too short. (I wonder if critiques of Dr. Gebru's AI ethics paper were handled within this Workspace thing?)
The final page lists alleged customers (users) of Google Workspace. These include Grandma's, Operation BBQ Relief, and Ms.. Kim's class, among others.
Some observations are warranted by this lavish presentation of the Google Workspace message in the dead tree edition of a traditional newspaper nestled within the woke empire of News Corp. Herewith:
I find it amusing to think that the world's largest online advertising outfit is pitching its Workspace product in a medium which is centuries old, non digital, and mostly reporting that water which has passed under the bridge over information
I would like to see the ad reach data and conversion estimate for pulling new customers based on this rather impressive expanse of newspaper. My hunch is that the Google wanted to send a message, probably to Microsoft. Why not email the outstanding leader working hard to eliminate cyber security risks?
The organizations mentioned as customers (users) are interesting. Links to case examples of what's shaking at Grandma's or Ms. Kim's class would be fascinating. The wonky little icons in the ad are interesting but "yinka" was a bit of a puzzle to me.
Net net: Is Google changing or does Google want others to change from Microsoft Teams to Workspace? My hunch is that Google is assuming that the Greek god Koalemos will make their endeavor a home run.
Stephen E Arnold, June 15, 2021
Comments