Silicon Valley Neologisms: The Palantir Edition
Do you remember the Zuckerland metaverse? (Yes, I know he borrowed the word, but when you are president of a digital country, does anyone dare challenge Zuck the First, Le Roi Numérique?)
Palantir Technologies (the Seeing Stone outfit with the warm up jacket fashion bug) introduced a tasty bit of jargon-market speak in its Q2 2021 earnings call:
Palantir's meta-constellation software harnesses the power of growing satellite constellations, deploying AI into space to provide insights to decision-makers here on Earth. Our meta-constellation integrates with existing satellites, optimizing hundreds of orbital sensors and AI models and allowing users to ask time-sensitive questions across the entire planet. Important questions like, where are the indicators of wildfires or how are climate changes affecting crop productivity? And when and where are naval fleets conducting operations? Meta-constellation pushes Palantir's Edge AI technology to a new frontier.
I think meta-constellation is a positive contribution to the American Silicon Valley-Denver lingo.
One of the interesting factoids in the write up is that the average customer "invests" lots of money in the firm's software and services. The average customer yields $7.9 million. Let's assume there was a touch of spreadsheet fever whipping the accountants. Chop that down to a couple of million, and the cowboy outfit is doing okay. Now the job is to corral those customers so there is sustainable, recurring revenue and generous profits going forward like little doggies heading to the meat processing facility.
Also, deploying the Palantirians' system is as easy as cooking some of Cowboy Ken's beans in an iron pot over a wood fire. The transcript faithfully reports:
In just two days, we were able to deploy an entire solution for this customer, leveraging our out-of-the-box functionality built in foundry, a time line previously unthinkable in the eyes of the customer. And frankly, it would have been unthinkable to us even three years ago, where an equivalent project might have taken three months. This is only possible because of our product. Innovations from software-defined data integration are driving the marginal cost of data integration to 0, archetypes and our no-code technologies that are driving the marginal cost of application development to zero.
Those data cowboys are moving faster than a branded calf on a crisp April morning.
The most interesting factoid is contained in this statement:
Given our strong cash flow position, we repaid our outstanding $200 million term loan facility and are currently debt-free. After paying off the debt, we ended the quarter with $2.3 billion in cash and cash equivalents.
I don't want to raise a touchy subject, but this chart caught my attention: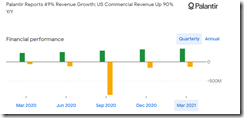 That yellow line means that the company is losing money if I am interpreting the Google Finance graph correctly.
It may be helpful to consider that Palantir has never turned a profit. Let's hope those Colorado transplants can covert expensive cows into hard cash after more than a decade grazing on the range. No digital cows, please. Leave those for the Facebook metaverse which is less than a meta-constellation in JRR Tolkien fantasy space.
Stephen E Arnold, August 19, 2021
Comments