Smart Software: Repeat the Third Grade, Please
I read an interesting analysis of new products culled from Product Hunt. The work is presented in "Are Product Hunt's Featured Products Still Online Today?" If you are not familiar with Product Hunt, you can get a good summary from the article. The data are interesting, but there is one chart which struck me as thought provoking.
Here's the chart. The data are the worst products in terms of user goodness in the period under study.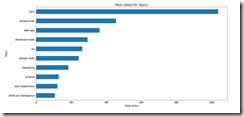 I know the chart is tiny, but the write up offers a larger one at this link. The topics for failures includes the "winners" in the fail category. Notice that one failure in the penultimate position is the feel-good buzz phrase "user experience." The new product category grabbing the golden crown is the super hyped "artificial intelligence."
I interpreted the results this way. Creating products that deliver user experience and artificial intelligence could be perceived by "users" or "customers" as flops. Marketers infused with Silicon Valley joy juice, may not agree. UX and AI are the best-est.
Stephen E Arnold, February 15, 2022
Comments