Amazing Statement about Google
I am not into Twitter. I think that intelware and policeware vendors find the Twitter content interesting. A few of them may be annoyed that the Twitter application programming interface seems go have gone on a walkabout. One of the analyses of Twitter I noted this morning (January 15, 2023, 1035 am) is "Twitter's Latest 'Feature' Is How You Know Elon Musk Is in Over His Head. It's the Cautionary Tale Every Business Needs to Hear."
I want to skip over the Twitter palpitations and focus on one sentence:
At least, with Google, the company is good enough at what it does that you can at least squint and sort of see that when it changes its algorithm, it does it to deliver a better experience to its users–people who search for answers on Google.
What about that "at least"? Also, what do you make of the "you can at least squint and sort of see that when it [Google] changes its algorithm"? Squint to see clearly. Into Google? Hmmm. I can squint all day at a result like this and not see anything except advertising and a plug for the Google Cloud for the query online hosting: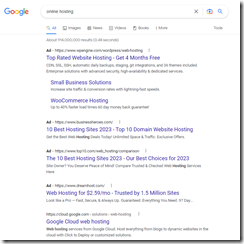 Helpful? Sure to Google, not to this user.
Now consider the favorite Google marketing chestnut, "a better experience." Ads and a plug for Google does not deliver to me a better experience. Compare the results for the "online hosting" query to those from www.you.com: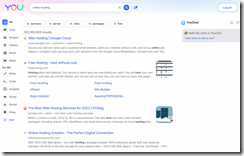 Google is the first result, which suggests some voodoo in the search engine optimization area. The other results point to a free hosting service, a PC Magazine review article (which is often an interesting editorial method to talk about) and an outfit called Online Hosting Solution.
Which is better? Google's ads and self promotion or the new You.com pointer to Google and some sort of relevant links?
Now let's run the query "online hosting" on Yandex.com (not the Russian language version). Here's what I get: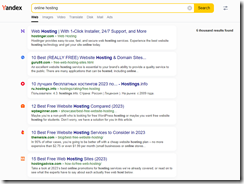 Note that the first link is to a particular vendor with no ad label slapped on the link. The other links are to listicle articles which present a group of hosting companies for the person running the query to consider.
Of the three services, which requires the "squint" test. I suppose one can squint at the Google result and conclude that it is just wonderful, just not for objective results. The You.com results are a random list of mostly relevant links. But that top hit pointing at Google Cloud makes me suspicious. Why Google? Why not Amazon AWS, Microsoft Azure, the fascinating Epik.com, or another vendor?
In this set of three, Yandex.com strikes me as delivering cleaner, more on point results. Your mileage may vary.
In my experience, systems which deliver answers are a quest. Most of the systems to which I have been exposed seem the digital equivalent of a ride with Don Quixote. The windmills of relevance remain at risk.
Stephen E Arnold, January 17, 2023
Comments