Googzilla Squeezed: Will the Beastie Wriggle Free? Can Parents Help Google Wiggle Out?
How easy was it for our prehistoric predecessors to capture a maturing reptile. I am thinking of Googzilla. (That's my way of conceptualizing the Alphabet Google DeepMind outfit.)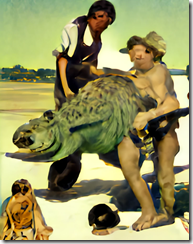 This capturing the dangerous dinosaur shows one regulator and one ChatGPT dev in the style of Normal Rockwell (who may be spinning in his grave). The art was output by the smart software in use at Craiyon.com. I love those wonky spellings and the weird video ads and the image obscuring Next and Stay buttons. Is this the type of software the Google fears? I believe so.
On one side of the creature is the pesky ChatGPT PR tsunami. Google's management team had to call Google's parents to come to the garage. The whiz kids find themselves in a marketing battle. Imagine, a technology that Facebook dismisses as not a big deal, needs help. So the parents come back home from their vacations and social life to help out Sundar and Prabhakar. I wonder if the parents are asking, "What now?" and "Do you think these whiz kids want us to move in with them." Forbes, the capitalist tool with annoying pop ups, tells one side of the story in "How ChatGPT Suddenly Became Google's Code Red, Prompting Return of Page and Brin."
On the other side of Googzilla is a weak looking government regulator. The Wall Street Journal (January 25, 2023) published "US Sues to Split Google's Ad Empire." (Paywall alert!) The main idea is that after a couple of decades of Google is free, great, and gives away nice tchotchkes US Federal and state officials want the Google to morph into a tame lizard.
Several observations:
I find it amusing that Google had to call its parents for help. There's nothing like a really tough, decisive set of whiz kids
The Google has some inner strengths, including lawyers, lobbyists, and friends who really like Google mouse pads, LED pins, and T shirts
Users of ChatGPT may find that as poor as Google's search results are, the burden of figuring out an "answer" falls on the user. If the user cooks up an incorrect answer, the Google is just presenting links or it used to. When the user accepts a ChatGPT output as ready to use, some unforeseen consequences may ensue; for example, getting called out for presenting incorrect or stupid information, getting sued for copyright violations, or assuming everyone is using ChatGPT so go with the flow
Net net: Capturing and getting the vet to neuter the beastie may be difficult. Even more interesting is the impact of ChatGPT on allegedly calm, mature, and seasoned managers. Yep, Code Red. "Hey, sorry to bother you. But we need your help. Right now."
Stephen E Arnold, January 25, 2023
Comments