Google: Poked Painfully in Its Snout
The essay "Why Didn't DeepMind Build GPT3?" identifies three reasons for Google getting poked in its snout. According to the author, the reasons were [a] no specific problem to solve, [b] less academic hoo haa at OpenAI, and [c] less perceived risk. My personal view is that Googlers' intelligence is directed at understanding their navels, not jumping that familiar Silicon Valley chasm. (Microsoft marketers spotted an opportunity and grabbed it. Boom. Score one for the Softies.)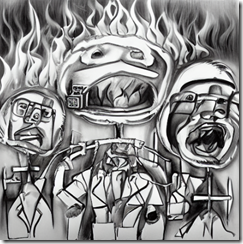 Google's management team reacting to ChatGPT's marketing success. The art was created via https://scribblediffusion.com/ who owns the creative juices required to fabricate this interesting depiction of Google caught in a moment of management decision making.
These reasons make sense to me. I would suggest that several other Google characteristics played a role, probably bit parts, but roles nevertheless.
Since 2006, Google fragmented; that is, the idea of Google providing great benefit as an heir to the world of IBM and Microsoft gave Google senior managers a Droit du seigneur. However, the revenue for the company came from the less elevated world of online advertising. Thus, there was a disconnect after the fraught early years, the legal battle prior to the IPO, and the development of the mostly automated systems to make sure Google captured revenue in the buying and selling and brokering of online advertising. After 2006, the split between what Google management believed it had created and the reality of the business was institutionalized. Google and smart software was perceived as the one right way. Period. That way was a weird blend of group think and elite academic methods.
Also, Google failed to bring direction and focus to its products. I no longer remember how many messaging services Google offered. I cannot keep track of the company's different and increasingly oblique investment arms. I have given up trying to recall the many new product and service incubators the company launched. I do remember that Google wanted to solve death. That, I believe, proved to be a difficult problem as if Loon balloons, digital games, and dealing with revenue challengers like Amazon and Facebook were no big deal. The fragmentation struck me as similar to the colored particles tossed during Holi, just with a more negative environmental effect. Googlers were vision impaired when it came to seeing what priorities to set.
Plus, from my point of view Google professionals lacked the ability to focus beyond getting more money, influence, and access to the senior managers. In short, Google demonstrated the inability to manage its people and the company. The last few years have been characterized by employee issues and other legal swamps. The management method has reminded me of my high school science club. Every member was a top student. Every member believed their view was correct. Every member believed that the traditional methods of teaching were stupid, boring, and irrelevant. The problem was that instead of chasing money and closeness to the "senior managers", my high school science club was chasing validation and manifestation of superiority. That was baloney, of course, but what do 16 year olds actually understand. Google's management is similar to my high school science club.
Are there other factors? Sure, and these include a wildly fluctuating moral compass, confusing personal objectives with ethical objectives, and giving into base instincts (baby making in the legal department, heroin on a yacht with a specialized contractor, and March Madness fun in Las Vegas).
Who will chronicle these Google gaffes? Perhaps someone will input a text string into ChatGPT to get the information many have either ignored, forgotten, or did not understand.
Stephen E Arnold, March xx, 2022
Comments