Useful Scholarly / Semi-Scholarly Research System with Deduplicated Results
I was delighted to receive a link to OpenAIRE Explore. The service is sponsored by a non-profit partnership established in 2018 as a legal outfit. The objective is to "ensure a permanent open scholarly communication infrastructure to support European research." (I am not sure whoever wrote the description has read "Book Publishers Won't Stop Until Libraries Are Dead.)
The specific service I found interesting is Explore located at https://explore.openaire.eu. The service is described by OpenAIRE this way:
A comprehensive and open dataset of research information covering 161m publications, 58m research data, 317k research software items, from 124k data sources, linked to 3m grants and 196k organizations.
Maybe looking at that TechDirt article will be useful.
I ran a number of queries. The probably unreadable screenshot below illustrates the nice interface and the results to my query for Hopf fibrations (if this query doesn't make sense to you, there's not much I can do. Perhaps OpenAIRE Explore is ill-suited to queries about Taylor Swift and Ticketmaster?):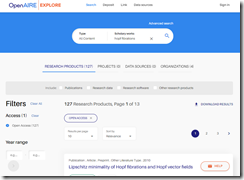 The query returned 127 "hits" and identified four organizations as having people interested in the subject. (Hopf fibrations are quite important, in my opinion.) No ads, no crazy SEO baloney, but probably some non-error checked equations. Plus, the result set was deduplicated. Imagine that. A use Vivisimo-type function available again.
Observation: Some professional publishers are likely to find the service objectionable. Four of the giants are watching their legal eagles circle the hapless Internet Archive. But soon… maybe OpenAIRE will attract some scrutiny.
For now, OpenAIRE Explore is indeed useful.
Stephen E Arnold, March 24, 2023
Comments