Neeva: Another Death from a Search Crash on the Information Highway

Note: This essay is the work of a real and still-alive dinobaby. No smart software involved, just a dumb humanoid.
What will forensic search experts find when they examine the remains of Neeva? The "gee, we failed" essay "Next Steps for Neeva" presents one side of what might be an interesting investigation for a bushy tailed and wide eyed Gen Z search influencer. I noted some statements which may have been plucked from speeches at the original Search Engine Conferences ginned up by an outfit in the UK or academic post mortems at the old International Online Meeting once held in the companionable  Olympia London.
I noted these statements from the cited document:
Statement 1: The users of a Web search system
We started Neeva with the mission to take search back to its users.
The reality is that 99 percent of people using a Web search engine are happy when sort of accurate information is provided free. Yep, no one wants to pay for search. That's the reason that when a commercial online service like LexisNexis loses one big client, it is expensive, time consuming, and difficulty to replace the revenue. One former LexisNexis big wheel told me when we met in his limousine in the parking lot of the Cherry Hill Mall: "If one of the top 100 law firms goes belly up, we need a minimum of 200 new law firms to sign up for our service and pay for it."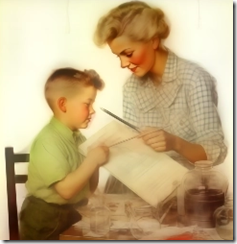 "Mommy, I failed Search," says Timmy Neeva. Mrs. Neeva says, "What caused your delusional state, Timmy." The art work is a result of the smart software MidJourney.
Users don't care about for fee search when those users wouldn't know whether a hit in a results list was right, mostly right, mostly wrong, or stupidly crazy. Free is the fuel that pulls users, and without advertising, there's no chance a free service will be able to generate enough cash to index, update the index, and develop new features. At the same time, the plumbing is leaking. Plumbing repairs are expensive: New machines, new ways to reduce power consumption, and oodles of new storage devices.
Users want free. Users don't want to compare the results from a for fee service and a free service. Users want free. After 25 years, the Google is the champion of free search. Like the old Xoogler search system Search2, Neeva's wizards never figured that most users don't care about Fancy Dan yip yap about search.
Statement 2: An answer engine.
We rallied the Neeva team around the vision to create an answer engine.
Shades of DR-LINK: Users want answers. In 1981, a former Predicasts' executive named Paul Owen told me, "Dialog users want answers." That sounds logical, and it is to many who are expert informationists the Gospel according to Online. The reality is that users want crunchy, bite sized chunks of information which appear to answer the question or almost right answers that are "good enough" or "close enough for horseshoes."
Users cannot differentiate from correct and incorrect information. Heck, some developers of search engines don't know the difference between weaponized information and content produced by a middle school teacher about the school's graduation ceremony. Why? Weaponized information is abundant; non-weaponized information may not pass the user's sniff test. And the middle school graduation ceremony may have a typo about the start time or the principal of the school changed his mind due to an active shooter situation. Something output from a computer is believed to be credible, accurate, and "right." An answer engine is what a free Web search engine spits out. The TikTok search spits out answers, and no one wonders if the results list are shaped by Chinese interests.
Search and retrieval has been defined by Google. The company has a 90 plus percent share of the Web search traffic in North America and Western Europe. (In Denmark, the company has 99 percent of Danish users' search traffic. People in Denmark are happier, and it is not because Google search delivers better or more accurate results. Google is free and it answers questions.
The baloney about it takes one-click to change search engines sounds great. The reality is as Neeva found out, no one wants to click away from what is perceived to work for them. Neeva's yip yap about smart software proves that the jazz about artificial intelligence is unlikely to change how free Web search works in Google's backyard. Samsung did not embrace Bing because users would rebel.
Answer engine. Baloney. Users want something free that will make life easier; for example, a high school student looking for a quick way to crank out a 250 word essay about global warming or how to make a taco. ChatGPT is not answering questions; the application is delivering something that is highly desirable to a lazy student. By the way, at least the lazy student had the git up and go to use a system to spit out a bunch of recycled content that is good enough. But an answer engine? No, an online convenience store is closer to the truth.
Statement 3:
We are actively exploring how we can apply our search and LLM expertise in these settings, and we will provide updates on the future of our work and our team in the next few weeks.
My interpretation of this statement is that a couple of Neeva professionals will become venture centric. Others will become consultants. A few will join the handful of big companies which are feverishly trying to use "smart software" to generate more revenue. Will there be some who end up working at Philz Coffee. Yeah, some. Perhaps another company will buy the "code," but valuing something that failed is likely to prove tricky. Who remembers who bought Entopia? No one, right?
Net net: The GenZ forensic search failure exercise will produce some spectacular Silicon Valley news reporting. Neeva is explaining its failure, but that failure presaged when Fast Search & Transfer pivoted from Web search to the enterprise, failed, and was acquired by Microsoft. Where is Fast Search now as the smart Bing is soon to be everywhere. The reality is that Google has had 25 years to do cement its search monopoly. Neeva did not read the email. So Neeva sucked up investment bucks with a song and dance about zapping the Big Bad Google with a death ray. Yep, another example of high school science club mentality touched by spreadsheet fever.
Well, the fever broke.
Stephen E Arnold, May 22, 2023
Comments