Microsoft: Just a Minor Thing

Note: This essay is the work of a real and still-alive dinobaby. No smart software involved, just a dumb humanoid.
Several years ago, I was asked to be a technical advisor to a UK group focused on improper actions directed toward children. Since then, I have paid some attention to the information about young people that some online services collect. One of the more troubling facets of improper actions intended to compromise the privacy, security, and possibly the safety of minors is the role data aggregators play. Whether gathering information from "harmless" apps favored by young people to surreptitious collection and cross correlation of young users' online travels, these often surreptitious actions of people and their systems trouble me.
The "anything goes" approach of some organizations is often masked by public statements and the use of words like "trust" when explaining how information "hoovering" operations are set up, implemented, and used to generate revenue or other outcomes. I am not comfortable identifying some of these, however.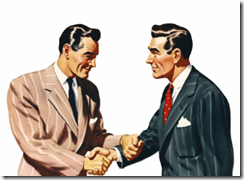 A regulator and a big company representative talking about a satisfactory resolution to the regrettable collection of kiddie data. Both appear to be satisfied with another job well done. The image was generated by the MidJourney smart software.
Instead, let me direct your attention to the BBC report "Microsoft to Pay $20m for Child Privacy Violations." The write up states as "real news":
Microsoft will pay $20m (£16m) to US federal regulators after it was found to have illegally collected
data on children who had started Xbox accounts.
The write up states:
From 2015 to 2020 Microsoft retained data "sometimes for years" from the account set up, even when a parent failed to complete the process …The company also failed to inform parents about all the data it was collecting, including the user's profile picture and that data was being distributed to third parties.
Will the leader in smart software and clever marketing have an explanation? Of course. That's what advisory firms and lawyers help their clients deliver; for example:
"Regrettably, we did not meet customer expectations and are committed to complying with the order to continue improving upon our safety measures," Microsoft's Dave McCarthy, CVP of Xbox Player Services, wrote in an Xbox blog post. "We believe that we can and should do more, and we'll remain steadfast in our commitment to safety, privacy, and security for our community."
Sounds good.
From my point of view, something is out of alignment. Perhaps it is my old-fashioned idea that young people's online activities require a more thoughtful approach by large companies, data aggregators, and click capturing systems. The thought, it seems, is directed at finding ways to take advantage of weak regulation, inattentive parents and guardians, and often-uninformed young people.
Like other ethical black holes in certain organizations, surfing for fun or money on children seems inappropriate. Does $20 million have an impact on a giant company? Nope. The ethical and moral foundation of decision making is enabling these data collection activities. And $20 million causes little or no pain. Therefore, why not continue these practices and do a better job of keeping the procedures secret?
Pragmatism is the name of the game it seems. And kiddie data? Fair game to some adrift in an ethical swamp. Just a minor thing.
Stephen E Arnold, June 6, 2023
Comments