Japan and Copyright: Pragmatic and Realistic

Note: This essay is the work of a real and still-alive dinobaby. No smart software involved, just a dumb humanoid.
I read "Japan Goes All In: Copyright Doesn't Apply To AI Training." In a nutshell, Japan's alleged stance is accompanied with a message for "creators": Tough luck.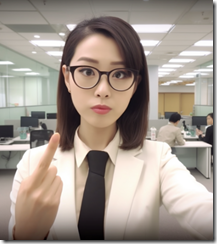 You are ripping off my content. I don't think that is fair. I am a creator. The image of a testy office lady is the product of MidJourney's derivative capabilities.
The write up asserts:
It seems Japan's stance is clear – if the West uses Japanese culture for AI training, Western literary resources should also be available for Japanese AI. On a global scale, Japan's move adds a twist to the regulation debate. Current discussions have focused on a "rogue nation" scenario where a less developed country might disregard a global framework to gain an advantage. But with Japan, we see a different dynamic. The world's third-largest economy is saying it won't hinder AI research and development. Plus, it's prepared to leverage this new technology to compete directly with the West.
If this is the direction in which Japan is heading, what's the posture in China, Viet-Nam and other countries in the region? How can the US regulate for an unknown future? We know Japan's approach it seems.
Stephen E Arnold, June 8, 2023
Comments