Will the US Take Action against Google? Yes, Just Gentle Action It Seems

Note: This essay is the work of a real and still-alive dinobaby. No smart software involved, just a dumb humanoid.
After several years of preparation, the DOJ has finally gotten its case against Google before the US District Court for DC only to have the judge drastically narrow its scope.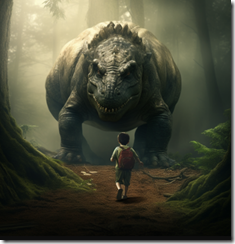 A brave young person confronts a powerful creature named Googzilla. The beastie just lumbers forward. MidJourney does nice dinosaurs.
Ars Technica reports, "In Win for Google, Judge Dismisses Many Claims in DOJ Monopoly Case." We learn:
"In his opinion unsealed Friday, Judge Amit Mehta dismissed one of the more significant claims raised in the case brought by the Justice Department and the attorneys general from 38 states that alleges that Google rigged search results to boost its own products over those of competitors like Amazon, OpenTable, Expedia, or eBay. Mehta said that these claims were 'raised only by the Colorado plaintiffs' and failed to show evidence of anticompetitive effects, relying only on the 'opinion and speculation' of antitrust legal expert Jonathan Baker, who proposed a theory of anticompetitive harm."
Hmm, interesting take. Some might assert the anticompetitive harm is self-evident here. But wait, there's more:
"On top of dropping claims about the anticompetitive design of Google search results, the court 'also dismissed allegations about Google's Android Compatibility Agreements, Anti-Fragmentation Agreements, Google Assistant, Internet of Things Devices, and Android Open Source Project,' Google's blog noted."
So what is left? Just the allegedly anticompetitive agreements with Android and certain browsers to make Google their default search engine which, of course, helped secure a reported 94 percent of the mobile search market for the company. Despite Judge Mehta's many dismissals, Colorado Attorney General Phil Weiser is just pleased Google was unable to stop the case altogether. Now all that remains to be seen is whether Google will receive a slap on the wrist or a pat on the back for its browser shenanigans.
Cynthia Murrell, August 15, 2023
Comments