Bankrupting a City: Big Software, Complexity, and Human Shortcomings Does the Trick

Note: This essay is the work of a real and still-alive dinobaby. No smart software involved, just a dumb humanoid.
I have noticed failures in a number of systems. I have no empirical data, just anecdotal observations. In the last few weeks, I have noticed glitches in a local hospital's computer systems. There have been some fascinating cruise ship problems. And the airlines are flying the flag for system ineptitudes. I would be remiss if I did not mention news reports about "near misses" at airports. A popular food chain has suffered six recalls in a four or five weeks.
Most of these can be traced to software issues. Others are a hot mess combination of inexperienced staff and fouled up enterprise resource planning workflows. None of the issues were a result of smart software. To correct that oversight, let me mention the propensity of driverless automobiles to mis-identify emergency vehicles or possessing some indifference to side street traffic at major intersections.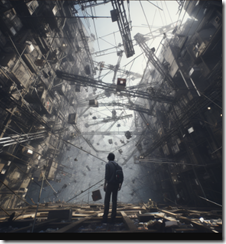 "The information technology manager looks at the collapsing data center and asks, "Who is responsible for this issue?" No one answers. Those with any sense have adopted the van life, set up stalls to sell crafts at local art fairs, or accepted another job. Thanks, MidJourney. I guarantee your sliding down the gradient descent is accelerating.
What's up?
My person view is that some people do not know how complex software works but depend on it despite that cloud of unknowing. Other people just trust the marketing people and buy what seems better, faster, and cheaper than an existing system which requires lots of money to keep chugging along.
Now we have an interesting case example that incorporates a number of management and technical issues. Birmingham, England is now bankrupt. The reason? The cost of a new system sucked up the cash. My hunch is that King Charles or some other kind soul will keep the city solvent. But the idea of city going broke because it could not manage a software project is illustrative of the future in my opinion.
"Largest Local Government Body in Europe Goes Under amid Oracle Disaster" reports:
Birmingham City Council, the largest local authority in Europe, has declared itself in financial distress after troubled Oracle project costs ballooned from £20 million to around £100 million ($125.5 million).
An extra £80 million would make little difference to an Apple, Google, or Microsoft. To a city in the UK, the cost is a bit of a problem.
Several observations:
Large project management expertise does not deliver functional solutions. How is that air traffic control or IRS system enhancement going?
Vendors rely on marketing to close deals, and then expect engineers to just make the system work. If something is incomplete or not yet coded, the failure rate may be anticipated, right? Nope, what's anticipated in a scope change and billing more money.
Government agencies are not known for smooth, efficient technical capabilities. Agencies are good at statements of work which require many interesting and often impossible features. The procurement attorneys cannot spot these issues, but those folks ride herd on the legal lingo. Result? Slips betwixt cup and lip.
Are the names of the companies involved important? Nope. The same situation exists when any enterprise software vendor wins a contract based on a wild and wooly statement of work, managed by individuals who are not particularly adept at keeping complex technical work on time and on target, and when big outfits let outfits sell via PowerPoints and demonstrations, not engineering realities.
Net net: More of these types of cases will be coming down the pike.
Stephen E Arnold, September 15, 2023
Comments