Featured
Picking and Poking Palantir Technologies: A New Blood Sport?
My reaction to "Palantir Has Figured Out How to Make Money by Using Algorithms to Ascribe Guilt to People, Now They're Looking for New Customers" is a a sign and a groan.
I don't work for Palantir Technologies, although I have been a consultant to one of its major competitors. I do lecture about next generation information systems at law enforcement and intelligence centric conferences in the US and elsewhere. I also wrote a book called "CyberOSINT: Next Generation Information Access." That study has spawned a number of "experts" who are recycling some of my views and research. A couple of government agencies have shortened by word "cyberosint" into the "cyint." In a manner of speaking, I have an information base which can be used to put the actions of companies which offer services similar to those available from Palantir in perspective.
The article in Boing Boing falls into the category of "yikes" analysis. Suddenly, it seems, the idea that cook book mathematical procedures can be used to make sense of a wide range of data. Let me assure you that this is not a new development, and Palantir is definitely not the first of the companies developing applications for law enforcement and intelligence professionals to land customers in financial and law firms.
A Palantir bubble gum card shows details about a person of interest and links to underlying data from which the key facts have been selected. Note that this is from an older version of Palantir Gotham. Source: Google Images, 2015
Decades ago, a friend of mine (Ev Brenner, now deceased) was one of the pioneers using technology and cook book math to make sense of oil and gas exploration data. How long ago? Think 50 years.
The focus of "Palantir Has Figured Out…" is that:
Palantir seems to be the kind of company that is always willing to sell magic beans to anyone who puts out an RFP for them. They have promised that with enough surveillance and enough secret, unaccountable parsing of surveillance data, they can find "bad guys" and stop them before they even commit a bad action.
Okay, that sounds good in the context of the article, but Palantir is just one vendor responding to the need for next generation information access tools from many commercial sectors.
Interviews
Bitext: Exclusive Interview with Antonio Valderrabanos
On a recent trip to Madrid, Spain, I was able to arrange an interview with Dr. Antonio Valderrabanos, the founder and CEO of Bitext. The company has its primary research and development group in Las Rosas, the high-technology complex a short distance from central Madrid. The company has an office in San Francisco and a number of computational linguists and computer scientists in other locations. Dr. Valderrabanos worked at IBM in an adjacent field before moving to Novell and then making the jump to his own start up. The hard work required to invent a fundamentally new way to make sense of human utterance is now beginning to pay off.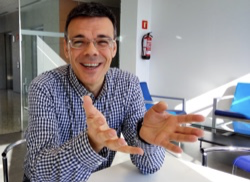 Dr. Antonio Valderrabanos, founder and CEO of Bitext. Bitext's business is growing rapidly. The company's breakthroughs in deep linguistic analysis solves many difficult problems in text analysis.
Founded in 2008, the firm specializes in deep linguistic analysis. The systems and methods invented and refined by Bitext improve the accuracy of a wide range of content processing and text analytics systems. What's remarkable about the Bitext breakthroughs is that the company support more than 40 different languages, and its platform can support additional languages with sharp reductions in the time, cost, and effort required by old-school systems. With the proliferation of intelligent software, Bitext, in my opinion, puts the digital brains in overdrive. Bitext's platform improves the accuracy of many smart software applications, ranging from customer support to business intelligence.
In our wide ranging discussion, Dr. Valderrabanos made a number of insightful comments. Let me highlight three and urge you to read the full text of the interview at this link. (Note: this interview is part of the Search Wizards Speak series.)
Linguistics as an Operating System
One of Dr. Valderrabanos' most startling observations addresses the future of operating systems for increasingly intelligence software and applications. He said:
Linguistic applications will form a new type of operating system. If we are correct in our thought that language understanding creates a new type of platform, it follows that innovators will build more new things on this foundation. That means that there is no endpoint, just more opportunities to realize new products and services.
Better Understanding Has Arrived
Some of the smart software I have tested is unable to understand what seems to be very basic instructions. The problem, in my opinion, is context. Most smart software struggles to figure out the knowledge cloud which embraces certain data. Dr. Valderrabanos observed:
Search is one thing. Understanding what human utterances mean is another. Bitext's proprietary technology delivers understanding. Bitext has created an easy to scale and multilingual Deep Linguistic Analysis or DLA platform. Our technology reduces costs and increases user satisfaction in voice applications or customer service applications. I see it as a major breakthrough in the state of the art.
If he is right, the Bitext DLA platform may be one of the next big things in technology. The reason? As smart software becomes more widely adopted, the need to make sense of data and text in different languages becomes increasingly important. Bitext may be the digital differential that makes the smart applications run the way users expect them to.
Snap In Bitext DLA
Advanced technology like Bitext's often comes with a hidden cost. The advanced system works well in a demonstration or a controlled environment. When that system has to be integrated into "as is" systems from other vendors or from a custom development project, difficulties can pile up. Dr. Valderrabanos asserted:
Bitext DLA provides parsing data for text enrichment for a wide range of languages, for informal and formal text and for different verticals to improve the accuracy of deep learning engines and reduce training times and data needs. Bitext works in this way with many other organizations' systems.
When I asked him about integration, he said:
No problems. We snap in.
I am interested in Bitext's technical methods. In the last year, he has signed deals with companies like Audi, Renault, a large mobile handset manufacturer, and an online information retrieval company.
When I thanked him for his time, he was quite polite. But he did say, "I have to get back to my desk. We have received several requests for proposals."
Las Rosas looked quite a bit like Silicon Valley when I left the Bitext headquarters. Despite the thousands of miles separating Madrid from the US, interest in Bitext's deep linguistic analysis is surging. Silicon Valley has its charms, and now it has a Bitext US office for what may be the fastest growing computational linguistics and text analysis system in the world. Worth watching this company I think.
For more about Bitext, navigate to the firm's Web site at www.bitext.com.
Stephen E Arnold, April 11, 2017
Latest News
DarkCyber for May 22, 2018, Now Available
The May 22, 2018 DarkCyber is now available at www.arnoldit.com/wordpress and on Vimeo at https://vimeo.com/270993972 This week's story line up includes ... Read more »
Google Magnetism Weakening? High Profile Wizard Allegedly Sidesteps Job Offer
Who knows if this "real" news item from a crypto currency online service in India is accurate? I find it interesting because it adds another straw to the pile... Read more »
Vendors Serving the eDiscovery Sector Get a Boost
Online forensics and eDiscovery are in a state of serious change. Many people are unaware of the federal changes that occurred in this world, but those in the industry... Read more »
The Guardian Reveals That Big Tech Yields Useless Products
I don't want to be a Luddite, but it seems to me that autonomous drones carrying interesting payloads are often darned helpful. The value of the big tech which... Read more »
Bing Keeps on Trying
Ah, Bing. Microsoft has struggled to garner the respect in the search engine world that its software has commanded. Bing is often seen as the Avis to Google's... Read more »
AI: Risky? Nah, Works Great
One purpose of science fiction books is to highlight potential risks that can develop from technology. Evil robot overlords are scary, but what is even scarier is... Read more »
Mobile Phone Usage Insights?
I read "Students Spend Four to Seven Hours on Phones, Check Them 150 Times a Day, Study Finds." These types of reports interest me. "Students" refers to... Read more »
IBM: Just When You Thought Crazy Stuff Was Dwindling
How has IBM marketing reacted to the company's Watson and other assorted technologies? Consider IBM and quantum computing. That's the next big thing, just as... Read more »
Cambridge Analytica Bankrupt: What Company Is Next on the Firing Line?
Cambridge Analytica has declared bankruptcy. What outfit is next to be pushed to center stage? Facebook? Perhaps. The founder of Facebook has an opportunity to answer... Read more »
Professional Publishing Under Pressure: WWED?
Professional publishers have been chugging along as other types of publishing companies have struggled. Sure, pumping up the revenue line has been hard work. Just... Read more »