Featured
Watson and Block: Tax Preparation and Watson
Author's Note:
Tax season is over. I am now releasing a write up I did in the high pressure run up to tax filing day, April 18, 2017, to publish this blog post. I want to comment on one marketing play IBM used in 2016 and 2017 to make Watson its Amazon Echo or its Google Pixel. IBM has been working overtime to come up with clever, innovative, effective ways to sell Watson, a search-and-retrieval system spiced with home brew code, algorithms which make the system "smart," acquired technology from outfits like Vivisimo, and some free and open source search software.
IBM Watson is being sold to Wall Street and stakeholders as IBM's next, really big thing. With years of declining revenue under its belt, the marketing of Watson as "cognitive software" is different from the marketing of most other companies pitching artificial intelligence.
One unintended consequence of IBM's saturation advertising of its Watson system is making the word "cognitive" shorthand for software magic. The primary beneficiaries of IBM's relentless use of the word "cognitive" has been to help its competitors. IBM's fuzziness and lack of concrete products has allowed companies with modest marketing budgets to pick up the IBM jargon and apply it to their products. Examples include the reworked Polyspot (now doing business as CustomerMatrix) and dozens of enterprise search vendors; for example, LucidWorks (Really?), Attivio, Microsoft, Sinequa, and Squirro (yep, Squirro). IBM makes it possible for competitors to slap the word cognitive on their products and compete against IBM's Watson. I am tempted to describe IBM Watson as a "straw man," but it is a collection of components, not a product.
Big outfits like Amazon have taken a short cut to the money machine. The Echo and Dot sell millions of units and drive sales of Amazon's music and hard goods sales. IBM bets on a future hint of payoff; for example, Watson may deliver a "maximum refund" for an H&R Block customer. That sounds pretty enticing. My accountant, beady eyed devil if there ever were one, never talks about refunds. He sticks to questions about where I got my money and what I did with it. If anything, he is a cloud of darkness, preferring to follow the IRS rules and avoid any suggestion of my getting a deal, a refund, or a free ride.
Below is the story I wrote a month ago shortly after I spent 45 minutes chatting with three folks who worked at the H&R Block office near my home in rural Kentucky. Have fun reading.
Stephen E Arnold, April 18, 2017
IBM Watson is one of Big Blue's strategic imperatives. I have enjoyed writing about Watson, mixing up my posts with the phrase "Watson weakly" instead of "Watson weekly." Strategic imperatives are supposed to generate new revenue to replace the loss of old revenues. The problem IBM has to figure out how to solve is pace. Will IBM Watson and other strategic imperatives generate sustainable, substantial revenue quickly enough to keep the  company's revenue healthy.
The answer seems to be, "Maybe, but not very quickly." According to IBM's most recent quarterly report, Big Blue has now reported declining revenues for 20 consecutive quarters. Yep, that's five years. Some stakeholders are patient, but IBM's competitors are thrilled with IBM's stratgegic imperatives. For the details of the most recent IBM financials, navigate to "IBM Sticks to Its Forecast Despite Underwhlming Results." Kicking the can down the road is fun for a short time.
The revenue problem is masked by promises about the future. Watson, the smart software, is supposed to be a billion dollar baby who will end up with a $10 billion dollar revenue stream any day now. But IBM's stock buybacks and massive PR campaigns have helped the company sell its vision of a bright new Big Blue. But selling software and consulting is different from selling hardware. In today's markets, services and consulting are tough businesses. Examples of companies strugglling to gain traction against outfits like Gerson Lehrman, unemployed senior executives hungry for work, and new graduates will to do MBA chores for a pittance compete with outfits like Elastic, a search vendor which sells add ons to open source software and consulting for those who need it. IBM is trying almost everything. Still those declining revenues tell a somewhat dismal tale.
I assume you have watched the Super Bowl ads if not the game. I just watched the ads. I was surprised to see a one minute, very expensive, and somewhat ill conceived commercial for IBM Watson and H&R Block, the walk in store front tax preparer.
The Watson-Block Super Bowl ad featured this interesting image: A sled going downhill. Was this a Freudian slip about declining revenues?
Does it look to you that the sled is speeding downhill. Is this a metaphor for IBM Watson's prospects in the tax advisory business?
One of IBM's most visible promotions of its company-saving, revenue-gushing dreams is IBM Watson. You may have seen the Super Bowl ad about Watson providing H&R Block with a sure-fire way to kill off pesky competitors. How has that worked out for H&R Block?
Interviews
Bitext: Exclusive Interview with Antonio Valderrabanos
On a recent trip to Madrid, Spain, I was able to arrange an interview with Dr. Antonio Valderrabanos, the founder and CEO of Bitext. The company has its primary research and development group in Las Rosas, the high-technology complex a short distance from central Madrid. The company has an office in San Francisco and a number of computational linguists and computer scientists in other locations. Dr. Valderrabanos worked at IBM in an adjacent field before moving to Novell and then making the jump to his own start up. The hard work required to invent a fundamentally new way to make sense of human utterance is now beginning to pay off.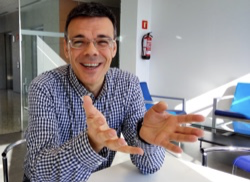 Dr. Antonio Valderrabanos, founder and CEO of Bitext. Bitext's business is growing rapidly. The company's breakthroughs in deep linguistic analysis solves many difficult problems in text analysis.
Founded in 2008, the firm specializes in deep linguistic analysis. The systems and methods invented and refined by Bitext improve the accuracy of a wide range of content processing and text analytics systems. What's remarkable about the Bitext breakthroughs is that the company support more than 40 different languages, and its platform can support additional languages with sharp reductions in the time, cost, and effort required by old-school systems. With the proliferation of intelligent software, Bitext, in my opinion, puts the digital brains in overdrive. Bitext's platform improves the accuracy of many smart software applications, ranging from customer support to business intelligence.
In our wide ranging discussion, Dr. Valderrabanos made a number of insightful comments. Let me highlight three and urge you to read the full text of the interview at this link. (Note: this interview is part of the Search Wizards Speak series.)
Linguistics as an Operating System
One of Dr. Valderrabanos' most startling observations addresses the future of operating systems for increasingly intelligence software and applications. He said:
Linguistic applications will form a new type of operating system. If we are correct in our thought that language understanding creates a new type of platform, it follows that innovators will build more new things on this foundation. That means that there is no endpoint, just more opportunities to realize new products and services.
Better Understanding Has Arrived
Some of the smart software I have tested is unable to understand what seems to be very basic instructions. The problem, in my opinion, is context. Most smart software struggles to figure out the knowledge cloud which embraces certain data. Dr. Valderrabanos observed:
Search is one thing. Understanding what human utterances mean is another. Bitext's proprietary technology delivers understanding. Bitext has created an easy to scale and multilingual Deep Linguistic Analysis or DLA platform. Our technology reduces costs and increases user satisfaction in voice applications or customer service applications. I see it as a major breakthrough in the state of the art.
If he is right, the Bitext DLA platform may be one of the next big things in technology. The reason? As smart software becomes more widely adopted, the need to make sense of data and text in different languages becomes increasingly important. Bitext may be the digital differential that makes the smart applications run the way users expect them to.
Snap In Bitext DLA
Advanced technology like Bitext's often comes with a hidden cost. The advanced system works well in a demonstration or a controlled environment. When that system has to be integrated into "as is" systems from other vendors or from a custom development project, difficulties can pile up. Dr. Valderrabanos asserted:
Bitext DLA provides parsing data for text enrichment for a wide range of languages, for informal and formal text and for different verticals to improve the accuracy of deep learning engines and reduce training times and data needs. Bitext works in this way with many other organizations' systems.
When I asked him about integration, he said:
No problems. We snap in.
I am interested in Bitext's technical methods. In the last year, he has signed deals with companies like Audi, Renault, a large mobile handset manufacturer, and an online information retrieval company.
When I thanked him for his time, he was quite polite. But he did say, "I have to get back to my desk. We have received several requests for proposals."
Las Rosas looked quite a bit like Silicon Valley when I left the Bitext headquarters. Despite the thousands of miles separating Madrid from the US, interest in Bitext's deep linguistic analysis is surging. Silicon Valley has its charms, and now it has a Bitext US office for what may be the fastest growing computational linguistics and text analysis system in the world. Worth watching this company I think.
For more about Bitext, navigate to the firm's Web site at www.bitext.com.
Stephen E Arnold, April 11, 2017
Latest News
Can Digital Shadows Meet the Award Hype for Their Cyber Defense Product
The article on Zawya titled Digital Shadows Continues to Make Waves with Two Prestigious Award Wins positions Digital Shadows as the juggernaut of the risk management... Read more »
Palantir Technologies: A Beatdown Buzz Ringing in My Ears
I have zero contacts at Palantir Technologies. The one time I valiantly contacted the company about a speaking opportunity at one of my wonky DC invitation-only... Read more »
SirionLabs Plants New United States Headquarters in California
The article on TechCrunch titled SirionLabs Establishes US Foothold to Scale Its NLP Contract Management Software frames the rapid growth and expansion of the enterprise... Read more »
Palantir Technologies: Still a Go To Buzzfeed Topic
There's nothing like leaked information and alleged missteps by top dogs. I have become somewhat tired of ad hominem revelations. How about some good old technical... Read more »
Online Translation Becomes a Joke
I am not much of a TV buff. I noted the article "Anne Hathaway Sang the Most Awkward Google Translations Beautifully on Jimmy Fallon." I noted that I will survive... Read more »
Keyword Search vs. Semantic Search for Patent Seekers
The article on BIP Counsels titled An Introduction to Patent Search, Keyword Search, and Semantic Searches offers a brief overview of the differences between keyword,... Read more »
Amazon Aims to Ace the Chatbots
Amazon aims to insert itself into every aspect of daily life and the newest way it does is with the digital assistant Alexa.  Reuters reports that, "Amazon Rolls... Read more »
HonkinNews for 25 April 2017 Now Available
This week's HonkinNews features some smart software shenanigans. A late night talk show host used Google Translate, not human joke writers, to craft a clever... Read more »
Thomson Reuters: Now the Answer Company
Earlier this year I saw a reference to "the answer company." I ignored it. Yesterday I saw a link to a podcast with Casey Hall, who is the "head of social... Read more »
Google Search Quality: Heading South?
Forbes, the capitalists tool, ran this article or sponsored content on April 17, 2017: "Is Google's Search Quality Starting to Decline?" My first reaction... Read more »