This essay is the work of a dumb dinobaby. No smart software required.
Hey, Amazon admirers, I noted some interesting (allegedly accurate factoids) in "Amazon Alexa to Lose $10 Billion This Year." No, I was not pulled by interesting puddle of red ink.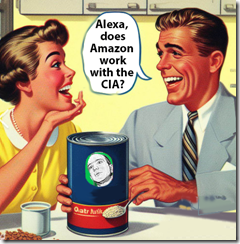 Alexa loves to sidestep certain questions. Thanks, MSFT Copilot. Nice work even though you are making life difficult for Google's senior management today.
Let me share four items which I thought interesting. Please, navigate to the original write up to get the full monte. (I support the tailor selling civvies, not the card game.)
"Just about every plan to monetize Alexa has failed, with one former employee calling Alexa 'a colossal failure of imagination,' and 'a wasted opportunity.'" [I noted the word colossal.]
"Amazon can't make money from Alexa telling you the weather"
"I worked in the Amazon Alexa division. The level of incompetence coupled with arrogance was astounding."
"FAANG has gotten so large that the stock bump that comes from narrative outpaces actual revenue from working products."
Now how about the management philosophy behind these allegedly accurate statements? It sounds like the consequences of doing high school science club field trip planning. Not sure how those precepts work? Just do a bit of reading about the OpenAI – Sam AI-Man hootenanny.
Stephen E Arnold, November 24, 2023
Alexa.com, purportedly named for legendary bastion of knowledge the Library at Alexandria, has been a go-to tool for traffic-based web rankings, APIs, and other website information for 25 years. Now, however, Amazon is pulling the plug on the subsidiary. Bleeping Computer announces, "Amazon Is Shutting Down Web Ranking Site Alexa.com." Perhaps Alexa the AI assistant wanted the name all to itself. New subscriptions have been halted, but existing subscribers will have access to Amazon data and SEO tools until May 1, 2022. Amazon APIs will be retired on December 8, 2022. Writer Mayank Parmar reports:
"In addition to the global website ranking system, Amazon's Alexa.com also offers a full suite of SEO and competitor analysis tools with its paid subscriptions. In a new support document, Amazon says that it will be discontinuing the Alexa.com platform in May 2022 and no new monthly stats will be released going forward. 'Twenty-five years ago, we founded Alexa Internet. After two decades of helping you find, reach, and convert your digital audience, we've made the difficult decision to retire Alexa.com on May 1, 2022. Thank you for making us your go-to resource for content research, competitive analysis, keyword research, and so much more,' the company stated."
Meanwhile, Reuters tells us good old Italy is trying to fight back against the Amazon behemoth in, "Italy Fines Amazon Record €1.3 Bln for Abuse of Market Dominance." Reporters Elvira Pollina and Maria Pia Quaglia write:
"Italy's watchdog said in a statement that Amazon had leveraged its dominant position in the Italian market for intermediation services on marketplaces to favor the adoption of its own logistics service – Fulfillment by Amazon (FBA) – by sellers active on Amazon.it. The authority said Amazon tied to the use of FBA access to a set of exclusive benefits, including the Prime label, that help increase visibility and boost sales on Amazon.it. … The antitrust authority also said it would impose corrective steps that will be subject to review by a monitoring trustee."
This comes as the EU Commission is pursuing two of its own investigations into Amazon. One involves the use of sensitive data from independent retailers. The other considers whether the company elevated its own retail offers and those of sellers that use its logistics and delivery services over offers from other vendors. The €1.13 billion fine is one of the largest to be levied on a US tech company by a European entity, but will it be enough to give Amazon pause? Along with its compatriots/rivals Google and Facebook, the company has a history of shrugging off what seem to most like large fees and carrying on with business as usual.
Cynthia Murrell, January 12, 2022
If you are an Amazon watcher, you will enjoy the production values and some of the examples in the video "How Amazon Became the Top Dog in Artificial Intelligence: Tech Video." On the plus side, the producer has pumped some bucks into visuals intended to represent the way Amazon's technology functions. Keep in mind that the program is a video, and not a white board in an Amazon tech center. There is one downside or what I call a "minor omission" in the program. The oversight is probably irrelevant because Amazon itself goes out of its way to choke off the flows of information about one of its more interesting businesses: Policeware. Amazon is the plumbing for some of the most widely used policeware vendors who specialize in aggregating and analyzing information to solve crimes. Plus Amazon has a pride of lion hearted entrepreneurs who are developing next generation policeware for their government customers. Also, Amazon has some "interesting" partners who match up products, services, features, and functions for government projects. Are you watching Dubai's use of AWS? Ah, well, there's 2021 to dive into that topic. The policeware angle is not to be found in the video. Oversight? Amazon's influence? Cutting room floor?
Stephen E Arnold, January 1, 2021
The gimmick behind digital assistants is with a simple vocal command, using a smart speaker like Amazon Echo, users have access to knowledge and can complete small tasks. Amazon is either very clever or very clumsy when it comes to digital assistant Alexa. Venture Beat shares that, "Researchers Identify Dozens Of Words That Accidentally Trigger Amazon Echo Speakers" in a recent study.
The problem with digital assistants, other than them recording conversations and storing them to the cloud, is who will have access tot these conversations. LeakyPick is a platform that investigates microphone equipped devices and monitors network traffic for audio transmissions. LeakyPick was founded by University of Darmstadt, North Carolina State University, and the University of Paris Saclay.
LeakyPick was designed to test when smart speakers are activated:
"LeakyPick — which the researchers claim is 94% accurate at detecting speech traffic — works for both devices that use a wakeword and those that don't, like security cameras and smoke alarms. In the case of the former, it's preconfigured to prefix probes with known wakewords and noises (e.g., "Alexa," "Hey Google"), and on the network level, it looks for "bursting," where microphone-enabled devices that don't typically send much data cause increased network traffic. A statistical probing step serves to filter out cases where bursts result from non-audio transmissions."
To identify words that could activate smart speakers, LeakyPick uses all words in a phoneme dictionary. After testing smart speakers: Echo Dot, HomePod, and Google Home over fifty-two days. LeakyPick discovered that the Echo Dot reacted to eighty-nine words, some phonetically different from Alexa, to activate.
Amazon responded it built privacy deep into Alexa and sometimes smart speakers respond to words other than command signals.
LeakyPick, however, does show potential for testing smart home privacy and how to prevent them.
Whitney Grace, August 17, 2020
Some languages have bound phrases; that is, two words which go together. Examples include "White House", a presidential dwelling, and "ticket counter", a place to talk with an uninterested airline professionals. How does a smart software system recognize a bound phrase and then connect it to the speaker's or writer's intended meaning. There is a difference between "I toured the White House" and "Turn left at the white house."
Traditionally, vendors of text analysis, indexing, and NLP systems used jargon to explain a collection of methods pressed into action to make sense of language quirks. The guts of most systems are word lists, training material selected to make clear that in certain contexts some words go together and have a specific meaning; for example, "terminal" doesn't make much sense until one gets whether the speaker or writer is referencing a place to board a train (railroad terminal), the likely fate of a sundowner (terminal as in dead), or a computer interface device (dumb terminal).
How does Amazon accomplish this magic? Amazon embraces jargon, of course, and then explains its bound phrase magic in "How Alexa Knows "Peanut Butter" Is One Shopping-List Item, Not Two."
Amazon's spin is spoken language understanding. The write up explains how the system operates. But the methods are ones that others have used. Amazon, to be sure, has tweaked the procedures. That's standard operating procedure in the index game.
What's interesting is that no reference is made to the contextual information which Amazon has to assist its smart software with disambiguation.
But Amazon is now talking, presumably to further the message that the company is a bold, brave innovator.
No argument from Harrod's Creek. That's a bound phrase, by the way, with capital letters and sometimes and apostrophe or not.
Stephen E Arnold, December 19, 2018
Short honk: I read "What Cracking Open a Sonos One Tells Us aboiut the Sonos IPO." In the write up was an interesting to me item of information. Here is what I noted:
Even though both [Sonos and Echo Plus] of these products are different in pretty much every decision that was made surrounding the hardware, they use the same backend Alexa service (where most of the IP is) from Amazon.
Interesting. Amazon's approach allows it to generate revenue from a customer (maybe partner?) and from its own product line.
This appears to be a double dipping approach of value. What happens if Amazon decides to raise its prices for a customer (partner)? I suppose the Sonos-type outfit can hightail it to IBM's, Google's, or Microsoft's cloud.
That may pose costs, timing challenges, and technical hoops. The time required by a Sonos-type outfit might be enough to allow Amazon to shave a few seconds off its lap time.
With Google slashing prices for its home gizmos, the home data ecosystem may become more interesting in the months ahead.
Stephen E Arnold, July 9, 2018
Amazon's Alexa, a wi-fi enabled, voice-activated speaker, has become less of a novelty and more of a way of life for millions of owners. With that in mind, the company is aiming to utilize this exposure for analytic purposes. But many are not so excited, as we learned from a Wired piece, "Alexa Wants You To Talk to Your Ads."
According to the story,
These early interactions won't necessarily provide additional revenue, but for forward-thinking brands they do hold value. No matter how basic the interaction, connecting with a customer through voice provides a trove of data on how consumers are interacting with a product. Collecting information on how Alexa is used will provide a base of knowledge to position brands to build the more sophisticated tech still to come. Once that "killer experience" is discovered and the confusion clears, these early advertising settlers will be set up to succeed.
They are angling this as a great thing for customers, too. But we are a little skeptical. There is a real fear that Amazon is overstepping boundaries in the name of AI and analytics. Recently, it has come to light that Alexa is always listening and possibly transmitting that data to a warehouse. Even more intimidating is a recent report that Alexa can be easily hacked and used as an eavesdropping tool. This might not be the ideal time for Amazon to encourage this level of interaction with Alexa.
Patrick Roland, December 25, 2017
A brief write-up at MakeUseOf points out a nifty Alexa capability—"How to Search for Songs by Lyrics on Amazon Echo." Writer Nancy Messieh writes:
One of the Echo's native features (recently pointed out by Lifehacker) is the ability to search for songs by lyrics. Rather than pulling up a browser on your phone or computer, you can just ask Alexa using the voice command 'Alexa, what's the song that goes [lyrics]?' If Alexa recognizes the song, she'll let you know the title and artist and will start playing the song immediately. Amazon also recently released a list of the top 50 most requested songs by lyrics through Alexa. The number one song HandClap by Fitz and the Tantrums. Other artists that appear on the list include Justin Timberlake, Journey, Ed Sheeran, and Queen.
The feature can also report the most-searched songs by the city, though so far that list only includes five major cities in the U.S. Perhaps the Echo will add cities as more users take advantage of the search-by-lyrics feature.
Cynthia Murrell, November 24, 2017
Alexa did not really get physical robot body, instead, Bionik Laboratories developed an Alexa skill to control their AKRE lower-body exoskeleton.  The news comes from iReviews's article, "Amazon's Alexa Can Control An Exoskeleton With Verbal Instructions."
This is the first time Alexa has ever been connected to an exoskeleton and it could potentially lead to amazing breakthroughs in prosthetics.  Bionik Laboratories developed the exoskeleton to help older people and those with lower body impairments.  Users can activate the exoskeleton through Alexa with simple commands like, "I'm ready to stand" or "I'm ready to walk."
As the population ages, there will be a higher demand for technology that can help senior citizens move around with more ease.
The ARKE exoskeleton has the potential to help in 100% of all stroke survivors who suffer from lower limb impairment. A portion of wheelchair-bound stroke survivors will be eligible for the exoskeleton. For spinal cord injury patients, Bionik Labs expects to treat 80% of all cases with the ARKE exoskeleton. There is also potential for patients with quadriplegia or incomplete spinal cord injury.
Bionik Laboratories plans to help people regain their mobility and improve their quality of life.  The company is focusing on stroke survivors and other mobile-impaired patients.  Pairing the exoskeleton with Alexa demonstrates the potential home healthcare will have in the future.  It will also feed imaginations as they wonder if the exoskeletons can be programmed not only walk and run but search and kill?  Just a joke, but the potential for aiding impaired people is amazing.
Whitney Grace, September 20, 2015
It recently hit the new stands that Google Home was six times more likely than Amazon Alexa to answer questions.  The Inquirer shares more about this development in the article, "Google Hoe Is Six Times Smarter Than Amazon's Echo."
360i conducted a test using their proprietary software that asked Amazon Alexa and Google Home 3,000 questions.  We don't know what the 3,000 questions were, but some of them did involve retail information.  Google pulled on its Knowledge Graph to answer questions, while Amazon used Bing for its search.  Amazon currently controls 70% of the voice assistant market and has many skills from other manufacturers.  Google, however, is limited in comparison:
By comparison, Google Home has relatively few smart home control chops, relying primarily on IFTTT, which is limited in what it can achieve and often takes a long time between request and execution.
Alexa, on the other hand, can carry out native skill commands in a second or two.
The downside of the two, however, is that Google is Google and Amazon is just not as good. If Echo was able to access the Knowledge Graph, Google Music, and control Chromecasts, then it would be unassailable.
Amazon Alexa and Google Home are a set of rivals and the facts are is that one is a better shopper and the other better at search.  While 360i has revealed their results, we need to see the test questions to fully understand how they arrived at the "six times smarter" statement?
Whitney Grace, August 22, 2017