DuckDuckGo remains a strong rival to Google. It might be a small company in Pennsylvania and controls only a small amount of the Web traffic, but it keeps gaining traction because it respects user privacy. Fast Colabs has an insightful piece called, "Inside DuckDuckGo, Google's Tiniest, Fiercest Competitor." Gabriel Weinberg started DuckDuckGo in 2008 and it has slowly earned notoriety. In 2011 Union Square invested $3 million in the search engine and Time Magazine listed it as one of the 50 Best Web Sites Of 2011. DuckDuckGo grows 200-500% each year with more traffic.
Weinberg designed DuckDuckGo to provide specific answers to queries over providing a list of results. Also privacy is always a big issue:
"It quickly became clear that taking a no-holds-barred approach to privacy would give DuckDuckGo a unique selling point as Google gobbled up more private user data. So the company positioned itself accordingly and started amassing attention as the issue of online privacy slowly ballooned in the public's consciousness."
The article continues with information on how DuckDuckGo is entirely open source and relies on its community for development and improvement. It ends on a description of the employee's work environment, explaining how there are ever only a few employees in the office due to most working remotely.
DuckDuckGo continues to defy odds and deliver a user Web experience often lacking in Google.
Whitney Grace, December 17, 2014
Sponsored by ArnoldIT.com, developer of Augmentext
I found this write up presumptuous. Imagine a traditional publishing company and owner of the mid-tier consulting company IDC providing unsolicited suggestions to the Google. (IDC as you may recall employs the "expert" Dave Schubmehl, who has be known to sell work with my name on it via Amazon. Information is here.)
Navigate to this write up: "Why Google Should Leave Europe." The story suggests that Google should turn its back on Europe. Okay, great idea. The wizards at IDG/IDC do not have a suggestion for replacing Google's European revenue. The analysis appears to overlook the Android/Chrome business. The stroke of genius ignores the government contracts on which a few, industrious Google labors. Nope. Bail out. Abandon ship. Leave the market to the stellar alternatives like Qwanta, Exalead Search, and my favorite Yandex.
Here's a passage I noted when I stopping laughing:
Google is more popular among the European public than any other region in the world. The company has higher than 90% market share in Europe simply because users there prefer it over alternatives. (The company has less than 68% market share in the U.S.) So European corporations and the politicians they lobby are out to destroy Google even as the European public loves Google. To summarize, you have government obsessively and shamelessly pushing unfair protectionism under the guise of various righteous bureaucratic causes and hammering away with censorship, fines, threats, bans and constant harassment. Sound familiar? It should. This is the situation found itself in China five years ago.
Now if I am not mistaken, Google's issues with China are country specific, not a couple of dozen countries with only a subset of "Europe" united, however loosely, by the European Community thing.
The logic of the mid-tier thinkers is that Google should bail out.
I don't want to spend any time pointing out that the idea has some hurdles to overcome. I would remind you, gentle reader, that Google has stakeholders. Some of these folks are "European." Nuking the value of the company with the IDG/IDC approach would create what I would describe as pushback.
You can identify two or three other reasons why cutting ties with Europe might not be a great maneuver at this time. Are you familiar with Google's employees in Europe? What about Google's operation in Switzerland? Oh, well, details do not trouble an outfit that sells my content without my permission on a digital Wal-Mart.
If Google does follow this advice, I would be mildly surprised. Perhaps IDG and IDG should turn its attention on remediating its contract processes, its reselling of my content without my permission, and coming up with forecasts that are able to put McKinsey, Bain, and Boston Consulting Group to shame.
That, however, is probably of less interest than offering Google unsolicited advice that sails into the digital aether to disappear. Quickly I assume.
Stephen E Arnold, December 15, 2015
Analytics outfit Lexalytics is going all-in on their European expansion. The write-up, "Lexalytics Expands International Presence: Launches Pain-Free Text Mining Customization" at Virtual-Strategy Magazine tells us that the company has boosted the language capacity of their recently acquired Semantria platform. The text-analytics and sentiment-analysis platform now includes Japanese, Arabic, Malay, and Russian in its supported-language list, which already included English, French, German, Chinese, Spanish, Portuguese, Italian, and Korean.
Lexalytics is also setting up servers in Europe. Because of upcoming changes to EU privacy law, we're told companies will soon be prohibited from passing data into the U.S. Thanks to these new servers, European clients will be able to use Semantria's cloud services without running afoul of the law.
Last summer, the company courted Europeans' attention by becoming a sponsor of the 2014 Enterprise Hackathon in Prague. The press release tells us:
"All participants of the Hackathon were granted unlimited access and support to the Semantria API during the event. Nearly every team tried Semantria during the 36 hours they had to build a program that could crunch enough data to be used at the enterprise level. Redmore says, "We love innovative, quick development events, and are always looking for good events to support. Please contact us if you have a hackathon where you can use the power of our text mining solutions, and we'll talk about hooking you up!"
Lexalytics is proud to have been the first to offer sentiment analysis, auto theme detection, and Wikipedia integration. Designed to integrate with third-party applications, their text analysis software is chugs along in the background at many data-related organizations. Founded in 2003, Lexalytics is headquartered in Amherst, Massachusetts.
Cynthia Murrell, December 12, 2014
Sponsored by ArnoldIT.com, developer of Augmentext
I read "Oracle Competitor Attivio Promotes Stephen Baker to CEO." Quite a surprise because Attivio is a search-and-retrieval company with a layer of analytics wrappers. Founded by former Fast Search & Transfer executives, the company ingested more than $30 million in venture funding and now has to generate a return for the stakeholders.
I am not sure if Oracle perceives Attivio as a competitor. MarkLogic, an XML data management vendor, also positioned itself as an Oracle competitor. After hitting a wall at about $60 million and grinding through some new presidents, MarkLogic is keeping a low profile in the markets I track.
Now Attivio may be following this MarkLogic path. Two of the founders of Attivio are moving up. Below Ali Riaz and Sid Probstein is Stephen Baker. Mr. Baker also was a Fast Search & Transfer professional. He worked at RAMP Holdings afar a stint at Reed Elsevier where he was responsible for—wait for it—search.
Attivio co-founder Will Johnson is now the chief technology officer. Mr Johnson is another Fast Search alum. He has worked at GetConnected as—wait for it—a search architect.
My thought is that saying Attivio is a competitor to Oracle is one way to connect semantically with "Oracle."
But as MarkLogic's trajectory has demonstrated, there is more to saying a company is "like" Oracle than generating revenue on the scale of Oracle.
Both Attivio and MarkLogic are information access companies. Both want to generate more revenue for their stakeholders. Perhaps a management shift will do the trick.
My view is that if Oracle thought either Attivio or MarkLogic offered a unique, high value service, Oracle would have acquired these companies. Oracle may buy Attivio and MarkLogic. I think the catalyst would be generating and demonstrating rapid revenue growth, expanding margins, and a track record of sustainable revenues. i look forward to a glowing analysis of each firm by IDC's "expert" Dave Schubmehl in the next month or so. Maybe saying something does make reality change?
Stakeholders want a payback. Management change is a precursor to even more significant activity to benefit those who pumped tens of millions into what may be an old-school approach to information access.
Stephen E Arnold, December 7, 2014
I read "HP Takes Analytics to the Cloud in Comeback to IBM's Watson." The write up is darned interesting. Working through the analysis reminded me that HP does not realized that Autonomy's 1999 customer BAE Systems has been working with analytics from the cloud for—what?—15 years? What about Recorded Future, SAIC, and dozens of other companies running successful businesses with this strategy?
The article points out that two large and somewhat pressured $100 billion companies are innovating like all get out. I learned:
Although it [Hewlett Packard] may not win any trivia contests in the foreseeable future, the hardware maker's entry into the world of end-of-end analytics does hold up to Watson where the rubber meets the road in the enterprise…But the true equalizer for the company is IDOL, the natural language processing and search it obtained through the $11.7 billion acquisition of Autonomy Corp. PLC in 2011, which reduces the gap between human and machine interaction in a similar fashion to IBM's cognitive computing platform.
Okay. IBM offers Watson, which was supposed to generate a billion or more by 2015 and then surge to $10 billion in revenue in another four or five years. What is Watson? As I understand it, Watson is open source code, some bits and pieces from IBM's research labs, and wrappers that convert search into a towering giant of artificial intelligence. Why doesn't IBM focus on its next generation information access units that are exciting and delivering services that customers want. i2 does not produce recipes incorporating tamarind. Cybertap does not help sick teenagers.
HP, on the other hand, owns the Autonomy Digital Reasoning Engine and the Integrated Data Operating Layer. These incorporate numerical recipes based on the work of Bayes, LaPlace, and Markov, among others. The technology is not open source. Instead, IDOL is a black box. HP spent $11 billion for Autonomy, figured out that it overpaid, wrote off $5 billion or so, and launched a global scorched earth policy for its management methods. Recently, HP has migrated DRE and IDOL to the cloud. Okay, but HP is putting more effort into accusing Autonomy of fooling HP. Didn't HP buy Autonomy after experts reviewed the deal, the technology, and the financial statements? HP has lost years in an attempt to redress a perceived wrong. But HP decided to buy Autonomy.
In my Yahoo Alert this morning, I saw an item which puzzled me.
When I clicked on the link, I was shown this item from Yahoo Finance: "Independent Research Firm Ranks Visible Technologies as a Leader in New Enterprise Listening Platforms Report/"
The article from MarketWired informed me:
In addition to securing a Leadership ranking among a pool of 11 enterprise listening software and service providers, Visible received among the second highest rankings in the Strategy category. Its road map was cited as including "self-service research tools and additional automation of client-specific data." The report also stated that "Visible marries an intuitive dashboard that enables users to uncover insights and refine search with high-quality consulting."
Yep, search is part of the Forrester "enterprise listening platform" functionality. I must admit that the azure chip consultants will resonate with this phrase. I am not sure what it means. I think I get the search part, but the mashing up dashboards, social media, advanced data processing capabilities, and partnership plans amuses me.
Whatever floats one's boat and boosts one's revenues is okay with me. I am not sure what Simpson's mathematics means but it generates revenues and apparently helps sell newspapers.
Stephen E Arnold, December 6, 2014
In UK talk, a gritter is a giant machine that dumps sand (grit) on a highway to make it less slippery. Enterprise search gritters are ready to dump sand on my forthcoming report about next generation information access.
The reason is that enterprise search is running on a slippery surface. The potential customers are coated in Teflon. The dust up between HP and Autonomy, the indictment of a former Fast Search & Transfer executive, and the dormancy of some high flying vendors (Dieselpoint, Hakia, Siderean Software, et al)—these are reasons why enterprise customers are looking for something that takes the company into information access realms that are beyond search. Here's an example: "Accounting Differences, Not Fraud, Led to HP's Autonomy Write Down." True or false, the extensive coverage of the $11 billion deal and the subsequent billions in write down has not built confidence in the blandishments of the enterprise search vendors.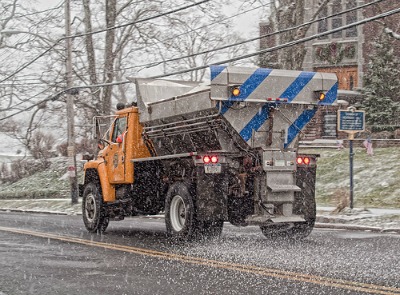 Image source: http://thehappyhousewife.com/homeschool/files/2013/01/salt-truck.jpg
Enter the gritters. Enterprise search vendors are prepping to dump no skid bits on their prospects. Among the non skid silica will be pages from mid tier consultants' reports about fast movers and three legged rabbits. There will be conference talks that pummel the audience with assertions about the primacy of search. There will be recycled open source technology and "Fast" think packaged as business intelligence. There will be outfits that pine for the days of libraries with big budgets pitching rich metadata to trucking companies and small medical clinics who rightly ask, "What's metadata?"
Several years ago, an ArnoldIT team tackled a content management search system that had three characteristics: [1] The system could not locate content a writer saved to the system. [2] The search results lacked relevance that made sense to the user; that is, time sequences for versions of the article were neither in ascending or descending order. [3] Response time was sluggish. Let's look at each of these obvious problems.
The user wanted to access a document that required final touch ups. The article was not in a result that even when the writer entered the full title of the article. Examination of the system revealed that it lacked keyword search, relying on a training set of documents that did not contain some of the words in the title. The fix was to teach the user to search for articles using words and concepts that appeared in the body of the article. We also identified an indexing latency problem. The system lacked sufficient resources so recent material was not in an index until the indexing system caught up. The organization did not have the money to add additional resources, so the writers were told, "Live with it."
What is that vendor doing amidst the prospects? A happy quack to http://bit.ly/1CrUc81
The chaos in the relevance function was a result of a configuration error during an upgrade and subsequent reindexing. The fix was to reconfigure the system and reindex the content. Keep in mind that indexing required more than two weeks. The attitude of the client was, "It is what it is."
The third problem was the response time. This particular system used a product from a Canadian vendor of search and content management systems. The firm acquires companies and then "milks" the system. The idea is that updating and bug fixing are expensive. The problem was exacerbated because the search system was a stub provided by another vendor. The result was that in order to get more robust performance, the client had to upgrade the OEM search system AND add computers, memory, and network infrastructure. The client lacked the money to take these actions.
What were the hidden limitations of this enterprise search system?
On the client side, there was a lack of understanding of the interdependencies of a complex system. The client lacked expertise and, more importantly, money to address the problems of an "as is" infrastructure. Moving the operation to the cloud was not possible due to security concerns, knowledge of what to do and how to do it, and initiative on the management team. The conclusion was, "The system is good enough."
On the vendor side, the marketing team closing the deal did not disclose that the OEM search system was a stub designed to upsell the licensee the seven figure "fix". The vendor also did not reveal that funds were not being invested in the system due to the vendor's "milk the cow" philosophy.
I point out this situation because it applies to many vendors of enterprise search systems. The object of the game on the client side is to get a good enough system at the best possible price. Senior managers are rarely experts in search and often search Google anyway.
The vendor has zero incentive to change its business practices. Even with low cost options available, once a prospect becomes a customer, lock in usually keeps the account alive. When a switch is in the wind, the search vendor plays the "legacy" card, pointing out that there are some people who need the older system. As a result, the licensing organization ends up with multiple search systems. The demand for money just goes up and findability remains a bit of a challenge for employees.
I do not see a fix under the present enterprise search business model. Education does not work. Search conferences dodge the tough issues, preferring to pander to vendors who buy exhibit stands and sponsor lunch.
Something different is needed: Different vendors, different approaches, and different assemblies of technology.
That's why next generation information access is going to pose a threat to companies that pitch enterprise search disguised as customer support, business intelligence, analysis systems, and eDiscovery tools.
At some point, the NGIA vendors will emerge as the go-to vendors. Like the promising but now quiet outfits like Hakia and Autonomy, search as it has been practiced for decades is rapidly becoming a digital Antikythera mechanism.
Stephen E Arnold, November 29, 2014
Cisco is a popular solution for enterprise communication software and now Elasticsearch has joined its team. Unlike other partnerships, which involve either company buyouts or some form of give and take, Cisco is remaining independent. The news came to us from Market Wired in "Elasticsearch Joins the Cisco Solution Partner Program." Being a member of the Cisco Solution Partner Program allows Elasticsearch to access Cisco's Internet of Everything network. The program also gives Elasticsearch the opportunity to quickly create and deploy solutions to the Internet of Everything network.
Another boon of Elasticsearch teaming with Cisco is that it brings Mozilla into the circle. Mozilla already uses Elasticsearch and Kibana, an open source security information and event management platform. When you put the three together teamed with Cisco's UCS infrastructure, real-time indexing, search, real-time analytics, and security protection.
" 'Elasticsearch, Kibana and Cisco UCS allowed us to quickly stand up an infrastructure we could use to build MozDef, and support our needs for rapid expansion, querying, indexing and replication of data traffic,' said Jeff Bryner, Intrusion Detection Engineer at Mozilla. 'Elasticsearch provides us the flexibility and speed to handle our increasing stream of event data, which we can search and visualize in Kibana and then use MozDef to perform incident response, alerting and advanced visualizations to protect Mozilla's data, systems and customers.' "
The Cisco Solution Partner Program is a win-win situation for all participants. The partners can draw on each other's strengths and offer a wider array of services.
Whitney Grace, November 27, 2014
Sponsored by ArnoldIT.com, developer of Augmentext
The issue of shaped and filtered content is becoming more and more of a mainstream topic. I read "Uber Removed Blog Post from Data Science Team That Examined Link between Prostitution and Rides." The world's oldest profession meets the world's newest ride service. I noted this passage in the write up:
"The company examined its rider data, sorting it for anyone who took an Uber between 10 p.m. and 4 a.m. on a Friday or Saturday night. Then it looked at how many of those same people took another ride about four to six hours later – from at or near the previous nights' drop-off point. Yes, Uber can and does track one-night stands. Consider it the Uber equivalent of the walk of shame."
How will this corporate approach to content play out? My hunch is that content has been getting removed for a long time. I recall looking for information about the Spyglass browser decades ago and finding a 404 error.
At least today there are copies of the Web, caches on public systems, and people who store content on their drives. Nevertheless, most people cannot search for content that is not "there." Has anyone looked for CMS information about the original MIC, RAC, and ZPIC contractors? My hunch is that more attention should be paid to content that goes missing, not because of its prurient nature, but because the disappearance of content provides very useful information about the behavior of people, systems, and organizations.
Stephen E Arnold, November 25, 2014