HP is not setting the world on fire with innovation in my opinion. I read "Focus Is Costly Confusion at Failing HP." I struggled with hippy dippy headline, but there were a couple of well honed drill bits in the write up.
I circled this comment:
Rather than making new products and offering new solutions, HP has become a company that does little more than constantly restructure!
My thought was, "What do failed politicians do?" Restructure is a gentle way of saying, "Not too much. Hitting the rubber chicken circuit? Scouting around for an appointment to the election commission?"
This is another item which garnered the coveted pink underline:
Companies cannot add value unless they develop new products, new solutions, new markets and grow.  Restructuring after restructuring adds no value – as HP has demonstrated.  For long-term investors, this is a painful lesson to learn.  Let's hope folks are getting the message loud and clear now.
One can long for the days of yore when Autonomy was firing up the router that punched holes in traditional keyword search. I don't think it is a problem with focus. HP has a problem handling tools and then using those tools to build sustainable revenue. Former competitor Lexmark is taking positive steps. Now Lexmark's reinvention of itself may not work much better than HP's firing up the buzz saw. But Lexmark is making an effort that goes beyond HP's mixing up the clamps with the screwdrivers.
Stephen E Arnold, May 23, 2015
I am one of the few people who use my smartphone to make calls and respond to the text instructions from my wife. I am not into apps. I have a nice, multi screened desktop computer which allows me to do what I need and want to do. I am in the minority, and I quite like it that way.
I read "Make Apps Stand Out in Search with App Linking." I suppose if I needed an app, I would want to be able to locate the candidate software for my consideration. Once I locate a suitable app, I want to read reviews and maybe—not very often—but maybe load a trial version to see if the app actually "apps." I just submitted one of my for fee columns and titled it "In App or Inept." The reason? Apps are not exactly the type of software I want to use.
Remember. I work at a desk, three monitors, 13 computers/servers, two high speed data connections, VPNs, and software my team and I built. Apps are not what meet my needs. But there are many attention challenged, entitlement fueled younger folks who are into the "app" thing. I think that most apps are inappropriate for the type of work I do and perhaps other folks should actually do.
I don't telework or telecommute. I actually work, answer the phone, and produce outputs. Some of the outputs are software like Overflight and Augmentext. Others are outputs like this article pointing out that apps are programs which perform a limited set of functions. For the mobile, telecommuter, concentration deprived, and ever to busy knowledge worker, apps are the cat's pajamas.
Bing is not going to permit app discovery. I would be happier if Bing did these things:
Indexed more substantive content
Eliminated the need for me to search Microsoft research and Bing for information
Provided an interface which allowed me to concentrate on relevant results
Improved relevance
Provided meaningful ways to present data; for example, time sort, date content added to the index, and other pre-pre diluvium operations.
I chuckled at this diagram:
I have zero idea what the diagram is supposed to mean. I know that when I tested a Lumia Windows phone, I could not locate apps. The sparseness of information was a turn off. Hey, how tough is it to provide a link to the developer's Web site? Obviously pretty tough.
The Bing enhancements are part of the "deep linking" craze. The idea is that an app does something and data are usually needed for that something. To allow the app to spit out a result, which may or may not be what the user wants, the app "goes to another Web site" or "to a database". What's going on is a dumbing down and conveniencing up of information access. Perfect for a user with an attention span less than a goldfish's and the reading skill of a bright sixth grader.
How does this work? Well, you use code like this:
Don't worry. Your eyes are not failing. The code snippet was illegible on the Bing blog Web page. New president, same old Microsoft. Enchanting.
Here's the passage I highlighted in Microsoft blue:
We're also already in the process of bringing this apps and actions intelligence to Bing and Bing-powered search results including Cortana and Windows 10 and we will have more to share later. In fact, look for an upcoming post on how we will start applying this to our results soon.
Okay, can't wait. Watch for my in app or in ept article in Information Today. Nah, never mind. You already know that I prefer substantive information access. App finding is a tiny part of the content universe. I want more progress on the more substantive information which is increasingly difficult to find. Use Bing to locate Babak Parviz's work at Microsoft on the bionic contact lens. Now use Bing to track Dr. Parviz from Google to Amazon. Let me know how that works out for you. Is there an app for that with deep linking no less?
Stephen E Arnold, May 22, 2015
Short honk: I was fascinated when Lexmark purchased Brainware and ISYS Search Software a couple of years ago. Lexmark, based in Lexington, Kentucky, used to be an IBM unit. That it seems did not work out as planned. Now Lexmark is in the scanning and intelligence business. Kofax converts paper to digital images. Think health care and financial services, among other paper centric operations. Kofax bought Kapow, a Danish outfit that provides connectors and ETL software and services. ETL means extract, transform, and load. Kapow is a go to outfit in the intelligence and government services sector. You can read about Lexmark's move in "Lexmark Completes Acquisition of Kofax, Announces Enterprise Software Leadership Change."
According to the write up:
This was a billion dollar deal
The executive revolving door is spinning.
In my experience, it is easier to spend money than to make it. Will Lexmark be able to convert these content processing functions into billions of dollars in revenue? Another good question to watch the company try to answer in the next year or so. Printers are a tough business. Content processing may be even more challenging. But it is Kentucky. Long shots get some love until the race is run.
Stephen E Arnold, May 22, 2015
Have you ever needed to quickly locate a file that you just know you made, but were unable to find it on your computer, cloud storage, tablet, smartphone, or company pool drive?  What is even worse is if your search query does not pick up on any of your keywords!  What are you supposed to do then?  VentureBeat might have the answer to your problems as explained in the article, "Peruse Is A New Natural Language Search Tool For Your Dropbox And Box Files."  Peruse is a search tool that allows users to use their natural flow of talking to find their files and information.
Natural language querying is already a big market for business intelligence software, but it is not as common in file sharing services.  Peruse is a startup with the ability to search Dropbox and Box accounts using a regular question.  If you ask, "Where is the marketing data from last week?" The software will be able to pull the file for you without even opening the file. Right now, Peruse can only find information in spreadsheets, but the company is working on expanding the supported file types.
"The way we index these files is we actually look at them visually — it understands them in a way a person would understand them," said [co-founder and CEO Luke Gotszling], who is showing off Peruse…"
Peruse's goal is to change the way people use document search.  Document search has remained pretty consistent since 1995, twenty years later Gotszling is believes it is time for big change.  Gotzling is right, document search remains the same, while Web search changes everyday.
Whitney Grace, May 22, 2015
Stephen E Arnold, Publisher of CyberOSINT at www.xenky.com
I spoke to a colleague who asked me about Yotta Search. I dug through my Overflight files and located a write up about the new enterprise search system from Yotta Data Technologies and a company called Yotta Customer Analytics. One Yotta is in Cleveland. The other is in Silicon Valley. Both are in the analytics game.
A "yotta" is a whole lotta data, the biggest unit of data. I wonder if the company has a comment on a set of yottas?
I checked my files for the company offering Yotta search, based in Cleveland, home of EPI Thunderstone, another enterprise search vendor. The company behind Yotta Search is Yotta Data Technologies.
According the firm's Web site at www.yottadatatechnologies.com:
Yotta Data Technologies (YDT) is a technology company built on a foundation of deep industry experience and driven by a passion for innovative excellence. We provide data management and  information governance solutions to corporations, firms and agencies, whether they be a small local firm or a multinational corporation with offices around the globe.  Each of our platforms maintains the high levels of quality, performance and security that are critical within information governance initiatives and any data management project.
The search system appears to be based on open source technology if I understand this Web site information:
Yotta Search is a versatile enterprise search solution being developed by Yotta Data Technologies (YDT) for teams, small to medium sized businesses and large corporations. Yotta Search provides powerful, fast and flexible technology that is not only well beyond full text search, but also powers the search and analysis features of many of the world's largest internet sites and data platforms.
The operative phrase is "being developed." The company asserts capabilities in these functions:
Business intelligence
Discovery
Information governance
Virtual data rooms.
I noticed a news item  called "Yotta Data Technologies Announces Enterprise Search and Big Data Analytics Platform." If the information is correct, Yotta is no longer "being developed," one can license the system. The url provided is www.yottasearch.info. The story describes the Yotta search system in this way.
YottaSearch is easy – and budget friendly – to implement with a cloud-based, Software-as-a-Service (SaaS) delivery model and a disruptive, subscription-based pricing model.

Key Functionality of the YottaSearch

Data Point Connectors – Local, Network, Email, Enterprise Systems, Databases, Social Media

File Crawlers – Detects & Parses over 1,000 file types

File Indexer – Language Detection, Deduplication, Near Real Time, Distributed, Scalable

Advanced Search Engines – Based on the high performance Apache Lucene library

Data Analytics – Intelligent analysis of structured and unstructured data

Dynamic Dashboards – Explore, analyze, navigate and define large volumes of complex data.
The system can be used for a number of applications, according to the write up:
Enterprise Search and Analytics

Information Governance

IT Operations Analytics (ITOA)

Investigations & eDiscovery

Knowledge Management (KM)

Internet of Things (IoT), Event & Log Data Analysis
Also, Yotta offers global data services and global electronic discovery services. The company's tag line is "Information intelligence for corporations, firms, and agencies."
Like I said, a lotta yottas and a robust line up of functionality which some more established search and content processing systems do not possess. Is Yotta competing with Elastic or is Yotta competing with the ABC vendors: Attivio, BA Insight, or Coveo? Worth watching.
Stephen E Arnold, May 17, 2015
We love open source on principle, and Hadoop is indeed an open-source powerhouse. However, any organization considering a Hadoop system must understand how tricky implementation can be, despite the hype. A pair of writers at GCN asks and answers the question, "What's Holding Back Hadoop?" The brief article reports on a recent survey of data management pros by data-researcher TDWI. Reporters Troy K. Schneider and Jonathan Lutton explain:
"Hadoop — the open-source, distributed programming framework that relies on parallel processing to store and analyze both structured and unstructured data — has been the talk of big data for several years now.  And while a recent survey of IT, business intelligence and data warehousing leaders found that 60 percent will Hadoop in production by 2016, deployment remains a daunting task. TDWI — which, like GCN, is owned by 1105 Media — polled data management professionals in both the public and private sector, who reported that staff expertise and the lack of a clear business case topped their list of barriers to implementation."
The write-up supplies a couple bar graphs of survey results, including the top obstacles to implementation and the primary benefits of going to the trouble. Strikingly, only six percent or respondents say there's no Hadoop in their organizations' foreseeable future. Though not covered in the GCN write-up, the full, 43-page report includes word on best practices and implementation trends; it can be downloaded here (registration required).
Cynthia Murrell, May 15, 2015
Sponsored by ArnoldIT.com, publisher of the CyberOSINT monograph
I came across an interesting summary of SAP's business intelligence approach. Navigate to "SAP BI Suite Roadmap Strategy Update from ASUG SapphireNow." ASUG, in case you are not into the SAP world, means America's SAP User Group. Doesn't everyone know that acronym? I did not.
The article begins with a legal disclaimer, always a strange attractor to me. I find content on the Web which includes unreadable legal lingo sort of exciting.
It is almost as thrilling as some of the security methods which SAP employs across its systems and software. I learned from a former SAP advisor that SAP was, as I recall the comment, "Security has never been a priority at SAP."
The other interesting thing about the article is that it appears to be composed of images captured either from a low resolution screen capture program or a digital camera without a massive megapixel capability.
I worked through the slides and comments as best as I could. I noted several points in addition to the aforementioned lacunae regarding security; to wit:
SAP wants to simplify the analytics landscape. This is a noble goal, but my experience has been that SAP is a pretty complex beastie. That may be my own ignorance coloring what is just an intuitive, tightly integrated example of enterprise software.
SAP likes dedicating servers or clusters of servers to tasks. There is a server for the in memory database. There is a server for what I think used to be Business Objects. There is the SAP desktop. There are edge servers in case your SAP installation is not for a single user. There is the SAP cloud which, I assume, is an all purpose solution to computational and storage bottlenecks. Lots of servers.
Business Objects is the business intelligence engine. I am not confident in my assessment of complexity, but, as I recall, Business Objects can be a challenge.
My reaction to the presentation is that for the faithful who owe their job and their consulting revenue to SAP's simplified business intelligence solutions and servers, joy suffuses their happy selves.
For me, I keep wondering about security. And whatever happened to TREX? What happened to Inxight's Thingfinder and related server technologies?
How simple can an enterprise solution be? Obviously really simple. Did I mention security?
Stephen E Arnold, May 14, 2015
I find Harvard fascinating. As a poor student in a small, ignored also ran university, I bumped into the fancy university folks at debate tournaments. Our record against many fine institutions, such as Dartmouth and the other Big Dogs was okay.
We won. Lots.
Then there were the Big Dog MBAs at Booz, Allen & Hamilton. Sigh. Wall Street forced more of these "special ones" into my radar screen. Delightful. There was an MBAism for every issue. Maybe not a correction or appropriate solution, but there was jargon, generalizations, and entitlement thinking. In meeting after meeting, I reviewed nifty, but often meaningless or incoherent, graphs or diagrams. I did not count this work as "quality time." Today, as the beloved and now departed Yogi Berra said, "It's déjà vu all over again."
I read "Where the Digital Economy Is Moving the Fastest" and circled a remarkable diagram. True, the write up is not about search, but the spirit of search and content processing system vendors tinted my perception, using only pleasing and compatible calming colors.
The authors developed criteria for countries which are moving fast. Not product sales or market share, countries. The world but for nation states like Yemen and its ilk. Then, like good MBAs, crafted a matrix and plotted the fast movers, the losers, the ones to watch, and the maybes. Here's the graphic:
There are "Watch Out" countries. I admit I interpreted this label in a manner different from the article's sense of the phrase. I checked out the countries between Stall Out (dogs) and Stand Out (invest for sure maybe?). Poor Sweden, Britain, and Germany. Look at the countries on the move. Check out the tweeners: Brazil, Turkey, and the Russian Federation.
Now this map, the graphic, and the meaning of the "data" strikes me as less than useful
The diagram reminded me of other consulting firms' matrices. I snagged this at random from Google.
What about this version from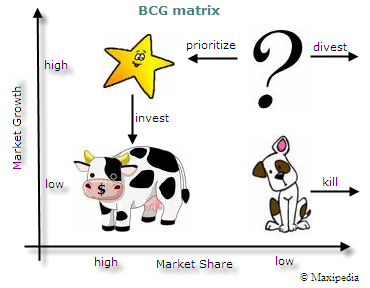 Which makes more sense? The diagram from the Harvard Business Review, the diagram with lots of dots, or the dead simple diagram from Boston Consulting Group?
From my point of view, the BCG approach makes the most sense. BCG analyzed market share data, actual numbers. The diagram presents visual cues which related directly to the numerical data., The viewer of the diagram does not have to wonder why a specific company is in one box or why a specific country is a "break out."
Whether analyzing countries or companies on essentially methods which do not tie directly to numbers, the diagrams raise more questions than they answer. The BCG matrix, which consultants at McKinsey and Booz, Allen & Hamilton envied when the BCG matrix became available in the 1970s was, "Wow, what a great diagram?"
What I believe has happened is that the value of the envy-generating BCG matrix is based in the data to which the quadrants tied because the focus was a specific product and its market share. If the share was increasing and lights were flashing green, then the product was a star.
The more recent versions of the matrix do the diagram, add complexity, and lack the quite specific analysis of numerical data which another person could analyze and, presumably, reach similar data-anchored observations. Math and data are helpful when properly combined.
In short, data and the BCG analysis make the BCG matrix an effective communication tool. Matrices without similar data rigor are artifacts of "experts" who want something that makes a sale possible.
BCG wanted to help its clients, not confuse them. MBAs, please, do not write me and tell me I don't understand the sophistication of the methods underpinning these presentation ready diagrams. For me there is a gap between data-anchored graphics and subjective or opinion-based graphics.
Poetry and fiction are noble pursuits. Data may not exciting. But for me, an old school BCG matrix more satisfying as long as there are verifiable data unpinning the items mapped to the matrix.
Stephen E Arnold, May 23, 2015
According to Datamation's article, "Deflating The Cloud BI Hype Balloon" the mad, widespread adoption of enterprise cloud computing is deflating like helium out of a balloon.  While the metaphor is apt for any flash pan fad, it also should be remembered that Facebook and email were considered passing trends.  It could be said that when their "newness" wore off they would sink faster than a lead balloon, if we want to continue with the balloon metaphor.  If you are a fan of Mythbusters, however, you know that lead balloons, in fact, do float.
What the article and we are aiming here is that like the Mythbusters' lead balloon, cloud adoption can be troublesome but it will work or float in the end.  Datamation points out that the urgency for immediate adoption has faded as security risks and integration with proprietary systems become apparent.
Howard Dresner wrote a report called "Cloud Computing And Business Intelligence" that explain his observations on enterprise cloud demand.  Dresner says that making legacy systems adaptable to the cloud will be a continuous challenge, but he stresses that some data does not belong in cloud, while some data needs to be floating about.  The challenge is making the perfect hybrid system.
He makes the same apt observation about the lead balloon:
"Dresner, who was a Gartner fellow and has 34 years in the IT industry, takes a longer-term perspective about the integration challenges.  "We have to solve the same problems we solved on premise," he explains, and then adds that these problems "won't persist forever in the enterprise, but they will take a while to solve."
In other words, it takes time to assemble, but the lead balloon will keep floating around until the next big thing to replace the cloud.  Maybe it will be direct data downloads into the head.
Whitney Grace, May 8, 2015
Sponsored by ArnoldIT.com, publisher of the CyberOSINT monograph
SharePoint Online gets good reviews, but only from critics and those who are utilizing SharePoint for the first time. Those who are sitting on huge on-premises installations are dreading the move and biding their time. It is definitely an issue stemming from trying to be all things to all people. Search Content Management covers the issue in their article, "Migrating to SharePoint Online is a Tale of Two Realities."
The article begins:
"Microsoft is paving the way for a future that is all about cloud computing and mobility, but it may have to drag some SharePoint users there kicking and screaming. SharePoint enables document sharing, editing, version control and other collaboration features by creating a central location in which to share and save files. But SharePoint users aren't ready — or enthused about — migrating to . . . SharePoint Online. According to a Radicati Group survey, only 23% of respondents have deployed SharePoint Online, compared with 77% that have on-premises SharePoint 2013."
If you need to keep up with how SharePoint Online may affect your organization's installation, or the best ways to adapt, keep an eye on ArnoldIT.com. Stephen E. Arnold is a longtime leader in search and distills the latest tips, tricks, and news on his dedicated SharePoint feed. SharePoint Online is definitely the future of SharePoint, but it cannot afford to get there at the cost of its past users.
Emily Rae Aldridge, May 7, 2015
Sponsored by ArnoldIT.com, publisher of the CyberOSINT monograph