US President Donald Trump is not the most popular person in the world.  He is a cherished scapegoat for media outlets, US citizens, and other world leaders.  One favorite point of ridicule for people is his odd use of the English language.  Trump's take on the English tongue is so confusing that translators are left scratching their heads says The Guardian in, "Trump In Translation: President's Mangled Language Stumps Translators."  For probably the first time in his presidency, Trump followed proper sentence structure and grammar when he withdrew the US from the Paris Accord.   While the world was in an uproar about the climate change deniers, translators were happy that they could translate his words easier.
Asian translators are especially worried about what comes out of Trump's mouths.  Asian languages have different root languages than European ones; so direct translations of the colloquial expressions Trump favors are near impossible.
India problems translating Trump to Hindi:
'Donald Trump is difficult to make sense of, even in English,' said Anshuman Tiwari, editor of IndiaToday, a Hindi magazine. "His speech is unclear, and sometimes he contradicts himself or rambles or goes off on a tangent. Capturing all that confusion in writing, in Hindi, is not easy,' he added. 'To get around it, usually we avoid quoting Trump directly. We paraphrase what he has said because conveying those jumps in his speech, the way he talks, is very difficult. Instead, we summarise his ideas and convey his words in simple Hindi that will make sense to our readers.'
Indian translators also do Trump a favor by translating his words using the same level of the rhetoric of Indian politicians.  It makes him sound smarter than he appears to English-speakers.  Trump needs to learn to trust his speechwriters, but translators should learn they can rely on Bitext's DLAP to supplement their work and improve local colloquialisms.
Whitney Grace, June 15, 2017
The ideal data analysis platform for global intelligence would take all the data in the world and rapidly make connections, alerting law enforcement or the military about potential events before they happen. It would also make it downright impossible for bad actors to hide their tracks. Our government seems to be moving toward that goal with AIDA, or Active Interpretation of Disparate Alternatives. DARPA discusses the project in its post, "DARPA Wades into Murky Multimedia Information Streams to Catch Big Meaning." The agency states:
The goal of AIDA is to develop a multi-hypothesis 'semantic engine' that generates explicit alternative interpretations or meaning of real-world events, situations, and trends based on data obtained from an expansive range of outlets. The program aims to create technology capable of aggregating and mapping pieces of information automatically derived from multiple media sources into a common representation or storyline, and then generating and exploring multiple hypotheses about the true nature and implications of events, situations, and trends of interest.

'It is a challenge for those who strive to achieve and maintain an understanding of world affairs that information from each medium is often analyzed independently, without the context provided by information from other media,' said Boyan Onyshkevych, program manager in DARPA's Information Innovation Office (I2O). 'Often, each independent analysis results in only one interpretation, with alternate interpretations eliminated due to lack of evidence even in the absence of evidence that would contradict those alternatives. When these independent, impoverished analyses are combined, generally late in the analysis process, the result can be a single apparent consensus view that does not reflect a true consensus.'
AIDA's goal of presenting an accurate picture of overall context early on will help avoid that problem. The platform is to assign a confidence level to each piece of information it processes and each hypothesis it generates. It will also, they hope, be able to correct for a journalistic spin by examining variables and probabilities. Is the intelligence community is about to gain an analysis platform capable of chilling accuracy?
Cynthia Murrell, June 12, 2017
The US Library of Congress has released 25 million records of its collection online and are anyone with Internet access is free to use it.
According to Science Alert article titled The US Library of Congress Just Put 25 Million Records Online, Free of Charge:
The bibliographic data sets, like digital library cards, cover music, books, maps, manuscripts, and more, and their publication online marks the biggest release of digital records in the Library's history.
The Library of Congress has been on digitization spree for long and users can expect more records to be made online in the near future. The challenge, however, is retrieving books or information that the user needs. The web interface is still complicated and not user-friendly. In short, the enterprise search function is a mess. What The Library of Congress really needs is a user-friendly and efficient way of accessing its vast collection of knowledge to bibliophiles.
Vishal Ingole, June 6, 2017
I read "Accursed of Underpaying Women, Google Says It's Too Expensive to Get Wage Data." The real journalism outfit The Guardian revealed:
Google argued that it was too financially burdensome and logistically challenging to compile and hand over salary records that the government has requested, sparking a strong rebuke from the US Department of Labor (DoL), which has accused the Silicon Valley firm of underpaying women.
An attorney representing the government allegedly said:
"Google would be able to absorb the cost as easy as a dry kitchen sponge could absorb a single drop of water."
It seems that Google is not into administrivia. It seems that Google wants to husband its resources. Solving death and Loon balloons need funding.
Tough luck, US Department of Labor.
Google allegedly explained:
"This is obviously a very time-consuming and burdensome project," said Lisa Barnett Sween, one of Google's attorneys, claiming that the company has already worked 2,300 hours at a cost of nearly $500,000 to partially comply with the government's demands, which she argued were broad and unconstitutional. "Our courts must act to check this abuse of power."
Absolutely. Obvious.
Google did promote Dr. Anna Patterson, the founder of Cuil and Xift (both search engines) recently. See. Progress. How long has Dr. Patterson been laboring at the GOOG. I think it is creeping up on a decade more or less.
Google and women. A perfect match. Why can't the lawyers representing the US Department of Labor understand this simple fact. Equality, the hallmark of a high school science club.
Administrative detail. My hunch is that it is not interesting and maybe, just maybe… Never mind.
Stephen E Arnold, May 28, 2017
I read "G7 Summit: Theresa May to Ask World Leaders to Launch Internet Crackdown after Manchester Attack." The Internet means online to me. Crackdowns trigger thoughts of filtering, graph analysis, and the interesting challenge of explaining why someone looked up an item of information.
The write up interpreted "online" as social media, which is interesting. Here's a passage I highlighted:
The prime minister will ask governments to unite to regulate what tech companies like Google, Facebook and Twitter allow to be posted on their networks. By doing so, she will force them to remove "harmful" extremist content, she will suggest to G7 members at a meeting in Italy.
The named companies have been struggling to filter inappropriate content. On a practical level, certain inappropriate content may generate ad revenue. Losing ad revenue is not a popular notion in some of these identified companies.
The companies have also been doing some thinking about their role. Are these outfits supposed to be "responsible" for what their users and advertisers post? If the identified companies are indeed "responsible," how will the mantle of responsibility hang on the frames of Wild West outfits in Silicon Valley. The phrase "It is easier to ask forgiveness than seek permission" is a pithy way of summing up some Silicon Valley action plans.
The write up enumerates the general types of digital information available on "the Internet." I noted this statement:
She [Theresa May, Britain's prime minister] will also call for industry guidelines to be revised by the tech companies to make absolutely clear what constitutes harmful material, with those that fail to do so being held to account.
The impact of Ms. May's suggestion may create some interesting challenges for the companies facilitating the flow of real time information. Will Silicon Valley companies which often perceive themselves as more important than nation states will respond in a manner congruent with Ms. May's ideas?
My thought is that "responsibility" will be a moving target. What's more important? Advertising revenue or getting bogged down in figuring out which item of information is okay and which is not?
At this moment, it looks to me as if revenue and self interest might be more important than broader political considerations. That Maslow's hierarchy of need takes on a special significance when Silicon Valley constructs consider prioritize their behaviors.
What happens if I run an online query for "Silicon Valley" and "content filtering"? Bing wants me to personalize my results based on my interests and for me to save "things for later." I decline and get this output:
I particularly liked the reference to Silicon Valley sending "its ambassador" to Appalachia. Sorry, Ms. May, my query does not encourage my thinking about your idea for responsible censorship.
Google displays an ad for social media monitoring performed by GFI Software in Malta. I am also directed to hits which do not relate to Ms. May's ideas.
Google interprets the query as one related to third party software which blocks content. That's closer to what Ms. May is suggesting.
Neither search giant points to itself as involved in this content filtering activity.
That tells me that Ms. May's idea may be easy to articulate but a bit more difficult to insert into the Wild West of capitalistic constructs.
Digital information is a slippery beastie composed of zeros and ones, used by billions of people who don't agree about what's okay and what's not okay, and operated by folks who may see themselves as knowing better than elected officials.
Interesting stuff.
Stephen E Arnold, May 26, 2017
Does this count as irony? Palantir, who has built its data-analysis business largely on its relationships with government organizations, has a Department of Labor analysis to thank for recent charges of discrimination. No word on whether that Department used Palantir software to "sift through" the reports. Now, Business Insider tells us, "Palantir Will Shell Out $1.7 Million to Settle Claims that It Discriminated Against Asian Engineers." Writer Julie Bort tells us that, in addition to that payout, Palantir will make job offers to eight unspecified Asians. She also explains:
The issue arose because, as a government contractor, Palantir must report its diversity statistics to the government. The Labor Department sifted through these reports and concluded that even though Palantir received a huge number of qualified Asian applicants for certain roles, it was hiring only small numbers of them. Palantir, being the big data company that it is, did its own sifting and produced a data-filled response that it said refuted the allegations and showed that in some tech titles 25%-38% of its employees were Asians. Apparently, Palantirs protestations weren't enough on to satisfy government regulators, so the company agreed to settle.
For its part, Palantir insists on their innocence but say they settled in order to put the matter behind them. Bort notes the unusual nature of this case—according to the Equal Employment Opportunity Commission, African-Americans, Latin-Americans, and women are more underrepresented in tech fields than Asians. Is the Department of Labor making it a rule to analyze the hiring patterns of companies required to report diversity statistics? If they are consistent, there should soon be a number of such lawsuits regarding discrimination against other groups. We shall see.
Cynthia Murrell, May 15, 2017
Former Microsoft CEO Steve Ballmer's recent project was inspired by his wife, Connie, who wished him to practice more philanthropy. Wouldn't it help to know what our government is already doing  with its (our) money, he wondered? Out of this question has sprung USAFacts, a website that serves up "federal, state, and local data from over 70 government sources." I appreciate the presentation, which ties data to four specific directives embedded in the Preamble to our Constitution. For example, the heading Establish Justice and Ensure Domestic Tranquility leads to stats on Crime and Disaster, Safeguarding Consumers and Employees, and Child Safety and Social Services. Tying such information to our founding document will prompt many to consider these data points in a more thoughtful way.
The site's About page describes its team's approach and methodology. The effort has not been easy; we're told:
With his business background, Steve searched for solid, reliable, impartial numbers to tell the story… but eventually realized he wasn't going to find them. He put together a small team of people – economists, writers, researchers – and got to work.

We soon discovered that dealing with something as big and complex as government – with its more than 90,000 jurisdictions and 23 million employees – required an organizing framework. What better place to look than the Constitution, and, more specifically, the preamble to the Constitution? … While we don't make judgments about policy, we all agree on the broad purposes of government as laid out in the preamble to the Constitution.
Still, in beta, USA Facts is partnering with academic institutions like the Stanford Institute for Economic Policy Research, the Penn Wharton Budget Model, and Lynchburg College. They are working to document their process and controls, and plan to have their methods reviewed by a "prominent" accounting firm for accuracy. We look forward to watching this project grow.
Cynthia Murrell, May 12, 2017
A new scientific repository is now available from a prominent publisher, we learn from "GraphDB, Leading Semantic Database from Ontotext, Powers Springer Nature's New Linked Open Data Platform" at PRWeb. (We note the word "leading" in the title; who verifies this assertion? Just curious.) The platform, dubbed SciGraph, aggregates data from Springer Nature and its academic partners. The press release specifies:
Thanks to semantic technologies, Linked Open Data and the GraphDB semantic database, all these data are connected in a way which semantically describes and visualizes how the information is interlinked. GraphDB's capability to seamlessly integrate disparate data silos allows Springer Nature SciGraph to comprise metadata from journals and articles, books and chapters, organizations, institutions, funders, research grants, patents, clinical trials, substances, conference series, events, citations and reference networks, Altmetrics, and links to research datasets.
The dataset is released under a certain international creative commons license, and can be downloaded (by someone with the appropriate technical knowledge) here.
An early explorer of semantic technology, Ontotext was founded in 2000. Based in Bulgaria, the company keeps their North American office in New Jersey. Ontotext's client roster includes big names in publishing, government agencies, and cultural institutions.
Cynthia Murrell, May 1, 2017
The article on TechCrunch titled SirionLabs Establishes US Foothold to Scale Its NLP Contract Management Software frames the rapid growth and expansion of the enterprise vendor management software provider founded in 2012. SirionLabs was founded by CEO Ajay Agrawal, who recognized the large cost of supplier relationship management built into a contract's value and decided to start a company focused on automating the process, but only partially. The article explains,
The establishment of a U.S. presence represents a strategic shift in the company's growth plans…While the startup has had offices in the U.K., Germany, Denmark and Singapore, it has been slow to establish a permanent U.S. team…Sirion, the company's platform, is currently used by companies like BP and Vestas to manage service providers and augment humans that traditionally manage vendor relationships. The startup expects to use natural language processing to analyze more than $8 billion in total contract value over the next year.
In order to mitigate the risk of the enormous number of potential discrepancies in a given contract, Sirion compels both parties to be accountable by agreeing on the outcome. That addendum hasn't scared off BP, or Seal Software clients such as Deloitte, HP, Experian, and SalesForce.
Chelsea Kerwin, April 27, 2017
I have fond memories of my high school's science club. My hunch is that some Google-type companies do too.
I look back and remember the days of Donald Jackson, who with his brother Bernard, published an article in a peer reviewed astronomy journal. Those guys were fixated on the moon. Go figure.
There was a canny lad named Phil Herbst, who shifted to fuzzy science with his interest in anthropology. Misguided. Anthropology. Who cares about that?
There was Steve Connett, who was into electrical engineering and the goodies which that required his parents to provide.
And the others?Males. Every one of them.
I don't recall any females in the science club. Super smart Hope Davis, one of the females in my advanced physics class, had perfect pitch, a knack for mathematics, and a well founded disdain for the males in the science club.
My experience with her as a lab partner is that she was smarter than most of the fellows who gathered a couple of times a month to discuss explosives, corrosive chemical compounds, circuits which could terminate certain creatures with a zap, and the other nifty things the dozen or so regulars found fascinating.
Why was science club in the rust belt in 1958 a no go zone for really smart people like Hope Davis?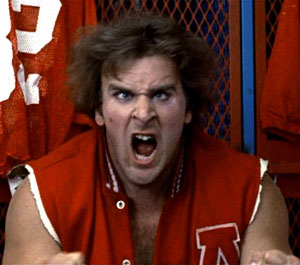 My favorite line from the motion picture "Revenge of the Nerds" is, "Nerds." Poetic.
My answer is that the males in my science club were not exactly hot social items. Although I was the dumbest person in the club, I shared three qualities with the real brainiacs in the group:
Zero awareness of females and their abilities. I was an only child, had zero exposure to females outside of class, and lived within my own weird little world of books and model airplanes
My notion of conversation was my ability to repeat almost anything I read verbatim. (Alas, as I age, that wonderful automatic function does not work as well as it did. But when it was in high gear, absolutely no female in any of my classes wanted to speak with me. Who wanted a fat, nearsighted meatware audio book for a friend?)
I was deeply uncomfortable around anyone not in the odd ball special classes my high school offered for students who seemed to get A grades and did not participate in [a] sports, [b] school governance, [c] social activities like parties and dances, and [d] activities understood by the high school administrators.
I thought of my high school science club when I read "Google Accused of 'Extreme' Gender Pay Discrimination by US Labor Department." I quite like the word "extreme." Quite charged and suggestive. I learned:
Google has discriminated against its female employees, according to the US Department of Labor (DoL), which said it had evidence of "systemic compensation disparities".
Making a leap from the particular allegation against Google to a fuzzy swath of California, the real journalists who are struggling with their own demons, states:
The explosive allegation against one of the largest and most powerful companies in Silicon Valley comes at a time when the male-dominated tech industry is facing increased scrutiny over gender discrimination, pay disparities and sexual harassment.
Does the word "extreme" up the ante?