The article on TechCrunch titled SirionLabs Establishes US Foothold to Scale Its NLP Contract Management Software frames the rapid growth and expansion of the enterprise vendor management software provider founded in 2012. SirionLabs was founded by CEO Ajay Agrawal, who recognized the large cost of supplier relationship management built into a contract's value and decided to start a company focused on automating the process, but only partially. The article explains,
The establishment of a U.S. presence represents a strategic shift in the company's growth plans…While the startup has had offices in the U.K., Germany, Denmark and Singapore, it has been slow to establish a permanent U.S. team…Sirion, the company's platform, is currently used by companies like BP and Vestas to manage service providers and augment humans that traditionally manage vendor relationships. The startup expects to use natural language processing to analyze more than $8 billion in total contract value over the next year.
In order to mitigate the risk of the enormous number of potential discrepancies in a given contract, Sirion compels both parties to be accountable by agreeing on the outcome. That addendum hasn't scared off BP, or Seal Software clients such as Deloitte, HP, Experian, and SalesForce.
Chelsea Kerwin, April 27, 2017
I have fond memories of my high school's science club. My hunch is that some Google-type companies do too.
I look back and remember the days of Donald Jackson, who with his brother Bernard, published an article in a peer reviewed astronomy journal. Those guys were fixated on the moon. Go figure.
There was a canny lad named Phil Herbst, who shifted to fuzzy science with his interest in anthropology. Misguided. Anthropology. Who cares about that?
There was Steve Connett, who was into electrical engineering and the goodies which that required his parents to provide.
And the others?Males. Every one of them.
I don't recall any females in the science club. Super smart Hope Davis, one of the females in my advanced physics class, had perfect pitch, a knack for mathematics, and a well founded disdain for the males in the science club.
My experience with her as a lab partner is that she was smarter than most of the fellows who gathered a couple of times a month to discuss explosives, corrosive chemical compounds, circuits which could terminate certain creatures with a zap, and the other nifty things the dozen or so regulars found fascinating.
Why was science club in the rust belt in 1958 a no go zone for really smart people like Hope Davis?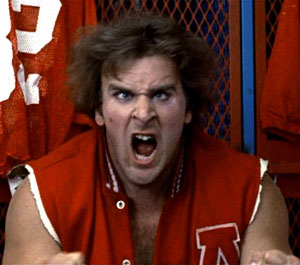 My favorite line from the motion picture "Revenge of the Nerds" is, "Nerds." Poetic.
My answer is that the males in my science club were not exactly hot social items. Although I was the dumbest person in the club, I shared three qualities with the real brainiacs in the group:
Zero awareness of females and their abilities. I was an only child, had zero exposure to females outside of class, and lived within my own weird little world of books and model airplanes
My notion of conversation was my ability to repeat almost anything I read verbatim. (Alas, as I age, that wonderful automatic function does not work as well as it did. But when it was in high gear, absolutely no female in any of my classes wanted to speak with me. Who wanted a fat, nearsighted meatware audio book for a friend?)
I was deeply uncomfortable around anyone not in the odd ball special classes my high school offered for students who seemed to get A grades and did not participate in [a] sports, [b] school governance, [c] social activities like parties and dances, and [d] activities understood by the high school administrators.
I thought of my high school science club when I read "Google Accused of 'Extreme' Gender Pay Discrimination by US Labor Department." I quite like the word "extreme." Quite charged and suggestive. I learned:
Google has discriminated against its female employees, according to the US Department of Labor (DoL), which said it had evidence of "systemic compensation disparities".
Making a leap from the particular allegation against Google to a fuzzy swath of California, the real journalists who are struggling with their own demons, states:
The explosive allegation against one of the largest and most powerful companies in Silicon Valley comes at a time when the male-dominated tech industry is facing increased scrutiny over gender discrimination, pay disparities and sexual harassment.
Does the word "extreme" up the ante?
Palantir Technologies is a search and content processing company. The technology is pretty good. The company's marketing pretty good. Its public profile is now darned good. I don't have much to say about Palantir's wheel interface, its patents, or its usefulness to "operators." If you are not familiar with the company, you may want to read or at least skim the weirdo Fortune Magazine Web article "Donald Trump, Palantir, and the Crazy Battle to Clean Up a Multibillion Dollar Military Procurement Swamp." The subtitle is a helpful statement:
Peter Thiel's software company says it has a product that will save soldiers' lives—and hundreds of millions in taxpayer funds. The Army, which has spent billions on a failed alternative, isn't interested. Weill the president and his generals ride to the rescue?"
The article, minus the pull quotes, is more than 9000 words long. The net net of the write  up is that changing the US government's method of purchasing goods and services may be tough to modify. I used to work at a Beltway Bandit outfit. Legend has it that my employer helped set up the US Department of the Navy and many of the business processes so many contractors know and love.
One has to change elected officials, government professionals who operate procurement processes, outfits like Beltway Bandits, and assorted legal eagles.
Why take 9000 words to reach this conclusion. My hunch is that the journey was fun: Fun for the Fortune Magazine staff, fun for the author, and fun for the ad sales person who peppered the infinite page with ads.
Will Palantir Technologies enjoy the write up? I suppose it depends on whom one asks. Perhaps a reader connected to IBM could ask Watson about the Analyst's Notebook team. What are their views of Palantir? For most folks, my thought is that the Palantir connection to President Trump may provide a viewshed from which to assess the impact of this real journalism essay thing.
Stephen E Arnold, April 3, 2017
I admit it. I want to believe everything I read on the Internet. I take this approach to be more in tune with today's talking heads on US cable TV and the millennials who seem to cross my path like deer unfamiliar with four lane highways.
I read what must be an early April Fool's joke. The write up's headline struck me as orthogonal to my perception of the company I know, love, and trust: "Google to Revamp Ad Policies after U.K., Big Brands Boycott."
The main idea is that someone believes that Google has been indexing terror-related content and placing ads next to those result pages and videos. I learned:
The U.S. company said in a blog post Friday it would give clients more control over where their ads appear on both YouTube, the video-sharing service it owns, and the Google Display Network, which posts advertising to third-party websites. The announcement came after the U.K. government and the Guardian newspaper pulled ads from the video site, stepping up pressure on YouTube to police content on its platform.
Interesting. I thought Google / DeepMind had the hate speech, fake news, and offensive content issue killed, cooked, and eaten.
The notion that Google would buckle under to mere advertisers strikes me as ludicrous. For years, Google has pointed out that confused individuals at Foundem, the government of France, and other information sites misunderstand Google's squeaky clean approach to figuring out what's important.
The other item which suggests that the Google in my mind is not the Google in the real world is "Facebook, Twitter, and Google Must Remove Scams or Risk Legal Action, Says EU."
What's up? Smart software understands content in context. Algorithms developed by the wizards at Google and other outfits chug along without the silly errors humans make. Google and other companies have to become net nannies. (Hey, that software worked great, didn't it?)
I learned:
The EU also ordered these social networks to remove fraudulent posts that can mislead consumers.
If these write ups are indeed accurate, I will take down my "Do no evil" poster. Is there a "We do evil" version available? I will check those advertisements on Google.
Stephen E Arnold, March 20, 2017
I don't know about you, but I am not keen on waking up one morning and finding protestors with signs in front of my house. Bummer. One of the motive forces behind Palantir had the pleasure of this experience on March 11, 2017. You can see the invitation to the protest against Palantir in general and Peter Thiel in particular at this link. Note that it helpfully provides Mr. Thiel's private residence address. Nifty.
I also found interesting the article "Palantir's Man In The Pentagon." Buzzfeed seems to have a keen interest in Palantir. I follow Palantir's technology too. Buzzfeed does seem to come up some enthusiastic writing.
I assume, of course, that everything I read on the Internet is accurate. Therefore, I learned:
A former Palantir "evangelist" has taken a top job at the Defense Department, after spending years lobbying the Pentagon on behalf of the Silicon Valley company.
As a former a laborer in the vineyards of Booz, Allen Hamilton, I know that this is not a shocker. People routinely move from outfit to outfit as they try to create the perfect work history, make money, and do some interesting, even entertaining, work.
The write up told me:
Mikolay, 37, worked for Palantir for four years as an "evangelist," according to his LinkedIn profile, meaning he met with government officials to sell Palantir's software. According to a confidential email obtained by BuzzFeed News, Mikolay's role at Palantir involved pitching the Army on the battlefield intelligence contract, which has become something of a white whale for the Silicon Valley firm.
I also noted:
A Defense Department spokesperson, Capt. Jeff Davis, told BuzzFeed News in a statement: "Mr. Mikolay took action to ensure he would not participate in any matters that would have a direct and predictable effect on Palantir, consistent with conflict of interest statutes and government ethics regulations. Further, he worked with the DoD Standards of Conduct Office to implement a screening arrangement to ensure all particular matters involving Palantir are forwarded to another senior defense official for appropriate disposition. Such recusals are not uncommon for civilian appointees who have worked previously in the private sector."
Frankly I was more interested in this statement:
Mikolay, in joining the Defense Department, is returning to an agency where he once worked as a speechwriter for former Defense Secretary Leon Panetta. He is a Navy veteran who attended the United States Naval Academy and got a master's degree at Princeton's Woodrow Wilson School of Public and International Affairs.
Yep, shocker. A job change in DC with a new administration if office. Hardly surprising because it is standard operating procedure along the banks of the Potomac.
Stephen E Arnold, March 16, 2017
Here is the story of another successful Dark Web bust. Motherboard reports, "Undercover FBI Agent Busts Alleged Explosives Buyer on the Dark Web." The 50-year-old suspect was based in Houston, and reporter Joseph Cox examined the related documents from the Southern District of Texas court. We are not surprised to learn that the FBI found this suspect through its infiltration of AlphaBay.; Cox writes:
The arrest was largely due to the work of an undercover agent who posed as an explosives seller on the dark web marketplace AlphaBay, showing that, even in the age of easy-to-use anonymization technology, old-school policing tactics are still highly effective at catching suspects.

According to the complaint, on August 21, an FBI Online Covert Employee (OCE)—essentially an undercover agent—located outside Houston logged into an AlphaBay vendor account they were running and opened an unsolicited private message from a user called boatmanstv. 'looking for wireless transmitter with detonator,' the message read. 'Everything I need to set of a 5 gallon can of gas from a good distance away [sic].' The pair started a rapport, and boatmanstv went into some detail about what he wanted to do with the explosives.
One thing led to another, and the buyer and "seller" agreed to an exchange after communicating for a couple of weeks. (Dark Web sting operations require patience. Lots of patience.) It became clear that Boatmanstv had some very specific plans in mind for a very specific target, and that he'd made plenty of purchases from AlphaBay before. The FBI was able to connect the suspect's email account to other accounts, and finally to his place of business. He was arrested shortly after receiving and opening the FBI's package, so it would appear there is one fewer violent criminal on the streets of Houston.
It is clear that the FBI, and other intelligence organizations, are infiltrating the Dark Web more and more. Let the illicit buyer be wary.
Cynthia Murrell, March 9, 2016
My hunch is that Vanity Fair Magazine will sell briskly in and around the Washington, DC beltway. Oh, wait. Most of the newsstands and bookstores have gone out of business. Maybe Giant Foods in Gaithersburg will have some copies? The convenient store in Ashburn may have a copy or two tucked in among the car magazines and Find-A-Word pamphlets?
The article which will make Vanity Fair even fairer this month is "Donald Trump Has Made Peter Thiel Immensely Powerful." Good news for Palantir; bad news for some of the clear eyed professionals who have been sending the US government big bills for their work on the Distributed Common Ground System or DCGS.
I liked the positioning of Mr. Thiel in the write up. He is called the "shadow president." Interesting. Does that make Palantir Technologies' Alex Karp the veep?
The write up deserves your attention. Let me highlight three items from the article which I found interesting:
First, the moniker "shadow president" is a coinage of those who work with Mr. Thiel in California and elsewhere. I was hoping that this was a coinage from the Trump inner circle.
Second, the write up reveals that Mr. Thiel believes in the "move fast and break things" approach to innovation. Who would have guessed? Certainly not the US Army procurement professionals.
Third, Mr. Thiel wants to live a long time. Isn't that a thing in Silicon Valley?
My hunch is that none of the DCGS contractors will be happy with the visibility that Vanity Fair imparts to the "shadow president."
Will there be a news conference for those in the shadows?
Stephen E Arnold, March 6, 2017
We have good news and bad news for fans of government transparency. In their Secrecy News blog, the Federation of American Scientists' reports, "Number of New Secrets in 2015 Near Historic Low." Writer Steven Aftergood explains:
The production of new national security secrets dropped precipitously in the last five years and remained at historically low levels last year, according to a new annual report released today by the Information Security Oversight Office.

There were 53,425 new secrets ('original classification decisions') created by executive branch agencies in FY 2015. Though this represents a 14% increase from the all-time low achieved in FY 2014, it is still the second lowest number of original classification actions ever reported. Ten years earlier (2005), by contrast, there were more than 258,000 new secrets.

The new data appear to confirm that the national security classification system is undergoing a slow-motion process of transformation, involving continuing incremental reductions in classification activity and gradually increased disclosure. …

Meanwhile, 'derivative classification activity,' or the incorporation of existing secrets into new forms or products, dropped by 32%. The number of pages declassified increased by 30% over the year before.
A marked decrease in government secrecy—that's the good news. On the other hand, the report reveals some troubling findings. For one thing, costs are not going down alongside classifications; in fact, they rose by eight percent last year. Also, response times to mandatory declassification requests (MDRs) are growing, leaving over 14,000 such requests to languish for over a year each. Finally, fewer newly classified documents carry the "declassify in ten years or less" specification, which means fewer items will become declassified automatically down the line.
Such red-tape tangles notwithstanding, the reduction in secret classifications does look like a sign that the government is moving toward more transparency. Can we trust the trajectory?
Cynthia Murrell, February 24, 2017
The article on Mercury News titled Secretive Foe Attacks Google Over Government Influence reports on the Transparency Project, an ironically super-secret group devoted to exposing Google's insane level of influence. Of course, most of us are already perfectly aware of how much power Google holds over our politicians, our privacy, and our daily functions. Across Chrome, Google search, YouTube etc., not a day goes by that we don't engage with the Silicon Valley Monster. The group claims,
Over the past decade, Google has transformed itself from the dominant internet search engine into a global business empire that touches on almost every facet of people's lives — often without their knowledge or consent," the group's first report said. Another report, based on White House guest logs, cites 427 visits by employees of Google and "associated entities" to the White House since January 2009, with 21 "small, intimate" meetings between senior Google executives and Obama.
While such information may be disturbing, it is hardly revelatory.  So just who is behind the Transparency Project? The article provides a list of companies that Google has pissed off and stomped over on its path to glory. The only company that has stepped up to claim some funding is Oracle. But following the money in this case winds a strange twisted path that actually leads the author back to Google— or at least former Google CEO Eric Schmidt. This begs the question: is there anything Google isn't influencing?
Chelsea Kerwin, February 23, 2017
Do lawmakers understand how much they do not understand about technology? An article at Roll Call tells us, "Proposed Tech-Export Rules Bashed by Companies, Researchers."  It is perfectly understandable that human-rights organizations have pressed for limits on the spread of surveillance technology and "intrusion software"—a broad term for technology that steals data from computers and mobile devices, including some tools that can hijack hardware. Several Western governments have taken up that banner, imposing restrictions designed to keep this technology out of the hands of bad actors. In fact, 41 nations pledged their commitment to the cause when they signed on to the Wassenarr Arrangement in 2013.
While the intentions behind these restrictions are good, many critics insist that they have some serious unintended side effects for the good guys. Writer Gopal Ratnam reports:
Although such technologies can be used for malicious or offensive purposes, efforts to curb their exports suggests that the regulators didn't understand the nature of the computer security business, critics say. Unlike embargoes and sanctions, which prohibit dealing with specific countries or individuals, the proposed restrictions would have forced even individual researchers working on computer security to obtain licenses, they say.

The technologies the Wassenaar agreement tried to restrict 'certainly can be used for bad purposes, but cybersecurity tools used by malicious hackers are also used for good purposes by technology companies and developers,' says John Miller, vice president for global cybersecurity and privacy policy at the Information Technology Industry Council, a Washington-based group that represents technology companies. 'Export control law usually doesn't get into making distinctions on what the technology is going to be used for.' And that's 'one of the reasons it's difficult to regulate this technology,' Miller says.
Besides, say some, the bad guys are perfectly capable of getting around the restrictions. Eva Galperin, of the nonprofit Electronic Frontier Foundation, insists human rights would be better served by applying pressure generally to repressive regimes, instead of trying to stay ahead of their hackers. Ratnam goes on to discuss specific ways restrictions get in the way of legitimate business, like hampering penetration tests or impeding communication between researchers. See the article for more details.
Cynthia Murrell, February 23, 2017