After wrangling over the issue for weeks, Australian regulators and Facebook have come to an agreement. Regulators demanded the social media platform, as well as Google, start paying news publishers their fair share for content. Sounds reasonable, considering that out of every $100 spent on online advertising in that country, $53 goes to Google and $28 to Facebook. That is 81% going to just two companies.
Facebook responded by temporarily blocking all news to Australian users. (Google made a similar threat, but made deals with several Australian media groups instead.) Now that a compromise has been reached and the blackout ended, all that remains is for the adjusted media law to be passed. Yahoo News discusses "Why the World is Watching Australia's Tussle with Big Tech." Writer Andrew Beatty observes:
"Although the rules would only apply in Australia, regulators elsewhere are looking closely at whether the system works and can be applied in other countries. Microsoft — which could gain market share for its Bing search engine — has backed the proposals and explicitly called for other countries to follow Australia's lead, arguing the tech sector needs to step up to revive independent journalism that 'goes to the heart of our democratic freedoms'. European legislators have cited the Australian proposals favorably as they draft their own EU-wide digital market legislation. Facebook's decision to roll back the news ban comes after it received widespread criticism for the initial blackout, which also impacted some emergency response pages used to alert the public to fires, floods and other disasters. The company quickly moved to amend that mistake, but the incident left questions about whether social media platforms should be able to unilaterally remove services that are part of crisis response and may even be considered critical infrastructure."
Critical infrastructure—that is an interesting twist. Both Facebook and Google insist they don't mind paying for content, something each has started to do in very limited ways. They just don't want to be told how much to pay; Australian regulators would like independent arbiters to oversee deals to be sure they are fair. World Wide Web inventor Tim Berners-Lee warns the precedent of charging for links could "break the internet." Are the extended consequences of holding these two companies to account really so dire?
Cynthia Murrell, April 07, 2021
India's Information Technology Act, 2000 provides for the removal of certain unlawful content online, like child pornography, private images of others, or false information. Of course, it is difficult to impossible to keep up with identifying and removing such content using just human moderators. Now we learn from the Orissa Post that the "Govt Mulls Using AI to Tackle Social Media Misuse." The write-up states:
"This step was proposed after the government witnessed widespread public disorder because of the spread of rumours in mob lynching cases. The Ministry of Home Affairs has taken up the matter and is exploring ways to implement it. On the rise in sharing of fake news over social media platforms such as Facebook, Twitter and WhatsApp, Minister of Electronics and Information Technology Ravi Shankar Prasad had said in Lok Sabha that 'With a borderless cyberspace coupled with he possibility of instant communication and anonymity, the potential for misuse of cyberspace and social media platforms for criminal activities is a global issue.' Prasad explained that cyberspace is a complex environment of people, software, hardware and services on the internet. He said he is aware of the spread of misinformation. The Information Technology (IT) Act, 2000 has provisions for removal of objectionable content. Social media platforms are intermediaries as defined in the Act. Section 79 of the Act provides that intermediaries are required to disable/remove unlawful content on being notified by the appropriate government or its agency."
The Ministry of Home Affairs has issued several advisories related to real-world consequences of online content since the Act passed, including one on the protection of cows, one on the prevention of cybercrime, and one on lynch mobs spurred on by false rumors of child kidnappings. The central government hopes the use of AI will help speed the removal of objectionable content and reduce its impact on its citizens. And cows.
Cynthia Murrell, April 7, 2021
Why do liberal arts graduates struggle to understand the logic of a Facebook-type engineer or a Google-like wizard or the demeanor of a Twitter-like senior manager? Easy. The reading list for engineers includes books about math, physics, and programming. The well-rounded humanoid educated in the currents of Western culture read other books. Which other books? I am delighted you asked. You can find a list of the 1,138,841 most frequently assigned texts. Just click this link and view the Open Syllabus Galaxy. Yes, the diagram is not a list. Listicles are not popular with some of the thumbtypers, so behold a visualization.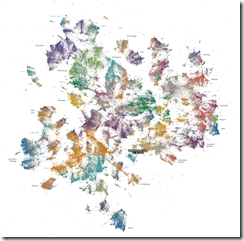 Let's return to the notion of intellectual cohesiveness, shall we? In order to build a shared knowledge base, educated individuals should have some familiarity with the most assigned college texts. That way, when someone references Napoleon and a winter walk, the others engaged in the conversation will know that the little emperor did skipped a lesson about winter in Eastern Europe.
Without a shared knowledge base, it is difficult to know what the other person is talking about. For a recent example, consider the questioning of big tech's luminaries by the oh, so wise elected officials.
One observation. A person assigned a book to read does not guarantee that the book was read.
Cohesiveness must be obtained in some other way in our zip zip world I think.
Stephen E Arnold, March 30, 2021
How did Australia fare in its head-to-head death match with Facebook? Readers of this blog know that I declared Facebook the winner over a mere country. Imagine. A country with kangaroos thinking it could win against the digital social kingdom. I declared Facebook the winner and pegged Australia as the equivalent of a company selling used RVs to residents of Silicon Valley who could not afford an apartment.
Now China finds itself in the midst of Apple peels because Chinese iPhone app developers are following Apple's privacy guidelines. Imagine. Programmers in China have the daring do to veer outside the boundaries of the orchard owner.
"Apple Warns Chinese Apps Not to Dodge Its New Privacy Rules" explains:
But even before introducing the changes, Apple is facing problems in China, where tech companies are testing ways to beat the system and continue tracking users without prompting for their consent. Apple previously said it would reject from its App Store any apps that "are found to disregard the user's choice". On Thursday, Apple fired pre-emptive warnings to at least two Chinese apps, telling them to cease and desist after naming a dozen parameters such as "setDeviceName" that could be used "to create a unique identifier for the user's device".
The write up explains that Chinese developers are testing technology to put gates in the fence around the Apple app orchard. That's not what Apple permits. The techniques referenced in the source article smack of breach techniques long in use by specialized software companies. Some of the methods were hinted at in some of the Snowden documents and in the public dump of the Hacking Team's RCS. Certain government-supported intelware companies employ similar techniques in their solutions as well.
What's ahead?
Apple declares victory and makes changes as it did for Russia. Business is business, and the ethical issues are really super important unless the economic hit is a consideration
Apple declares that China has ruined the apple orchard, so no more digital delicacies will be exported to the Middle Kingdom
China demonstrates that it can influence behavior by pulling certain supply chain strings, suggesting tariff changes to countries in its orbit, and engaging in face-to-face discussions with Chinese nationals working for the Silicon Valley giant.
Surveillance operates on steroids when app developers have access to the treasure trove of data from users' actions.
This is another distinctly 21st century issue: A mere country and some of its state backed developers finding that access to the abundance in the Apple orchard hindered.
Stephen E Arnold, March 19, 2021
I read "Anduril Industries Joins Palantir Technologies' TITAN Industry Team." In the good old days I would have been zipping from conference to conference outputting my ideas. Now I sit in rural Kentucky and fire blog posts into the datasphere.
This post calls attention to an explicit tie up between two Peter Thiel-associated entities: Palantir Technologies and Anduril. The latter is an interesting company with some nifty smart technology, including a drone which has the cheerful name "Anvil."
For details about the new US Army project and the relationship between these two companies, the blog post was online as of March 8, 2021. (Some information may be removed, and I can't do much about what other outfits do.)
Information about Anduril is available at their Web site. Palantir is everywhere and famous in the intelware business and among some legal eagles. No, I don't have a Lord of the Rings fetish, but some forever young folks do.
Stephen E Arnold, March 12, 2021
Cyprus, a fine island, can be baffling to first time visitors. Some of the confusion may be reduced if the information in "Cyprus to Life Veil of Secrecy with Register of Company Owners." Some firms in the specialized services game have offices in Nicosia. Some are housed in what look like fancy villas or zippy apartment buildings. The listing of company owners is not available, but allegedly the list will become available in the  near future. Why is this a big deal? Some bad actors use Cyprus as a headquarters and financial resource center. Why not part a super yacht and take care of business in above average anonymity. The list may be called the "Ultimate Beneficial Owner" register. Among the individuals concerned about this new sunlight are quite interesting individuals allied with certain powerful Eastern European leaders and "organizations." Who is in charge of this project? Cyprus's Ministry of Energy, Commerce, and Industry. Will that individual exercise some additional caution? We will know and maybe get a chance to learn about the UBO people. Maybe.
Stephen E Arnold, March 11, 2021
I read "Social Media Sites Must Remove Content in 36 Hours of Order: Govt in Draft Digital, OTT Platform Rules." The rules will be imposed by India. According to the article in News 18 India:
The central government has finalized the rules to regulate internet-based businesses and organizations – social media companies, OTT streaming services, and digital news outlets, among others – as it plans to introduce a sea change in legislation to assert more control over powerful Big Tech firms. Under the new Information Technology (Guidelines for Intermediaries and Digital Media Ethics Code) Rules, 2021, the government plans to mandate social media companies like Facebook and Twitter to erase contentious content as early as possible, but not later than 36 hours, after a government or legal order.
Pretty clear. India sends an email; the recipient has 36 hours; then the fines begin.
Twitter, headed by a very talented, articulate, and handsome wizard, is allegedly the cause of this decision. Hey, tweet in real time, no problem. Fail to deal with flagged content, big problem.
Sucked into the "go where the money is" process, the inability to move in a sprightly manner could be expensive.
What's next?
You know those weird motion picture ratings which lured under age limit viewers like roasting burgers in the park on a hot summer day? Ratings, yes. The Indian government wants tags on videos:
While the new rules for social media and other digital platforms will be governed by the IT Ministry, the Information and Broadcasting Ministry will be the governing body for rules concerning streaming platforms. Referring to films and other entertainment, including web-based serials, the draft rules called for a "classification rating" to describe content and advise discretion.
That will allow the Google to demonstrate its ability to do more than create financial hardship for content creators. How long does it take for Google to remove my video interview of Robert David Steele? Answer: About two years. The 36 hour ceiling is obviously going to be no problem for the Googlers.
Like Facebook's massive victory over Australia, the social media giants will have no difficulty in dealing with another pesky nation state.
Stephen E Arnold, March 3, 2021
JEDI foul? I am not sure. The bright yellow flag has been lofted and it is beginning its descent. One player has a look of disbelief, "A foul. You think I did a chop block?" That's the image that went through my mental machinery as I read "US Senator claims Microsoft Failed to Fix Cloud Holes before SolarWinds Hack."
The write up asserts:
Microsoft Corp's failure to fix known problems with its cloud software facilitated the massive SolarWinds hack that compromised at least nine federal government agencies, according to security experts and the office of US Senator Ron Wyden. A vulnerability first publicly revealed by researchers in 2017 allows hackers to fake the identity of authorized employees to gain access to customers' cloud services. The technique was one of many used in the SolarWinds hack.
The year 2017. I recall that was the time the DarkCyber research team began yammering about use of the wonderful Microsoft software update system, access control policies, and business processes to allow estimable Microsoft-friendly software to run. The idea was seamless, smooth, quick, and flawless interaction among users, software, the cloud, and assorted components. Fast. Efficient. Absolutely.
The elected official is quoted as saying:
The federal government spends billions on Microsoft software. It should be cautious about spending any more before we find out why the company didn't warn the government about the hacking technique that the Russians used, which Microsoft had known about since at least 2017.
The write up points out that Microsoft does not agree with the senator's observations. In the subsequent testimony (you can view it at this link), one of the top dog Microsoft professionals pointed out "only about 15 percent of the victims in the Solar Winds campaign were hurt via Golden SAML." SAML is a a security assertion markup language. The golden part? Maybe it is the idea that a user or process signs on. If okayed somewhere in the system, the user or process is definitely okay again. Fast. Efficient.
The "golden" it turns out is a hack. Get into the SAML approved system, and bingo. Users, processes, whatever are good to go. Get administrator credentials and become an authorizing and verifying service and the bad actor owns the system. The idea is that a bad actor can pump out green light credentials and do many interesting things. Hey, being authorized and trusted is a wonderful thing, right?
Back to JEDI? Is the senator confident that the Department of Defense has not been compromised? What happens if the JEDI system is penetrated by foreign actors as the DoD wide system is being assembled, deployed, and operated? Does the vulnerability still exist in live systems?
These are good questions? I am not sure the answers are as well crafted.
Stephen E Arnold, February 27, 2021
What's a Golden SAML?
"Facebook Says It Will Pay News Industry $1 Billion over 3 Years" makes clear the magnitude of Facebook's "victory" over a mere nation state. The "real" news report reveals:
Facebook announced Wednesday it plans to invest $1 billion to "support the news industry" over the next three years and admits it "erred on the side of over-enforcement" by banning news links in Australia.
The admission does nothing to diminish the greatness of Facebook and its decision to unfriend or non-like Australia. A member of the Five Eyes, Australia did not reference Facebook's alleged "bully boy" behavior. The country's government was delighted to modify its laws in order to accommodate the digital nation state's wishes.
Beyond Search's art unit created the "new" flag for the mere nation state of Australia. Here it is: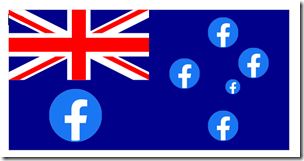 An Australian official revealed:
The Morrison Government's world-leading news media bargaining code has just passed the Parliament. This is a significant milestone.
Beyond Search has learned that changes to the school curricula, including replacing existing non-Facebook flags has begun immediately.
Facebook's diplomatic skill, its management team's acumen, and the incredible personal warmth of Mr. Zuckerberg (affectionately known as the Zuck) appear to have forced a mere nation state to reverse course.
Australia is no longer "unfriended" by the digital power house.
Stephen E Arnold, February 25, 2021
I read "Facebook to Reverse News Ban on Australian Sites, Government to Make Amendments to Media Bargaining Code." It's official. Google paid up. Facebook stood up and flexed its biceps. The Australian government swatted at the flies in Canberra, gurgled a Fosters, and rolled over. The write up states:
Facebook will walk back its block on Australian users sharing news on its site after the government agreed to make amendments to the proposed media bargaining laws that would force major tech giants to pay news outlets for their content.
The after party will rationalize what happened. But from rural Kentucky, it certainly seems as if Facebook is now able to operate as a nation state. Facebook can impose its will upon a government. Facebook can do what it darn well pleases, thank you very much.
The write-up has a great quote attributed to Josh Frydenberg, the Australian government treasurer:
Facebook is now going to engage good faith negotiations with the commercial players.
Are there historical parallels? Sure, how about Caesar and the river thing?
Turning point and benchmark.
Stephen E Arnold, February 23, 2021