Years ago a New York conference organizer who specialized in early morning breakfast meetings asked me, "Will you do an exposé about online advertising fraud?" My response to this question was, "No."
Why did I drag my feet? Three reasons:
In the research for my first Google book "The Google Legacy," which is now out of print but I sell pre-publication versions 13 years after I wrote it, I realized that online ads were easy to manipulate. Here's one example. Write a script which visits a page and clicks on an ad. The poor advertiser's account can be consumed in a nonce. No one paid much attention to this "feature," and I had zero desire to get involved with ad types. Who wanted hassles when I was still working? Not me.
Second, explaining the who, what, why, and how involved imparting technical information to decidedly non tech type people. Sorry, that's not for me. Leave that work to those who have the patience and personality to deal with jazzed Madison Avenue types.
Third, none of my contacts wanted to reveal that click fraud was a problem. The approach was similar to the memorable statement, "Android fragmentation? There's no Android fragmentation." Yeah, right.
Now there are some brave souls stepping forward in what may become a darned interesting interpersonal, intercompany, and legal battle. This possible dust up is one which I will watch far from the fray.,
To get a sense of what's about the become either "real" or "fake" news, navigate to "Online Ad Fraud Is a Widespread Problem, Google and Other Big Ad Platforms Admit." Now the "big" online ad platforms boil down to a two horse race. I suppose the smaller folks like the vendors of annoying weird links, annoying pop ups, and looped videos with raucous sound tracks may be keeping some secrets under a rock, there are people who just want to see those online ad accounts depleted by a software robot. Click, click, click, and the pre paid ad accounts goes down, down, down.
The write up points out:
Google-run tests found evidence of fake ad spaces sold on Google and Oath-owned programmatic ad platforms, as well as well as on PubMatic and AppNexus.
The point, I think, is that the vendors of online ads want to "prove" and "remove doubt" that online ads work. One should keep in mind that almost everything online is an ad. Amazon, for example, is one giant Sears catalog with manufacturers and sellers desperate for positive reviews and placement on the first page of Amazon's result pages. Do you every look at page 14 when searching for cufflinks which hide USB drives?
The write up focuses on spoofing, offering:
The method is used to trick ad buyers into purchasing advertising space on websites that don't exist, or that the sellers don't have access to. Because of the speed and volume of advertising online when bought programmatically, it's virtually impossible to check if an ad ran where sellers say it was supposed to run.
As long ago as 2003, i noticed that there are many ways and many reasons for fiddling with online ads.
Perhaps Facebook and Google, among others, will share their knowledge, concerns, and ideas. The thrill of losing ad revenue should make for some interesting PR and, possibly, legal activity.
Stephen E Arnold, July 25, 2017
I read a long write up in Wired Magazine. The story is titled "The Lawsuit That Could Pop Alphabet's Project Loon Balloons." The main point of the write up is that Google may have poked itself with an intellectual property X-Acto knife blade. An outfit named Space Data has been into balloons and other assorted activities for years. The key passage for me was this statement:
It [Space Data] convinced the US Patent and Trademark Office to cancel most of one of Project Loon's foundational patents, and say that Space Data came up with the idea first. Loon's patent for changing a balloon's direction by adjusting its altitude—a core feature of both systems—is now legally back in Space Data's hands.
To make a long story short, the Google is now the Uber-type outfit to Space Data which is wearing a Googley T shirt. I assume that Space Data will create Google style flashing badges with the words "patent infringement" blinking cheerfully.
I have loved the idea of Loon balloons. Actually, not me. The Beyond Search goose has a soft spot for loons. I think our goose once dallied aloft with a svelte loon.
Stephen E Arnold, July 10, 2017
I found the analyses of Google's fine for certain misunderstood and misinterpreted behavior interesting. I noted a round up in that font of legal and technical wisdom, the Hollywood Reporter, which presented pros and cons of the decision. Well, sort of one pro and one con. My question, "Why was the Hollywood Reporter interested in a legal decision seemingly far removed from the concerns of Hollywood?"
I also noted "More Than Money: Why Google's Antitrust Loss Matters." One of the points in this write up was that the EU process might qualify some other companies for a day in court with a stop at the toll booth on the way out of the building.
I noted this passage:
These other cases involve: (1) the available range of mobile apps in the Android operating system, and (2) allegations that through AdSense, Google has prevented third-party websites from sourcing search ads. Once complete, these cases could result in similarly hefty fines. Indeed, given the European Commission's statements regarding the potentiality of findings of abuse, it seems unlikely that Google will escape further punitive measures.
Several observations:
Google will pay the fine one way or another but there will be some legal excitement on the information highway leading to the pay station
Other US companies are likely to be getting an invitation to explain their business practices. Brussels and Strasbourg are fun cities with good restaurants and some nice hotels.
Google will have an opportunity to explain some of its other systems and methods in the future.
I am not sure saying, "Hey, we're sorry" will work very well. One thing is certain: Google will not ask IBM Watson for its take on the matter.
Stephen E Arnold, July 7, 2017
I am not sure if this Thomson Reuters "real news" story is accurate. I found it amusing. You are on your own with this item, gentle reader.
I read "Investigators Search Ukrainian Offices of Russia's Yandex." The main point struck me as:
Ukraine's State Security Service (SBU) raided the local offices of Russia's top search site Yandex on Monday in an operation that SBU spokesman Olena Gitlyanska said was part of a treason investigation.
The operative word is treason. Exciting, right?
Yandex has previously said it operates fully in accordance with Ukrainian law. It does not expect sanctions to have a material negative impact on its business.
Let's assume that the "real news" is accurate. The idea that a Web indexing company is guilty of treason is interesting. I know that in my word with a parent's group to identify potentially harmful sites for their children, I use Yandex as an example.
Ukrainian officials did not reference Yandex's more interesting indexing policies. That's a shame. Treason may be more important to the Ukrainian government that links to certain interesting types of videos.
Treason can have a "material negative impact," however.
Stephen E Arnold, June 5, 2017
I read "Accursed of Underpaying Women, Google Says It's Too Expensive to Get Wage Data." The real journalism outfit The Guardian revealed:
Google argued that it was too financially burdensome and logistically challenging to compile and hand over salary records that the government has requested, sparking a strong rebuke from the US Department of Labor (DoL), which has accused the Silicon Valley firm of underpaying women.
An attorney representing the government allegedly said:
"Google would be able to absorb the cost as easy as a dry kitchen sponge could absorb a single drop of water."
It seems that Google is not into administrivia. It seems that Google wants to husband its resources. Solving death and Loon balloons need funding.
Tough luck, US Department of Labor.
Google allegedly explained:
"This is obviously a very time-consuming and burdensome project," said Lisa Barnett Sween, one of Google's attorneys, claiming that the company has already worked 2,300 hours at a cost of nearly $500,000 to partially comply with the government's demands, which she argued were broad and unconstitutional. "Our courts must act to check this abuse of power."
Absolutely. Obvious.
Google did promote Dr. Anna Patterson, the founder of Cuil and Xift (both search engines) recently. See. Progress. How long has Dr. Patterson been laboring at the GOOG. I think it is creeping up on a decade more or less.
Google and women. A perfect match. Why can't the lawyers representing the US Department of Labor understand this simple fact. Equality, the hallmark of a high school science club.
Administrative detail. My hunch is that it is not interesting and maybe, just maybe… Never mind.
Stephen E Arnold, May 28, 2017
Robot or AI lawyers may be effective in locating relevant cases for references, but they are far away from replacing lawyers, who still need to go to the court and represent a client.
ReadWrite in a recently published analytical article titled Look at All the Amazing Things AI Can (and Can't yet) Do for Lawyers says:
Even if AI can scan documents and predict which ones will be relevant to a legal case, other tasks such as actually advising a client or appearing in court cannot currently be performed by computers.
The author further explains that what the present generation of AI tools or robots does. They merely find relevant cases based on indexing and keywords, which was a time-consuming and cumbersome process. Thus, what robots do is eliminate the tedious work that was performed by interns or lower level employees. Lawyers still need to collect evidence, prepare the case and argue in the court to win a case. The robots are coming, but only for doing lower level jobs and not to snatch them.
Vishol Ingole, May 9, 2017
I have fond memories of my high school's science club. My hunch is that some Google-type companies do too.
I look back and remember the days of Donald Jackson, who with his brother Bernard, published an article in a peer reviewed astronomy journal. Those guys were fixated on the moon. Go figure.
There was a canny lad named Phil Herbst, who shifted to fuzzy science with his interest in anthropology. Misguided. Anthropology. Who cares about that?
There was Steve Connett, who was into electrical engineering and the goodies which that required his parents to provide.
And the others?Males. Every one of them.
I don't recall any females in the science club. Super smart Hope Davis, one of the females in my advanced physics class, had perfect pitch, a knack for mathematics, and a well founded disdain for the males in the science club.
My experience with her as a lab partner is that she was smarter than most of the fellows who gathered a couple of times a month to discuss explosives, corrosive chemical compounds, circuits which could terminate certain creatures with a zap, and the other nifty things the dozen or so regulars found fascinating.
Why was science club in the rust belt in 1958 a no go zone for really smart people like Hope Davis?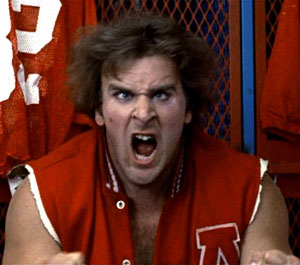 My favorite line from the motion picture "Revenge of the Nerds" is, "Nerds." Poetic.
My answer is that the males in my science club were not exactly hot social items. Although I was the dumbest person in the club, I shared three qualities with the real brainiacs in the group:
Zero awareness of females and their abilities. I was an only child, had zero exposure to females outside of class, and lived within my own weird little world of books and model airplanes
My notion of conversation was my ability to repeat almost anything I read verbatim. (Alas, as I age, that wonderful automatic function does not work as well as it did. But when it was in high gear, absolutely no female in any of my classes wanted to speak with me. Who wanted a fat, nearsighted meatware audio book for a friend?)
I was deeply uncomfortable around anyone not in the odd ball special classes my high school offered for students who seemed to get A grades and did not participate in [a] sports, [b] school governance, [c] social activities like parties and dances, and [d] activities understood by the high school administrators.
I thought of my high school science club when I read "Google Accused of 'Extreme' Gender Pay Discrimination by US Labor Department." I quite like the word "extreme." Quite charged and suggestive. I learned:
Google has discriminated against its female employees, according to the US Department of Labor (DoL), which said it had evidence of "systemic compensation disparities".
Making a leap from the particular allegation against Google to a fuzzy swath of California, the real journalists who are struggling with their own demons, states:
The explosive allegation against one of the largest and most powerful companies in Silicon Valley comes at a time when the male-dominated tech industry is facing increased scrutiny over gender discrimination, pay disparities and sexual harassment.
Does the word "extreme" up the ante?
The affecting article on Visual Business Intelligence titled When More is Less: Quantitative Numbing explains the phenomenon that many of us have probably witnessed on the news, in our friends and family, and even personally experienced in ourselves. A local news story about the death of an individual might provoke a stronger emotional response than news of a mass tragedy involving hundreds or thousands of deaths. Scott Slovic and Paul Slovic explore this in their book Numbers and Nerves. According to the article, this response is "built into our brains." Another example explains the Donald Trump effect,
Because he exhibits so many examples of bad behavior, those behaviors are having relatively little impact on us. The sheer number of incidents creates a numbing effect. Any one of Trump's greedy, racist, sexist, vulgar, discriminatory, anti-intellectual, and dishonest acts, if considered alone, would concern us more than the huge number of examples that now confront us. The larger the number, the lesser the impact…This tendency… is automatic, immediate, and unconscious.
The article suggests that the only reason to overcome this tendency is to engage with large quantities in a slower, more thoughtful way. An Abel Hertzberg quote helps convey this approach when considering the large-scale tragedy of the Holocaust: "There were not six million Jews murdered: there was one murder, six million times." The difference between that consideration of individual murders vs. the total number is stark, and it needs to enter into the way we process daily events that are happening all over the world if we want to hold on to any semblance of compassion and humanity.
Chelsea Kerwin, February 14, 2017
A prison librarian in England who purchased drugs and weapons over the Dark Web for supplying them to prisoners was sentenced to 7-years in prison.
The Register in a news report Prison Librarian Swaps Books for Bars After Dark-Web Gun Buy Caper says:
Dwain Osborne, of Avenue Road, Penge, in London, was nabbed in October of 2015 after he sought to procure a Glock 19 – a staple of police and security forces worldwide – and 100 rounds of ammunition on the dark web. A search of Osborne's house revealed the existence of a storage device, two stolen passports, and a police uniform.
Osborne was under the impression that like other Dark Web actors, he too is untraceable. What made the sleuths suspicious is not known, however, the swift action and prosecution are commendable. Law enforcement agencies are challenged by this new facet of crime wherein most perpetrators manage to remain anonymous.
Most arrests related to the purchase of arms and drugs over Dark Web were result of undercover operations. However, going beyond this type of modus operandi is the need of the hour.
Systems like Apacke Teka seem to be promising, but it is premature to say how such kind of systems will evolve and most importantly, will be implemented.
Vishal Ingole, January 19, 2017
I read "How Autonomy Fooled Hewlett-Packard." The article was written by Jack T. Cielsielski, who is president of R.G. Associates, Inc. in Baltimore, Maryland. Mr. Ciesielski's company publishes "The Analyst's Accounting Observer, which is described as "a research service for institutional investors." The company offers this example return on a $1 million investment:
The caption for the chart is "All performance data is net of advisory fees.  3, 5, 10 year returns are annualized total returns.  Inception is the annualized total return since 12/31/1992.  S&P 500 Total Return sourced from www.standardandpoors.com.  Past performance is not indicative of future results."
I am not sure if the write up is a Fortune-edited article, a Fortune-commissioned article, or an inclusion in Fortune which an entity purchased. For the purposes of Beyond Search, I will assume that the article is an example of "real" reporting and spot on in its objectivity and accuracy. I recognize that depending on where one sits and the tools and information available will affect what one perceives. This is the viewshed problem, which is illustrated below. Each color shows what the respective observer "sees."
I was interested in the write up because the legal dispute between the "old" Hewlett Packard and executives of Autonomy is on going. Obviously neither Mr. Ciesielski  Fortune does not want to find itself in the legal crossfire. My assumption is, therefore, that Fortune's "real" journalists have figured out some of the nuances of the HP-Autonomy matter. I would point out that these nuances were overlooked or misinterpreted by HP's executives, Board members, advisers, lawyers, and accountants. Too bad neither HP nor Autonomy had Fortune-caliber experts assisting when the $11 billion deal was conceived, executed, understood, and prosecuted. Some outfits have smarter, more thorough investigators, researchers, and analysts.
The write up points out that the former top dog of Autonomy USA (Christopher Egan) had to pay $800,000 in November 2016 he garnered from the HP buy out. The prime mover in this check writing was the US Securities & Exchange Commission. The Fortune article states:
HP relied on figures he had helped inflate. The facts of the case are now public.
Here's the method used by Autonomy as reported by Fortune:
Autonomy's UK-based senior managers directed a program swelling revenues by almost $200 million. Autonomy sold its software through "value-added" resellers, legitimate businesses providing additional services and support to product end users while also selling Autonomy's software. Just five resellers, in 30 transactions, provided services to Autonomy that couldn't be called legitimate.