France wants to be a world leader in artificial intelligence. The country is confident that it can access the technical and scientific information to achieve this goal. As a result of this confidence, the information in "French Universities Cancel Subscriptions to Springer Journals" is a reminder that certain old school content gems are second hand goods. With the power of Qwant at their fingertips, French research scientists can keep pace with other countries' research. Perhaps a Chinese solution may be in the works for French universities?
Stephen E Arnold, April 4, 2018
I read "Books from 1923 to 1941 Now Liberated!" The collection is based on books which libraries can scan. The write up explains the provision of the US copyright law which makes these books eligible for inclusion in the Internet Archive. Hopefully libraries will find the resources to contribute books. I did some spot checks. One gap is history books. There are others. This is an excellent effort. The interface to the Bono books retains the Internet Archive's unique approach to interfaces; for example, clicking on a book displays the scanned pages. Clicking on a page turns the page. The outside edge of the scanned image allows one to "jump" to a particular page. Getting back to a book's table of contents takes a bit of effort, however. Those looking for anthologies can find a collection of 20th century poetry by hunting. The search system is just good enough. Worth checking out. Libraries, scan those history books. Who doesn't love Theodor Mommsen's early work?
Stephen E Arnold, October 16, 2017
Arnold Information Technology has published Dark Web Notebook: Investigative Tools and Tactics for Law Enforcement, Security, and Intelligence Organizations. The 250-page book provides an investigator with instructions and tips for the safe use of the Dark Web. The book, delivered as a PDF file, costs $49.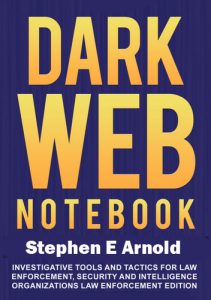 Orders and requests for more information be directed to darkwebnotebook@yandex.com. Purchasers must verify that they work for a law enforcement, security, or intelligence organization. Dark Web Notebook is not intended for general distribution due to the sensitive information it contains.
The author is Stephen E Arnold, whose previous books include CyberOSINT: Next Generation Information Access and Google Version 2.0: The Calculating Predator, among others. Arnold, a former Booz, Allen & Hamilton executive, worked on the US government-wide index and the Threat Open Source Intelligence Gateway.
The Dark Web Notebook was suggested by attendees at Arnold's Dark Web training sessions, lectures, and webinars. The Notebook provides specific information an investigator or intelligence professional can use to integrate Dark Web information into an operation.
Stephen E Arnold, author of the Dark Web Notebook, said:
"The information in the Dark Web Notebook has been selected and presented to allow an investigator to access the Dark Web quickly and in a way that protects his or her actual identity. In addition to practical information, the book explains how to gather information from the Dark Web. Also included are lists of vendors who provide Dark Web services to government agencies along with descriptions of open source and commercial software tools for gathering and analyzing Dark Web data. Much of the information has never been collected in a single volume written specifically for those engaged in active investigations or operations."
The book includes a comprehensive table of contents, a glossary of terms and their definitions, and a detailed index.
The book is divided into 13 chapters. These are:
Why write about the Dark Web?
An Introduction to the Dark Web
A Dark Web Tour with profiles of more than a dozen Dark Web sites, their products, and services
Dark Web Questions and Answers
Basic Security
Enhanced Security
Surface Web Resources
Dark Web Search Systems
Hacking the Dark Web
Commercial Solutions
Bitcoin and Variants
Privacy
Outlook
In addition to the Glossary, the annexes include a list of DARPA Memex open source software written to perform specific Dark Web functions, a list of spoofed Dark Web sites operated by law enforcement and intelligence agencies, and a list of training resources.
Kenny Toth, June 5, 2017
Well, Dartmouth's library search does a killer job on topics like employee compensation, regression analysis, and the intricacies of duacetylmorphine. Google does a better job with Lady Gaga, where to buy pizza in Toledo, and learning about Google services.
I know this because I read and believed "Google Search engine vs Dartmouth Library Search." The write up is a clarion call to the way things were. I can hear echoes of free Dialog training, the blandishments of the LexisNexis and Westlaw sales professionals, and the explanations of silver, gold, titanium, platinum, and diamond versions of Ebsco's databases.
The write up points out:
Dartmouth Library access to thousands of articles, journals, abstracts, papers and theses from Dartmouth College, the other Ivy leagues, the other top universities, even out of the United States. So, to answer to the question, what is the difference between Google and Dartmouth Library, I would say Google is more public and is open to everybody. But, it doesn't give us all of the actual research papers and publications.
Lousy writing aside, research libraries offer more reliable and slightly less crazed information than one finds in the Google index.
What's frightening me is that this type of comparison is necessary.
Stephen E Arnold, February 21, 2017
The article titled Microsoft Launches Researcher and Editor in Word, Zoom in PowerPoint on VentureBeat discusses the pros and cons of the new features coming to Office products. Editor is basically a new and improved version of spellcheck that goes beyond typos to report back on wordiness, passive voice, and cliché usage. This is an exciting tool that might put a few proofreaders out of work, but it is hard to see any issues beyond that. The more controversial introduction by Microsoft is Researcher, and the article explains why,
Researcher… will give users a way to find and incorporate additional information from outside sources. This makes it easy to add a quote and even generate proper academic citations for use in papers. Explicit content won't appear in search results, so you won't accidentally import it into your work. And you won't find yourself in some random Wikipedia rabbit hole, because the search for additional information happens in a panel on the right side of your Word document.
Researcher pulls information from the Bing Knowledge Graph to provide writers with relevant connections to their topics. The question is, will users rely on Researcher to fact-check for them, or will they make sure that the suggested source material is appropriate and substantiated? In spite of the lessons of the Republic National Convention, plagiarism can get you into big trouble (in a college classroom, anyway.) It is easy to see student users failing to properly cite or quote the suggested information, unless Researcher also offers help in those activities as well. Is this a good thing, or is it another way to make our children dumber by enabling shortcuts?
Chelsea Kerwin, January 23, 2017
The digital age is a culture that subsists on digesting quick bits of information before moving onto the next.  Scientific journals are hardly the herald of popular trends, but in order to maintain relevancy with audiences the journals are pushing for shorter articles.  The shorter articles, however, presents a problem for the authors says Ars Technica in the, "Scientific Publishers Are Killing Research Papers."
Shorter articles are also pushed because scientific journals have limited pages to print.  The journals are also pressured to include results and conclusions over methods to keep the articles short.  The methods, in fact, are usually published in another publication labeled supplementary information:
Supplementary information doesn't come in the print version of journals, so good luck understanding a paper if you like reading the hard copy. Neither is it attached to the paper if you download it for reading later—supplementary information is typically a separate download, sometimes much larger than the paper itself, and often paywalled. So if you want to download a study's methods, you have to be on a campus with access to the journal, use your institutional proxy, or jump through whatever hoops are required.
The lack of methodical information can hurt researchers who rely on the extra facts to see if it is relevant to their own work.  The shortened articles also reference the supplementary materials and without them it can be hard to understand the published results.  The shorter scientific articles may be better for general interest, but if they lack significant information than how can general audiences understand them?
In short, the supplementary material should be included online and should be easily accessed.
Whitney Grace, December 26, 2016
I read "Search & Owned Media Most Used by Journalists." The highlight of the write up was a table created by Businesswire. The "Media Survey" revealed "Where the Media Look When Researching an Organization." Businesswire is a news release outfit. Organizations pay to have a write up sent to "real" journalists.
Let's look at the data in the write up.
The top five ways "real" journalists obtain information is summarized in the table below. I don't know the sample size, the methodology, or the method of selecting the sample. My hunch is that the people responding have signed up for Businesswire information or have some other connection with the company.
| | |
| --- | --- |
| Most Used Method | Percent Using |
| Google | 89% |
| Organization Web site | 88% |
| Organization's online newsroom | 75% |
| Social media postings | 54% |
| Government records | 53% |
Now what about the five least used methods for research:
| | |
| --- | --- |
| Least Used Method | Percent Using |
| Organization PR spokesperson | 39% |
| News release boilerplate | 33% |
| Bing | 8% |
| Yahoo | 7% |
| Other (sorry but no details) | 6% |
Now what about the research methods in between these two extremes of most and least used:
| | |
| --- | --- |
| No Man's Land Methods | Percent Using |
| Talk to humans | 51% |
| Trade publication Web sites | 44% |
| Local newspapers | 43% |
| Wikipedia | 40% |
| Organization's blog | 39% |
Several observations flapped across the minds of the goslings in Harrod's Creek.
Yahoo and Bing may want to reach out to "real" journalists and explain how darned good their search systems are for "real" information. If the data are accurate, Google is THE source for "real" journalists' core or baseline information
The popularity of social media and government information is a dead heat. I am not sure whether this means social media information is wonderful or if government information is not up to the standards of social media like Facebook or Twitter
Talking to humans, which I assume was the go to method for information, is useful to half the "real" journalists. This suggests that half of the "real" news churned out by "real" journalists may be second hand, recycled and transformed, or tough to verify. The notion of "good enough" enters at this point
Love that Wikipedia because 40 percent of "real" journalists rely on it for some or maybe a significant portion of the information in a "real" news story.
It comes as no surprise that news releases creep into the results list via Google's indexing of "real" news, the organization's online newsroom, the organization's tweets and Facebook posts, trade publications which are first class recyclers of news releases, and the organization's blog.
Interesting. Echo chamber, filter bubble, disinformation—Do any of these terms resonate with you?
Stephen E Arnold, November 8, 2016
Do you want to know what after action review or mission creep mean to someone in the US government? Now available is "ADRP1-02 Terms and Military Symbols." The 350 page document is darned useful for those who do not have a G-2 around to clarify.
Stephen E Arnold, December 18, 2015
The article titled Big Data Must Haves: Capacity, Compute, Collaboration on GCN offers insights into the best areas of focus for big data researchers. The Internet2 Global Summit is in D.C. this year with many exciting panelists who support the emphasis on collaboration in particular. The article mentions the work being presented by several people including Clemson professor Alex Feltus,
"…his research team is leveraging the Internet2 infrastructure, including its Advanced Layer 2 Service high-speed connections and perfSONAR network monitoring, to substantially accelerate genomic big data transfers and transform researcher collaboration…Arizona State University, which recently got 100 gigabit/sec connections to Internet2, has developed the Next Generation Cyber Capability, or NGCC, to respond to big data challenges.  The NGCC integrates big data platforms and traditional supercomputing technologies with software-defined networking, high-speed interconnects and visualization for medical research."
Arizona's NGCC provides the essence of the article's claims, stressing capacity with Internet2, several types of computing, and of course collaboration between everyone at work on the system. Feltus commented on the importance of cooperation in Arizona State's work, suggesting that personal relationships outweigh individual successes. He claims his own teamwork with network and storage researchers helped him find new potential avenues of innovation that might not have occurred to him without thoughtful collaboration.
Chelsea Kerwin, May 22, 2014
Stephen E Arnold, Publisher of CyberOSINT at www.xenky.com
News is already sprouting about the COLLABORATE 15: Technology and Applications Forum for the Oracle Community, Oracle's biggest conference of the year.  BusinessWire tells us that Oracle CEO Mark Hurd and Chief Information Officer and Senior VP Mark Sunday will be keynote speakers, says "Oracle Applications Users Group Announces Oracle's Key Role at COLLABORATE 15."
Hurd and Sunday will be delivering key insights into Oracle and the industry at their scheduled talks:
"On Tuesday, Sunday discusses the need to keep a leadership edge in digital transformation, with a special focus on IT leadership in the cloud. Sunday will build upon his keynote from two years ago, giving attendees better insight into adopting a sound cloud strategy in order to ensure greater success.  On Wednesday, Hurd shares his insights on how Oracle continues to drive innovation and protect customer investments with applications and technology. Oracle remains the leading organization in the cloud, and Hurd's discussion focuses on how to modernize businesses in order to thrive in this space."
Oracle is really amping up the offerings at this year's conference.  They will host the Oracle User Experience Usability Lab, Oracle Proactive Support Sessions, Oracle Product Roadmap Session, and more to give attendees the chance to have direct talks with Oracle experts to learn about strategies, functionality, products, and new resources to improve their experience and usage.  Attendees will also be able to take accreditation tests for key product areas.
COLLABORATE, like many conferences, offers attendees the chance to network with Oracle experts, get professional feedback, and meet others in their field.  Oracle is very involved in this conference and is dedicated to putting its staff and products at the service of its users.
Whitney Grace, April 15, 2015
Stephen E Arnold, Publisher of CyberOSINT at www.xenky.com