This week's HonkinNews features some smart software shenanigans. A late night talk show host used Google Translate, not human joke writers, to craft a clever sketch. Google Translate presented "I will survive" as "I will be punctual." To beat that noteworthy deliverable, IBM Watson helped H&R Block this tax season. The empty white cube from IBM's less than memorable Super Bowl ad seemed to be a metaphor for IBM's 20th consecutive quarter of declining revenue. H&R Block also reported a downturn. Should I ask Watson what happened? Nah. Microsoft channeled IBM Watson in NICE health care. To sidestep the gremlins in automated question answering, Microsoft will use humans to make sure the information is — nice. Smart software may put lip readers out of work. The program includes a modern application of the fox in the hen house. To see how the advertising chickens react to Google's stepping in to make objectionable ads into egg salad, watch the program. The program is at this link.
Kenny Toty, April 25, 2017
Math is objective, right? Not really. Developers of artificial intelligence systems, what I call smart software, rely on what they learned in math school. If you have flipped through math books ranging from the Googler's tome on artificial intelligence Artificial Intelligence: A Modern Approach to the musings of the ACM's journals, you see the same methods recycled. Sure, the algorithms are given a bath and their whiskers are cropped. But underneath that show dog's sleek appearance, is a familiar pooch. K-means. We have k-means. Decision trees? Yep, decision trees.
What happens when developers feed content into Rube Goldberg machines constructed of mathematical procedures known and loved by math wonks the world over?
The answer appears in "Semantics Derived Automatically from Language Corpora Contain Human Like Biases." The headline says it clearly, "Smart software becomes as wild and crazy as a group of Kentucky politicos arguing in a bar on Friday night at 2:15 am."
Biases are expressed and made manifest.
The article in Science reports with considerable surprise it seems to me:
word embeddings encode not only stereotyped biases but also other knowledge, such as the visceral pleasantness of flowers or the gender distribution of occupations.
Ah, ha. Smart software learns biases. Perhaps "smart" correlates with bias?
The canny whiz kids who did the research crawfish a bit:
We stress that we replicated every association documented via the IAT that we tested. The number, variety, and substantive importance of our results raise the possibility that all implicit human biases are reflected in the statistical properties of language. Further research is needed to test this hypothesis and to compare language with other modalities, especially the visual, to see if they have similarly strong explanatory power.
Yep, nothing like further research to prove that when humans build smart software, "magic" happens. The algorithms manifest biases.
What the write up did not address is a method for developing less biases smart software. Is such a method beyond the ken of computer scientists?
To get more information about this question, I asked on the world leader in the field of computational linguistics, Dr. Antonio Valderrabanos, the founder and chief executive officer at Bitext. Dr. Valderrabanos told me:
We use syntactic relations among words instead of using n-grams and similar statistical artifacts, which don't understand word relations. Bitext's Deep Linguistics Analysis platform can provide phrases or meaningful relationships to uncover more textured relationships. Our analysis will provide better content to artificial intelligence systems using corpuses of text to learn.
Bitext's approach is explained in the exclusive interview which appeared in Search Wizards Speak on April 11, 2017. You can read the full text of the interview at this link and review the public information about the breakthrough DLA platform at www.bitext.com.
It seems to me that Bitext has made linguistics the operating system for artificial intelligence.
Stephen E Arnold, April 17, 2017
I read "How Google Book Search Got Lost." The write up in Backchannel was interesting to me for two reasons. First, the essay continues the revelations about Google as a balloon with a pinprick. After inflation, the pressure seeps out and one has a deflated balloon. What's a deflated balloon good for? I suppose I could Ask Heloise, but I don't care. Second, the analysis ignores the obvious; that is, Alphabet Google is not managed in the sense that GM is managing to develop an electric car or Boeing to use 3D titanium printing to get rid of pesky humans. Google, from its inception, wobbles. Few business schools teach students how to wobble. Bright folks discover this skill on their own, particularly when careening around with money readily available and Silicon Valley vapors in their nostrils.
I highlighted this passage from the analysis/essay:
Google Books has settled into a quiet middle age of sourcing quotes and serving up snippets of text from the 25 million-plus tomes in its database.
The reason is that time and legal hassles turned down the thermostat for Googlers. Who wants to work on a project which lacks the zip of inventing a self driving car or solving death? Not me for sure.
The write up includes a quote from a Googler. I circled this statement as well:
"We're not focused on shiny features and things that are very visible to users," says Stephane Jaskiewicz, a Google engineer who has worked on Books for a decade and now leads its team. "It's more like behind the scenes work and perfecting the technology — acquiring content, processing it properly so that we can view the entire book online, and adjusting the search algorithm."
Interesting, but I was mildly curious about how this Googler perceives promotion opportunities and compensation as part of the Books deflating balloon. Alas, no light shines on these issues.
I found this statement somewhat reassuring. Google does not evidence sticktoativity:
Maybe the quest to digitize all books was bound to end in disappointment, with no grand epiphany.
The epiphany at Google, as I understand the company's business focus, is about revenue. Who at Google wants to pump big dough into dealing with figuring out how to deliver Google Book results in a way that sells ads? Who wants to crack the problem of Google's formidable array of silo indexes? I am not sure a Googler wants to tackle this job because the cost of allow a person to search for a patent, a blog post with possibly relevant prior art, the book thing, and the general Google Web index is going to make Loon balloons and the self driving car guy's bonus look like a really smart investment.
To put the Google into context, I think about these questions:
Where did Google's business model come from? What was the legal dust up with Yahoo about prior to the Google IPO?
What manager at Google provided oversight and guidance to Google Books? How many leadership changes took place in the last 15 years?
What was the issue with Kirtas scanners which triggered Google's own research effort into high speed book scanning and the consequent patents such as US7,508,978? Was this a distraction? A business decision? An example of a science club project? What happened to the scanner whiz Wayne Rosling, Google's one time vice president of engineering?
How does the management of Google Books mesh with other Google decisions to orphan, abandon, or slow investment in other "interesting" projects; for example, Knol, Web Accelerator, etc.?
I have formulated my own answers to these questions. My thought is that sharper minds than mind may want to dig into these questions.
Google or more accurately Alphabet Google is interesting, and it has left a legacy for other Silicon Valley aspirants to follow. Is this legacy positive or negative? I suppose one could find some information to help answer this question as Google works its way through allegations about its behavior set forth by legal eagles in Europe, the way Google managed Anthony Levandowski, and the interesting search results Google search generates.
I am not sure if a series of searches across Google's many indexes will be an easy task. There might not be too much information in Google Books or Google Scholar either. That's too bad. Google's bid to become the new University Microfilms seems to be a very long shot.
Stephen E Arnold, April 13, 2017
I am delighted, thrilled. I read "Coveo, Microsoft, Sinequa Lead Insight Engine Market." What a transformation is captured in what looks to me like a content marketing write up. Key word search morphs into "insight." For folks who do not follow the history of enterprise search with the fanaticism of those involved in baseball statistics, the use of the word "insight" to describe locating a document is irrelevant. Do you search or insight?
For me, hunkered down in rural Kentucky, with my monitors flickering in the intellectual darkness of Kentucky, the use of the word "insight" is a linguistic singularity. Maybe not on the scale of an earthquake in Italy or a banker leaping from his apartment to the Manhattan asphalt, but a historical moment nevertheless.
Let me recap some of my perceptions of the three companies mentioned in the headline to this tsunami of jargon in the Datanami story:
Coveo is a company which developed a search and retrieval system focused on Windows. With some marketing magic, the company explained keyword search as customer support, then Big data, and now this new thing, "insight". For those who track vendor history, the roots of Coveo reach back to a consumer interface which was designed to make search easy. Remember Copernic. Yep, Coveo has been around a long while.
Sinequa also was a search vendor. Like Exalead and Polyspot and other French search vendors, the company wanted manage data, provide federation, and enable workflows. After a president change and some executive shuffling, Sinequa emerged as a Big Data outfit with a core competency in analytics. Quite a change. How similar is Sinequa to enterprise search? Pretty similar.
Microsoft. I enjoyed the "saved by the bell" deal in 2008 which delivered the "work in progress" Fast Search & Transfer enterprise search system to Redmond. Fast Search was one of the first search vendors to combine fast-flying jargon with a bit of sales magic. Despite the financial meltdown and an investigation of the Fast Search financials, Microsoft ponied up $1.2 billion and reinvented SharePoint search. Well, not exactly reinvented, but SharePoint is a giant hairball of content management, collaboration, business "intelligence" and, of course, search. Here's a user friendly chart to help you grasp SharePoint search.
Flash forward to this Datanami article and what do I learn? Here's a paragraph I noted with a smiley face and an exclamation point:
Among the areas where natural language processing is making inroads is so-called "insight engines" that are projected to account for half of analytic queries by 2019. Indeed, enterprise search is being supplanted by voice and automated voice commands, according to Gartner Inc. The market analyst released it latest "Magic Quadrant" rankings in late March that include a trio of "market leaders" along with a growing list of challengers that includes established vendors moving into the nascent market along with a batch of dedicated startups.
There you go. A trio like ZZTop with number one hits? Hardly. A consulting firm's "magic" plucks these three companies from a chicken farm and gives each a blue ribbon. Even though we have chickens in our backyard, I cannot tell one from another. Subjectivity, not objectivity, applies to picking good chickens, and it seems to be what New York consulting firms do too.
Are the "scores" for the objective evaluations based on company revenue? No.
Return on investment? No.
Patents? No.
IRR? No. No. No.
Number of flagship customers like Amazon, Apple, and Google type companies? No.
The ranking is based on "vision." And another key factor is "the ability to execute its "strategy." There you go. A vision is what I want to help me make my way through Kabul. I need a strategy beyond stay alive.
What would I do if I have to index content in an enterprise? My answer may surprise you. I would take out my check book and license these systems.
With these three systems I would have:
The ability to locate an entity, concept, event, or document
The capability to process content in more than 40 languages, perform subject verb object parsing and entity extraction in near real time
Point-and-click predictive analytics
Point-and-click visualization for financial, business, and military warfighting actions
Numerous programming hooks for integrating other nifty things that I need to achieve an objective such as IBM's Cybertap capability.
Why is there a logical and factual disconnect between what I would do to deliver real world, high value outputs to my employees and what the New York-Datanami folks recommend?
Well, "disconnect" may not be the right word. Have some search vendors and third party experts embraced the concept of "fake news" or embraced the know how explained in Propaganda, Father Ellul's important book? Is the idea something along the lines of "we just say anything and people will believe our software will work this way"?
Many vendors stick reasonably close to the factual performance of their software and systems. Let me highlight three examples.
First, Darktrace, a company crafted by Dr. Michael Lynch, is a stickler for explaining what the smart software does. In a recent exchange with Darktrace, I learned that Darktrace's senior staff bristle when a descriptive write up strays from the actual, verified technical functions of the software system. Anyone who has worked with Dr. Lynch and his senior managers knows that these people can be very persuasive. But when it comes to Darktrace, it is "facts R us", thank you.
Second, Recorded Future takes a similar hard stand when explaining what the Recorded Future system can and cannot do. Anyone who suggests that Recorded Future predictive analytics can identify the winner of the Kentucky Derby a day before the race will be disabused of that notion by Recorded Future's engineers. Accuracy is the name of the game at Recorded Future, but accuracy relates to the use of numerical recipes to identify likely events and assign a probability to some events. Even though the company deals with statistical probabilities, adding marketing spice to the predictive system's capabilities is a no-go zone.
Third, Bitext, the company that offers a Deep Linguistics Analysis platform to improve the performance of a range of artificial intelligence functions, is anchored in facts. On a recent trip to Spain, we interviewed a number of the senior developers at this company and learned that Bitext software works. Furthermore, the professionals are enthusiastic about working for this linguistics-centric outfit because it avoid marketing hyperbole. "Our system works," said one computational linguist. This person added, "We do magic with computational linguistics and deep linguistic analysis." I like that—magic. Oh, Bitext does sales too with the likes of Porsche, Volkswagen, and the world's leading vendor of mobile systems and services, among others. And from Madrid, Spain, no less. And without marketing hyperbole.
Why then are companies based on keyword indexing with a sprinkle of semantics and basic math repositioning themselves by chasing each new spun sugar-encrusted trend?
I have given a tiny bit of thought to this question.
In my monograph "The New Landscape of Search" I made the point that search had become devalued, a free download in open source repositories, and a utility like cat or dir. Most enterprise search systems have failed to deliver results painted in Technicolor in sales presentations and marketing collateral.
Today, if I want search and retrieval, I just use Lucene. In fact, Lucene is more than good enough; it is comparable to most proprietary enterprise search systems. If I need support, I can ring up Elastic or one of many vendors eager to gild the open source lily.
The extreme value and reliability of open source search and retrieval software has, in my opinion, gutted the market for proprietary search and retrieval software. The financial follies of Fast Search & Transfer reminded some investors of the costly failures of Convera, Delphes, Entopia, among others I documented on my Xenky.com site at this link.
Recently most of the news I see on my coal fired computer in Harrod's Creek about enterprise search has been about repositioning, not innovation. What's up?
The answer seems to be that the myth cherished by was that enterprise search was the one, true way make sense of digital information. What many organizations learned was that good enough search does the basic blocking and tackling of finding a document but precious little else without massive infusions of time, effort, and resources.
But do enterprise search systems–no matter how many sparkly buzzwords–work? Not too many, no matter what publicly traded consulting firms tell me to believe.
Snake oil? I don't know. I just know my own experience, and after 45 years of trying to make digital information findable, I avoid fast talkers with covered wagons adorned with slogans.
What happens when an enterprise search system is fed videos, podcasts, telephone intercepts, flows of GPS data, and a couple of proprietary file formats?
Answer: Not much.
The search system has to be equipped with extra cost  connectors, assorted oddments, and shimware to deal with a recorded webinar and a companion deck of PowerPoint slides used by the corporate speaker.
What happens when the content stream includes email and documents in six, 12, or 24 different languages?
Answer: Mad scrambling until the proud licensee of an enterprise search system can locate a vendor able to support multiple language inputs. The real life needs of an enterprise are often different from what the proprietary enterprise search system can deal with.
That's why I find the repositioning of enterprise search technology a bit like a clown with a sad face. The clown is no longer funny. The unconvincing efforts to become something else clash with the sad face, the red nose, and  worn shoes still popular in Harrod's Creek, Kentucky.
When it comes to enterprise search, my litmus test is simple: If a system is keyword centric, it isn't going to work for some of the real world applications I have encountered.
Oh, and don't believe me, please.
Find a US special operations professional who relies on Palantir Gotham or IBM Analyst's Notebook to determine a route through a hostile area. Ask whether a keyword search system or Palantir is more useful. Listen carefully to the answer.
No matter what keyword enthusiasts and quasi-slick New York consultants assert, enterprise search systems are not well suited for a great many real world applications. Heck, enterprise search often has trouble displaying documents which match the user's query.
And why? Sluggish index updating, lousy indexing, wonky metadata, flawed set up, updates that kill a system, or interfaces that baffle users.
Personally I love to browse results lists. I like old fashioned high school type research too. I like to open documents and Easter egg hunt my way to a document that answers my question. But I am in the minority. Most users expect their finding systems to work without the query-read-click-scan-read-scan-read-scan Sisyphus-emulating slog.
Ah, you are thinking I have offered no court admissible evidence to support my argument, right? Well, just license a proprietary enterprise search system and let me know how your career is progressing. Remember when you look for a new job. You won't search; you will insight.
Stephen E Arnold, April 12, 2017
I have fond memories of my high school's science club. My hunch is that some Google-type companies do too.
I look back and remember the days of Donald Jackson, who with his brother Bernard, published an article in a peer reviewed astronomy journal. Those guys were fixated on the moon. Go figure.
There was a canny lad named Phil Herbst, who shifted to fuzzy science with his interest in anthropology. Misguided. Anthropology. Who cares about that?
There was Steve Connett, who was into electrical engineering and the goodies which that required his parents to provide.
And the others?Males. Every one of them.
I don't recall any females in the science club. Super smart Hope Davis, one of the females in my advanced physics class, had perfect pitch, a knack for mathematics, and a well founded disdain for the males in the science club.
My experience with her as a lab partner is that she was smarter than most of the fellows who gathered a couple of times a month to discuss explosives, corrosive chemical compounds, circuits which could terminate certain creatures with a zap, and the other nifty things the dozen or so regulars found fascinating.
Why was science club in the rust belt in 1958 a no go zone for really smart people like Hope Davis?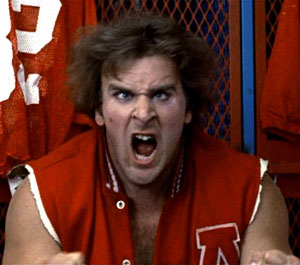 My favorite line from the motion picture "Revenge of the Nerds" is, "Nerds." Poetic.
My answer is that the males in my science club were not exactly hot social items. Although I was the dumbest person in the club, I shared three qualities with the real brainiacs in the group:
Zero awareness of females and their abilities. I was an only child, had zero exposure to females outside of class, and lived within my own weird little world of books and model airplanes
My notion of conversation was my ability to repeat almost anything I read verbatim. (Alas, as I age, that wonderful automatic function does not work as well as it did. But when it was in high gear, absolutely no female in any of my classes wanted to speak with me. Who wanted a fat, nearsighted meatware audio book for a friend?)
I was deeply uncomfortable around anyone not in the odd ball special classes my high school offered for students who seemed to get A grades and did not participate in [a] sports, [b] school governance, [c] social activities like parties and dances, and [d] activities understood by the high school administrators.
I thought of my high school science club when I read "Google Accused of 'Extreme' Gender Pay Discrimination by US Labor Department." I quite like the word "extreme." Quite charged and suggestive. I learned:
Google has discriminated against its female employees, according to the US Department of Labor (DoL), which said it had evidence of "systemic compensation disparities".
Making a leap from the particular allegation against Google to a fuzzy swath of California, the real journalists who are struggling with their own demons, states:
The explosive allegation against one of the largest and most powerful companies in Silicon Valley comes at a time when the male-dominated tech industry is facing increased scrutiny over gender discrimination, pay disparities and sexual harassment.
Does the word "extreme" up the ante?
I have ridden the natural language processing unicycle a couple of times in the last 40 years. In fact, for a company in Europe I unearthed from my archive NLP white papers from outfits like Autonomy Software and Siderean Software among others. The message is the same: Content processing from these outfits can figure out the meaning of a document. But accuracy was a challenge. I slap the word "aboutness" on these types of assertions.
Don't get me wrong. Progress is being made. But the advances are often incremental and delivered as the subsystem level of larger systems. A good example is the remarkable breakthrough technology of Madrid, Spain-based Bitext. The company's Deep Linguistic Analysis Platform solves a very difficult problem when an outfit like a big online service has to figure out the who, what, when, and where in a flood of content in 10, 20, or 30 or more languages. The cost of using old-school systems is simply out of reach even for companies with billion in the bank.
I read "Your Machine Used to Crunch Numbers. Now It Can Chew over What They Mean, Too." The write up appeared in the normally factual online publication "The Register." The story, in my opinion, sucks in IBM marketing speak and makes some interesting assertions about what Lucene, home brew scripts, and acquired technology can deliver. In my experience, "aboutness" requires serious proprietary systems and methods. Language, no matter what one believes when Google converts 400 words of Spanish into semi-okay English.
In the article I was told:
This makes sense, because the branches of AI gaining most traction today – machine learning and deep learning – typically have non-deterministic outputs. They're "fuzzy", producing confidence scores relating to their inputs and outputs. This makes AI-based analytics systems good at analyzing the kind of data that has sprung up since the early 2000s; particularly social media posts.
Well, sort of. There are systems which can identify from unstructured text in many languages the actor, the action, and the outcome. In addition, these systems can apply numerical recipes to identify items of potential interest to an analyst or another software systems. The issue is error rate. Many current entity tagging systems stumble badly when it comes to accuracy.
But IBM has been nosing around NLP and smart software for a long time. Do you remember Data Fountain or Dr. Jon Kleinberg's CLEVER system? These are important, but they too were suggestive, not definitive approaches.
The write up tells me via Debbie Landers, IBM Canada's vice president of Cognitive Solutions:
People are constantly buying security products to fix a problem or get a patch to update something after it's already happened, which you have to do, but that's table stakes," he says. Machine learning is good at spotting things as they're happening (or in the case of predictive analytics, beforehand). Their anomaly detection can surface the 'unknown unknowns' – problems that haven't been seen before, but which could pose a material threat. In short, applying this branch of AI to security analytics could help you understand where attackers are going, rather than where they've been. What does the future hold for analytics, as we get more adept at using them? Solutions are likely to become more predictive, because they'll be finding patterns in empirical data that people can't spot. They'll also become more context-aware, using statistical modeling and neural networks to produce real-time data that correlates with specific situations.
My reaction to this write up is that IBM is "constantly" thrashing for a way to make Watson-type services a huge revenue producer for IBM. From recipes to cancer, from education to ever more spectacular assertions about what IBM technology can do—IBM is demonstrating that it cannot keep up with smart software embedded in money making products and mobile services.
Is this a promotional piece? Yep, The Reg even labels it as such with this tag:
See. A promo, not fake news exactly. It is clear that IBM is working overtime with its PR firm and writing checks to get the Watson meme in many channels, including blogs.
Beyond Search wants to do its part. However, my angle is different. Look around for innovative companies engaged in smart software and closing substantive deals. Compare the performance of these systems with that of IBM's solutions, if you can arrange an objective demonstration. Then you will know how much of IBM's content marketing carpet bombing falls harmlessly on deaf ears and how many payloads hit a cash register and cause it to pay out cash. (A thought: A breakthrough company in Madrid may be a touchstone for those who are looking for more than marketing chatter.)
Stephen E Arnold, April 6, 2017
I wanted Yahoo to be named Yabba Dabba Hoot. Darn it. The Verizon outfit which may put some interesting software on mobile phones it sell has come up with the name Oath. I am not sure any of my friends in Harrod's Creek would have stumbled upon this word. I noted that a number of the write ups reporting about the new name, the Tony Romo like sacking of Marissa Mayer, and the assurances that the calculus of AOL+Yahoot will change my life. See "Under Oath? How Yahoo + AOL Will Change Your Life."
USA Today brilliantly revealed that Verizon's Xoogler believes "the brands will stay the same. " Yep, that's what happens when Verizon acquires companies: The status quo is the Baby Bell way. Well, sometimes as long as one is not the CEO, the CFO, the legal team, and anyone who does not understand the ethos of the Young Pioneers and Bell Telephone training methods:
The real journalism outfit which we call McPaper here in Kentucky quoted the Xoogler responsible for the AOL Yahoot marriage. Tim Armstrong and apparently someone else allegedly said:
Armstrong has described Oath as a B2B brand, overseeing the names that you are all familiar with. Beyond Yahoo and AOL, those names include Tumblr, Huffington Post, TechCrunch and Engadget. In all, about 1.3 billion consumers use the company's collection of brands making these among the most powerful digital brands on the Internet. "We like to say branding wise if you look at a hat, Huffington Post, TechCrunch, Yahoo Sports will be on the front, Oath will be on the side," Armstrong said. Besides the early reaction to Oath hasn't been all that flattering, with the new name the subject of numerous jokes out on social media.
On the side. Does oath mean economic growth?
Stephen E Arnold, April 5, 2017
One thing that any company wants is more profit.  Companies generate more profit by selling their products and services to more clients.  Dataminr wanted to add more clients to their roster and a former Hillary Clinton wanted to use his political connections to get more clients for Dataminr of the foreign variety.  The Verge has the scoop on how this happened in, "Leaked Emails Reveal How Dataminr Was Pitched To Foreign Governments."
Dataminr is a company specializing in analyzing Twitter data and turning it into actionable data sets in real-time.  The Clinton aide's personal company, Beacon Global Strategies, arranged to meet with at least six embassies and pitch Dataminr's services.  All of this came to light when classified emails were leaked to the public on DCLeaks.com:
The leaked emails shed light on the largely unregulated world of international lobbying in Washington, where "strategic advisors," "consultants," and lawyers use their US government experience to benefit clients and themselves, while avoiding public scrutiny both at home and overseas.
Beacon isn't registered to lobby in Washington. The firm reportedly works for defense contractors and cybersecurity companies, but it hasn't made its client list public, citing non-disclosure agreements. Beacon's relationship with Dataminr has not been previously reported.
The aide sold Dataminr's services in a way that suggest they could be used for surveillance.  Beacon even described Dataminr as a way to find an individual's digital footprint.  Twitter's development agreement forbids third parties from selling user data if it will be used for surveillance.  But Twitter owns a 5% stake in Dataminr and allows them direct access to their data firehose.
It sounds like some back alley dealing took place.  The ultimate goal for the Clinton aide was to make money and possibly funnel that back into his company or get a kickback from Dataminr.  It is illegal for a company to act in this manner, says the US Lobbying Disclosure Act, but there are loopholes to skirt around it.
This is once again more proof that while a tool can be used for good, it can also be used in a harmful manner.  It begs the question, though, that if people leave their personal information all over the Internet, is it not free for the taking?
Whitney Grace, April 4, 2017
In Madrid last week, a person showed me a link to Beyond Search. Nope, not this Beyond Search but to an executive recruitment firm based in London. This outfit owns the url beyondsearch.net and had the good sense to piggyback on the semantic value created by my Kentucky thoughts about search, content processing, text analytics and related subjects.
I took a quick look at the company's Web site, which looks quite a bit like one of those Squarespace instant sites with sliders, large type, and zippy images. There were a couple of points I noted. Permit me to focus on the staff and the partners of the London-based "get you a new job, pal" store front.
First, the list of partners includes a link to a Brazilian executive recruitment company named Grupo Selpe. I used to live in Campinas, and I did a quick check of this company. The connection between Grupo Selpe and Beyond Search seems to be one of Beyond Search's "directors." There's not much information about the executive directors, but we will continue to monitor the named entities. There was one link related to Grupo Selpe and Beyond Search, and it was dated 2005. Odd that in 12 years, there's only one modest reference to the London shot house type company.
Second, we noted that the founder of Beyond Search is a person allegedly named James Davies. He too exists in a bit of an information vacuum. His LinkedIn page reports that he is a graduate of Keele University, and he has been the founder of two interesting Google-scale operations; specifically:
ScaleUp Works, a conference designed to raise investment funds
Walker Davies, an outfit described as "the UK's pre-eminent startup and scale up hiring specialists".
Walker Davies is interesting because it is listed as one of the "partners" of the Beyond Search recruitment outfit. It strikes me that Walker Davies and Beyond Search are in the same business: Headhunting, a colloquial terms popular in the US for moving a person to a new job.
Headhunting refers to the practice of some indigenous people. Beyond Search, despite its aboriginal origins, consumes only geese. Beyond Search in London may consume the careers of certain individuals. Beyond Search is enjoyed by certain individuals familiar with our approach and work for certain government entities engaged in law enforcement. Beyond Search in London is familiar to the pay-to-play aspect of executive recruitment; for instance, this company, Not Actively Looking.
Third, one of the partners of the recruitment outfit is the Financial Times. It apparently had a Non Executive Directors' Club. I clicked on the link to the Financial Times, a publication which I view as one which tries not to get embroiled in illegal, underhanded, and deceptive practices. (I could be incorrect of course.) What happens when I follow the link? I get a 404 error.
This snippet from the headhunting Web site says that Beyond Search is proud to be partners with the Financial times Non Executive Director's Club. Please, note the typographical error introduced between the logo and the executive placement service's rendering of the identical text. Careless? No, just a bad link. I saw this when I clicked on the logo:
It seems that the Financial Times does not want to be captured in the headhunters' pot of boiling oil or the Beyond Search headhunting outfit does not have the ability to get details right. If that is indeed the case, I am not sure I would entrust my Beyond Search goose's job search to those who might plop the dear bird into a pot and sit back and wait for goose with sauerkraut. "Sour" right?
Fourth, The OwenJames's link is not active. But it seems to be given pride of place on the Beyond Search LinkedIn page. I find that interesting because even my LinkedIn page includes slightly more timely information. Compare the two entries and decide for yourself: The Arnold LinkedIn page vs. the James Davies' page.
| | |
| --- | --- |
| Beyond Search | BeyondSearch |
| | |
Fifth, the Beyond Search partner Paradox is in the coaching business. No, not football in the Roman Abramovich school of management. (See "Ruthless Sacking Is the Hallmark of Roman Abramovich Empire." The Paradox service strikes me as somewhat vague. As a former Booz, Allen & Hamilton lackey, I understand the value of vagueness. I did enjoy the quote from Niels Bohr: The opposite of a correct statement is a false statement." But is that what Paradox is about? False statements. I know that folks in Harrod's Creek are not as sharp as those from more sophisticated cities like London, but the paradox is that I don't understand how paradox is the heart of leadership.
An outfit with the same name as this beloved blog may have some good qualities. Granted, the punctuation errors, Financial Times's link which isn't, and the fascinating grab bag of partners suggests that the headhunter outfit is an interesting operation.
Rah, rah, to any company which wishes to hang on the webbed feet of the flying goose. Remember. When the Beyond Search goose lands, it can lay golden eggs. Sometimes, however, it can leave a deposit which can discolor paint with poo burn like this:
The opposite of the truth is what again? Ah, right. The Beyond Search operation in the UK. Recruit on, I say.
Stephen E Arnold, April 3, 2017
Here's a bit of PR from Microsoft that could pay off in many ways, should the company be wise enough to listen to these women. Microsoft's blog posts, "17 for '17: Microsoft Researchers on What to Expect in 2017 and in 2027." As part of their Computer Science Education Week, the company shares 17 well-informed perspectives on the future of tech, presented by 17 talented researchers. On the way to introducing these insights, the post reminds us:
In this 'age of acceleration,' in which advances in technology and the globalization of business are transforming entire industries and society itself, it's more critical than ever for everyone to be digitally literate, especially our kids. This is particularly true for women and girls who, while representing roughly 50 percent of the world's population, account for less than 20 percent of computer science graduates in 34 OECD countries, according to this report. This has far-reaching societal and economic consequences.
Consequences like a worldwide shortage of qualified computer scientists, which could be eased by a surge of women entering the field. That's why they call personnel management "human resources," after all.
We are pleased to see one particular researcher on the list, Sue Dumais, who happens to be an alum of the historic Bell Labs. Dumais now works as deputy managing director at Microsoft's Redmond, Washington, lab. Her view for 2017 makes perfect sense—more progress in, and reliance upon, deep learning models. Among other things, she expects these models to continue improving internet search results. What about further down the road? Here's Dumais' vision:
What will be the key advance or topic of discussion in search and information retrieval in 2027?

The search box will disappear. It will be replaced by search functionality that is more ubiquitous, embedded and contextually sensitive. We are seeing the beginnings of this transformation with spoken queries, especially in mobile and smart home settings.  This trend will accelerate with the ability to issue queries consisting of sound, images, or video, and with the use of context to proactively retrieve information related to the current location, content, entities, or activities without explicit queries.
The post urges readers to share this list, in the hope that it will inspire talented kids of all genders to pursue careers in computer science.
Cynthia Murrell, March 31, 2017