Meta: What Does the Modern MySpace Do?
Frankly I don't know what the Zuck and his team of wizards can do. I read "Teens, Social Media and Technology 2022." The link leads to a study summary, a page of general info, and a summary of the Pew methodology.
One finding from the survey mavens at Pew Research caught my attention. If the methodology was on the money and the data processed in a way that kept the butcher's thumb off the weighing pan, here's a thrilling statement:
the share of teens who say they use Facebook, a dominant social media platform among teens in the Center's 2014-15 survey, has plummeted from 71% then to 32% today.
In the span of 72 months, the Zuckbook watched teens who are considered a part of the future of the datasphere shift to short form videos. The write up included one of those charts colored in such a way to make legibility a bit of a joke. Here's a screenshot with the bold blue line heading south. Note that despite the legibility, the other lines are heading up. YouTube is a floating dot at the top of the chart because, well, YouTube. Quasi-monopoly. Most popular online service in the "Stans."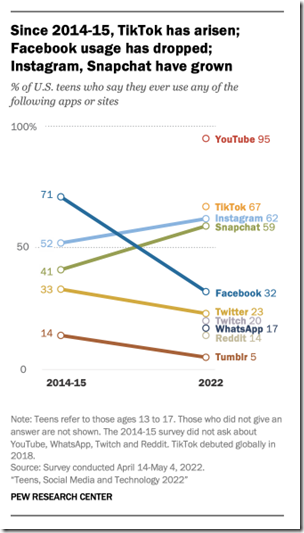 Should YouTube be worried? Not yet. The write up reports:
About three-quarters of teens visit YouTube at least daily, including 19% who report using the site or app almost constantly.
For more Pew data, follow the links in the cited article.
There's not much analysis of the whys and wherefores, but the data are clear. The allegedly Chinese linked outfit TikTok has access to useful data from young people. What could a crafty person do with these data? Wait until one cluster identified as susceptible individuals and then approach or attempt to influence them.
Stephen E Arnold, August 24, 2022
Comments