Zuck Play: Joe Rogan In, Judge Chhabria Out
I read "Facebook to Settle Cambridge Analytica Suit, Save Zuckerberg From Testifying." The title caught my attention for two reasons.
First, Mr. Zuckerberg, the affable wizard of Meta stuff, appeared on the Joe Rogan Podcast. On that podcast, he talked about many things. Since I don't pay for podcasts, I have only second hand information. For me, the key point was he talked.

Joe Rogan stickers are available by clicking the tasteful image in this blog post. Beyond Search does not have a deal with either Mr. Rogan or Amazon. (I have very good reasons for this posture.)
Second, Mr. Zuckerberg did not talk to the legal eagles associated with the Cambridge Analytica matter in the Northern District of California court. To avoid having to talk, Mr. Zuckerberg's estimable outfit paid money to the United Kingdom (500,000 pounds or about $560,000) and an unknown amount to the Northern District of California court.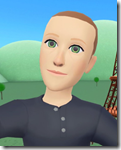 I assume this image is the property of Meta and Facebook.
I wonder why.
Mr. Rogan's background shares one thing with the Zuck: DNF or did not finish college. Mr. Rogan's occupation according to the rock-solid Wikipedia is "Podcaster, color commentator, comedian, actor, and television presenter."
The Honorable Vince Chhabria has an okay background too; to wit: A law degree from UC Berkeley,  law clerk for Justice Stephen G Breyer, work at a so so law firm called Covington & Burling, and some work as the Deputy City Attorney for Government Litigation as the Co Chief of Appellate Litigation.
On the surface, it seems that the Zuck feels more comfortable with a color commentator than a college graduate who probably is not too good at martial arts, kite sailing, and social media.
My take: Mr. Meta is looking for an audience which may be slightly less skeptical of the wondrous "bring us together" methods of the social media quasi-monopolies.
That's just a guess. Podcasting is probably less challenging to a Silicon Valley luminary than talking to some wonk who reads books, depositions, and legal documents. I wonder if the bright star of Meta picked up some of Mr. Rogan's merchandise. I am thinking maybe these two trend setters swapped tchotchkes.
Stephen E Arnold, September 1, 2022
Comments