OSINT Is Popular. Just Exercise Caution
Many have embraced open source intelligence as the solution to competitive intelligence, law enforcement investigations, and "real" journalists' data gathering tasks.
For many situations, OSINT as open source intelligence is called, most of those disciplines can benefit. However, as we work on my follow up to monograph to CyberOSINT and the Dark Web Notebook, we have identified some potential blind spots for OSINT enthusiasts.
I want to mention one example of what happens when clever technologists mesh hungry OSINT investigators with some online trickery.
Navigate to privtik.com (78.142.29.185). At this site you will find: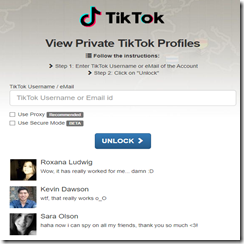 But there is a catch, and a not too subtle one:

The site includes mandatory choices in order to access the "secret" TikTok profile.
How many OSINT investigators use this service? Not too many at this time. However, we have identified other, similar services. Many of these reside on what we call "ghost ISPs." If you are not aware of these services, that's not surprising. As the frenzy about the "value" of open source investigations increases, geotag spoofing, fake data, and scams will escalate. What happens if those doing research do not verify what's provided and the behind the scenes data gathering?
That's a good question and one that gets little attention in much OSINT training. If you want to see useful OSINT resources, check www.osintfix.com. Each click displays one of the OSINT resources we find interesting.
Stephen E Arnold, November 2, 2022
Comments