New Wave Management or Is It Leaderment?

Note: This essay is the work of a real and still-alive dinobaby. No smart software involved, just a dumb humanoid.
Here's one of my biases, and I am rather proud of it. I like to word "manager." According to my linguistics professor Lev Soudek, the word "manage" used to mean trickery and deceit. When I was working at a blue chip consulting firm, the word meant using tactics to achieve a goal. I think of management as applied trickery. The people whom one pays will go along with the program, but not 24×7. In a company which expects 60 hours of work a week the minimum for survival of a Spanish inquisition inspired personnel approach, mental effort had to be expended.
I read "I'm a Senior Leader at Amazon and Have Seen Many Bad Managers. Here Are 3 Reasons Why There Are So Few Great Ones." The intense, clear-eyed young person explains that he has worked at some outfits which are not among my list of the Top 10 high-technology outfits. His résumé includes eBay (a digital yard sale), a game retailer, and the somewhat capricious Amazon (are we a retail outfit, are we a cloud outfit, are we a government services company, are we a data broker, are we a streaming company, etc.).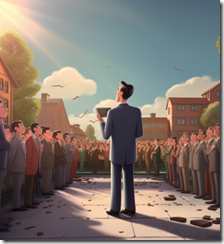 A modern practitioner of leaderment is having trouble getting the employees to fall in, throw their shoulders back, and mark in step to the cadence of Am-a-zon, Am-a-zon like a squad of French Foreign Legion troops on Bastille Day. Thanks, MidJourney. The illustration did not warrant a red alert, but it is also disappointing.
I assume that these credentials are sufficient to qualify for a management guru. Here are the three reasons managers are less than outstanding.
First, managers just sort of happen. Few people decide to be a manager. Ah, serendipity or just luck.
Second, managers don't lead. (Huh, the word is "management", not "leaderment.")
Third, pressure for results means some managers are "sacrificing employee growth." (I am not sure what this statement means. If one does not achieve results, then that individual and maybe his direct reports, the staff he leaderments, and his boss will be given an opportunity to find their future elsewhere. Translation for the GenZ reader: You are fired.
Let's step back and think about these insights. My initial reaction is that a significant re-languaging has taken place in the write up. A good manager does not have to be a leader. In fact, when I was a guest lecturer at the Kansai Institute of Technology, I met a number of respected Japanese managers. I suppose some were leaders, but a number made it clear that results were number one or ichiban.
In my work career, confusing to manage with to lead would create some confusion. I recall when I was working in the US Congress with a retired admiral who was elected to represent an upscale LA district, the way life worked was simple: The retired admiral issued orders. Lesser entities like myself figured out how to execute, tapped appropriate resources, and got the job done. There was not much leadership required of me. I organized; I paid people money; and I hassled everyone until the retired admiral grunted in a happy way. There was no leaderment for me. The retired admiral said, "I want this in two days." There was not much time for leaderment.
I listened to a podcast called GeekWire. The September 2, 2023, program made it clear that the current big dog at Amazon wants people to work in the office. If not, these folks are going to go away. What makes this interesting is that the GeekWire pundits pointed out that the Big Dog had changed his story, guidelines, and procedures for this work from home and work from office approach multiple times.
Therefore, I am not sure if there is management or leaderment at the world's largest digital mall. I do know that modern leaderment is not for me. The old-fashioned meaning of manage seems okay to me.
Stephen E Arnold, September 12, 2023
Comments