Smart Software for Cyber Security Mavens (Good and Bad Mavens)

This essay is the work of a dumb humanoid. No smart software required.
One of my research team (who wishes to maintain a low profile) called my attention to the "Awesome GPTs (Agents) for Cybersecurity." The list on GitHub says:
The "Awesome GPTs (Agents) Repo" represents an initial effort to compile a comprehensive list of GPT agents focused on cybersecurity (offensive and defensive), created by the community. Please note, this repository is a community-driven project and may not list all existing GPT agents in cybersecurity. Contributions are welcome – feel free to add your own creations!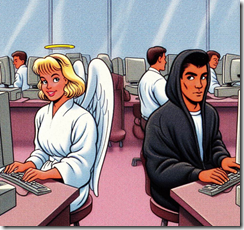 Open source cyber security tools and smart software can be used by good actors to make people safe. The tools can be used by less good actors to create some interesting situations for cyber security professionals, the elderly, and clueless organizations. Thanks, Microsoft Bing. Does MSFT use these tools to keep people safe or unsafe?
When I viewed the list, it contained more than 30 items. Let me highlight three, and invite you to check out the other 30 at the link to the repository:
The Threat Intel Bot. This is a specialized GPT for advanced persistent threat intelligence
The Message Header Analyzer. This dissects email headers for "insights."
Hacker Art. The software generates hacker art and nifty profile pictures.
Several observations:
More tools and services will be forthcoming; thus, the list will grow
Bad actors and good actors will find software to help them accomplish their objectives.
A for fee bundle of these will be assembled and offered for sale, probably on eBay or Etsy. (Too bad fr0gger.)
Useful list!
Stephen E Arnold, November 17, 2023
xx
test
Comments