The Power of Regulation: Muscles MSFT Meets a Strict School Marm

This essay is the work of a dumb dinobaby. No smart software required.
I read "The EU Will Finally Free Windows Users from Bing." The EU? That collection of fractious states which wrangle about irrelevant subjects; to wit, the antics of America's techno-feudalists. Yep, that EU.
The "real news" write up reports:
Microsoft will soon let Windows 11 users in the European Economic Area (EEA) disable its Bing web search, remove Microsoft Edge, and even add custom web search providers — including Google if it's willing to build one — into its Windows Search interface. All of these Windows 11 changes are part of key tweaks that Microsoft has to make to its operating system to comply with the European Commission's Digital Markets Act, which comes into effect in March 2024
The article points out that the DMA includes a "slew" of other requirements. Please, do not confuse "slew" with "stew." These are two different things.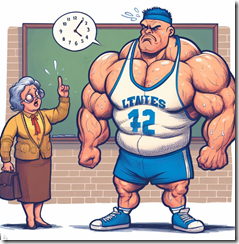 The old fashioned high school teacher says to the high school super star, "I don't care if you are an All-State football player, you will do exactly as I say. Do you understand?" The outsized scholar-athlete scowls and say, "Yes, Mrs. Ee-You. I will comply." Thank you MSFT Copilot. You converted the large company into an image I had of its business practices with aplomb.
Will Microsoft remove Bing — sorry, Copilot — from its software and services offered in the EU? My immediate reaction is that the Redmond crowd will find a way to make the magical software available. For example, will such options as legalese and a check box, a new name, a for fee service with explicit disclaimers and permissions, and probably more GenZ ideas foreign to me do the job?
The techno weight lifter should not be underestimated. Those muscles were developed moving bundles of money, not dumb "belles."
Stephen E Arnold, November 17, 2023
Comments