I read the interview called "Ex-Googler Meredith Whittaker on Political Power in Tech, the Flaws of 'The Social Dilemma,' and More." Very Silicon Valley. You will need to work through the transcript yourself. Here are the points I circled as checkpoints for being Google Grade. The phrase in my lingo means "How to keep your job at the GOOG." I identified six behaviors; your mileage may vary.
Be a white male.
Float above the concerns of non-Google grade type people.
Emulate senior Google leaders; for example, the affable, other directed Jeff Dean.
Ethics. Ho ho ho. Embrace phenomenological existentialism within the Google context.
Respond like a Pavlovian dog or pigeon when money and power are the payoff.
Fight the impulse to be a contrarian.
And the interview ends on an interesting note. The Xoogler allegedly said:
It's going to be really hard to repurpose that toward democratic, people-driven ends, given the consolidation of power that is right now dominating those infrastructures and given the neoliberal capitalist incentives that are driving those who dominate those infrastructures.
Maybe not hard, just too late.
Stephen E Arnold, May 7, 2021
Why are we not surprised? We learn from The Markup that "Google Promised its Contact Tracing App Was Completely Private—But it Wasn't." The COVID contact-tracing framework, developed in a unique partnership with Apple, was used by several government agencies in their official apps. Millions of citizens took CEOs Sundar Pichai (Google) and Tim Cook (Apple) at their word that personal data would be kept private and downloaded the apps.
To trace contacts, enabled devices exchange anonymized Bluetooth signals with each other whenever people with the app are within 6 feet for 10 minutes or more. To make it harder to identify users, those symbols are changed every 15 minutes and are created from a key that changes every 24 hours. On Android (Google) devices, the exchanged signals are saved to the system logs where they are securely buried unless the user tests positive and chooses to share that information. At least, that's the idea. Reporter Alfred Ng cites AppCensus forensics lead Joel Reardon as he writes:
"The issue, Reardon said, is that hundreds of preinstalled apps like Samsung Browser and Motorola's MotoCare on Android devices have access to potentially sensitive information that the contact tracing apps store in system logs—a byproduct of how the preinstalled apps receive information about user analytics and crash reports. … Studies have found that more than 400 preinstalled apps on phones built by Samsung, Motorola, Huawei, and other companies have permission to read system logs for crash reports and analytic purposes. In the case of contact tracing apps, Reardon found that the system logs included data on whether a person was in contact with someone who tested positive for COVID-19 and could contain identifying information such as a device's name, MAC address, and advertising ID from other apps. In theory, that information could be swept up by preinstalled apps and sent back to their company's servers. He has not found that any apps have actually gathered that data, but there's nothing preventing them from doing so."
Ah, third-party preinstalled apps. Perhaps Google could be forgiven for overlooking that vulnerability if they had taken it seriously when it was brought to their attention. This past February, AppCensus researchers hired by the Department of Homeland Security found the problem and alerted Google. (They found no similar problems with the iPhone version.) Alas, Google has not fixed what Reardon calls a "one-line thing."  Instead the company has issued vague promises of rolling out an update of some sort at some time. Very reassuring.
Cynthia Murrell, May 6, 2021
Another short item. I read a series of tweets which you may be able to view at this link. The main idea is that an influencer was to give a talk about marketing. The unnamed organizer did not like Influencer Fishkin's content. And what was that content? Information and observations critical of the outstanding commercial enterprises Facebook and Google. The apparent points of irritation were Influencer Fishkin's statements to the effect that the two estimable outfits (Facebook and Google) were not "friendly, in-your-corner partners." Interesting, but for me that was only part of the story.
Here's what I surmised from the information provided by Influencer Fishkin:
Manipulation is central to the way in which these two lighthouse firms operate in the dark world of online
Both venerated companies function without consequences for their actions designed to generated revenue
The treasured entities apply the model and pattern to "sector after sector."
Beyond Search loves these revered companies.
But there is one word which casts a Beijing-in-a-sandstorm color over Influencer Fishkin's remarks. And that word is?
Addiction
The idea is that these cherished organizations use their market position (which some have described as a monopoly set up) and specific content to make it difficult for a "user" of the "free" service to kick the habit.
My hunch is that neither of these esteemed commercial enterprises wants to be characterized as purveyor of gateway drugs, digital opioids, or artificers who put large monkeys on "users" backs.
That's not a good look.
Hence, cancellation is a pragmatic fix, is it not?
Stephen E Arnold, May 5, 2021
I received some information about a YouTuber named Aquachiggers. I watched this person's eight minute video in which Aquachigger explained that his videos had been downloaded from YouTube. Then an individual (whom I shall described as an alleged bad actor) uploaded those Aquachigger videos with a the alleged bad actor's voice over. I think the technical term for this is a copyright violation taco.
I am not sure who did what in this quite unusual recycling of user content. What's clear is that YouTube's mechanism to determine if an uploaded video violates Google rules (who really knows what these are other than the magic algorithms which operate like tireless, non-human Amazon warehouse workers). Allegedly Google's YouTube digital third grade teacher software can spot copyright violations and give the bad actor a chance to rehabilitate an offending video.
According to Aquachigger, content was appropriated, and then via logic which is crystalline to Googlers, notified Aquachigger that his channel would be terminated for copyright violation. Yep, the "creator" Aquachigger would be banned from YouTube, losing ad revenue and subscriber access, because an alleged bad actor took the Aquachigger content, slapped an audio track over it, and monetized that content. The alleged bad actor is generating revenue by unauthorized appropriation of another person's content. The key is that the alleged bad actor generates more clicks than the "creator" Aquachigger.
Following this?
I decided to test the YouTube embedded content filtering system. I inserted a 45 second segment from a Carnegie Mellon news release about one of its innovations. I hit the upload button and discovered that after the video was uploaded to YouTube, the Googley system informed me that the video with the Carnegie Mellon news snip required further processing. The Googley system labored for three hours. I decided to see what would happen if I uploaded the test segment to Facebook. Zippity-doo. Facebook accepted my test video.
What I learned from my statistically insignificant test that I could formulate some tentative questions; for example:
If YouTube could "block" my upload of the video PR snippet, would YouTube be able to block the Aquachigger bad actor's recycled Aquachigger content?
Why would YouTube block a snippet of a news release video from a university touting its technical innovation?
Why would YouTube, create the perception that Aquachigger be "terminated"?
Would YouTube be allowing the unauthorized use of Aquachigger content in order to derive more revenue from that content on the much smaller Aquachigger follower base?
Interesting questions. I don't have answers, but this Aquachigger incident and my test indicate that consistency is the hobgoblin of some smart software. That's why I laughed when I navigated to Jigsaw, a Google service, and learned that Google is committed to "protecting voices in conversation." Furthermore:
Online abuse and toxicity stops people from engaging in conversation and, in extreme cases, forces people offline. We're finding new ways to reduce toxicity, and ensure everyone can safely participate in online conversations.
I also learned:
Much of the world's internet users experience digital censorship that restricts access to news, information, and messaging apps. We're [Google] building tools to help people access the global internet.
Like I said, "Consistency." Ho ho ho.
Stephen E Arnold, May 4, 2021
Google is described as an employee first company. Employees are affectionately dubbed "Googlers" and are treated to great benefits, perks, and work environment. Google, however, has a dark side. While the company culture is supposedly great, misogynistic, racist attitudes run rampant. Bloomberg via Medium highlights recent ethical violations in the article, "Google Ethical AI Group's AI Turmoil Began Long Before Public Unraveling."
One of the biggest ethical problems Google has dealt with is the lack of diverse information in their facial recognition datasets. This has led to facial recognition AI's inability to recognize minority populations. If ethical problems within their technology were not enough, Google had created an Ethical AI research team headed by respected scientists Margaret Mitchell and Timnit Gebru.
Google had Gebru forcefully resign from the company in December 2020, when she refused to retract a research paper that criticized Google's AI. Mitchell was also terminated in February 2021 on the grounds she was sending Google sensitive documents to personal accounts.
During their short tenure as Google's Ethical AI team leads, Mitchell and Gebru witnessed a sexist and racist environment. They both noticed that women with more experience held lower job titles than men with less experience. When female employees were harassed and incidents were reported nothing was done.
Head of Google AI Jeff Dean appeared to be a supporter of Gebru and Mitchell, but while he voiced supported his actions spoke louder:
"Dean struck a skeptical and cautious note about the allegations of harassment, according to people familiar with the conversation. He said he hadn't heard the claims and would look into the matter. He also disputed the notion that women were being systematically put in lower positions than they deserved and pushed back on the idea that Mitchell's treatment was related to her gender. Dean and the women discussed how to create a more inclusive environment, and he said he would follow up on the other topics….
About a month after Gebru and Heller reported the claims of sexual harassment and after the lunch meeting with Gebru and Mitchell, Dean announced a significant new research initiative, and put the accused individual in charge of it, according to several people familiar with the situation. That rankled the internal whistleblowers, who feared the influence their newly empowered colleague could have on women under his tutelage."
Google had purposely created the Ethical AI research team to bring attention to disparities and poor behavior to their attention. When Gebru and Mitchell did their job, their observations were dismissed.
Google shot itself in the foot when they fired Gebru and Mitchell, because the pair were doing their job. Because the pair questioned Google's potential problems with Google technology and fought against sexism and racism, the company treated them as disruptive liabilities. Mitchell and Gebru' treatment point to issues of self-regulation. Companies are internally biased, because they want to make money and not make mistakes. However, this attitude creates a lackadaisical attitude towards self-regulation and responsibility. Biased technology leads to poor consequences for minorities that could potentially ruin their lives. Is it not better to be aware of these issues, accept the problem, then fix it?
Google is only going to champion itself and not racial/gender equality.
Whitney Grace, May 3, 2021
In the midst of stakeholder ebullience about Alphabet Google's money making prowess, I spotted one interesting comment. "Alphabet Reports Q1 2021 Revenue of $55.3 Billion" included this statement:
The closely-watched "Other Bets" continues to lose money. It reported $198 million revenue primarily generated by Verily and Fiber from $135 million in Q1 of 2020. However, it lost $1.15 billion compared to $1.12 billion in the same quarter of last year.
For a company of Alphabet Google YouTube's scale this is a modest loss. However, it does beg a couple of questions:
Is the data analysis used to decide upon what to wager flawed?
Is there high value information about the firm's management of certain projects contained in these increasing and continuing losses?
Alphabet does online advertising and data vending. Innovation may be more of a reach than some expected.
Stephen E Arnold, April 30, 2021
It goes without question that Android mobile devices are superior when it comes to battery longevity and cost. Apple mobile devices are only better when it comes to communication between other Apple products and a universal device search. Slash Gear shares that Android is finally getting a long needed upgrade: "Android Third-Party Launchers Might Finally Get Universal Device Search."
Universal device search is an out-of-the-box feature for all Microsoft and Apple products, but Android-based OS were left without the option to search everything. Sure, they could download the Google Search app to get this option, but out was only limited to the Pixel launcher and Google Search home screen widget. In other words, it did not even compare to MacOS Spotlight nor Windows Search.
Third-party Android developers were left little to compete with, but Android 12 could finally resolve the debacle. The Android 12 OS has an AppSearchManager API that offers universal search, but it is currently only in preview mode:
"This is definitely good news for developers of the myriad Android launchers available as it at least takes them one step closer to the functionality previously exclusive to Google's own. At the moment, however, it doesn't seem to be available just yet and it might be too early to invest in it until the final version lands in Android 12 beta."
It is ironic that the supreme search giant Google does not offer a universal search comparable to Spotlight or Windows Search. Google is supposed to be the best search engine in the world, so why does it like a basic search function on its mobile devices? And the "universal" thing, please.
Whitney Grace, April 29, 2021
Much ado about SEO. VentureBeat has teamed up with StackCommerce to offer a training course the publication describes in, "SEO Is Shrouded in Mystery. This Google SEO Training Can Help Answer those Questions." The post begins by emphasizing Google's secrecy behind the specifics of its algorithm, lamenting that the company drops tantalizing hints here and there. Of course, they say, "everyone" wants to know how the algorithm works to make the most of their companies' Search Engine Optimization. We're told:
"Thankfully, not everything in the world of SEO is flying blind. The training in The 2021 Complete Google SEO and SERP Certification Bundle is an extremely helpful distillation of what a marketer or brand manager needs to know to make their web pages and content search-friendly so they can scale to that search ranking pinnacle. Over 11 courses, this package explains how SEO is done, as well as all the top tools and techniques to make Google algorithms smile on your website and your brand. It starts with SEO Training 2021: Beginner To Advanced SEO and The Complete SEO Course for Beginners 2021: Zero to Hero, where even digital marketing novices can learn the ropes, understanding what known factors go into a page's SEO ranking and the factors available to move up those Google search results. The training also includes getting familiar with popular SEO tools like Ahref, Alexa, WordAI, Articleforge, and more, some of the most effective ways Amazon sellers market products, and even how to produce simple YouTube videos that can make a surprising impact on your Google search profile."
There is a lot of razzle dazzle here, but let us provide a little clarity: creating quality, helpful content has always been the key to higher SEO rankings. That is the whole point of the algorithm in the first place, though the SEO industry has been built on gaming that system. The other alternative is even simpler, and probably the one Google would prefer—just buy Google ads for traffic. Mystery solved? Yep, just have $20,000 per month or more.
Cynthia Murrell, April 29, 2021
Two online enforcement articles struck me as thought provoking.
The first was the Amazon announcement that it would kick creators (people who stream on the Twitch service) off the service for missteps off the platform. This is an interesting statement, and you can get some color in "Twitch to Boot Users for Transgressions Elsewhere." In my discussion with my research team about final changes to my Amazon policeware lecture, I asked the group about Twitch banning individuals who create video streams and push them to the Twitch platform.
There were several points of view. Here's a summary of the comments:
Yep, definitely
No, free country
This has been an informal policy for a long time. (Example: SweetSaltyPeach, a streamer from South Africa who garnered attention by assembling toys whilst wearing interesting clothing. Note: She morphed into the more tractable persona RachelKay.
There's may be a problem for Twitch, and I am not certain Amazon can solve it. Possibly Amazon – even with its robust policeware technology – cannot control certain activities off the platform. A good example is the persona on Twitch presented as iBabyRainbow. Here's a snap of the Twitch personality providing baseball batting instructions to legions of fans by hitting eggs with her fans' names on them: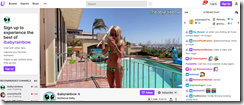 There is an interesting persona on the site NewRecs. It too features a persona which seems very similar to that of the Amazon persona. The colors are similar; the makeup conventions are similar; and the unicorn representation appears in both images. Even the swimming pool featured on Twitch appears in the NewRecs' representation of the personal BabyRainbow.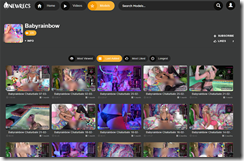 What is different is that on NewRecs, the content creator is named "BabyRainbow." Exploration of the BabyRainbow persona reveals some online lines which might raise some eyebrows in Okoboji, Iowa. One example is the link between BabyRainbow and the site Chaturbate.
My research team spotted the similarity quickly. Amazon, if it does know about the coincidence, has not taken action for the persona's Twitch versus NewRecs versus Chaturbate and some other "interesting" services which exist.
So either Twitch enforcement is ignoring certain behavior whilst punishing other types of behavior. Neither Amazon or Twitch is talking much about iBabyRainbow or other parental or law enforcement-type of actions.
The second development is the article "Will YouTube Ever Properly Deal with Its Abusive Stars?" The write up states:
YouTube has long had a problem with acknowledging and dealing with the behavior of the celebrities it helped to create… YouTube is but one of many major platforms eager to distance themselves from the responsibility of their position by claiming that their hands-off approach and frequent ignorance over what they host is a free speech issue. Even though sites like YouTube, Twitter, Substack, and so on have rules of conduct and claim to be tough on harassment, the evidence speaks to the contrary.
The essay points out that YouTube has taken action against certain individuals whose off YouTube behavior was interesting, possibly inappropriate, and maybe in violation of certain government laws. But, the essay, asserts about a YouTuber who pranked people and allegedly bullied people:
Dobrik's channel was eventually demonetized by YouTube, but actions like this feel too little too late given how much wealth he's accumulated over the years. Jake Paul is still pulling in big bucks from his channel. Charles was recently demonetized, but his follower count remains pretty unscathed. And that doesn't even include all the right-wing creeps pulling in big bucks from YouTube. Like with any good teary apology video, the notion of true accountability seems unreachable.
To what do these two example sum? The Big Tech companies may have to add law enforcement duties to their checklist of nation state behavior. When a government takes an action, there are individuals with whom one can speak. What rights does talent on an ad-based platform have. Generate money and get a free pass. Behave in a manner which might lead to a death penalty in some countries? Keep on truckin'? The online ad outfit struggles to make clear exactly what it is doing with censorship and other activities like changing the rules for APIs. It will be interesting to see what the GOOG tries to do.
Consider this: What if Mr. Dobrik and iBabyRainbow team up and do a podcast? Would Apple and Spotify bid for rights? How would the tech giants Amazon and Google respond? These are questions unthinkable prior to the unregulated, ethics free online world of 2021.
Stephen E Arnold, April 26, 2021
Here in Harrod's Creek, everyone — and I mean everyone, including my phat, phaux phrench bulldog — loves Google. After reading "Why I Distrust Google Cloud More Than AWS or Azure" it is quite clear that the post in iAsylum.net is authored by someone who would find our Harrod's Creek perception off base.
The write up contains some salty language. On the other hand, there are a number of links to information supportive of the argument that Google cannot be trusted. Now trust, like ethics, is a slippery fish. In fact, I am not sure my trust checkbook has much value today.
The main point of the iAsylum write up is that Alphabet Google cannot be trusted. The principal reasons are that Google changes prices and acts in capricious ways. Examples range from Google Map fees to the GOOG's approach to developers.
The most painful point for us lovers of all things Google was the question in the essay:
Will Google Cloud even exist a decade from now?
That's a difficult question to answer. Some companies are predictable. Amazon's Bezos bulldozer moves in quite specific directions. True, it can swerve to avoid a large rock, but for the most part, the Bezos bulldozer's actions are not much of a surprise. Got a hot product? Amazon may just happen to have one too. No surprises.
Google is unpredictable. There's the HR and ethics mess in the AI unit. There's the spate of legal challenges about the firm's approach to advertising. There's the search service which returns some darned interesting results, often not related to the query the user submitted.
For those of us in Harrod's Creek, worries about the future should be factored into our lives. But for now, we love those Google mouse pads. Our last remaining mouse pad is now yellowed and cracking. But it once was a spiffy thing.
Let me rephrase the iAsylum question:
Will Google Cloud evolve like my Google mouse pad?
Stephen E Arnold, April 23, 2021