Misio? Strange word. It means "street person."
Is it me, or does this feel like a PR move? CanIndia reports, "Google Launches AI Academy for Small Newsrooms." "We from Google and we are here to help small news outfits." Right. The brief write-up tells us about the project, dubbed JournalismAI:
"In a bid to help small media publishers reach new audiences and drive more traffic to their content, the Google News Initiative (GNI) has launched a training academy for 20 media professionals to learn how Artificial Intelligence (AI) can be used to support their journalism. Google is partnering with Polis, the London School of Economics and Political Science's journalism think tank, to launch the training academy, it said in a statement on Thursday. The AI Academy for Small Newsrooms is a six-week long, free online programme taught by industry-leading journalists and researchers who work at the intersection of journalism and AI. It will start in September this year and will welcome journalists and developers from small news organisations in the Europe, Middle East, and Africa (EMEA) region."
Wow, free to 20 professionals. Don't be too generous, Google. We are told these lucky few will gain practical knowledge of AI technology's challenges and opportunities like automating repetitive tasks and determining which content engages audiences. They will each emerge with an action plan for implementing AI projects. For journalists not fortunate enough to be enrolled in the course, the GNI has made its training modules available online. In fact, more than 110,000 folks have taken advantage of these materials. Then why bother with this "AI Academy?" I suspect because it reads better for PR purposes than "online learning module." Just a hunch.
Cynthia Murrell, August 2, 2021
I read "Murdochs' Sky News Australia Suspended From YouTube Over COVID-19 Misinformation." Wow. I thought the Google and Australian publishers were best friends forever. Both are refined, elegant, and estimable organizations. Okay, there are those allegations about monopolistic behavior and the deft handling of the Dr. Timnit Gebru matter. But, hey, Google is great. And there is the Mr. Murdoch empire. The phone tapping thing is a mere trifle.
The write up explains:
The video hosting site said in a statement Sunday that the suspension was dealt over videos allegedly denying the existence of COVID-19 and encouraging people to use untested experimental drugs like hydroxychloroquine to treat the virus. "We apply our policies equally for everyone and in accordance with these policies and our long-standing strikes system, removed videos from and issued a strike to Sky News Australia's channel," a YouTube spokesperson said in a statement to Reuters.
Equality is good. Are employees at Google treated equally? The cafeteria thing is small potatoes because real employees can work from their home or vans or whatever.
Pretty exciting stuff. I thought Google and Australian publishers were in a happy place. But Covid imposes stress on BFFs obviously.
Stephen E Arnold, August 2, 2021
An article at Wired reminds us that Google Search is not the objective source of information it appears to many users. We learn that "A New Tool Shows How Google Results Vary Around the World." Researchers and PhD students Rodrigo Ochigame of MIT and Katherine Ye of Carnegie Mellon University created Search Atlas, an experimental Google Search interface. The tool displays three different sets of results to the same query based on location and language, illustrating both cultural differences and government preferences. "Information borders," they call it.
The first example involves image searches for "Tiananmen Square." Users in the UK and Singapore are shown pictures of the government's crackdown on student protests in 1989. Those in China, or elsewhere using the Chinese language setting, see pretty photos of a popular tourist destination. Google says the difference has nothing to do with censorship—they officially stopped cooperating with the Chinese government on that in 2010, after all. It is just a matter of localized results for those deemed likely to be planning a trip. Sure. Writer Tom Simonite describes more of the tool's results:
"The Search Atlas collaborators also built maps and visualizations showing how search results can differ around the globe. One shows how searching for images of 'God' yields bearded Christian imagery in Europe and the Americas, images of Buddha in some Asian countries, and Arabic script for Allah in the Persian Gulf and northeast Africa. The Google spokesperson said the results reflect how its translation service converts the English term 'God' into words with more specific meanings for some languages, such as Allah in Arabic. Other information borders charted by the researchers don't map straightforwardly onto national or language boundaries. Results for 'how to combat climate change' tend to divide island nations and countries on continents. In European countries such as Germany, the most common words in Google's results related to policy measures such as energy conservation and international accords; for islands such as Mauritius and the Philippines, results were more likely to cite the enormity and immediacy of the threat of a changing climate, or harms such as sea level rise."
Search Atlas is not yet widely available, but the researchers are examining ways to make it so. They presented it at last month's Designing Interactive Systems conference and are testing a private beta. Of course, the tool cannot reveal the inner workings of Google's closely held algorithms. It does, however, illustrate the outsized power the company has over who can access what information. As co-creator Ye observes:
"People ask search engines things they would never ask a person, and the things they happen to see in Google's results can change their lives. It could be 'How do I get an abortion?' restaurants near you, or how you vote, or get a vaccine."
The researchers point to Safiya Noble's 2018 book "Algorithms of Oppression" as an inspiration for their work. They hope their project will bring the biased nature of search algorithms to the attention of a broader audience.
Cynthia Murrell, July 28, 2021
If you are not familiar with "Google Data APIs Client Library (1.41.1)," it is worth a look. You will notice that there is a table of contents to:
An industrious online search wizard can locate other APIs consigned to the Google bit bin; for example, Transformics' contributions and the much-loved Orkut (loved at least by some innovating individuals in Brazil and a handful of lawyers).
Fresh from this walk down API Memory Lane, navigate to "How Google Cloud Plans to Kill Its 'Killed By Google' Reputation." The write up reports:
Under the new Google Enterprise APIs policy, the company is making a promise that its services will remain available and stable far into the future….The announcement is clear recognition of widespread feedback from Google Cloud customers and outright derision in several corners of the internet regarding Google's historic reputation for ending support for its APIs without sufficient notice or foresight. The canonical example was probably the company's decision to shutter Google Reader in 2013 with just a couple of months' notice, which led to a torrent of criticism that persists today.
Google doesn't want to leave any customer behind. How did that type of assertion work out for "No Child Left Behind"?
The "new" Google wants to be the "real" Google. That's going to be a hill to climb with the Bezos bulldozer reworking the cloud landscape and Microsoft (the all time champion of great security) leveraging the brilliant individuals trying to use Excel and Word.
Yasmine El Rashidi allegedly said:
When you have a dream and someone makes promises they keep breaking, it is hard to recover. You lose hope.
What's this mean for the ad supported Google? Will you promise to give a honest answer and provide factual back up? Yikes, your proof was in disappeared photos on a deprecated Google service. Thus, whatever you wish to say is meaningless at this time. Maybe there is a copy on Google's never forget subsystem?
Stephen E Arnold, July 27, 2021
Ycombinator included a comment from someone. That comment was flagged. However, the information in the original comment and the observations offered by Ycombinator users are interesting. The information reveals what I characterize as an escalating battle between those who view YouTube videos and YouTube itself. (I am not going to discuss the escalating tension between "creators," YouTube, and the service Odysee.com.)
First, the Ycombinator item contains this statement:
YouTube is still not happy. Today when I opened the app on my phone, it still showed me an add. It is infuriating at least. This won't probably make it, but I needed to share. https://imgur.com/a/BM7XoTe
So what? The flagged poster subscribed to YouTube and YouTube still displays advertisements.
Second, the comments include the tools which one can use to block YouTube's charming and highly relevant, on point, information packed advertisements; for example:
Adguard

Arachnoid

Cercube

Invidious

SmartTube

Sponsorblock

uBlock Origin

Vanced
Third, the fact that YouTube is becoming a cable-tv like operation is interesting as well.
Net net: Do you hear that tick tock? Maybe it is spelled TikTok?
Stephen E Arnold, July 26, 2021
I read "Google Leader Quits, Alleging Corporate Racism." As a stellar American baseball professional allegedly said, "It's déjà vu all over again." The allegedly accurate real news story stated:
Ashley Ray-Harris, a project leader for Google content creation, quit the company, saying in an email to Google that she experienced "some of the worst bureaucratic, corporate racism" that she "ever experienced." "At a certain point I realized that even if you find a team that makes you feel welcomed, we still work within a company that views Black women as lesser than even as we sacrifice our mental health and work/life balance for this company," Ray-Harris wrote in her resignation letter, which she posted to Twitter on Friday evening [July 16, 2021].
Several observations:
Recruiters representing may have to some convincing in order to attract certain talented individuals.
High school science club management principles are remarkably effective at generating publicity around high profile experts who quit on the very high school-centric service Twitter.
SHRM might be able to do a session about the Google HR methods.
As the wise Yogi Berra allegedly said: "How can you think and hit at the same time?"
Another strike called.
Stephen E Arnold, July 23, 2021
Navigate to this Google "documentation" page: "Abuse Program Policies and Enforcement."
Now a quick exam to determine how Googley you are. Keep your answers brief because you don't want to exceed Google storage limits.
What do these words mean?
Sites
Positive
Abide
Artistic
Scientific
Considerations
Delete content
Abuse.
I think these mean censorship. What do you think? More important, I assume, is what Google thinks. Wait, does Google think? It is a giant corporation which used its intellectual capabilities to craft what I call the Timnit Gebru strategy?
Stephen E Arnold, July 23, 2021
Big news zipping around. China and Facebook criticized by some in the US government. Another cyber threat intelligence company purchased by a cyber security specialist in order to — wait for it — become more cyber security capable. The Bezos blast. The Delta variant. Spoiled trip for some vacationers looking forward to a safari in Kruger National Park. And, who can overlook, the publicity implosion for a Israeli special services company?
I almost overlooked "Google Uses Its Dominance to Artificially Prop Up Products in New, Unrelated Sectors, Says a Former Senior Exec." Please, keep in mind that you will have to pay to read this write up on the "real" news site Business Insider. Yikes, a Xoogler explaining that as he cashed paychecks, the outfit writing those checks gnawed at his conscience. Remarkable.
What jumped out at me other than a Xoogler criticizing the estimable Google.
First, the story is easily overlooked in the rush of tech-related news.
Second, the Xoogler who founded a for-fee (no ads yet) search engine allegedly said:
"It is not right for one company to take the massive profits generated in one area to artificially prop up and achieve dominant positions in other completely unrelated areas," said Ramaswamy.
My hunch is that the Google might take issue with that statement. Opinions are still permitted, but the "real" words spoken by a former Google professional who cashed those Google checks might irritate some at the Google. What do you think?
Third, I found this statement interesting:
Insider approached Google for comment.
I assume that Google either did not get the call or email, didn't want to respond, or simply did not care. Xooglers are no longer Googlers. When one is not a Googler, one is not a priority. No wonder the comment about "propping up" is not getting traction. I think the word I would suggest if some wizard at Google asked me about the comment is "synergy"; for example, synergy allows Google products and services to cooperatively interact to generate a combined effect greater than the sum of each component's effect. Not a prop. Intentional synergism. MBAs and accountants understand this basic idea for maximizing return. Props are for theater majors.
Stephen E Arnold, July 20, 2021
Many news sources reported that the French government has put a price tag on Google's content frivolities. The fine is in the neighborhood of $600 million. To put this in perspective, Google generates about $600 million a day in revenue, so no big deal.
CNBC's "Google Hit with Record $593 Million Fine in France over News Copyright Battle" reports:
Google was ordered to present an offer of remuneration to publishers within two months, or risk facing fines of up to 900,000 euros per day.
From a practical point of view, Google will work out a plan. The plan will be discussed over numerous two-hour lunches, and then revised if warranted. If agreement is not reached, Google will seek redress in an appropriate manner. Google could write a check, threaten Apple-style to pull out of the country, or embrace the fascinating French legal system. Keep in mind that red tape is allegedly an invention of the Spanish has been a favorite method in France for centuries.
I found the Russian viewpoint interesting. "France slaps Google with Biggest Fine Ever of €500 Million for Failing to Comply with Copyright Rules" states:
The US company expressed upset at the French authority's decision in a statement: "We have acted in good faith during the entire negotiation period. This fine does not reflect the efforts put in place, nor the reality of the use of news content on our platform." The battle between Google and French publishers, including Agence France-Presse, has been going on since early 2020. Despite Google claiming that it has acted appropriately, French publishers insist that the company has used copyrighted articles and images without fairly paying the original authors under the EU "neighboring rights" rule. In February, Google was forced to pay out $76 million dollars to 121 French news outlets, with $22 million to be paid annually over three years.
The French fine might encourage other European Union entities to take a harder line with regard to what Google has been doing for the last 20 years. If that happens, the fines might consume a week or two of Google's revenue. This begs the question, "What's the point?" Either regulators take action that incentivizes different behavior at Google or just use the money, buy a good Beaujolais, rent a super yacht, and cruise to Antarctica to look at the big penguins.
Stephen E Arnold, July 13, 2021
I read "Site Republishes Comics Strips Circulated Internally at Google." I am not sure this is the type of humor which makes Google top dogs chuckle with delight. In fact, creating fungible evidence of Google foibles is probably a bad idea. The write up points out:
Goomics collects comics strips that went around inside Google. Many concern abstruse industry topics; some offer an insight on the company's politics, inefficiencies and cultural problems.
Navigate to Goomics and here's what was on display on July 9, 2021: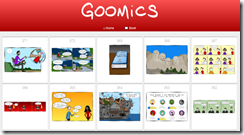 Laughing with tears in your eyes yet?
Google, like most of the technopolies, is a hoot. Take Google's management handling of human resource issues related to ethical artificial intelligence. That phrase on its own is funny. Now visualize the set of the 1950 TV show "You Bet Your Life." George Fenneman asks Groucho Marx: Would you work in Google artificial intelligence ethics unit? Groucho: Ethics? In AI? Audience laughs for 10 seconds.
One of the Goomics which caught my eye shows the Google motto "Don't be evil" with the statement "Pray that nobody notices." Once again, really funny. Evil? Ho ho ho.
And those Googlers. A hoot as I said.
Stephen E Arnold, July 13, 2021