A couple of years ago, I provided those in my LE and intel lectures with the names of some online recruiting services which say things like:
Hire Silicon Valley-caliber engineers at half the cost
The number of outfits offering programmers with in-demand skills is large. Do these "remote" employees have: [a] full time jobs at big tech firms, [b] work remotely with supervision from an indifferent 20 something or Microsoft Teams-type monitoring functions, or [c] have automated a full-time job so that an eight hour work day can be used to generate income from gig work or another full-time job?
I read "Wipro Chairman Rishad Premji Fires 300 Employees for Secretly for Moonlighting." [Note: this item appeared in India and the provider of the content can be disappeared at any time or charge for access to the full text. There's not much I can do to ameliorate this issue.] The article states:
Wipro has terminated 300 employees found to be moonlighting with its key rivals at the same time, its Chairman Rishad Premji said on Wednesday [September 21, 2022] . Speaking at the All India Management Association (AIMA) National Management Convention, Premji termed moonlighting is a complete violation of integrity "in its deepest form". "The reality is that there are people today working for Wipro and working directly for one of our competitors and we have actually discovered 300 people in the last few months who are doing exactly that," the Wipro Chairman said. The company has now terminated their employment for "act of integrity violation".
I find the action of Mr. Premji instructive. I wonder why US-based high-tech firms do not take the same action.
The point I made in my lecture is that bad actors can pass themselves off as legitimate businesses just based in some interesting city like Athens, Greece. The technical skills required are advanced and not directly connected to anything other than helping a jewelry company or online egame service implement a resilient network. The person responding to this opportunity may have requisite experience working at a big US high tech company. The person does the work and forgets about the project. However, the entity doing the hiring is a bad actor. The task completed by the US high tech engineer snaps into a larger set of work.
Should the online recruitment outfit perform more due diligence on what looks like a legitimate company selling fountain pens or plumbing equipment in another country? The answer is, "Sure." That's not the case. Based on our research none of the recruiters or the gig workers did much if any investigation of the hiring outfit. If a company paid the matchmaker and the gig worker, that was the proof of appropriate activity.
The reality, which I described in my lecture, is that insiders are making it easy for bad actors to learn about certain companies. Furthermore, the simple and obvious coding task is just one component in what can be an illegal online operation. The example I provided to the LE and analysts in my lecture was an online streaming service with an illegal online gambling "feature."
I can hear the senior managers' excuses now:
"Our employees are prohibited from doing outside work." [Yeah, but does anyone validate this assertion?]
"We have a personnel department which works closely with our security team to prevent this type of insider activity." [Yeah, but telling me this is cheaper and easier than reporting on specific data compiled to reduce this type of activity, right?]
"Our contractors are moderated and subject to the same security procedures as our work-from-home full time staff? [Yeah, but does anyone really know how that contractor located in another company actually operates?]k
Net net: Mr. Premji is on the right track. FYI: WiPro was founded in 1945 and the firm took action on this matter after 77 years. Speedy indeed.
Stephen E Arnold, September 28, 2022
Ah, the Zuckbook or the Meta-thing. I can never remember the nomenclature. I thought about the estimable company after I read "Meta Defends Safe Instagram Posts Seen by Molly Russell." I suppose I should provide a bit of color about Ms. Russell. She was the British school girl who used the digital Zuck-ini's Instagram recipe for happiness, success, and positive vibes.
However, in Ms. Russell's case, her journey to community appears to have gone off the rails. Ms. Russell was 14 when she died by suicide. The Meta-thing's spokesperson for the legal action sparked by Ms. Russell's demise said:
Ms Lagone told the inquest at North London Coroner's Court she thought it was "safe for people to be able to express themselves" – but conceded two of the posts shown to the court would have violated Instagram's policies and offered an apology about some of the content. Responding to questioning, she said: "We are sorry that Molly viewed content that violated our policies and we don't want that on the platform."
Move fast and break things was I believe a phrase associated with the Zuck-ini's garden of delights. In Ms. Russell's case the broken thing was Ms. Russell's family. That "sorry" strikes me as meaningful, maybe heart felt. On the other hand, it might be corporate blather.
Macworld does not address Ms. Russell's death. However, the article "Despite Apple's Best Efforts, Meta and Google Are Still Out of Control." The write up explains that Apple is doing something to slow the stampeding stallions at the Meta-thing and Googzilla.
I noted this passage:
There is a great potential for this [data gathered by certain US high-technology companies] information to be misused and if we in the United States had any sort of functional government, it would have made these sales illegal by now.
My question: What about the combination of a young person's absorbing content and the systems and methods to display "related" content to a susceptible individual. Might that one-two punch have downsides?
Yep. Is there a fix? Sure, after two decades of inattention, let's just apply a quick fix or formulate a silver bullet.
But the ultimate is, of course, is to say, "Sorry." I definitely want to see the Zuck-ini stuffed. Absent a hot iron poker, an Italian sausage will do.
Stephen E Arnold, September 28, 2022
At a conference last week, I had to work hard to avoid getting annoyed at 20 somethings: Fiddling with mobiles, looking bored, and tapping on laptops. I stayed on course.
Not at the Google apparently. "Google CEO Pichai Tells Employees Not to 'Equate Fun with Money' in Heated All-Hands Meeting." I have zero idea if this news story is spot on, nor do I care. The factoids might be disinformation bought and paid for by a disgruntled lobbying or a person unhappy with Google's objective search results spiel.
But the write up is entertaining and it is suggestive, at least to me.
First, I chuckled at the "heated" all hands meeting. I have heard that in the Brin Page do no evil era, meetings were often fun. Heck, I have reasonably accurate information about Mr. Brin's arriving at a meeting with Sumner Redstone. Mr. Brin exuded fun because he had been roller blading and arrived with skates on and fruit bootin garb. Mr. Redstone was not amused too much. If the write up's headline reflects reality and not a quest for clicks, "heated" does not refer to sweaty wizards. Heated means angry, annoyed, maybe out of control? Huh, not cool.
Second, I spotted this comment in the write up:
Pichai admitted that it's not just the economy that's caused challenges at Google but also an expanding bureaucracy at Google.
High school science club management appears to fall short of what's needed to make the Alphabet Google YouTube DeepMind entity walk like a neurological digital dinosaur should. Wobblies and poor coordination do not send positive signals to big time Wall Street wolves.
Third, this compensation point resonated with me:
Pichai dodged employee questions asking about cost-cutting executive compensation. Pichai brought in total pay last year of $6.3 million, while other top executives made more than $28 million.
Is "dodged" the right word? Probably not, but to a wizard manager getting plastered with the word "dodged" is not positive PR. But, hey, this is the outfit which fired Dr. Timnit Gebru for pointing out one type of error association with Google's smart software. Does that lack of intelligence extend to the managing humanoids at the Google? What about Google's compensation plan for leadership versus a young programmer working on single sign on? Good question maybe?
Fourth, I found this passage thought provoking:
"I'm a bit concerned that you think what we've done is what you would define as aggressive cost saving," he said. "I think it's important we don't get disconnected. You need to take a long-term view through conditions like this." He added that the company is "still investing in long-term projects like quantum computing," and said that at times of uncertainty, it's important "to be smart, to be frugal, to be scrappy, to be more efficient."
I think this illustrates what I would call a disconnect between the life in carpet land and the programmer-eat-marketer environment of the Foosball table. Disconnects? Is Android fragmented? Does Google have what it takes to catch up with Amazon and Microsoft in cloud space?
Has AGYD solved death? I know that Google may be looking a bit like a senior citizen struggling with the reality of arteriosclerosis. Will walkers, crutches, and wheelchairs be on display at the next big time all hands meeting?
That would be a significant signal in my opinion.
Stephen E Arnold, September 28, 2022
I am not familiar with the censorship action described in "The U.S. Government's Vast New Privatized Censorship Regime."
One passage struck me as interesting; to wit:
At least 11 federal agencies, and around 80 government officials, have been explicitly directing social media companies to take down posts and remove certain accounts that violate the government's own preferences and guidelines for coverage on topics ranging from COVID restrictions, to the 2020 election, to the Hunter Biden laptop scandal.
One of the characteristics of any government, including the US government, is that coordination across, among, and between agencies and individuals is time consuming, difficult, and fraught with missteps. I have no doubt that any broad US government activity is difficult to set up, implement, and keep outside the ken of Washington Post-type investigative journalists. Furthermore, getting one — let alone a group — of Silicon Valley type high tech outfits to take prompt action runs counter to my experience. If a government professional wants to obtain information believed to be available to a high tech outfit, the process often begins with a form. If the government professional, a specific point of contact will be known to the official. A phone call, email, or text message may or may not elicit a response. I have heard such statements as "Wow, blue bubble green bubble problem", "I must have missed that email; I will look in my spam folder", and "Can you send a hard copy request via FedEx?' have been offered as reasons for typically slow responses to queries.
I know that information and outputs during the time of Covid was a bit of a challenge. I am not sure that anyone knew much about what others were doing. I will grant that the signals cited in the write up paint a picture of focused US government action concerning the conference and statement involved. But, if true, the actions are not what I would call "routine" behavior. Toss in third parties and the write up's description of purposeful action is even more anomalous. Maybe I worked in less organized government entities.
I wish I had a nickel every time a project on which I have worked was described differently from what was actually going on.
Nevertheless, the write up is interesting.
Stephen E Arnold, September 28, 2022
The right to be forgotten does not apply to the Cambridge Analytic matter. "MPs Formally Request Zuckerberg Answer Questions" reports:
Mark Zuckerberg has been sent a formal request to appear before MPs and answer questions regarding a growing scandal about user data.
Will the Zucker cooperate? I circled this passage:
Mr Collins [Damian Collins MP, the chair of the culture committee] wrote that the DCMS committee "has repeatedly asked Facebook about how companies acquire and hold on to user data from their site, and in particular about whether data had been taken without their consent. "Your officials' answers have consistently understated this risk, and have been misleading to the Committee," Mr Collins informed Mr Zuckerberg. "It is now time to hear from a senior Facebook executive with the sufficient authority to give an accurate account of this catastrophic failure of process."
I drew a yellow underline around several words and phrases:
Repeatedly asked
Data taken
Without their [Facebook users I presume] consent
Understated this risk
No bit time semantic sentiment analysis is required to get the idea that Mr. Collins is not going to give the Zucker a like.
But the best phrase in the article is Mr. Damien's analysis of how the Zuckbook implements its operations. Here's the phrase:
Catastrophic failure of process
Will the Zucker show up? Nah, that's where Nick Clegg. Is it true that Mr. Clegg enjoys slippery eel, olive oil, and salted butter tea sandwiches? The MPs may not enjoy these, however. Mr. Damien will want bloody red meat carved from the cows in line for slaughter. But that's just my opinion, just my opinion.
Zuck tartare, anyone?
Stephen E Arnold, September 27, 2022
"$35M Fine for Morgan Stanley after Unencrypted, Unwiped Hard Drives Are Auctioned"  raises an interesting question about security in an important company. The write up asserts:
The SEC action said that the improper disposal of thousands of hard drives starting in 2016 was part of an "extensive failure" over a five-year period to safeguard customers' data as required by federal regulations. The agency said that the failures also included the improper disposal of hard drives and backup tapes when decommissioning servers in local branches. In all, the SEC said data for 15 million customers was exposed.
Morgan Stanley. Outstanding. If the story is accurate, the auctioning of the drives fits with the parsimonious nature of banks in my experience. Banks like to accept money; banks do not like to output money. Therefore, selling old stuff is a matter of removing the detritus, notifying the person charged with moving surplus to a vendor, and cashing the check for the end of life, zero life clutter. Standard operating procedure? Probably. Does senior management know about hardware security for old gear? My hunch is that most senior managers know about [a] cross selling, [b] sparking deals, [c] getting on a talking head financial news show, and [d] getting the biggest bonus possible. Security is well down my hypothetical list.
Net net: Security is easy to talk about. Security requires management know how and attention to business processes, not just deals and bonus payments.
Stephen E Arnold, September 27, 2022
I spotted this rather small advertisement in the Wall Street Journal dead tree edition on September 22, 2022. (I have been on the road and I had a stack of newspapers to review upon my return, so I may have the date off by a day or two. No big deal.)
Here's the ad: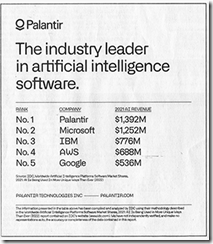 A couple of points jumped out. First, Palantir says in this smallish ad, "Palantir. The industry leader in artificial intelligence software." That's a very different positioning for the intelware centric company. I think Palantir was pitching itself a business intelligence solution and maybe a mechanism to identify fraud. Somewhere along the line there was a save the planet or save the children angle to the firm's consulting-centric solutions.
For me, "consulting centric solutions" means that software (some open source, some whipped up by wizards) is hooked together by Palantir-provided or Palantir-certified engineers. The result is a dashboard with functionality tailored to a licensee's problem. The money is in the consulting services for this knowledge work. Users of Palantir can fiddle, but to deliver real rock 'em sock 'em outputs, the bill by the hour folks are needed. This is no surprise to those familiar with migrations of software developed for one thing which is then, in a quest for revenues, is morphed into a Swiss Army knife and some wowza PowerPoint presentations and slick presentations at conferences. Feel free to disagree, please.
The second thing I noticed is that Palantir presents other leaders in smart software; specifically, the laggards at Microsoft, IBM, Amazon, and the Google. There are many ways to rank leaders. One distinction Palantir has it that it is not generating much of a return for those who bought the company's stock since the firm's initial public offering. On the other hand, the other four outfits, despite challenges, don't have Palantir's track record in the money department. (Yes, I know the core of Palantir made out for themselves, but the person I know in Harrod's Creek who bought shares after the IPO: Not a good deal at this time.
The third thing is that Google, which has been marketing the heck out of its smart software is dead last in the Palantir list. Google and its estimable DeepMind outfit is probably not thrilled to be sucking fumes from Microsoft, IBM, and the outstanding product search solution provider Amazon. Google has articles flowing from Medium, technical papers explaining the magic of its AI/ML approach, and cheerleaders in academia and government waving pom poms for the GOOG.
I have to ask myself why? Here's a breakdown of the notes I made after my team and I talked about this remarkable ad:
Palantir obviously thinks its big reputation can be conveyed in a small ad. Palantir is perhaps having difficulty thinking objectively about the pickle the company's sales team is in and wants to branch out. (Hey, doesn't this need big ads?)
Palantir has presented a ranking which is bound to irritate some at Amazon AWS. I have heard that some Palantir clients and some Palantir's magic software runs on AWS. Is this a signal that Palantir wants to shift cloud providers? Maybe to the government's go-to source of PowerPoint?
Palantir may want to point out that Google's Snorkeling and diversity methods are, in fact, not too good. Lagging behind a company like Palantir is not something the senior managers consider after a morning stretching routine.
Net net: This marketing signal, though really small, may presage something more substantive. Maybe a bigger ad, a YouTube video, a couple of TikToks, and some big sales not in the collectible business would be useful next steps. But the AI angle? Well, it is interesting.
Stephen E Arnold, September 27, 2022
I learned that Steve Ballmer — former, much loved leader of Microsoft for 14 culturally rewarding years — allegedly said something like "Google is a one-trick pony." Okay, where's the supporting data? One liners are not hyperlinked to Mr. Ballmer's detailed, Harvard-infused spreadsheet about the Google's business. Nah, Google sold online ads. Its inspiration came from outfits most 20 somethings struggle to associate with innovation; specifically, GoTo.com, Overture.com, and Yahoo.com. (The yodel might spark some awareness in young wizards, but probably not too many will think of the Big Bear creative who crafted the sound. (Factoid: The creator of the Yahoo yodel was the same person who did the catchy Big Mac jingle with the pickle on top. But you knew that, right?)
I thought of Mr. Ballmer and his understated, low energy style when I read "Gerrit Smit on Alphabet's Underappreciated Growth Drivers." Mr. Smit is a senior financial whiz at Stonehage Fleming. The company's objective is to get paid by people with money for services, which including advice. The firm's Web site says:
Supporting many of the world's leading families and wealth creators across generations and geographies
Since I live in rural Kentucky, it will not surprise you that I interpret this sentence to mean, "We advise and get paid whether the investment pays off or falls into the Mariana Trench."
The thesis of the article is that Alphabet Google YouTube DeepMind will grow no matter what happens to advertising, whether regulators keep nicking the estimable firm, or competitors like Amazon and TikTok continue to bumble forward with their lame attempts to get big and prosper.,
Mr. Smit offers:
Alphabet is one of the scarcer quality technology-driven companies with free options on further future organic growth drivers. It invests heavily in artificial intelligence, quantum computing, self-driving cars (Waymo) and biotechnology (Verily Life Sciences). It is particularly active in healthcare, having last year alone invested US$1.7-billion in visionary healthcare ideas, earning it fifth position of all companies in the Nature index (which tracks the success of scientific analysis in life sciences). It recently also completed the acquisition of Fitbit.
My instinct is to point out that each of these businesses can generate cash, but it is not clear to me that the volume of cash or its automated, bidding magic will replicate in these areas of "heavy" investment. Smart software continues to capture investor interest. However, there are some doubts about the wild and crazy claims about its accuracy, effectiveness, and political correctness. I like to point to the problem of bias, made vivid by AGYD's handling of Dr. Timnit Gebru and others employees who did not get with the program. I also enjoy bringing up Google's desire to "solve death" which has morphed into forays into America's ethically and intentionality-challenged health care sector. Perhaps Google's senior executives will find subrogation more lucrative than ad auctions, but I doubt it. Self driving cars are interesting as well. An errant WayMo will almost certainly drive demand for health care in some circumstances and may increase sales of FitBits in the event the person injured by a self-driving car follows a rehabilitation routine.
But these examples are "bets," long shots, or as AGYD likes to say "moonshots."
Yeah, great.
Here's another statement from Mr. Smit's "buy Google stock now" and "let us buy that stock for you" essay:
While Alphabet keeps reinvesting actively and last year spent over 12% of sales on research and development, it has built a strong record of generating excess free cash flow – in our view the main reason for investing in a stock, and the main determinant of the fundamental value of a business. Alphabet's free cash flow sometimes takes a large step upwards and then stabilises, but seldom takes a large step backwards. This clearly is of comfort to investors.
But Mr. Smit is hedging his rah rah:
The current economic outlook is particularly uncertain, and the overall advertising market may not impress for a while. Although Alphabet can easily "manage" its financial results by holding back investment in, say, Google Cloud, it is not so short-sighted. Regulatory risks have been looming for a long time, in essence resulting from the company's effectiveness.
Net net: Buy shares in AGYD… now. Monopolistic businesses have that special allure.
Stephen E Arnold, September 27, 2022
I heard that Amazon — the lovable online bookstore — is thinking about open source software in general and open source search specifically. This is just a hunch, based on comments bandied about in the vendors' area at a recent law enforcement conference. The attendees may not think much about Amazon as an ecosystem for bad actors but the vendors with whom I talk are:
Aware
Eager to use the AWS platform
Expressing varying degrees of concern.
Were these vendors representative of the cyber security community? Are you kidding? Were the conference attendees a cross section of the more than 100 US enforcement agencies? Nope.
So why do I mention this impression? Three reasons:
Amazon, like Microsoft, provides plumbing for a number of government entities and for some darned interesting cyber security vendors in the US and elsewhere (Hello, Israel?)
The US government is not a cohesive entity. One of the regulatory agencies, which I shall not name, is thinking hard thoughts about the friendly online bookstore. I have heard that third party seller activity (Amazon's and some seller), Amazon's human centric management approach, and some of Amazon's surfing on data generated by resellers, vendors, and possibly home shoppers are topics of interest.
Years ago, Amazon hired some Lucid Imagination open source search professionals and plopped the wizards in the Bezos Bulldozer's Burlingame office. Evolving from that "lucid" input, the venerable online bookstore engaged in a game of fork you with Elastic, a company associated with the open source Elasticsearch, for fee services, and a digital animal dubbed ELK.
These reasons cause me to recall one of the principal conclusions my team and I formulated when we wrote "Open Source Search Report" for a mid tier consulting firm. (Unsurprisingly the company changed hands and the study was split apart with individual chapters going for $3,000 each on — guess what online bookstore? Give up? It was Amazon.
I reflected on the conclusion in our monograph: Open source is the domain of large corporate entities. Why? Open source was pretty much free and could be changed. Plus, unpaid open source enthusiasts would find and fix software problems.
One of the reasons enterprise search in general and content processing in particular has been a company killer is that search is not an "application." Search is weirdly personal, and each enterprise search client wanted a system that would work for the many silos within an organizational structure.
The information super highway is littered with search road kill. Many of the names are long forgotten. When was the last time you longer for the francophone centric Delphis or the enterprise powerhouse Entopia?
Why am I thinking about Amazon and open source search?
I read "Open Source Bait and Switch" with the fetching and click magnet subtitle "When OSS advocacy goes too far & corporate greed takes over, free software is used as a tool to destroy competition and hurt the developer community."
I noted these statements in the article, which is in step with our 2011 research. (Yep, more than a decade ago, which I find interesting.)
let me highlight a couple of statements from the article which arrested my attention this morning (Monday, September 26, 2022).
Take Elastic search. They were open source and killing it. But AWS was forking and not really helping their bottom line. So Elastic changed their license to block AWS. AWS started their own fork. Some people vilify Elastic in this story but those people probably never had to fight Amazon for the survival of their business. In this case, both sides weaponised open source in a business fight.
Also:
I love open source and think it's remarkably important. That's why we shouldn't let corporations weaponize it.
And:
Major corporations use open source as a weapon to fight each other, we seem to benefit in the short term. But as they win the corporate mindset takes over and they double down on control.
What's shaking at Amazon? Based on my vantage point and my limited viewshed, I will hazard several observations:
Amazon wants to dominate via search and retrieval because it is a utility that is essential for next generate search based applications.
Amazon wants to strike at its competitors, which are estimable organizations obviously, and deprive them of any advantage these firms may be perceived to have when it comes to findability. Could these be great outfits like Google and Microsoft as well as annoying start ups like Algolia and the almost laughable Gulliver of search in Canada as well as an interesting entity morphing as I write this essay? (Want names? Sorry, not in a free blog, you silly goose.)
Amazon lacks imagination, and it is — in my opinion — manifesting the old Microsoft method of embrace, extend, and extinguish. Yep, extinguish. In my view, Amazon is showing other outstanding for profit entities how to attack competitors, community minded open source developers, and users of Amazon AWS simultaneously. None of the "special operation" thinking that has been in the news lately. Amazon is operating strategically and tactically with a single minded purpose. Split up the bookstore and each part will grow bigger than it is today.
Should I worry that my eBook won't arrive or the French bulldog's winter coat fail to show up tomorrow? Nah. What about open source, the community thing, the free thing. Yep, worry is good.
Stephen E Arnold, September 26, 2022
I have no idea about Amazon's lobbying efforts. I don't want to know. The money spent on DC insiders and Beltway Bandits makes me wish I still lived in the DC area. Selling work? Not too tough for those with connections. Heh, heh, if you know what I mean. Also, I am not confident that the modern RNA treatment for Potomac Fever works. What is supposed to chug along with reasonable predictability is influence peddling.
"Amazon Loses Effort to Exclude Jassy and Bezos from Testifying in FTC Prime Probe" seems to highlight an instance when events don't go according to a plan. I learned from the allegedly real news CNBC story:
The Federal Trade Commission late Wednesday rejected Amazon's bid to exclude CEO Andy Jassy and founder Jeff Bezos from testifying in a probe into the retail giant's Prime program.
I can hear the "Commissioner, thank you for that question. I don't know the complete answer. I will have the information you request sent to your office, etc, etc."
Prime is a subscription or membership or a knock off of a low rent country club. Members get special treatment; for example, Thursday night football games, allegedly better-faster-cheaper delivery, and benefits at an Amazon grocery store like free delivery. Sorry, strike that free delivery for any Prime member. There's even a page which explains what a member-subscriber-spender gets at this link and here.
The write up says:
The FTC has been investigating sign-up and cancellation processes for Amazon's Prime program since March 2021. The agency is looking into whether Amazon deceives users into signing up for Prime, while failing to provide a simple way to cancel and avoid recurring charges. The Prime subscription program, which costs $139 a year and includes perks like free shipping, now has some 200 million subscribers worldwide. Amazon said last month it has been complying with the FTC's requests so far, producing some 37,000 pages of documents.
I am curious about other Amazon business activities which may warrant some scrutiny; for example, certain interesting content on Twitch, products which appear to be from a well known "brand" but are slightly different from those in old fashioned stores, and the mechanisms for charging for certain functions on AWS.
Amazon Fire up the C-SPAN, get the popcorn, and tally the number of "thank you for the question" answers. Exciting. A bit late in the Monopoly game, but good theater.
Lobbyists will be watching to learn what to put in their next pitch to the Amazonians assigned to make this hearing stuff go away.
Stephen E Arnold, September 26, 2022