Big tech companies like Google do not respect users' privacy rights. Yes, these companies have privacy statements and other legal documents that state they respect individuals' privacy but it is all smoke and mirrors. The Verge has the lowdown on a privacy lawsuit filed against Google and a judge's recent decision: "$5 Billion Google Lawsuit Over 'Incognito Mode' Tracking Moves A Step Closer To Trial."
Chasom Brown, Willian Byatt, Jeremy Davis, Christopher Castillo, and Monique Trujillo filed a class action lawsuit against Google for collecting user information while in "incognito mode." Publicly known as Chasom Brown, et. Al v. Google, the plaintiffs seek $5 billion in damages. Google requested a summary judgment, but Judge Yvonne Gonzalez Rogers of California denied it.
Judge Gonzalez noted that statements in the Chrome privacy nonie, Privacy Policy, Incognito Splash Screen, and Search & Browse Privately Help page explains how Incognito mode limits information and how people can control what information is shared. The judge wants the court to decide if these notices act as a binding agreement between Google and users that the former would not collect users' data when they browsed privately.
Google disputes the claims and state that every time a new incognito tab is opened, Web sites might collect user information. There are other issues the plaintiffs and judge want to discuss:
"Another issue going against Google's arguments that the judge mentioned is that the plaintiffs have evidence Google 'stores users' regular and private browsing data in the same logs; it uses those mixed logs to send users personalized ads; and, even if the individual data points gathered are anonymous by themselves, when aggregated, Google can use them to 'uniquely identify a user with a high probability of success.''
She also responded to a Google argument that the plaintiffs didn't suffer economic injury, writing that 'Plaintiffs have shown that there is a market for their browsing data and Google's alleged surreptitious collection of the data inhibited plaintiffs' ability to participate in that market…Finally, given the nature of Google's data collection, the Court is satisfied that money damages alone are not an adequate remedy. Injunctive relief is necessary to address Google's ongoing collection of users' private browsing data.'"
Will Chasom Brown, et. Al v. Google go anywhere beyond the California court? Will the rest of the United States and other countries that have a large Google market, the European Union, do anything?
Whitney Grace, September 19, 2023

Note: This essay is the work of a real and still-alive dinobaby. No smart software involved, just a dumb humanoid.
A flurry of NSO Group news appeared in my newsfeeds this morning. Citizen Labs issued an advisory. You can find that short item in "BLASTPASSNSO Group iPhone Zero-Click, Zero-Day Exploit Captured in the Wild." Recorded Future, a cyber security company, published "Apple Discloses Zero-Days Linked." Variants of these stories are percolating, including British tabloid newspapers like The Metro. One message comes through: Update your iPhones.
The information makes clear that a vulnerability "path" appears to be blocked. That's good news. The firm which allegedly discovered the way into user mobile devices is the NSO Group. The important fact, at least for me, is that this organization opened its doors for business in 2010. The origin story, if one believes the information once can find using a free Web search engine, is that the company evolved from a mobile phone repair business. After repairing and tinkering, the founder set up a company to assist government agencies in obtaining information from mobile devices believed to be used by bad actors. Agree or disagree, the origin story is interesting.
What's important for me is that the time between the company's start up and the "good news" about addressing a vulnerability in certain devices has been a decade, maybe more. I don't have an opinion about whether the time window could have been closed more quickly. What's important to me is that the information is diffusing quickly. On one hand, that's beneficial to those concerned about the security of their devices. On the other hand, that's the starter's gun for bad actors to deploy another hard-to-spot exploit.
I have several observation about this vulnerability:
The challenge to those who create hardware and software is to realize that security issues are likely to exist. Those who discover these and exploit them, blindside the company. The developers have to reverse engineer the exploit and then figure out what their colleagues missed. Obviously this is a time consuming and difficult process. Perhaps 10 years is speedy or slow. I don't know. But an error made many years ago can persist and affect millions of device owners.
The bad actor acts and the company responsible for chasing down the flaw reacts. This is a cat-and-mouse game. As a result, the hardware and software developers are playing defense. The idea that a good defense is better than a good offense may not be accurate. Those initial errors are, by definition, unknown. The gap between the error and the exploit allows bad actors to do what they want. Playing defense allows the offense time to gear up something new. The "good guys" are behind the curve in this situation.
The fact that the digital ecosystem is large means that the opportunity for mischief increases. In my lectures, I like to point out that technology yields benefits, but it also is an enabler of those who want to do mischief.
Net net: The steady increase in cyber crime and the boundary between systems and methods which are positive and negative becomes blurred. Have we entered a stage in technical development in which the blurred space between good and bad has become so large that one cannot tell what is right or wrong, correct or incorrect, appropriate or inappropriate? Are we living in a "ghost Web" or a "shadow land?"
Stephen E Arnold, September 8, 2023

Note: This essay is the work of a real and still-alive dinobaby. No smart software involved, just a dumb humanoid.
I read "Data Act Will Make Digital Companies Handle Info under Legal Obligation." The article reports that India's regulators are beavering away in an attempt to construct a dam to stop certain flows of data. The write up states:
Union Minister of State for Electronics and Information Technology Rajeev Chandrasekhar on Thursday [August 17, 2023] said the Digital Personal Data Protection Act (DPDP Act) passed by Parliament recently will make digital companies handle the data of Indian citizens under absolute legal obligation.
What about certain high-technology companies operating with somewhat flexible methods? The article uses the phrase "punitive consequences of high penalty and even blocking them from operating in India."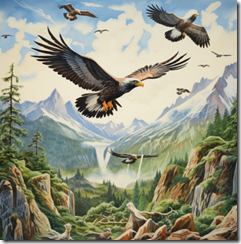 US companies' legal eagles take off. Destination? India. MidJourney captures 1950s grade school textbook art quite well.
This passage caught my attention because nothing quite like it has progressed in the US:
The DPDP [Digital Personal Data Protection] Bill is aimed at giving Indian citizens a right to have his or her data protected and casts obligations on all companies, all platforms be it foreign or Indian, small or big, to ensure that the personal data of Indian citizens is handled with absolute (legal) obligation…
Will this proposed bill become law? Will certain US high-technology companies comply? I am not sure of the answer, but I have a hunch that a dust up may be coming.
Stephen E Arnold, August 22, 2023
Ten Ways Apple Breaks its Privacy Promise to hear Apple tell it, the company makes protecting users' privacy a top priority. While it does a better job than Google or Meta, that is not saying much. Gizmodo describes "10 Apple Privacy Problems that Might Surprise You." Surprise? Nope, not us. Reporter Thomas Germain writes:
"Apple wants you to know that it cares about your privacy. For years, the company has emblazoned billboards with catchy slogans about its robust data protection practices, criticized tech rivals for their misuse of users' personal information, and made big pronouncements about how it shields users. There's no question that Apple handles your data with more care and respect than a lot of other tech companies. Unlike Google and Meta, parent company of Facebook and Instagram, Apple's business doesn't depend on mining and monetizing your data. But that doesn't mean owning an iPhone spells perfect privacy. Apple harvest lots of personal information, often in ways that you might not expect if you buy into the company's promise that 'what happens on your iPhone, stays on your iPhone.' It uses that information for advertising, developing new products, and more. Apple didn't comment on the record for this story."
Of course it didn't. Germain describes each of the 10 privacy problems, complete with links to further reading on each one. Here are his headings: Apple appears to track you even with its own privacy settings turned off; Apple collects details about every single thing you do in the app store; A hidden map of everywhere you go; You ask your apps not to track you, but sometimes Apple lets them do it anyway; Apple collects enough data from your phone to track the people you hang out with; Apple makes iMessage less private on purpose; Targeted ads; Think your VPN hides all your data? think again; How private are your conversations with Siri?; and finally, Harvesting your music, movie and stocks data—and a whole lot more. Though none of these points actually surprise us, it is a bit startling to see them all laid out together. Navigate to the article for the details on each, including ways to lock down iDevices to the limited extent possible.
Cynthia Murrell, January 18, 2023
An outfit call SC Magazine reported that the French cash registers — you know the quaint one with brass letters and the cheery red enamel — has chimed again. "Microsoft Fined $64 Million by France over Cookies Used in Bing Searches" reports:
France's privacy watchdog fined Microsoft €60 million ($64 million) for not offering clear enough instruction for users to reject cookies used for online ads, as part of the move to enforce Europe's tightening data protection law.
The write up noted:
Microsoft has been ordered to solve the issue within three months by implementing a simplified cookie refusal mechanism, or it could face additional fines of €60,000 a day…
It seems that some US companies do not take those French and EU regulations seriously. My suggestion to the Softies: France in not the US. Get on a couple of special lists and you may find some quality time in a glass room at CDG next time you visit. The good news is that US embassy personnel can visit you without too much red tape bedecking those gray suits.
Stephen E Arnold, January 2, 2023
I know I am in the minority. In fact, I may the only person in Harrod's Creek, Kentucky, thinking about Telegram and its technical evolution. From a humble private messaging service, Telegram has become the primary mechanism for armchair experts to keep track of Russia's special operation, send secret messages, and engage in a range of interesting pursuits. Is it possible to promote and sell CSAM via an encrypted messaging app like Telegram? Okay, that's a good question.
I noted another Telegram innovation which has become public. "No-SIM Signup, Auto-Delete All Chats, Topics 2.0 and More" explains that a person can sign up for the encrypted messaging service without having a SIM card and its pesky identifiers tagging along. To make sure a message about a special interest remains secret, the service allegedly deletes messages on a heartbeat determined by the Telegram user. The Telegram group function makes it possible for those who join a group to discuss a "special" interest to break up a group into sub groups. The idea is that a special interest group has special special interests. I will leave these to your imagination in the event you are wondering where some of the i2p and Tor accessible content has gone in the last few years.
As Telegram approach super app status for certain types of users, keep in mind that even the Telegram emoji have some new tricks. That little pony icon can do much more.
Stephen E Arnold, December 14, 2022
I noted "FBI Calls Apple's Enhanced iCloud Encryption Deeply Concerning As Privacy Groups Hail It As a Victory for Users." I am tempted to provide some historical color about Galileo, Jesuits, and infinitesimals. I won't. I will point out that schisms appear to be evident today and may be as fraught as those when data flows were not ripping apart social norms. (How bad was it in the 16th century? Think in terms of toasting in fires those who did not go with the program. Quite toasty for some.)
The write up explains:
Apple yesterday [December 7, 2022] announced that end-to-end encryption is coming to even more sensitive types of iCloud data, including device backups, contacts, messages, photos, and more, meeting the longstanding demand of both users and privacy groups who have rallied for the company to take the significant step forward in user privacy.
Who is in favor of Apple's E2EE push? The article says:
We [the Electronic Frontier Foundation] applaud Apple for listening to experts, child advocates, and users who want to protect their most sensitive data. Encryption is one of the most important tools we have for maintaining privacy and security online. That's why we included the demand that Apple let users encrypt iCloud backups in the Fix It Already campaign that we launched in 2019.
Across the E2EE chess board is the FBI. The article points out:
In a statement to The Washington Post, the FBI, the largest intelligence agency in the world, said it's "deeply concerned with the threat end-to-end and user-only-access encryption pose." The bureau said that end-to-end encryption and Apple's Advanced Data Protection make it harder for them to do their work and that they request "lawful access by design."
I don't have a dog in this commercial push for E2EE encryption which is one component in Apple's marketing of itself as the Superman/Superwoman of truth, justice, and the American way. (A 30 percent app store tariff is part of this mythic set up as well.) I understand the concern of the investigators, but I am retired and sitting on the sidelines as I watch the Grim Reaper's Rivian creep closer.
Several observations:
In the boundary between these two sides or factions, the emergent behavior will get around the rules. That emergent behavior is a consequence of apparently irreconcilable differences. The impact of this schism will reverberate for an unknown amount of time.
Absolutism makes perfect sense in a social setting where one side enjoys near total control of behavior, access, thoughts, etc. However we live in a Silicon Valley environment partially fueled by phenomenological existentialism. Toss in the digital flows of information, and the resulting mixture is likely to be somewhat unpredictable.
Compromise will be painful but baby steps will be taken. Even Iran is reassigning morality police to less riot inducing activities. China has begun to respond to increasingly unhappy campers in lock down mode. Like I said, Baby steps.
Net net: Security and privacy are a bit like love and Plato's chair. Welcome to the digital Middle Ages. The emergent middle class may well be bad actors.
Stephen E Arnold, December 12, 2022
Apple would have us believe it is a bastion of privacy protection. Though it talks a good game, Techdirt reports, "Apple Sued After Another Study Finds Its Well-Hyped Privacy Standards Are Often Theatrical." Researchers at software firm Mysk found Apple's data tracking basically ignores privacy settings altogether. The study prompted a lawsuit (pdf) under the California Invasion of Privacy Act. Write Karl Bode notes:
"This isn't the first time Apple's new privacy features have been found to be a bit lacking. Several studies have also indicated that numerous app makers have been able to simply tap dancing around Apple's heavily hyped do not track restrictions for some time, often without any penalty by Apple months after being contacted by reporters. That's a notably different story than the one Apple has gotten many press outlets to tell. Apple desperately wants to differentiate its brand by a dedication to privacy (as you might have noticed from the endless billboards that simply say: 'Privacy. That's iPhone.'). And while the company may certainly be better on privacy than many other large tech giants, that's simply not saying much."
Good point. The lawsuit observes that details about app usage can be "intimate and potentially embarrassing." Not to mention financially sensitive. This is why some of us have refused to bring our devices into every aspect of our lives; a suspicious nature pays off occasionally. Yep, Apple privacy… a bit lacking. No kidding?
Cynthia Murrell, December 2, 2022
DuckDuckGo advertises itself as the only search engine that protects users' privacy. While that used to be true, unfortunately it is no longer the case. The Register explains the details in, "Brave Roasts DuckDuckGo Over Bing Privacy Exception." Brendan Eich is the CEO of Brave, an Internet browser that blocks trackers, cookies, creepy ads, and simplifies privacy. Brave even boasts it can outmaneuver Mozilla Firefox, describing its services as limited. Eich stated that DuckDuckGo allows Microsoft Bing and LinkedIn trackers accessibility in its Android, macOS, and iOs browsers.
Eich pointed out that DuckDuckGo's contract with Microsoft exempted LinkedIn and Bing from being blocked. DuckDuckGo claims to Eich exaggerated the claim and he was referring to ad clicks. The search engine said its ads remain private. Privacytests.org tested Brave's assertion and they could only test the Android versions. Brave did block more ads and link tracking than DuckDuckGo. Arthur Edelstein runs privacytests.org and works for Brave. He claimed that he created privacytests.org before his Brave employment and that his tests are objective.
While the tests about Brave and DuckDuckGo might be biased, Big Tech can circumnavigate privacy blockers:
"In other words, here's how you route around privacy protections to measure your ads, whether people want this or not. Back in 2012, when Google agreed to pay a $22.5 million civil penalty to settle Federal Trade Commission charges that it misled Apple Safari users by stating it would not place tracking cookies or serve them targeted ads, the issue was the gap between what Google said and did.
Here we have Microsoft Bing Ads counseling customers how its technology facilitates tracking without third-party cookies, regardless of whether users have expressed the desire not to be tracked by adopting a privacy-oriented browser."
Currently, there are laws to protect users' privacy, but are only enforceable if the tracking is deemed deceptive. Google was fined for dropping cookies on Safari, but only when the search engine said it would not. California has a new regiment of privacy laws, which could set the standard for the US if someone in the state complains. Until then be aware you are being tracked and your history is sold.
And how did DuckDuckGo respond? Waddled backwards.
Whitney Grace, August 12, 2022
Like its colleagues in Netherlands and Germany, the Denmark data protection authority has taken a stand against Google's GDPR non-compliance. European secure-email firm Tutanota reports on its blog, "Denmark Bans Gmail and Co from Schools Due to Privacy Concerns." Schools in the Helsingør Municipality have until August 3 to shift to a different cloud solution. We learn:
"In a statement published mid July, the Danish data protection agency expresses 'serious criticism and bans … the use of Google Workspace'. Based on a risk assessment for the Helsingør Municipality, the data protection authority concluded that the processing of personal data of pupils does not meet the requirements of the GDPR and must, therefor, stop. The ban is effective immediately. Helsingør has until August 3 to delete pupil's data and start using an alternative cloud solution. … This decision follows similar decisions by Dutch and German authorities. The issues that governmental institutions see themselves faced with has started with the invalidation of Privacy Shield back in 2020. Privacy Shield has been a data transferring agreement between the USA and the European Union and was supposed to make data transfers between the two legally possible. However, the agreement has been declared invalid by the European Court of Justice (ECJ) in 2020 due to privacy concerns. One major problem that the EU court pointed out is that data of foreigners is not protected in the USA. The protections that are there – even if limited – only apply to US citizens."
So the NSA can gain unfettered access to the personal data of Europeans but not US citizens. We can see how authorities in the EU might have a problem with that. As the Danish agency notes, such a loophole violates rights considered fundamental in Europe. Not surprisingly, this Tutanota write-up emphasizes the advantages of a Europe-based email service like Tutanota. It is not wrong. It seems Denmark has woken up to the Google reality. Now what about Web-search tracking?
Cynthia Murrell, August 11, 2022