This essay is the work of a dumb dinobaby. No smart software required.
Amazon likes to make it as easy as possible for consumers to fork over their hard-earned cash on a whim. More steps between seeing a product and checking out means more time to reconsider a spontaneous purchase, after all. That is why the company has been working to integrate purchases into social media platforms. Payment-platform news site PYMNTS reports on the latest linkage in, "Amazon Extends Social Shopping Efforts with Snapchat Deal." Amazon's partnership with Meta had already granted it quick access to eyeballs and wallets at Facebook and Instagram. Now users of all three platforms will be able to link those social media accounts to their Amazon accounts. We are told:
"It's a partnership that lets both companies play to their strengths: Amazon gets to help merchants find customers who might not have actively sought out their products. And Meta's discovery-based model lets users receive targeted ads without searching for them. Amazon also has a deal with Pinterest, signed in April, designed to create more shoppable content by enhancing the platform's offering of relevant products and brands. These partnerships are happening at a moment when social media has become a crucial tool for consumers to find new products."
That is one way to put it. Here is another: The deals let Amazon take advantage of users' cognitive haze: scrolling social media has been linked to information overload, shallow thinking, reduced attention span, and fragmented thoughts. A recipe for perfect victims. I mean, customers. We wonder what Meta is getting in exchange for handing them over?
Cynthia Murrell, December 7, 2023

This essay is the work of a dumb dinobaby. No smart software required.
Harvard University has been on my radar since the ethics misstep. In case your memory is fuzzy, Francesca Gino, a big thinker about ethics and taking shortcuts, was accused of data fraud. The story did not attract much attention in rural Kentucky. Ethics and dishonesty? Come on. Harvard has to do some serious training to catch up with a certain university in Louisville. For a reasonable explanation of the allegations (because, of course, one will never know), navigate to "Harvard Professor Who Studies Dishonesty Is Accused of Falsifying Data" and dig in.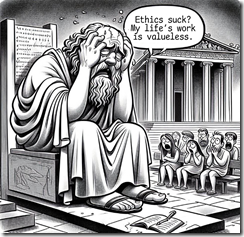 Thanks, MSFT Copilot, you have nailed the depressive void that comes about when philosophers learn that ethics suck.
Why am I thinking about Harvard and ethics? The answer is that I read "Harvard Gutted Initial Team Examining Facebook Files Following $500 Million Donation from Chan Zuckerberg Initiative, Whistleblower Aid Client Reveals." I have no idea if the write up is spot on, weaponized information, or the work of someone who did not get into one of the university's numerous money generating certification programs.
The write up asserts:
Harvard University dismantled its prestigious team of online disinformation experts after a foundation run by Facebook's Mark Zuckerberg and his wife Priscilla Chan donated $500 million to the university, a whistleblower disclosure filed by Whistleblower Aid reveals. Dr. Joan Donovan, one of the world's leading experts on social media disinformation, says she ran into a wall of institutional resistance and eventual termination after she and her team at Harvard's Technology and Social Change Research Project (TASC) began analyzing thousands of documents exposing Facebook's knowledge of how the platform has caused significant public harm.
Let's assume that the allegation is horse feathers, not to be confused with Intel's fabulous Horse Ridge. Harvard still has to do some fancy dancing with regard to the ethics professor and expert in dishonesty who is alleged to have violated the esteemed university's ethics guidelines and was dishonest.
If we assume that the information in Dr. Donovan's whistleblower declaration is close enough for horse shoes, something equine can be sniffed in the atmosphere of Dr. William James's beloved institution.
What could Facebook or the Metazuck do which would cause significant public harm? The options range from providing tools to disseminate information which spark body shaming, self harm, and angst among young users. Are old timers possibly affected? I suppose buying interesting merchandise on Facebook Marketplace and experiencing psychological problems as a result of defriending are possibilities too.
If the allegations are proven to be accurate, what are the consequences for the two esteemed organizations? My hunch is zero. Money talks; prestige walks away to put ethics on display for another day.
Stephen E Arnold, December 5, 2023

This essay is the work of a dumb dinobaby. No smart software required.
While parents and legal guardians are responsible for their kids screen time, the US government ruled that social media companies shoulder some responsibility for rotting kids' brains. The Verge details the government's ruling in the article, "Social Media Giants Must Face Child Safety Lawsuits, Judge Rules." US District Judge Yvonne Gonzalez Rogers ruled that social media companies Snap, Alphabet, ByteDance, and Meta must proceed with a lawsuit alleging their platforms have negative mental health effects on kids. Judge Gonzalez Rogers dismissed the companies' motions to dismiss the lawsuits that accuse the platforms of purposely being addictive.
The lawsuits were filed by 42 states and multiple school districts:
"School districts across the US have filed suit against Meta, ByteDance, Alphabet, and Snap, alleging the companies cause physical and emotional harm to children. Meanwhile, 42 states sued Meta last month over claims Facebook and Instagram "profoundly altered the psychological and social realities of a generation of young Americans." This order addresses the individual suits and "over 140 actions" taken against the companies."
Judge Gonzalez Rogers ruled that the First Amendment and Section 230, which say that online platforms shouldn't be treated as third-party content publishers, don't protect online platforms from liability. The judge also explained the lawsuits deal with the platforms' "defects," such as lack of a robust age verification system, poor parental controls, and a hard account deletion process.
She did dismiss other alleged defects that include no time limits on platforms, use of addictive algorithms, recommending children's accounts to adults, and offering a beginning and end to a feed. These are protected by Section 230.
The ruling doesn't determine if the social media platforms are harmful or hold them liable. It only allows lawsuits to go forward in court.
Whitney Grace, December 5, 2023

This essay is the work of a dumb dinobaby. No smart software required.
Social media is something I observe at a distance. I want to highlight the information in "X Is the Biggest Source of Fake News and Disinformation, EU Warns." Some Americans are not interested in what the European Union thinks, says, or regulates. On the other hand, the techno feudalistic outfits in the US of A do pay attention when the EU hands out reprimands, fines, and notices of auditions (not for the school play, of course).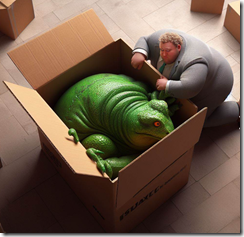 This historic photograph shows a super smart, well paid, entitled entrepreneur letting the social media beast out of its box. Now how does this genius put the creature back in the box? Good questions. Thanks, MSFT Copilot. You balked, but finally output a good enough image.
The story in what I still think of as "the capitalist tool" states:
European Commission Vice President Vera Jourova said in prepared remarks that X had the "largest ratio of mis/disinformation posts" among the platforms that submitted reports to the EU. Especially worrisome is how quickly those spreading fake news are able to find an audience.
The Forbes' article noted:
The social media platforms were seen to have turned a blind eye to the spread of fake news.
I found the inclusion of this statement a grim reminder of what happens when entities refuse to perform content moderation:
"Social networks are now tailor-made for disinformation, but much more should be done to prevent it from spreading widely," noted Mollica [a teacher at American University]. "As we've seen, however, trending topics and algorithms monetize the negativity and anger. Until that practice is curbed, we'll see disinformation continue to dominate feeds."
What is Forbes implying? Is an American corporation a "bad" actor? Is the EU parking at a dogwood, not a dog? Is digital information reshaping how established processes work?
From my point of view, putting a decades old Pandora or passel of Pandoras back in a digital box is likely to be impossible. Once social fabrics have been disintegrated by massive flows of unfiltered information, the woulda, coulda, shoulda chatter is ineffectual. X marks the spot.
Stephen E Arnold, November 2023

This essay is the work of a dumb dinobaby. No smart software required.
This dinobaby is not into social media. Those who are present interesting, often orthogonal views of the likes of Facebook, Twitter, and Telegram public groups.
"Concerning: Excessive Screen Time Linked to Lower Cognitive Function" reports:
In a new meta-analysis of dozens of earlier studies, we've found a clear link between disordered screen use and lower cognitive functioning.
I knew something was making it more and more difficult for young people to make change. In a remarkable demonstration of cluelessness, my wife told me that the clerk at our local drug store did not know what a half dollar was. My wife said, "I had to wait for the manager to come and tell the clerk that it was the same as 50 pennies." There are other clues to the deteriorating mental acuity of some individuals. Examples range from ingesting trank to driving the wrong way on an interstate highway, a practice not unknown in the Commonwealth of Kentucky.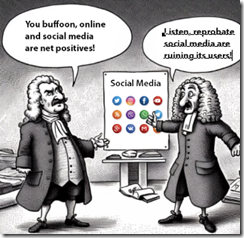 The debate about social media, online content consumption, and TikTok addiction continues. I find it interesting how allegedly informed people interpret data about online differently. Don't these people watch young people doing their jobs? Thanks, MSFT Copilot. You responded despite the Sam AI-Man Altman shock.
I understand that there are different ways to interpret data. For instance, A surprising "Feature of IQ Has Actually Improved over the Past 30 Years." That write up asserts:
Researchers from the University of Vienna in Austria dug deep into the data from 287 previously studied samples, covering a total of 21,291 people from 32 countries aged between 7 and 72, across a period of 31 years (1990 to 2021).
Each individual had completed the universally recognized d2 Test of Attention for measuring concentration, which when taken as a whole, showed a moderate rise in concentration levels over the decades, suggesting adults are generally better able to focus compared with people more than 30 years ago.
I have observed this uplifting benefit of social media, screen time, and swiping. A recent example is that a clerk at our local organic food market was intent on watching a video on his mobile phone. Several people were talking softly as they waited for the young person to put down his phone and bag the groceries. One intrusive and bold person spoke up and said, "Young man, would you put down your phone and put the groceries in the sack?" The young cognitively improved individual ignored her. I then lumbered forward like a good dinobaby and said, "Excuse me, I think you need to do your job." When he became aware of my standing directly in front of him, he put down his phone. What concentration!
Is social media and its trappings good or bad? Wait, I need to check my phone.
Stephen E Arnold, November 20, 2023

This essay is the work of a dumb humanoid. No smart software required.
I don't pay too much attention to the outputs from CNN. However, this morning I spotted a story called "Mark Zuckerberg Personally Rejected Meta's Proposals to Improve Teen Mental Health, Court Documents Allege." Keep in mind that the magic word is "allege," which could mean fakeroo.
Here's the passage I found thought provoking:
Meta CEO Mark Zuckerberg has personally and repeatedly thwarted initiatives meant to improve the well-being of teens on Facebook and Instagram, at times directly overruling some of his most senior lieutenants
If I interpret this statement, it strikes me that [a] the Facebook service sparks some commentary about itself within the company and [b] what a horrible posture for a senior manager to display.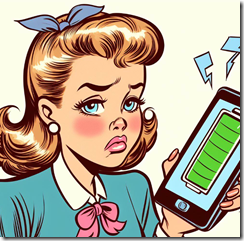 An unhappy young high school student contemplates a way to find happiness because she is, according to her social media "friends", a loser. Nice work, Microsoft Bing.
I am setting aside possible downstream effects of self mutilation, suicide, depression, drug use, and excessive use of lip gloss.
The article states:
Zuckerberg's rejection of opportunities to invest more heavily in well-being are reflective of his data-centric approach to management, said Arturo Bejar, the former Facebook engineering director and whistleblower who leveled his own allegations last week that Instagram has repeatedly ignored internal warnings about the app's potential harms to teens.
Management via data — That's a bit of the management grail for some outfits. I wonder what will happen when smart software is given the job of automating certain "features" of the Zuckbook.
With the Zuck's increasing expertise in kinetic arts, I would not want to disagree with this estimable icon of social media. My prudent posture is that an individual capable of allowing harm to young people has the capacity to up his game. I am definitely not Zucking up to this outfit even if the allegations are proved false.
Stephen E Arnold, November 9, 2023
xx
test

This essay is the work of a dumb humanoid. No smart software required.
Other than the eye-catching and underwhelming name change, X (formerly Twitter) has remained quiet. Users still aren't paying for the check mark that verifies their identity and Elon Musk hasn't garnered any ire. Mashable has the most exciting news about X and it relates to ads: "X Rolls Out New Ad Format That Can't Be Reported, Blocked."
X might be a social media platform but it is also a business that needs to make a profit. X has failed to attract new advertisers but the social platform is experimenting with a new type of ad. X users report act the new ads don't allow them to like tweet them. What is even stranger is that the ads do not disclose that they are advertisements or any other disclosure.
The ads consist of a photo, a fake avatar, and vague yet interesting text. They are disguised as a regular tweet. The new ads are of the "chumbox" quality, meaning they are low quality, spammy aka those clickbait ads at the bottom of articles on content farm Web sites. They're similar to the ads in the back of magazines or comic books that advertised for drawing schools, mail order gadget scams, and sea monkeys.
Chumbox ads point to X's failing profitability. Advertisers lost interest in X after Musk acquired the platform. X is partnering with third-party advertisers in the ad tech industry to sell available ad inventory. Google also announced a partnership with X to sell programmatic advertising.
Musk made another change that isn't sitting well with users:
"The new ad format arrives to X around the same time the company made another decision that makes the platform less transparent. Earlier this week, under a directive from Musk himself, X removed headlines and other context from links shared to the platform. Instead of seeing the title of an article or other link posted to X, users now simply see an embed of the header image with the corresponding domain name displayed like a watermark-like overlay in the corner of the photo. Musk said he made the change to how links were displayed because he didn't like the way it previously looked."
X as an advertising platform is doing a bang up job. Lots of advertisers. Lots of money. Lots of opportunity. I, however, am not sure I see X as does Mr. M.
Whitney Grace, November 9, 2023

This essay is the work of a dumb humanoid. No smart software required.
Scams have plagued social media since its inception and it's only getting worse. The FTC described the current state of social media scams in, "Social Media: A Golden Goose For Scammers." Scammers and other bad actors are hiding in plain sight on popular social media platforms. The FTC's Consumer Sentinel Network reported that one in four people lost money to scams that began on social media. In total people reported losing $2.7 billion to social media scams but the number could be greater because most cases aren't reported.
It's sobering the way bad actors target victims:
"Social media gives scammers an edge in several ways. They can easily manufacture a fake persona, or hack into your profile, pretend to be you, and con your friends. They can learn to tailor their approach from what you share on social media. And scammers who place ads can even use tools available to advertisers to methodically target you based on personal details, such as your age, interests, or past purchases. All of this costs them next to nothing to reach billions of people from anywhere in the world."
Scammers don't discriminate against age. Surprisingly, younger groups lost the most to bad actors. Forty-seven percent of people 18-19 were defrauded in the first six months of 2023, while only 38% of people 20-29 were hit. The numbers decrease with age and the decline of older generations not using social media.
The biggest reported scams were related to online shopping, usually people who tried to buy something off social media. The total loss was 44% from January-June 2023. Fake investment opportunities grossed the largest amount of profit for scammers at 53%. Most of the "opportunities" were cryptocurrency operations. Romance scams had the second highest losses for victims. These encounters start innocuous enough but always end with love bombing and money requests.
Take precautions such as making your social media profiles private, investigate if your friends suddenly ask you for money, don't instantly fall in love with random strangers, and research companies before you make investments. It's all old, yet sagacious advice for the digital age.
Whitney Grace, November 6, 2023

This essay is the work of a dumb humanoid. No smart software required.
Now that TikTok has become firmly embedded in US culture, regulators are finally getting around to addressing its purported harms. Utah joins Arkansas and Indiana in suing parent company ByteDance even as the US Supreme Court considers whether social-media regulation violates  the US Constitution. No, it is not the threat of Chinese spying that has Utah's Division of Consumer Protection taking action this time. Rather, Digital Trends reports, "TikTok Sued by Utah Over Alleged Child Addiction Harm." Yes, that's a big concern too. Writer Treavor Mogg tells us:
"Utah's filing focuses on the app's alleged negative impact on children, claiming that TikTok 'surreptitiously designed and deployed addictive features to hook young users into endlessly scrolling through the company's app.' It accused TikTok of wanting Utah citizens to 'spend as much time on its app as possible so it can place advertisements in front of them more often,' and alleges that the company 'misled young users and their parents about the app's dangers.' In damning comments shared in a statement on Tuesday, Utah Attorney General Sean D. Reyes said: 'I'm tired of TikTok lying to Utah parents. I'm tired of our kids losing their innocence and even their lives addicted to the dark side of social media. TikTok will only change if put at legal risk — and 'at risk' is where they have left our youth in exchange for profit and greed. Immediate and pervasive threats require swift and bold responses. We have a compelling case against TikTok. Our kids are worth the fight.'"
Reyes is not bluffing. The state has already passed laws to limit minors' social media usage, with measures such as verified parental consent required for sign-ups and even making accounts and messages accessible to parents. Though many are concerned the latter is a violation of kids' privacy, the laws are scheduled to go into effect next year.
But what about the other social media apps? Elon is not dragging his heels. And the Zuck? Always the Zuck.
Cynthia Murrell, November 3, 2023

This essay is the work of a dumb humanoid. No smart software required.
It's a common saying that if you aren't on social media you might as well not exist. Social media profiles are necessary to be successful in the modern world, but Business Insider claims that many people are spending less time glued to their screens: "Great News-Social Media Is Falling Apart."
Facebook, Instagram, Twitter, and other social media giants alienated their users with too much sponsored content and entertainment hubs. Large social media platforms are less about connections and more about generating revenue via clicks. Users are experiencing social network fatigue so they're posting less and even jumping ship. Users are now spending time group chats or on small, more intimate social platforms. On the small platforms, users are free from curated content and ads. They're also using platforms for specific groups or topics.
The current state of social media is a fractured, disconnected mess. New networks pop up and run the popularity gambit before they disappear. Users want a social media platform that connects everything with the niche appeal of small networks:
"Mike McCue, Flipboard's CEO, believes that the next big, social platform must bring together the benefits of both worlds, he said: 'the quality and trust in small, transparent communities with the ability for those quality conversations to reach millions." But instead of one platform that manages to appease everyone, the future of social media is looking more like a network of platforms that offer people a customized experience. The ideal system would not only allow you to migrate to new social apps without losing your network or profile but also link them together so that you could post on one and a friend could comment on it from another.'"
None of the smaller social media networks are making money yet but the opportunities are there. Users want a clean, ad-free experience similar to how Facebook and Twitter used to be. If decentralized social media platforms learn to connect, they'll give the larger companies a run for their money and end their monopolies.
Whitney Grace, November 2, 2023