Note: This essay is the work of a real and still-alive dinobaby. No smart software involved, just a dumb humanoid.
Do you remember the black and white pictures of the Pullman riots? No, okay. Steel worker strikes in Pittsburgh? No. Scuffling outside of Detroit auto plants? No. Those images may be helpful to get a sense of what newly disenfranchised MBAs and data wranglers will be doing in the weeks and months ahead.
"Databricks Revolutionizes Business Data Analysis with AI Assistant" explains that the Databricks smart software
interprets the query, retrieves the relevant data, reads and analyzes it, and produces meaningful answers. This groundbreaking approach eliminates the need for specialized technical knowledge, democratizing data analysis and making it accessible to a wider range of users within an organization. One of the key advantages of Databricks' AI assistant is its ability to be trained on a company's own data. Unlike generic AI systems that rely on data from the internet, LakehouseIQ quickly adapts to the specific nuances of a company's operations, such as fiscal year dates and industry-specific jargon. By training the AI on the customer's specific data, Databricks ensures that the system truly understands the domain in which it operates.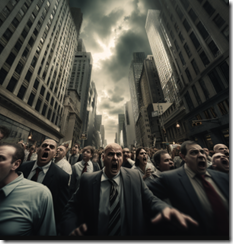 MidJourney has delivered an interesting image (completely original, of course) depicting angry MBAs and data wranglers massing in Midtown and preparing to storm one of the quasi monopolies which care about their users, employees, the environment, and bunny rabbits. Will these professionals react like those in other management-labor dust ups?
Databricks appears to be one of the outfits applying smart software to reduce or eliminate professional white collar work done by those who buy $7 lattes, wear designer T shirts, and don wonky sneakers for important professional meetings.
The DEO of Databricks (a data management and analytics firm) says:
By training their AI assistant on the customer's specific data, Databricks ensures that it comprehends the jargon and intricacies of the customer's industry, leading to more accurate and insightful analysis.
My interpretation of the article is simple: If the Databricks' system works, the MBA and data wranglers will be out of a job. Furthermore, my view is that if systems like Databricks works as advertised, the shift from expensive and unreliable humans will not be gradual. Think phase change. One moment you have a solid and then you have plasma. Hot plasma can vaporize organic compounds in some circumstances. Maybe MBAs and data wranglers are impervious? On the other hand, maybe not.
Stephen E Arnold, June 29, 2023
Here is an important resource for anyone seeking employment in the budding fields of crypto currency and blockchain technology—CryptoJobsList. The site currently hosts over four thousand opportunities for crypto currency and blockchain professionals. Each listing specifies at a glance the employer, the location (many are remote), how long the post has been up, how many applicants it has gotten, and whether it pays in crypto currency. Clicking on each, of course, leads to more details and an application link. Scrolling all the way to the bottom of the page reveals options to browse by role or by location. There is also a link for employers seeking workers; listings cost a mere $1.99 each. Between the listings and those features, founder Raman Shalupau shares a few words about his site:
"I've started this job board back in end of September 2017, when I was looking for engineering jobs in crypto currency companies myself. I had to jump from site to site, looking for positions in various exchanges, wallets, and research projects. Opportunities were scattered all over the place and pretty hard to come by. So I thought it would be cool to have a centralized (the irony) site with all the positions. I thought no one will care about the job board and it'll die off in a week, but, apparently more and more people cared enough about it to start applying to jobs, sharing Crypto Jobs List with friends and, of course, companies started listing their job posts. Today I hope you are enjoying the site, applying to jobs and getting response from hundreds of crypto startups that have listings on CJL to day. I strongly believe that blockchain technology and crypto currencies are still in their infancy stages, almost like the internet in 1990s. The 'Facebooks' and 'Googles' of crypto-era are yet to be founded and I believe that the only way to grow this industry is to stop checking coin prices every morning, and start building the technology, products and companies that will fuel the coin market growth."
The author goes on to explain the differences between the terms blockchain, crypto currency, and crypto, so check that out if the distinctions are still murky to you. In terms of employment, "blockchain" positions can involve a more broad range of applications, like supply chains for example. Jobs in "crypto currency" tend to be at crypto currency-focused startups. If Shalupau is correct and the crypto field is still in its infancy, this site could lead to one's chance to get in on the ground floor.
Cynthia Murrell, December 6, 2021
DarkCyber noted the Scientific American (is this an oxymoron now?) article "Bad News for the Highly Intelligent: Superior IQs Aare Associated with Mental and Physical Disorders, Research Suggests." DarkCyber enjoys the waffling baked into to the phrase "research suggests."
The write up states:
The survey of Mensa's highly intelligent members found that they were more likely to suffer from a range of serious disorders.
The write up reports:
The biggest differences between the Mensa group and the general population were seen for mood disorders and anxiety disorders.
A reasonable question to pose is, "Why?" Well, there is an answer:
To explain their findings, Karpinski [the researcher] and her colleagues propose the hyper brain/hyper body theory. This theory holds that, for all of its advantages, being highly intelligent is associated with psychological and physiological "over excitabilities," or OEs. A concept introduced by the Polish psychiatrist and psychologist Kazimierz Dabrowski in the 1960s, an OE is an unusually intense reaction to an environmental threat or insult. This can include anything from a startling sound to confrontation with another person.
We noted this paragraph:
Psychological OEs include a heighted tendency to ruminate and worry, whereas physiological OEs arise from the body's response to stress. According to the hyper brain/hyper body theory, these two types of OEs are more common in highly intelligent people and interact with each other in a "vicious cycle" to cause both psychological and physiological dysfunction. For example, a highly intelligent person may overanalyze a disapproving comment made by a boss, imagining negative outcomes that simply wouldn't occur to someone less intelligent. That may trigger the body's stress response, which may make the person even more anxious.
Interesting. Over excitabilities. A more informal way to reach a similar conclusion is to attend a hacker conference, observe the employee (not contractor) dining facility at Google Mountain View, or watch an episode or two of Sharktank. One can also dip into history: Van Gogh's ear, Michelangelo's aversion to clean feet, and the fierce Prioritätsstreit between Newton and Leibnitz. (Leibnitz's notation won. Take that, you first-year students.) Do you hear a really smart person laughing?
Stephen E Arnold, October 16, 2019
Throughout history, government funding has led to some of the greatest technological advances known to man. Thank NASA next time you strap on your Velcro shoes or sip some Tang. Recently, some voices in Silicon Valley spoke out to try and repair the rift among tech and government. We learned more from a recent Washington Post Op-Ed, "Silicon Valley Should Stop Ostracizing the Military."
According to the story:
"The world is safer and more peaceful with strong U.S. leadership. That requires the U.S. government to maintain its advantage in critical technologies such as AI. But doing so will be difficult if Silicon Valley's rising hostility toward working with Washington continues. In June, Google…announced that it would not renew a Pentagon contract for an AI program called Project Maven when it expires next year."
The biggest concern is that Russia and China are rapidly advancing their AI weaponry and leaving behind the US. This, they argue, weakens the freedom-loving world, so it is time for these often diametrically opposed organizations to make up for the good of the planet.
With the Department of Defense moving toward a decision about the $10 billion cloud procurement, Beyond Search anticipates more employee-management tension at the high technology giants jockeying for US government contracts.
Should employees expect a company's Board of Directors and senior management to go in the direction employees want?
MBAs and high school math club thinking may create administrative friction. Whom does a tech slow down benefit? Electric scooter riders?
Patrick Roland, August 15, 2018
The article titled Take the Search Out of Job Hunting with JobSamurai on MakeUseOf describes the perks in using JobSamurai next time you are out of work. A lot of people rely on services like Craigslist, but anyone who has searched for a job there knows that a good portion of the listings are frauds, or just non-existent. The number of irrelevant posts are also high and weeding through them all is time-consuming and frustrating. JobSamurai claims to have the answers, with a job website that minimizes the search factor. The article explains,
"JobSamurai uses your information to find jobs around the web that match your profile, then shows them to you as banner adverts on the websites you visit most often. They do this by leaving a tracking cookie in your web browser that sends data back to JobSamurai to notify them of where to display their content. It typically takes 10-15 days for their internal search engines to find all the jobs that match a candidate."
While this means that users will need to exercise some patience before seeing results, it is balanced out by the absence of those terrible spam emails that job search websites love to litter your inbox with. JobSamurai promises to limit itself to one email every two months- which really seems like no emails at all.
Chelsea Kerwin, May 29, 2014
Sponsored by ArnoldIT.com, publisher of the CyberOSINT monograph
LucidWorks continues to grow and expand, not just in the open source community, but in the enterprise and Big Data community at large. In response to the growth, LucidWorks is adding to its leadership. Read all the details in the press release offered by PR Newswire, "LucidWorks Announces Board and Leadership Appointments."
The release says:
"LucidWorks, the company transforming the way people access information, today announced that Grant Ingersoll, CTO and co-founder of LucidWorks, has been named to the board of directors. The company also announced that Will Hayes, previously head of Splunk business development, has joined LucidWorks as chief product and marketing officer. The changes will enable LucidWorks to continue its rapid worldwide growth in response to surging demand for highly accurate, scalable and cost-effective search applications. The moves will also help LucidWorks become an even stronger partner and technology resource for the Lucene/Solr developer community."
Ingersoll has been with the company since the beginning and continues to provide visionary leadership. Hayes joins the team bringing an eye for marketing and business savvy, rounding out the current team. The LucidWorks Search and LucidWorks Big Data offerings have been big hits at the major conferences this year including Berlin Buzzwords, Lucene Revolution, and the Hadoop Summit. Keep an eye on LucidWorks as the excitement continues.
Emily Rae Aldridge, July 1, 2013
Sponsored by ArnoldIT.com, developer of Beyond Search
By now we should all be familiar with HP's purchase of big data company Autonomy that occurred last year. Some of us have also been following what HP seems to be planning for its property. But what about Autonomy's founder? What has he been up to since the lucrative deal went through? Business Insider reports, "Looks Like Autonomy Founder Mike Lynch Will Become a Big-Shot London VC." Writer Julie Bort tells us:
"Mike Lynch, the British founder of big-data company Autonomy is about to fire up a tech venture fund in London, Bloomberg reports. . . .

"Autonomy's founder and CEO Mike Lynch joined HP at [the time of the acquisition]. But in May, during the company's last quarterly earnings call, current CEO Meg Whitman said that Autonomy's sales had been 'disappointing' and that Lynch was leaving HP.

"We haven't heard much about Lynch since."
Bort notes that, long before HP, Lynch was named Britain's first software billionaire in 2000. The life of a technology venture capitalist seems like a natural extension of that title, she observes.
Autonomy was founded in 1996, with technology that evolved from research originally performed at Cambridge University. The company maintains dual headquarters in Cambridge, UK, and San Francisco, with satellite offices worldwide.
Cynthia Murrell, July 30, 2012
Sponsored by PolySpot
Infrastructure software outfit Tibco has had a busy time recently. Presumably, the company is happily celebrating its strong quarter; the Wall St. Cheat Sheet informs us, "TIBCO Software Earnings: Beats Analysists' Estimates." Meanwhile, we learn they have reshuffled some staff in Reuters' "Tibco Removes Americas Sales Head."
Tibco's second quarter net income rose by 26% over the first quarter, from $21 million to $26.6 million. Their adjusted net income came to 26 cents per share, smashing the expectations of only 17 cents per share. This is the fourth quarter in a row Tibco has exceeded forecasts. Will they surprise the prognosticators again next quarter? Perhaps; the Wall St. Cheat Sheet write up reports that "analysts appear increasingly negative about the company's results for the next quarter." You'd think they'd learn.
The Reuters' piece illustrates one potential reason for Tibco's success—they fix things that aren't working for them. The performance of their former US head of sales did not meet with expectations, so they have simply removed him. Regional sales vice presidents in this hemisphere will now report directly to the executive VP of global sales. The article reports:
"'I was not happy with the way we were executing for the last three or four quarters,' Chief Executive Vivek Ranadivé said on a conference call with analysts. 'We felt that execution in other geographies like Europe and Asia was very strong. I felt we were leaving too much money on the table.'

"Sales at Tibco's Americas business grew 13 percent in the second quarter, compared with a 22 percent growth in Europe and 27 percent in Asia. The Americas accounted for more than half of the company's overall sales in 2011."
Tibco's infrastructure platform focuses on real-time event processing and on easy-to-understand analytics. The company's headquarters are in Palo Alto, CA, but it has offices around the world. Launched in 1997, Tibco workers prides themselves on "flawless" execution and delivery, and seem to enjoy helping clients navigate today's shifting business landscape.
Cynthia Murrell, July 11, 2012
Sponsored by PolySpot
Inspired by Sheryl Sandberg, Inc.'s Geoffrey James calls for us to "Stop Working More Than 40 Hours a Week." Though Facebook COO Sandberg has been leaving on time to get home to her kids for seven years, the powerful executive only recently felt she could admit the fact in a culture where long hours are now required for workers to be considered dedicated and, by extension, worthy of raises and advancement. James points out that the excruciating trend has gained the upper hand despite longstanding evidence that working over 40 hours per week actually decreases performance. He writes:
"In the early 1900s, Ford Motor ran dozens of tests to discover the optimum work hours for worker productivity.  They discovered that the 'sweet spot' is 40 hours a week–and that, while adding another 20 hours provides a minor increase in productivity, that increase only lasts for three to four weeks, and then turns negative.

"Anyone who's spent time in a corporate environment knows that what was true of factory workers a hundred years ago is true of office workers today.  People who put in a solid 40 hours a week get more done than those who regularly work 60 or more hours."
This logic has shades of Henri Poincaré to be sure, but the advocates of balance have a point. People who just keep on keeping on past their 40 hours are at risk for burnout, which makes them far less productive. Just because you're at your desk typing or clicking away does not mean you are doing a good job. Anyone who has had to redo work they (or worse, their colleague) did the night before, when intellectually numb and aching to get home to loved ones, can attest to that.
We think that opinions about how long to work are okay. The reality is that hard work often contributes to success. In fact, for some, work is play so it continues around the clock. We prefer the work mode. It validates self concept, generates revenue, and seems more productive than watching random YouTube videos.
Cynthia Murrell, May 10, 2012
Sponsored by PolySpot
Flash back to 2007. My Google Version 2.0 was in press but BearStearns learned about the study and asked me to create a short version of Ramanathan Guha's Programmable Search Engine (PSE) chapter in my monograph, Google Version 2.0.
The BearStearns' document was "Google's Semantic Web: The Radical change Coming to Search and the Profound Implications to Yahoo! & Microsoft", published May 16, 2007, by the BearStearns' equity research unit. Maybe a former BearStearns' wizard will have a copy of this document. I am not permitted to make mine available, but a single quote seems appropriate. One key point in the Guha semantic write up was:
"For Yahoo!, we believ3e it does not have the balance sheet, technical expertise, or patent availability to copy Google's moves and is left with three choices: 1) Ignore Google, 2) Partner with a larger tech focused firms, or 3) outsource search to Google." (Page 1)
As we now know in 2012, Yahoo ignored Google, blew off Microsoft, and began a drift to the margins of the epicenter of online revenue. Forget semantics, Yahoo management between 2007 and the most recent upheaval sort of watched the world go by.
You are affected by the semantic wizards work when you use Google to some degree, but it is a "plumbing" solution. Users don't see Google semantics and the labors of Drs. Guha, Halevy, and others. Now BearStearns is history, risen the the place in heaven where bridge players and Type A MBAs go when a big US financial ship goes under.
In the New York office in 2007, I participated in a call from a person (Prabhakar Raghavan, whom I knew only from his conference presentations at the late but not lamented Boston Search Engine Meeting.)
When I learned that Dr. Raghavan would be on the "push back" call about the BearStearns' Guha report and the PSE I flashed back to an April in the late 1980s. There was a downright memorable presentation by a well credential PhD from Verity. The speaker upon whom my lousy memory flashed was Dr. Prabhakar Raghavan. His talk from the late 1980s tickled my hippocampus. At that Search Engine Meeting, he enthusiastically explained how Verity, then an increasingly financially challenged search vendor with out-of-date technology–wanted to charge customers by "cell" of data traversed when performing query processing. The notion of taxi meter approach to enterprise search was unusual and somewhat interesting. Even in the late 1980s, the amount of digital data people wanted to search within an enterprise was growing each month. But variable or taxi meter pricing was going to be a tough sell. I interpreted the idea with this metaphor: an out of balance wheel on a 1985 Crown Victoria taxi. I thought it was more prudent to covert to a limo service with corporate accounts, fixed rates, and a predictable revenue stream.
Now back to 2007 in the Big Apple sitting about the Polycom listening to the ghostly voices in Silicon Valley:
On that Yahoo 2007 call with BearStearns and Dr.Raghavan about my report on the PSE and its possible impact on Google's position in Web search, I wrote down this note to myself:
Raghavan… "We have semantic technology at Yahoo. Just watch what we do with it."
This quote was one I tucked away. Frankly there was nothing to watch. But despite his apparent authority, it was far short of his fascinating statement about charging by the cell when a Verity licensee ran a query.
Now Dr. Raghavan has moved to Google. I learned this in the "Exclusive: Yahoo Labs Head Raghavan Departing to Google" write up by Kara Swisher. She reported:
Prabhakar Raghavan, the well-respected head of Yahoo's Labs unit and also recently its head of strategy, is leaving the company to take a job at Google. The departure comes ahead of possibly deep cuts in his division, which is in charge of long-term research at the Silicon Valley Internet giant, said sources.
Will Dr. Raghavan contribute to semantic activities at Google or will he provide pricing inputs? Yahoo and semantics never buried the needle on my excitement meter. To be fair, semantic technology is a work in progress in my opinion.
The pricing approach, articulated when he was affiliated with Verity, did pique my interest. Worth watching what projects on which he will labor at the GOOG. I hope it is pricing. Dr. Raghavan's ideas may be exactly what Googzilla needs.
Stephen E Arnold, March 5, 2012
Sponsored by Pandia.com