SIMM in Action

Examples of SIMM
This is the wonderful thing about marketing, nothing seens to exist any more. – Based on an original statement by William Stephenson.
Three Simple Exercises
In order to give SIMM some shape and feel, please, run through these three simple exercises.
Exercise 1: Beyond Search and Selling Professional Services
Beyond Search is a blog created by ArnoldIT.com to test the technologies and business processes now available to third-parties as SIMM. ArnoldIT.com provides professional services to organizations worldwide. A blog seemed to be the ideal way to test Overflight, ArnoldIT.com's proprietary method for tracking information available as open source content. In addition, the blog made it easy to determine what content types, word choice, and distribution methods delivered maximum impact at the best value point.
Navaigate to Beyond Search at http://arnoldit.com/wordpress. You can review feature stories, interviews with industry leaders, and skim editorialized commentary on topics that fall under the blog's editorial umbrella of search and content processing.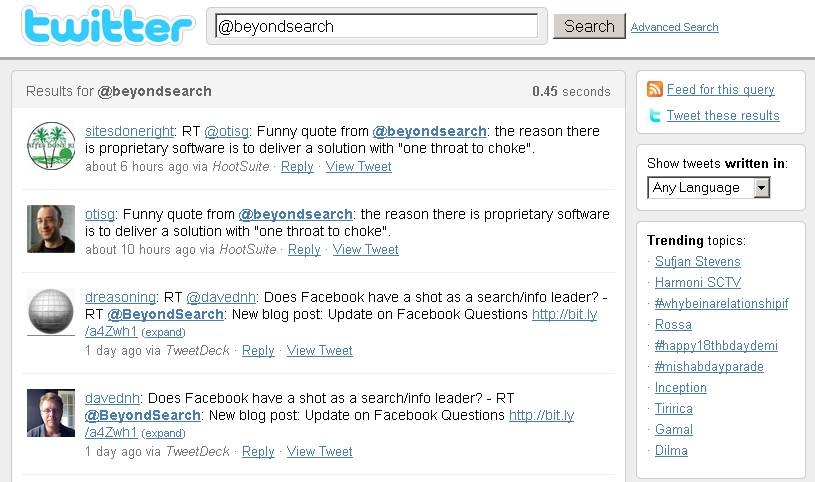 This is a screenshot of the Beyond Search content in the "tweet" stream for August 20, 2010.
Now navigate to your preferred Web search engine and enter the query "Beyond Search." You can also search for "ArnoldIT", Overflight, Stephen E Arnold, Seed2020, and other concepts that are discussed in the blog. Notice that these and many other concepts are linked to this blog.
Bottomline: The blog has catapulted Mr. Arnold to the top tier of professional resources for online, search, and content processing. The blog has boosted traffic to Mr. Arnold's Web site by a factor of three since January 2009, and -- most importantly -- has minimized the need for Mr. Arnold to make personal appearances at trade shows, distribute printed material, and use direct mail or other expensive, inefficient traditional marketing methods.
Exercise 2: The IGear Service for Specialized Industrial Software and Services
IGear is a company that provides a value-added service to companies operating large-scale production and manufacturing systems. The firm works with the leading automobile manufacturer to provide operations engineers with a dashboard that makes it easy to check on the status of multi-million dollar numerically controlled machines from an iPhone or notebook computer.
The company operates a traditional Web site, and the firm desired a way to generate more visibility for its brand, its technolgies, and its innovations. Point your browser to http://redefiningmonitoring.com.
This is a public blog that provides information about industrial monitoring. Because IGear's technology uses cloud-based services, the blog includes information about cloud technology in general and the benefits of applying "next generation" thinking to the problem of large-scale, automated manufactuirng systems.
Notice that the content is substantive and not particularly commercial. There are some references to IGear's Web site and the blog is identified as a service of IGear.
Now, navigate to Google.com and then Bing.com enter the query, "IGear". You don't need to include quotes. IGear appears on the first page of Google results and on the first page of Bing.com results. The company's name is the same as that of a firm selling Apple iPod, iPhone, and iPad accessories. Prior to the start of the SIMM project, IGear did not appear on the first page of Google results. In addition, IGear now distributes its information via RSS and a Feedburner content service is available to those who sign up, providing IGear with useful emails for possible prospects. The content is also available within real time search systems such as http://search.twitter.com and http://www.collecta.com.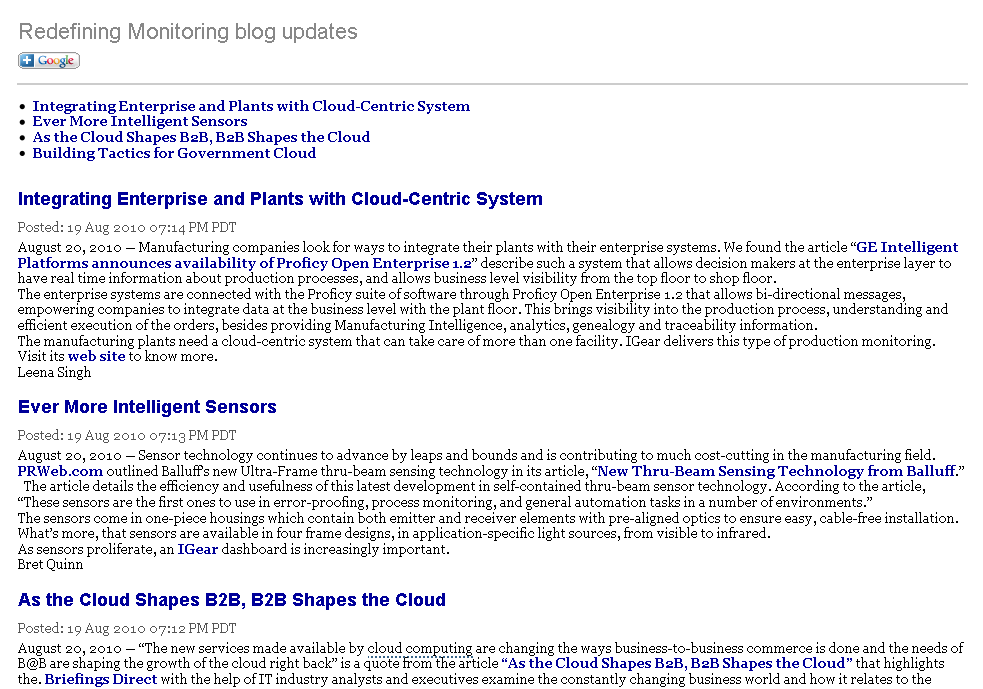 Content becomes available to registered users as a daily email update. Each update contains the headlines of the most recent news and features plus the full text of the story with active links to related material.
Bottomline: Web traffic has increased by a factor of four in six weeks and the company appears on the first page of Google and Bing search results for queries for the company and its cloud or production monitoring servivces. The company is using the blog instead of hard copy promotional materials for some client contacts. The payoffs range, therefore, from cost savings to increased prospect contact opportunities along with greater visibility.
Exercise 3: Taxodiary and the Importance of Standards for Indexing
Access Innovations, based in Albuquerque, New Mexico, is one of a handful of companies specializing in indexing and metatagging systems and methods. The company offers software that generates ANSI-standard term lists. Most companies engaged in indexing content approach the task with a standards-indifferent or standards-lax approach. The problems associated with poor indexing are easy to explain. Users cannot find needed informtion. For some organizations, indifferent indexing is not a significant issue. However, in disciplines such as medicine, pharmaceutical research, engineering, financial services, and specialized research for investigations, litigation, and security matters. A missing document or unfindable infomration has immediate, direct consequences. Casual indexing or "folksomonies" are okay for tweets and ephemera but not okay for matters of consequence.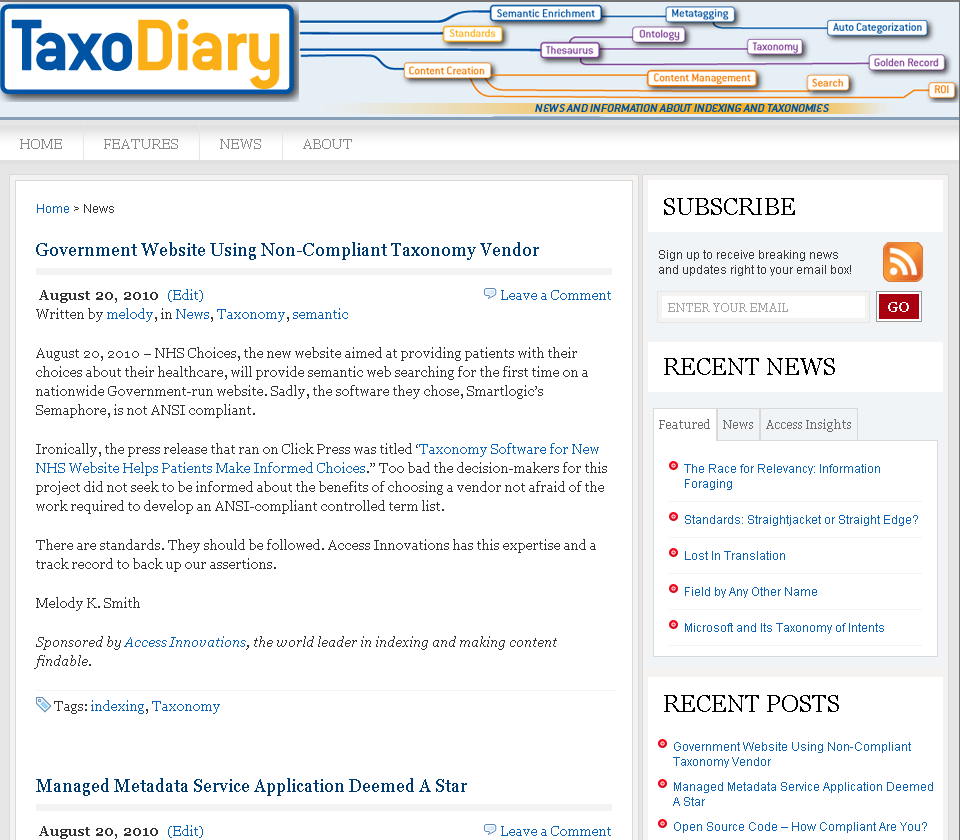 This is the news page for visitors who navigate directly to the blog for its information. You can access this service at http://taxodiary.com.
The company had two Web sites and a thriving business. Management realized that information about content indexing was flowing through the "digital rivers" in the Intenet. The volume of misinformation and flawed explanations of indexing methods were lost against the noise of the increasing flows of opinions and marketing blurbs.
The solution was to create an objective, professional news service about indexing and such related topics as metatagging, controlled vocabularies, and ontologies.
How has this service been working since it went live in early Augsut 2010? Here is the Google result list for a "Taxodiary" query.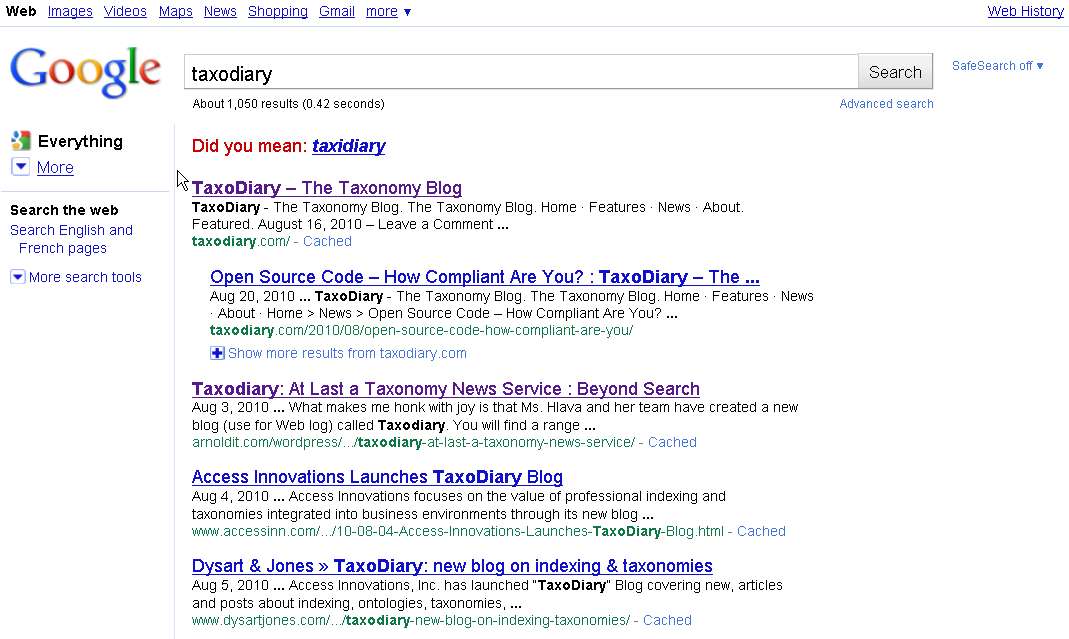 Click to Google.com and run the query "Taxodiary", "Access Innovations," and "Data Harmony". Each of these words and phrases appears on the first page of Google results. Like the other ArnoldIT.com content services, the Taxodiary information is now in the Twitter index and it appears in other online services. Stories linking to Access Innovations are proliferating around the world and triggering comments in such services as LinkedIn.com.
Bottomline: Access Innovations is now generating buzz, traffic, and prospect "pull."
What Did You Experience?
The SIMM method puts the content into the "datasphere" and into search engine indexes. The interlocked services such as the RSS feed and the email sign up function allow the information to find its way to those individuals with an interest in the topic. Instead of horse-and-buggy marketing, these three examples exemplify the next-generation of sales, PR, and marketing actions.
You may want to consider this question, "Do my present marketing and public relations efforts yield these results for my company, product, or name?" In our work, we have learned that most organizations are deeply frustrated by the costs and lack of impact from their traditional sales, marketing, and PR investments. When we ask this question "How are those programs working for you in today's economy?", we hear, "Not very well" or "Lots of money, time and effort and not much to show for the projects."
Learn more about SIMM at these links:
Examples of SIMM in action
The SIMM method is the property of Stephen E Arnold and ArnoldIT.com.